Ahhhhh siiiiiiiiighheeeeee yooooooou! That was creepy.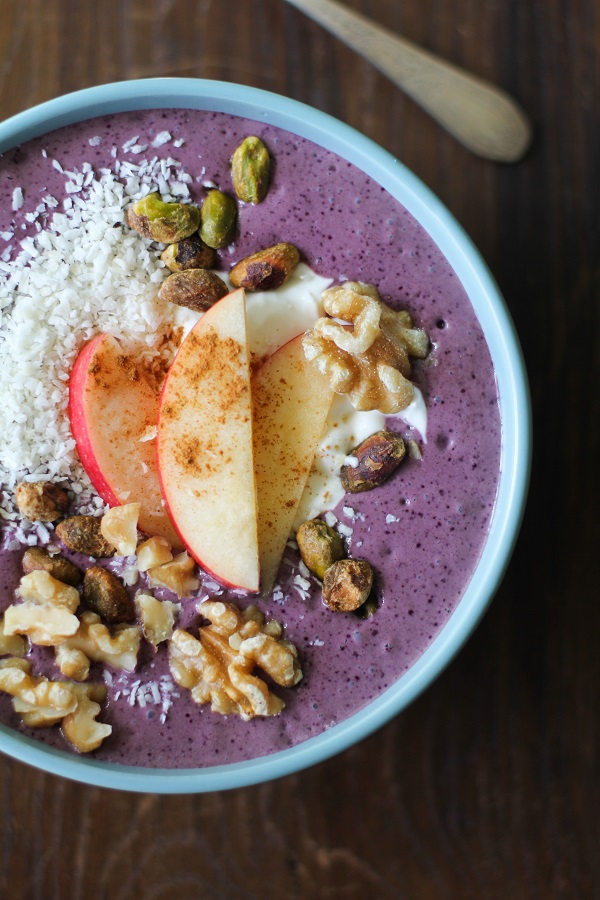 Hey-o, I'm back home from Illinois and have stories galore for you!…BUT I'm going to save most of the wordage for a Fireside Chat. Because that is just.how.good the stories are. Plus, it has been far too long since you and I cozied up with a good tale. And folks: this one's worth breaking out the cocoa and marshmallows and whiskey and trail mix but mostly whiskey over.
And you'll just have to stay tuned.
You don't want to miss it.
You'll cry if you do.
Slash read it later.
But mostly cry.
Ugh I may as well just tell you right now!
That was a cheap trick – you still totally have to wait.
In the meantime, the quick and clean re-cap is: Stephie and her family are absolute gems, and I had a blast and a half.
All that tease-talk madejya fungry, didn't it? I could use some sustenance, myself. Let's speak.
You guys. I have a bowl that blows all bountiful bowls out of the bloomin' lagoon! Let's slingshot ourselves into it.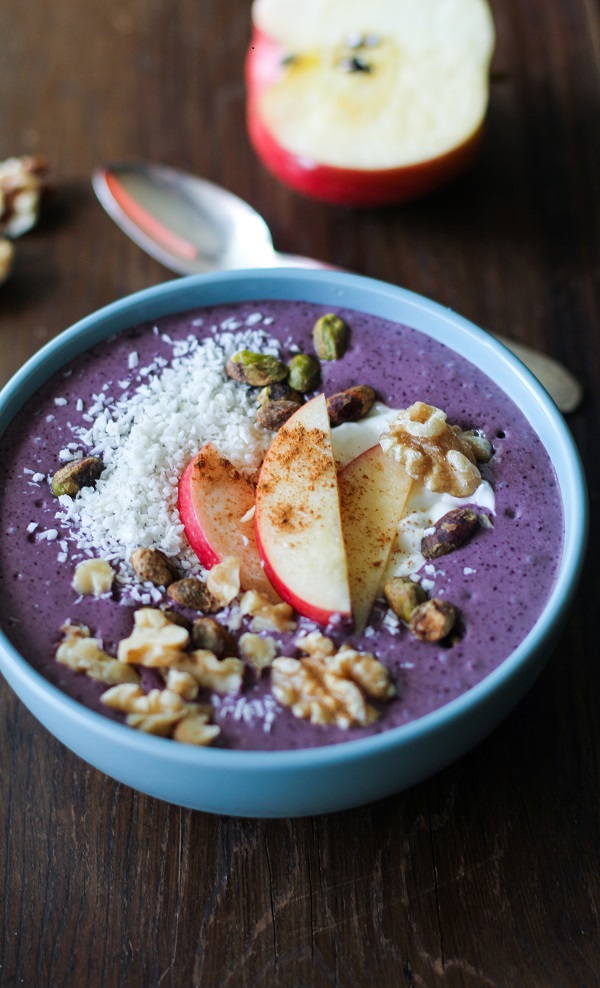 Açaí (pronounced ahh-sigh-ee) bowls have been a common menu item at coffee shops and breakfast/brunch restaurants in my area for number of years now.  You may already know all about them, but folks, a little repetition strengthens the human condition < – I just made that up. It literally means nothing.
As I was saying. Açaí berries are superfruit that originate from Brazil. They're full of antioxidants, omega fatty acids, B vitamins, vitamin K, and fiber. If you are unfamiliar with açaí bowls, here's the skinny: They're basically a smoothie on steroids.
A super thick açaí smoothie (usually made with frozen açaí puree, frozen berries, and yogurt) is served in a bowl with a combination of fruit, nuts, granola, and/or honey, agave, or maple syrup. These bowls make for a healthful breakfast and are nutritionally well-balanced if you add nuts or nut butter as a protein source.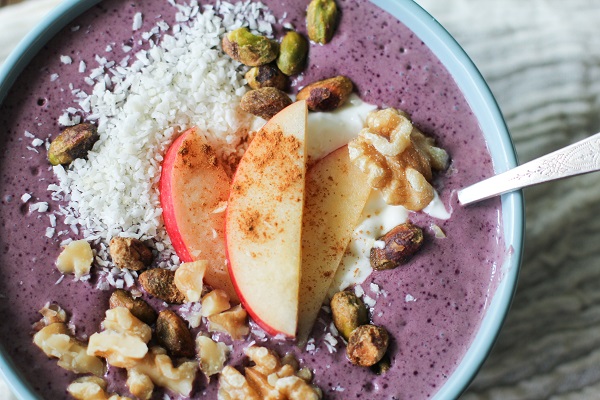 My approach to this açaí bowl was a bit unconventional, because finding açaí puree can be quite the treasure hunt. Whole Foods and select natural food stores carry açaí berry puree, but this doesn't leave much room for improv…so I improv-ed using the açaí powder that Navitas sent me a few months back. Boom! Açaí puree problem solved.
The powder is simply ground up dehydrated açaí berries. I've been blending it with Greek yogurt, frozen banana, and frozen blueberries to make the bowls. I like the powder because it stays fresh in your pantry for months on end, it yields far more bowls than the frozen açaí puree, making it more cost effective. Money.in.the.bankroll.
Oh hey, look at this stack of bowls I photog-ed: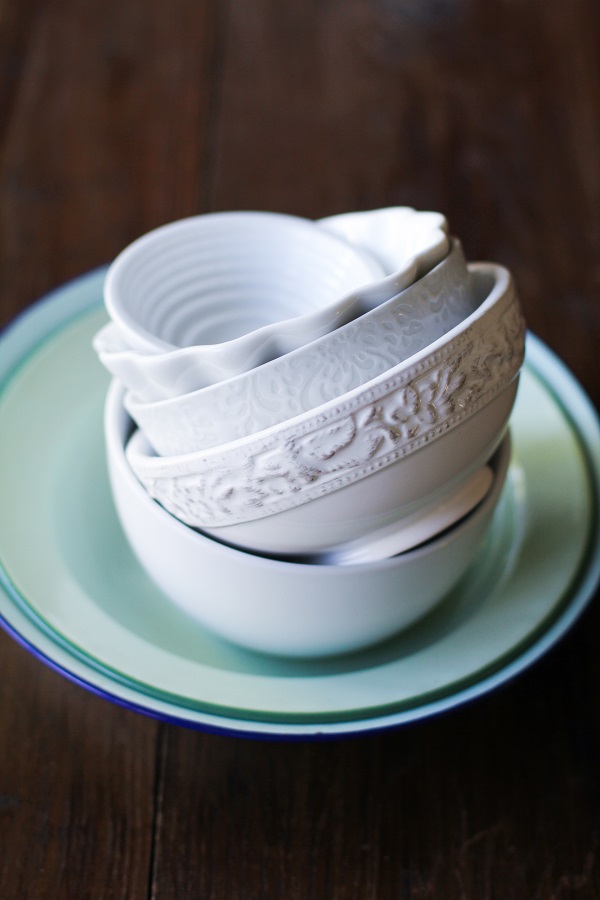 I just love it when light ninjas razzle dazzle my photogs. < – I just made that up. It literally means nothing.
Amazeball açaí bowl serving suggestions: add your favorite homemade granola, and/or a selection of whatever fruit and nuts you have on hand! Apples have been bombtastic lately, so I've been adding them along with walnuts, pistachios, unsweetened shredded coconut, and a sprinkle o' cinnamon to my bloomin' bowl. The fresh berry and sliced banana approach is always a favorite, too.
Lookit these color ninjas: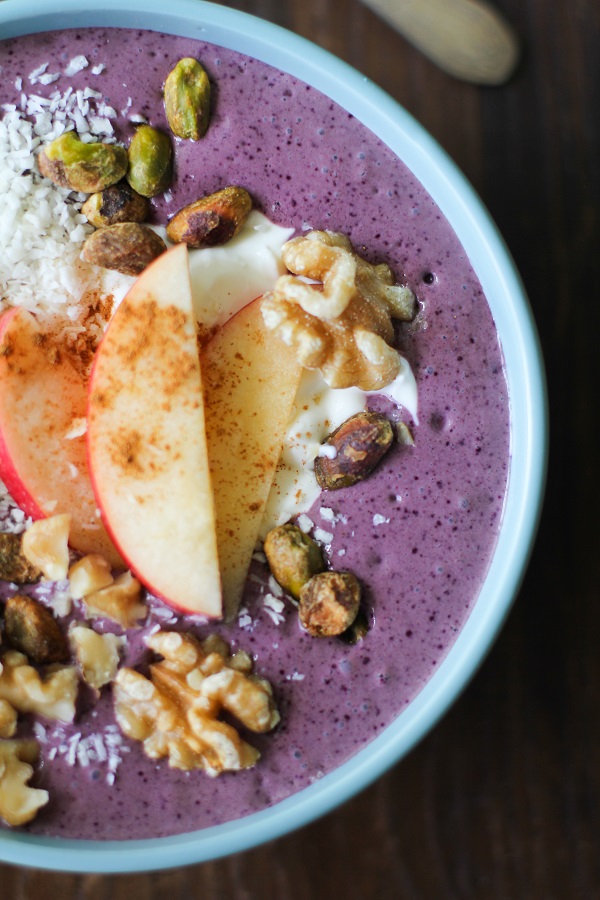 Açaí bowls. Let's FaceTime them as much as possible.
P.S. I'm guest posting over at Making Thyme for Health today! Pop over there, say hi to Sarah, check out my first installment of What I Ate Wednesday and learn what a typically day in my life looks like!
Ingredients
For the Açaí Smoothie:

1 ripe banana, frozen
2 cups frozen blueberries or mixed berries
1-1/2 cups plain full-fat Greek yogurt
1 cup unsweetened almond milk
2 tablespoon agave nectar or pure maple syrup
3 to 4 tablespoons açaí powder
1/4 teaspoon ground cinnamon

For Serving:

Plain Greek Yogurt
Apple slices
Walnuts
Pistachios
Sprinkle of cinnamon
Instructions
Add all ingredients for the "açaí smoothie" to a blender and blend until completely smooth. The consistency should be very thick.
Divide the thick smoothie between two bowls and add desired amount of fruit, nuts, granola, shredded coconut, etc. to the bowls. Drizzle with honey, agave, or pure maple syrup and enjoy like a champ!
http://www.theroastedroot.net/fruit-and-nut-acai-bowls/