Grain-free, refined sugar-free, paleo-friendly tahini granola with dried apricots, dried cherries, coconut oil, and pure maple syrup. A unique and delicious granola for healthy breakfast or snack.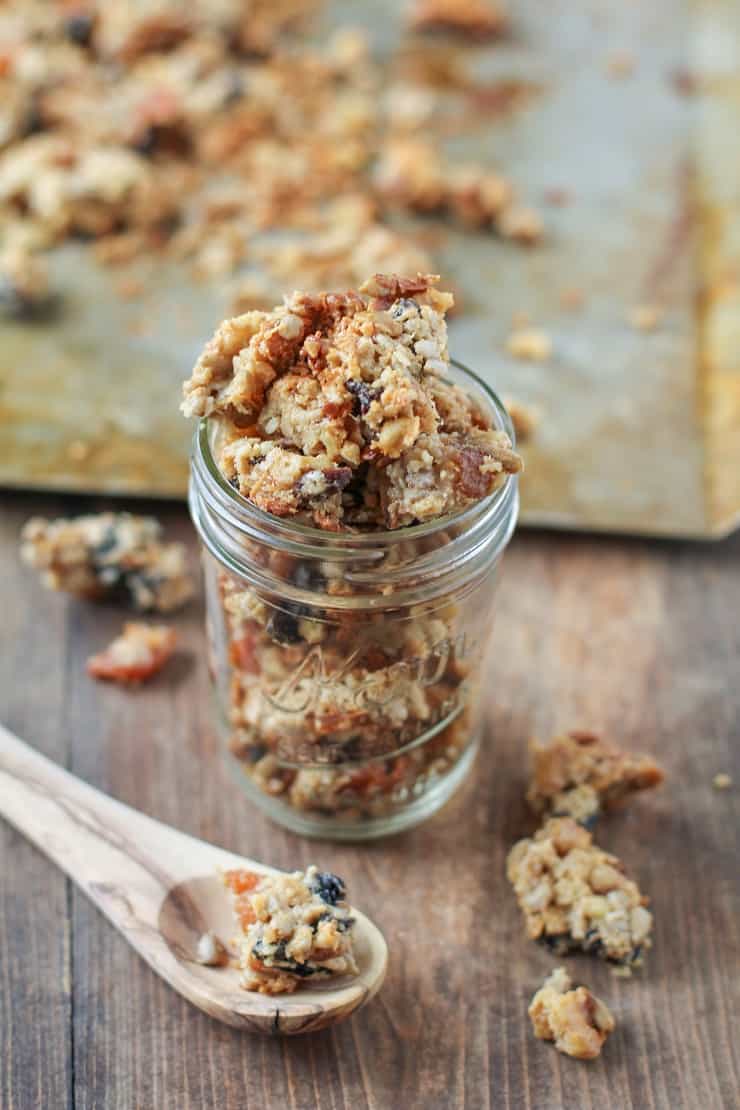 A few months ago, I had a recipe fail that turned into an epic recipe win by pure happenstance.
I was trying to make a no-bake granola bar recipe using tahini, and as I was preparing it, I became increasingly aware that it wasn't going to work out.
In spite of packing, refrigerating, refrigerating some more, then freezing in hopes of the best granola bar ever, the dang things simply wouldn't hold together.
Just when I thought there was no hope and upon accepting that this was no granola bar recipe, I realized this was something equally awesome…'twas granola!
So I made it the exact same recipe a couple more times to be sure I really had made a legitimate discovery – the more I made it, the more I loved it.
If you've tried my original Paleo Granola recipe, you may just like this one just as much or even more!
The ingredients for tahini granola: tahini, raw walnuts, pumpkin seeds, sunflower seeds, dried apricots, dried cherries, coconut oil, and pure maple syrup.
We add vanilla extract and cinnamon because we know how to party.
As it turns out, tahini (or any nut butter) is an great resource for granola.
As you know, I enjoy making large and in-charge granola clusters, which I achieved in the past through employing a well-beaten egg white.
Using tahini has the same binding effect, but it is vegan-friendly. I thought this would be a great egg-replacer for my vegan friends, or folks who have an allergy to eggs.
Now that the kiddywinkles are heading back to school, this would be a great go-to breakfast or snack to pack in their lunches.
Also a great hiking or road trip treat for those of us who enjoy munching granola while we travel or recreate.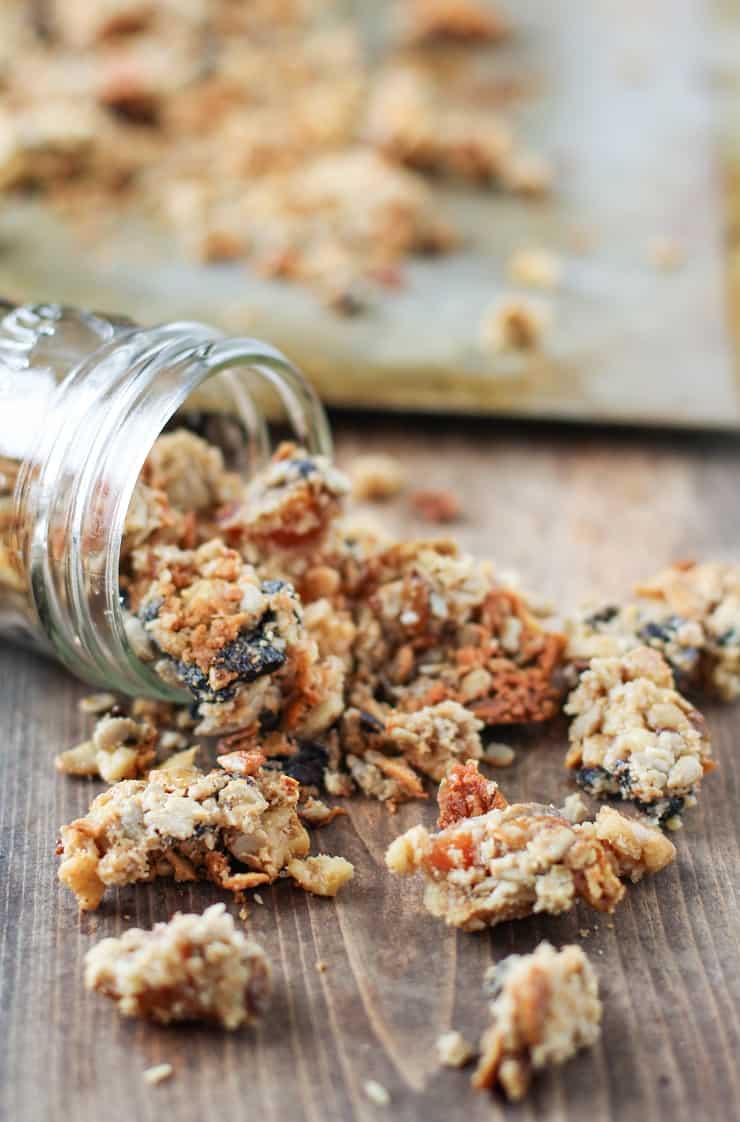 Although enjoy the flavor of tahini, I realize it's not everyone's jam.
Which brings me to my next point: Let's talk substitutions.
Recipe Adaptations:
You can use cashew or almond butter as a substitution for the tahini.
Use virtually any nut or seed to replace the ones I chose, and you may also replace the dried apricots and cherries with your favorite dried fruit.
Just be aware that the apricots and cherries assisted in the clumping, since they're larger (and typically stickier) than other dried fruits.
You can also add more maple syrup, coconut sugar, monk fruit sweetener, or other granulated sweetener of choice to make the granola sweeter. I like to keep mine only slightly sweet so that I can add a fresh drizzle of honey when I eat it.
You can also try my Coconut Walnut Sunflower Seed Paleo Granola and my Walnut Granola Clusters!
Basic Recipe for Grain-Free Granola:
1.5 cups nuts and seeds of choice (my favorite are walnuts, cashews, and pumpkin seeds)

½ cup mixed dried fruit (in this case, I selected dried cherries and apricots)

½ to 1 teaspoon vanilla or almond extract (or even lemon, coffee, or chocolate extract if you're playing with flavors)

Dash sea salt and cinnamon

3 to 4 tablespoons pure maple syrup or honey (note that honey burns quickly at a lower temperature than maple syrup, so keep a close watch on the granola while it's baking if you use honey)

¼ cup nut or seed butter

2 tablespoons coconut oil or oil of choice – I try to avoid using olive oil because it has a strong flavor, but grapeseed, almond, sunflower, and/or avocado oil would work great.
…But if you're into this tahini-apricot-cherry vibe we've got going on, here's what you need!
Grain Free Tahini Granola with Apricots and Cherries
Never have I ever made such a uniquely delicious granola recipe! Tahini and apricots are everything in this tasty treat!
Instructions
Preheat the oven to 300 degrees F. Line a large baking sheet with parchment paper.

Add the chopped walnuts, pumpkin seeds, sunflower seeds, dried cherries, and chopped dried apricots to a mixing bowl.

In a bowl or blender, combine the cinnamon, salt, vanilla extract, tahini, coconut oil, and maple syrup. Stir or blend until well-combined. Note that this mixture will be very thick.

Transfer the tahini mixture to the bowl with the nuts, seeds, and dried fruit. Stir to combine. The mixture will be very thick.

Turn the mixture out onto the parchment paper and spread into an even layer.

Place on the center rack of the oven and bake for 35 minutes, stirring halfway through.

Remove granola from the oven and allow it to sit untouched for 15 minutes in order to allow it to harden into large clusters. Transfer the granola to a large zip lock bag or jar.

Enjoy granola with your favorite milk or yogurt and fresh fruit.
Notes
Replace the dried apricots and cherries with any dried fruit you like.
Use your favorite nuts and seeds to replace the walnuts, sunflower seeds, and pumpkin seeds.
Omit the shredded coconut if you'd like.
Nutrition
Serving:
1
of 8
|
Calories:
303
kcal
|
Carbohydrates:
18
g
|
Protein:
6
g
|
Fat:
24
g
|
Fiber:
5
g
|
Sugar:
11
g