Maple Roasted Figs with a touch of cinnamon are amazing on anything! Eat them as is, serve them on pancakes, oatmeal, cakes, etc!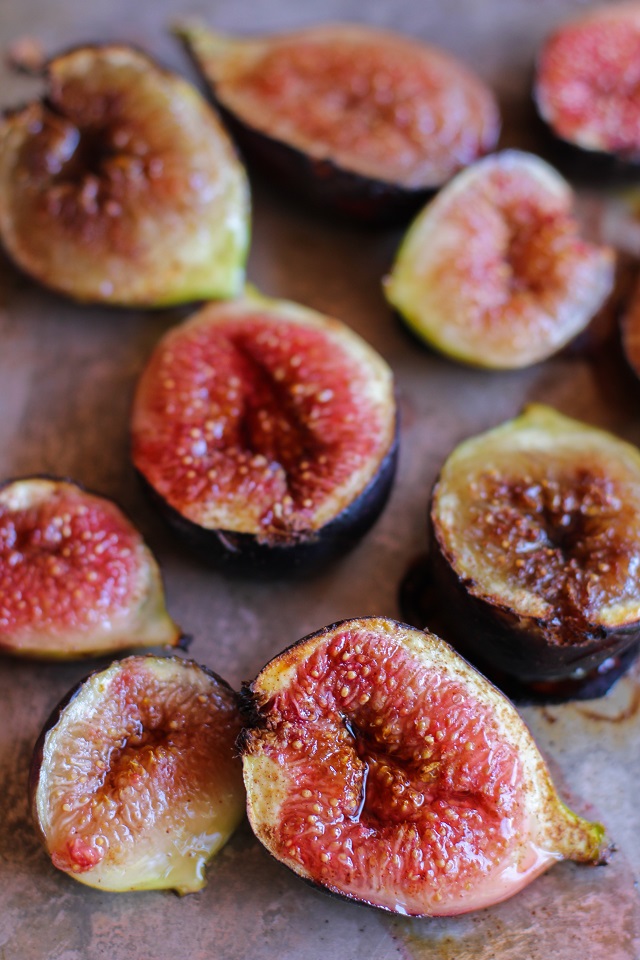 Fig-uh-lig-uh-loopity-doop-de-doops!
Le sigh. Le fig…
Such unassuming little fruit with their humble appearance on the outside that when cut open reveals a metropolis of alien-like tentacles and poppy beads of seedly texture that are responsible for beaming your tongue buds to the outer reaches of the universe.
Well played, figs. Well played.
When ripe, figs explode in your mouth in drippy juicy sweet bliss.
When un-ripe? All's they need is to take a little run through the oven to coax out all the natural goodness.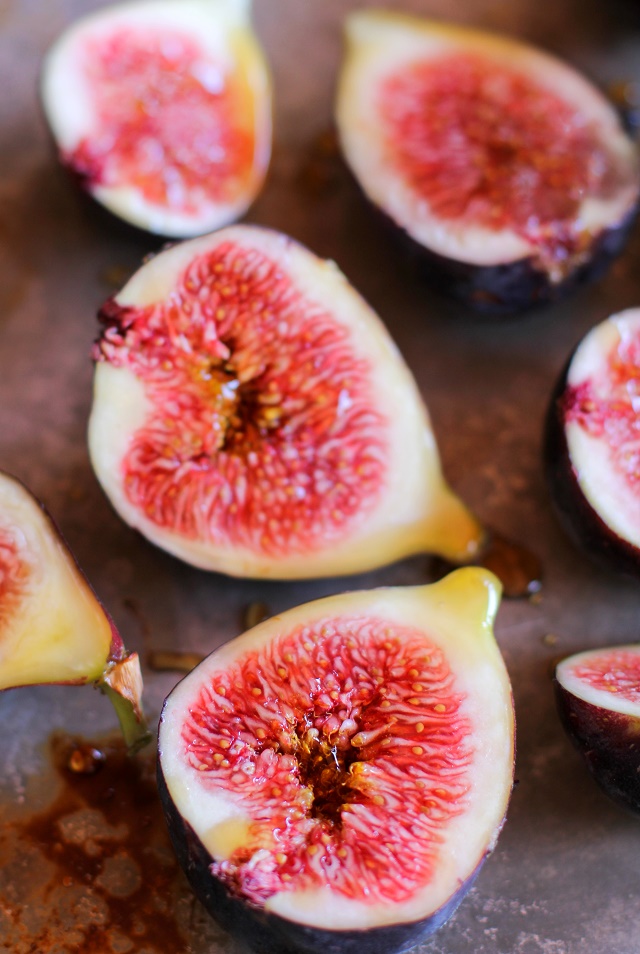 There are about 76,000 reasons I love roasted fruit in general and roasted figs in particular…most of which begin with the sound, "mmm" and end with the sound, "hmmm." Oven-cooked fruit that softens up and becomes caramelized in a splooge of juices results in epic foodgasms that are hard to quantify.
The remainder of the reasons are as follows:
The Goo // Figs are high in water and natural sugar, which results in a caramelization effect when roasted. They become so juicy, you'll hardly know what to do with them.
The Pair-ability // Roasted figs can be incorporated into sweet or savory dishes. They go with just so many things. Wanna dress up your ice cream, yogurt, or oatmeal? Add these, my babies. Looking for a funky topping for chicken, salmon, or just a little woop woooop for your salads? Figgy, fig, figs.
Insta-ripeness // Only on rare occasions have I purchased figs that were sploogy ripe (which is how I like them). Often, I have to wait a few days for figs to become extra sweet and juicy. For the times I don't have the patience to let my figs sit and ripen, I just roast them off, and they transform into an entirely different animal…err…fruit.
Wow Factor // Your friends/main squeeze thinks you're like this bomb ass person when you serve him/her roasted figs when in all reality, they only took you 10 minutes to make.
How to Roast Figs:
Slice the figs in half length-wise and place them face-up on a baking sheet. Drizzle them with a small amount of pure maple syrup (or brown sugar or honey) and a sprinkle of sea salt to add contrast to all the sweetness…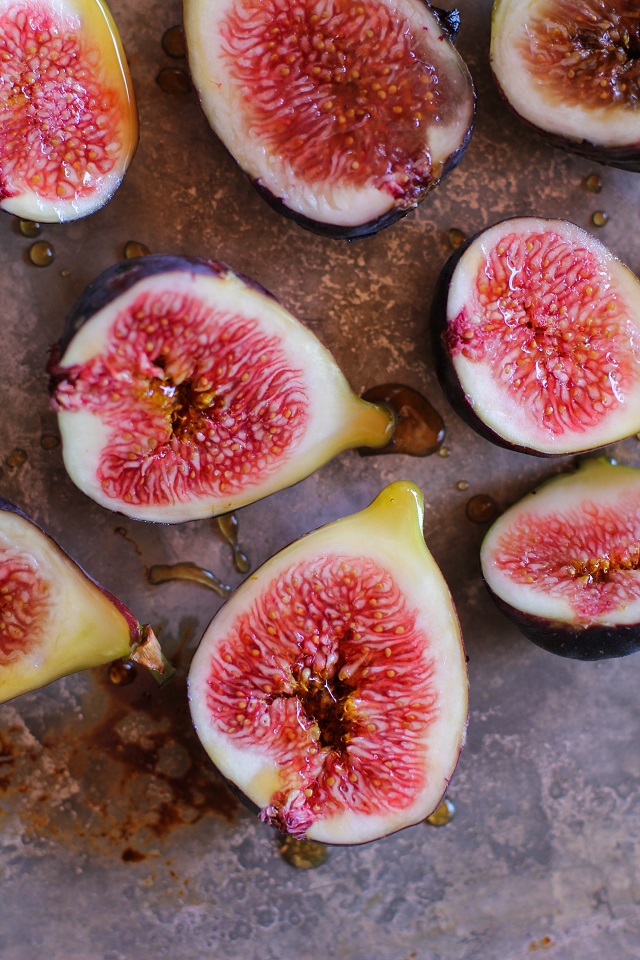 …and a little spritz of cinnamon if desired.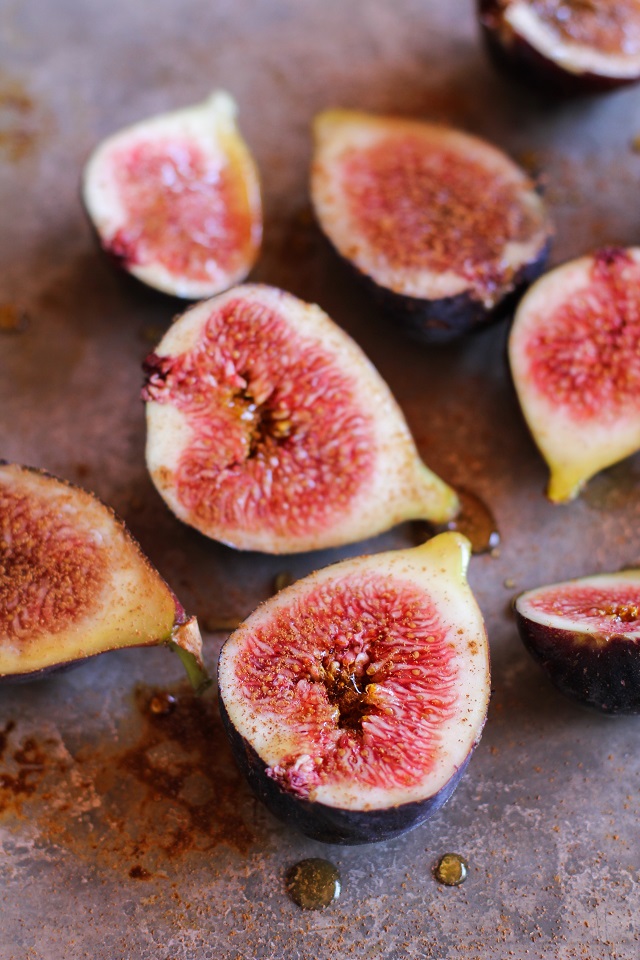 Place them on the second-to-top rack in your oven under the high broil setting. Broil for 6 to 8 minutes, or until juices are seeping out and figs are golden around the edges. I like to broil for 6 minutes, as the figs retain their shape after that length of time, but are still super juicy.
What happens next is up to you and your perception of what is right for your life. You can eat them as is, serve them up crostini-style with goat cheese and prosciutto, eat them with dessert, serve them with an entrée, etc. etc.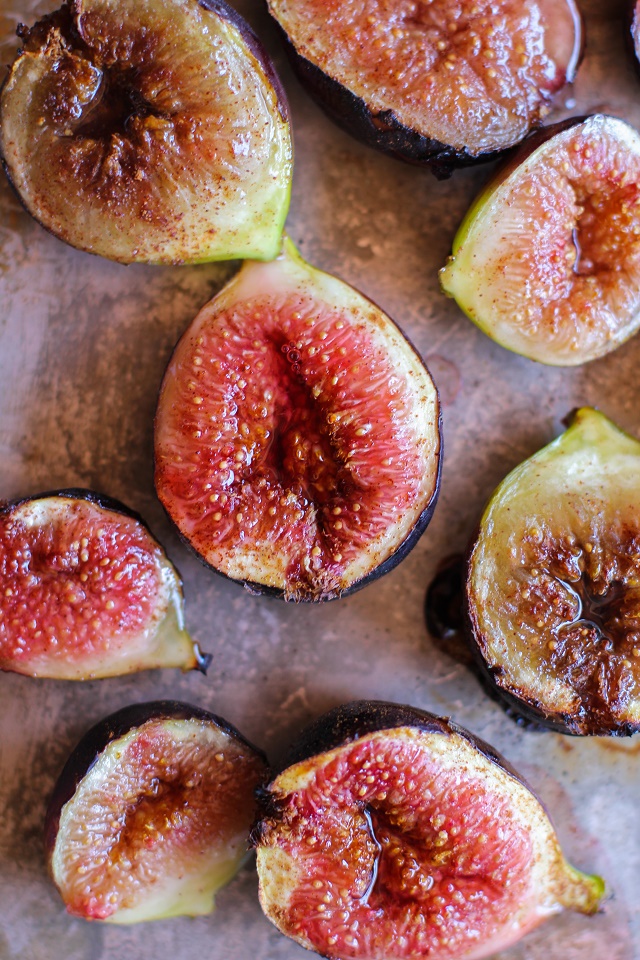 Fig season is July through September…
…so we had better get it while the gettin's good!
Fig-uh-lig-uh-hippity-dippity-loop-de-doops.
Sploooooooge!
I'm done.
Maple Roasted Figs
Roasting figs with maple syrup and cinnamon sends the already delicious fruit to a whole new realm of tastiness!
Instructions
Turn your oven on to the high broil setting and move one of the oven racks to the shelf that's second closest to the top.

Slice the figs in half length-wise and place on a baking sheet. Drizzle with maple syrup, a small amount of sea salt, and cinnamon.

Broil for 6 to 8 minutes, or until juices are seeping out and figs are golden-brown around the edges.

Remove from the oven and allow figs to cool 5 minutes before serving.
Notes
*You can also use brown sugar, agave, or honey. If using honey, keep a close watch on the figs, as honey has a lower burn temperature than pure maple syrup.
Nutrition
Serving:
2
halves (1 roasted fig)
|
Calories:
43
kcal
|
Carbohydrates:
11
g
|
Fiber:
1
g
|
Sugar:
10
g