Turnip Pasta with Pesto, Artichoke Hearts and Kale is a super nutritious meal perfect for those who are looking for a whole food, paleo, grain-free or low-carb/keto dinner recipe.
Check out these green noods!
Happy St. Patrick's Day! Our mission, should we choose to accept it, is to de-bloat on green turnip noodles before we re-bloat on green beer. Sound good? #ProTip: The ye olde de-bloat before re-bloat saga is the key to a successful St. Paddy's.
But seriously, what are you doing to celebrate? Does it involve Guinness and Irish Pub Pandora radio? Vegetable noodle pasta that happens to be a natural anti-inflammatory? Shepherd's Pie? Irish Soda Bread? Colcannon? Cosmopolitans and brownies?
Just thought I'd ask.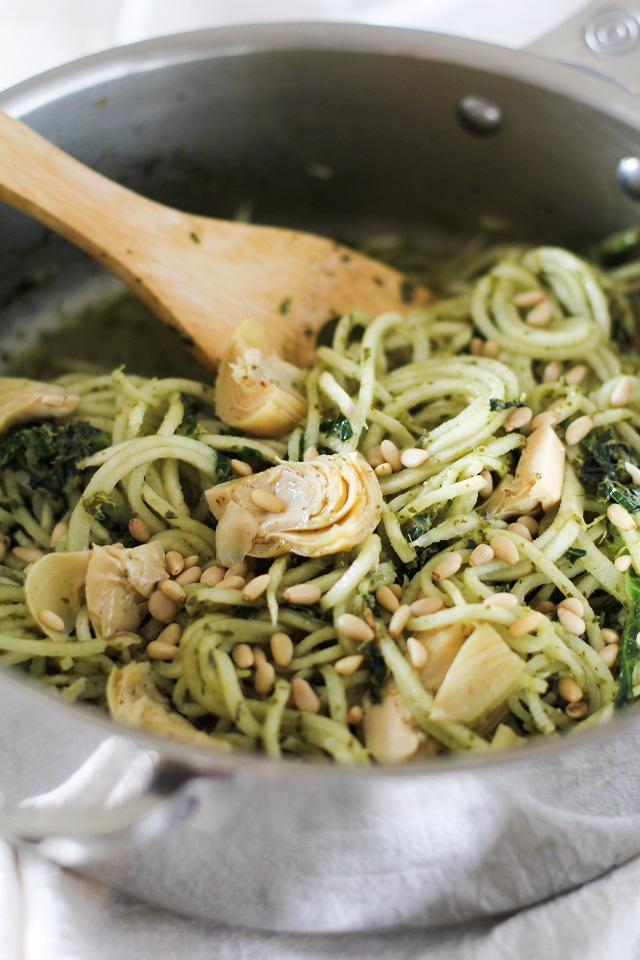 The turnips at the grocery store I shop at have been HUGE lately, an observation that immediately made me think of noodles.
Since I've been eating my weight in meat and potatoes lately, I thought I'd make a light-ish dish that could still trick me into thinking I was eating comfort food. Nothing like a little self-manipulation to keep the ol' waistline in check.
In case you're unfamiliar with turnips, they're a starchy root vegetable full of phytonutrients, minerals, and are a natural anti-inflammatory (as previously mentioned).
Turnips are less carb-y than potatoes and are full of calcium, magnesium, potassium, and fiber. Plus did you know turnips contain a third of the calories of potatoes?
So basically, they're every woman's dream. The fact that the flavor of turnips is so subtle makes them an easy root for the pasta-ing. You can sauce these puppies however you please.
Yet another reason I love my Paderno Spiralizer is it can spit out turnip noodles faster than you can say, "Constantinople." Seriously, this recipe took 8.7 seconds (slash 30 minutes) to prepare, making it an easy weeknight meal.
The dish makes you feel satisfied but not stuffed the way regular noodles do, and they're chockerblock full of pesto-y artichoke-y flavor. You can even add sun-dried tomatoes or chicken if you want to be a real champ about it.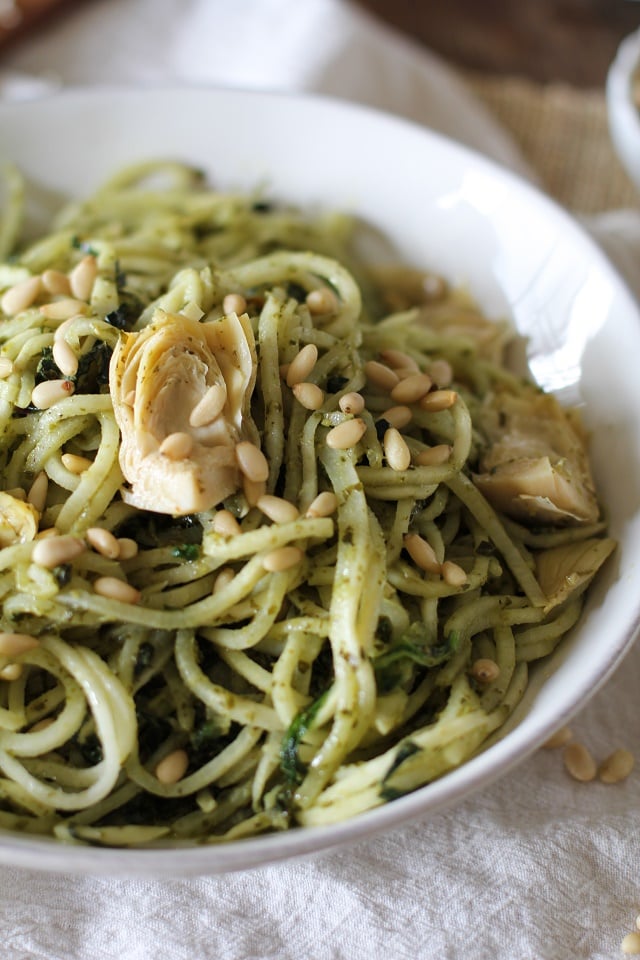 Do you have an extra special pesto sauce you love using for all your pesto-ing needs? I love making parsley, roasted beet, and kale pesto homemade, but am always up for a store-bought basil pesto in a pinch. You can make your sauce using whatever herbage you fancy or snag some at the store.
It's your noodle and you'll pesto how you want to. But add kale to the pasta for some extra vitamins, will ya? If we're gonna go veg, we may as well go big, right?
More Healthy Noodle Recipes:
In with the green, out with the bloat!
Turnip Pasta with Pesto Artichoke Hearts and Kale
Turnip Pesto Pasta with Artichoke Hearts and Kale is a unique low-carb plant-based meal
Servings:
2
to 3 servings
Ingredients
2

large turnips

peeled and spiralized

2

cups

loosely packed kale leaves

finely chopped

1

cup

kale pesto

2

tablespoons

grapeseed or olive oil

1 6.5-

ounce

jar marinated artichoke hearts

chopped

3

tablespoons

pine nuts

Parmesan cheese for serving

optional
Instructions
Chop the tip and tail off of the turnips, peel them, and spiralize them using a spiralizer.

Add the kale, oil and pesto to a large skillet and heat to medium. Cook until kale has wilted, about 3 to 5 minutes. Add the turnip noodles and artichoke hearts and stir well until the noodles are coated in sauce. Cover and cook 8 to 12 minutes, stirring occasionally, until noodles have reached desired done-ness. Note: if noodles begin to stick to the bottom of the pan, add more oil or a couple tablespoons of water.

Serve pasta with pine nuts and freshly grated parmesan cheese if desired. (To keep this recipe vegan or paleo, skip the cheese).
Nutrition