Carrot Noodles with Ginger-Lime Peanut Sauce makes for a healthful side dish or main entrée when you add protein.
An amazing grain-free option for those who enjoy a whole food diet, these veggie noodles are loaded with flavor, are easy to make, and are absolutely delicious!
Have you ever made carrot noodles? For the life of me, the only food I've been wanting to eat lately is raw. Slabs of raw fish? Bring it on. Raw veggies all smothered in a tasty zesty, spicy, sweet sauce? The raw-er, the better.
Lately I've been going with spiralized vegetables galore, and one of my current favorites? These spiralized carrot noodles with a mega flavorful ginger-lime peanut sauce.
Fact is, spring vegetables are perfect for leaving raw, and carrots are super easy to spiralize. Why go the extra mile with heat-treating your vegetables when they're perfectly decent as is? If it ain't broke, don't fix it.
Plus this California perma-summer thing is driving me away from comfort foods straight into the welcoming arms of cool, crisp salad.
How to Make Carrot Noodles:
Oh hey, have you ever seen one of these? It's a GEFU Spirelli Spiral Slicer and it makes noodles out of veggies. Best invention EVER!
I have also heard the Paderno World Cuisine Spiralizer is incredible for spiralizing all sorts of vegetable noodles. Instead of only being able to spiralize long, thin vegetables like carrots and zucchini, the Paderno can spiralize any hearty vegetable, including sweet potatoes, butternut squash, you name it!
Start by preparing the sauce. Simply add the ingredients to a small bowl and stir until combined.
Use your spiralizer to make carrot noodles. Toss the noodles and sauce together and you're done! Serve with roasted cashews and chopped cilantro.
What do Carrot Noodles Taste Like?:
Okay, let's face it: raw carrots taste nothing like pasta. They do, in fact, taste like carrots. But that doesn't mean we can't twirl them around like real noodles and/or get all Lady and the Tramp with someone we love.
The carrot noodles are crisp and fresh and the ginger-lime peanut sauce makes your noodle spin. This recipe is ever so simple and requires zero cooking. You take those vital minutes you would have spent hovering over a stove and stick them in your piggy bank. You're welcome.
Recipe Adaptations:
If you're intolerant to peanuts or follow a Paleo/Whole30 diet, not to worry! You can use any nut butter of your choosing – almond butter and cashew butter work great!
Looking for a warm meal? You can cook the noodles, too! Simply heat a small amount of oil in a skillet, add the noodles, cover, and cook until they reach desired done-ness – about 3 to 5 minutes.
Go heavier or lighter on the garlic!
Add your favorite animal protein to make this a complete meal.
Noodle with all your might.
More Healthy Vegetable Noodle Recipes:
My cookbook,
Paleo Power Bowls
, is now available! CLICK HERE to check it out. Thank you for your support!
If you make this recipe, please feel free to share a photo and tag @The.Roasted.Root on Instagram!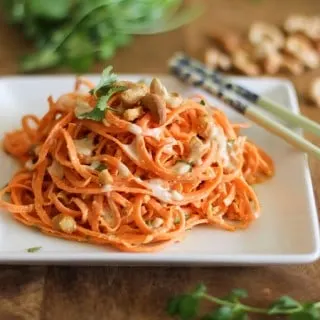 Raw Carrot Pasta with Ginger-Lime Peanut Sauce
Carrot noodles make for a healthy gluten-free side dish or entrée! These veggie noodles are quick and easy to make and always a crowd-pleaser.
Ingredients
For the Carrot Pasta:
5 large carrots, peeled and spiraled into noodles
1/3 cup roasted cashews
2 tablespoons fresh cilantro, finely chopped
For the Ginger-Lime Peanut Sauce:
2 cloves large garlic, finely chopped
1 tablespoon fresh ginger, peeled and grated
1 tablespoon lime juice
Kosher salt to taste
Instructions
To Prepare the Ginger-Lime Peanut Sauce:
Combine all ingredients in a small bowl and mix together until smooth and creamy.
To Prepare the Carrot Pasta:
Wash carrots well, peel them, and pat them dry.
Using your spiral slicer, make noodles out of all of the carrots. It will be more difficult to make the noodles once there is only a few inches of carrot left, so you can grate what's left of the carrot.
Place all carrot noodles into a large serving bowl. Pour the Ginger-Lime Peanut Sauce over the noodles and gently toss together (I use my hands for this part).
Serve with roasted cashews (or peanuts) and freshly chopped cilantro.
Notes
If you don't have a spiral slicer, you can simply grate the carrots with a box grater to make this recipe. 😀
Nutrition Information
Yield

6
Serving Size

1 of 6
Amount Per Serving
Calories

111
Total Fat

6g
Unsaturated Fat

0g
Carbohydrates

9g
Fiber

3g
Sugar

5g
Protein

3g