Whip up this comforting Classic Shepherd's Pie, and everything will be graaaavy.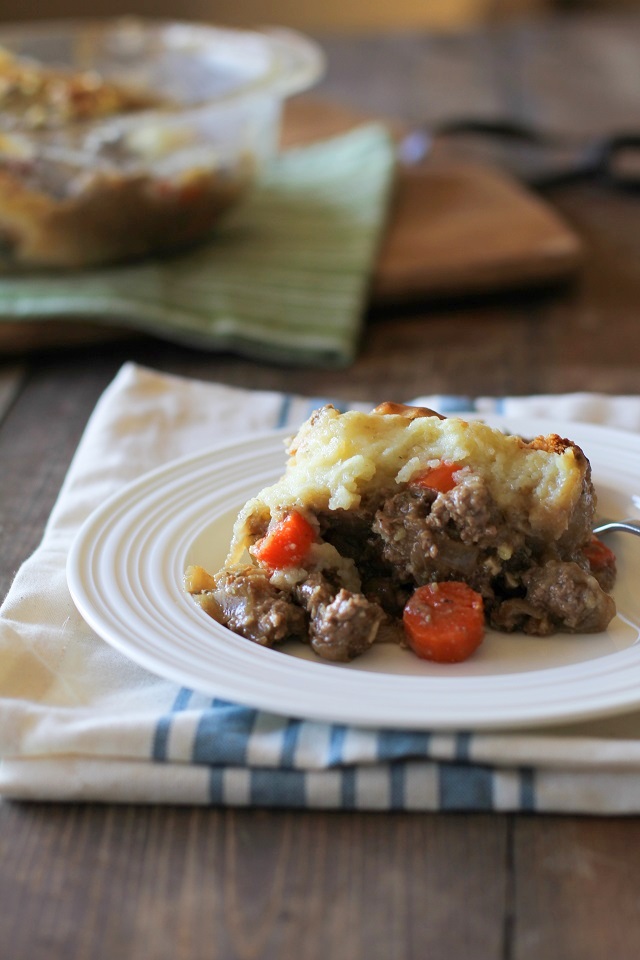 Fuh-RYYYY-Deeeee! What are we all doing this weekend? Word has it, we're actually going to get some snow in the mountains, so I'm envisioning myself trapped inside with white fluff up to the rooftop, cuddled up with a blanket and all the boozes in my hot chocolate. Never mind that the weather service is calling for a mere 3 inches…a girl can dream. And and then she can snow shoe to the top of a mountain and ride the powder wave alllllll the way dooooooown.
Sorry. I just got lost in my own fantasy.
Lo and behold, St. Paddy's Day is just around the corner! Insert green beer emoji here.
Psych! There's no green beer emoji. Made ya look!
Any holiday that celebrates beer, meat, and potatoes is my kind of holiday. Did you know Guinness is my favorite non-microbew brew? Like I could just drink that ish like a bloomin' milkshake. A big, beer-y, hearty, satiating, gluten-filled milkshake. Suuuuh-lurp. Remind me to procure some ice cream and make an honest woman out of myself, mkay?
Le sigh…can every day be St. Patrick's Day?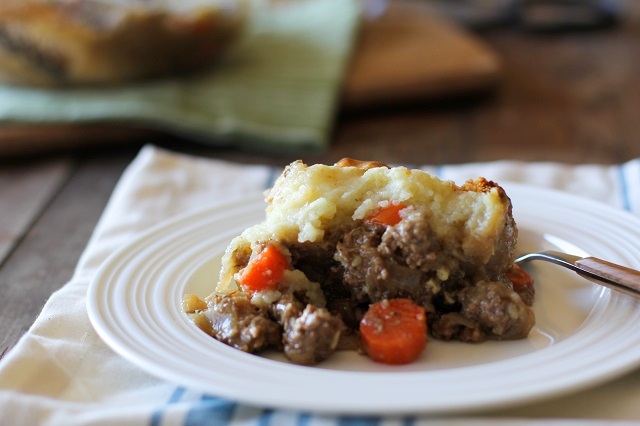 I'm all about the corned beef and cabbage, but shepherd's pie is just as equally my jam. Stewed lamb meat in thick gravy with mashed potatoes on baked on top? Just.let.me.put.my.face.in.it. I'd take the savory meat pie over apple pie any day, I tell you what.
This recipe is very much a classic take on Shepherd's Pie, but you can make all sorts of substitutions. You can use beef (which would technically be Cottage Pie), or ground turkey. You can also add some peas, green beans, corn, or beets (< – kidding, not kidding). Those of you who cook sans gluten, simply use your gluten-free all-purpose flour to replace the regular flour in the recipe.
Hop on over to eHow.com to see my recipe and tutorial on How to Make Shepherd's Pie, or follow the recipe below. And don't forget to bake a loaf or two of Irish Soda Bread!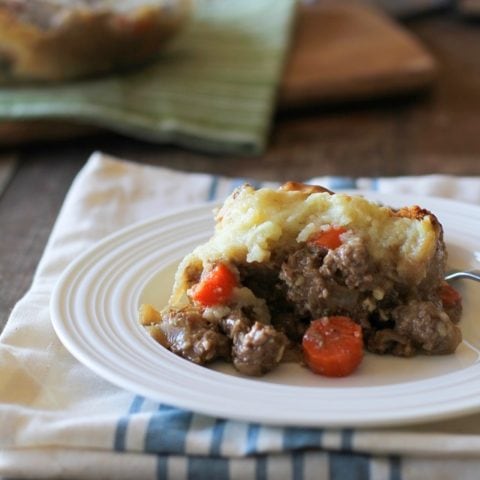 Classic Shepherd's Pie
Cook Time:
1 hour
30 minutes
Total Time:
1 hour
45 minutes
Shepherd's Pie recipe with ground lamb and yukon gold potatoes
Ingredients
1-1/2 pounds Yukon gold potatoes, chopped into 1-1/2-inch rounds
½ cup buttermilk
2 large carrots, peeled and chopped
1 large yellow onion, diced
3 cloves garlic, minced
1 pound ground lamb
2 teaspoons dried oregano
1 teaspoon dried thyme
Instructions
Bring a pot of water to a full boil. Add the chopped potatoes and cook at a full boil for 15 to 20 minutes, until potatoes are very soft when poked. Strain water and allow potatoes to cool slightly.
Saute the onions and carrots in oil over medium heat until softened but still al dente, about 8 to 10 minutes.
Move the veggies off to one side of the skillet, and add the ground lamb, minced garlic, dried oregano and thyme and continue cooking just until lamb meat has browned, about 2 minutes.
Stir in the flour and cook for 1 minute.
Pour the beef broth into the skillet and bring to a full boil.
Cook un-covered for 15 to 20 minutes, stirring occasionally, until mixture is very thick. Taste the mixture for flavor and add sea salt if desired.
Add the cooked potatoes, buttermilk and salt to a blender. Blend until smooth. Note: you can also mash the potatoes with the buttermilk and salt using a potato masher, if you prefer your mashed potatoes chunky.
Preheat the oven to 400 degrees F. Pour the lamb mixture into a 13" x 9" casserole dish (or a casserole dish that holds at least 1.5 quarts).
Spread the pureed potatoes on top of the lamb mixture. Place casserole dish on a baking sheet and bake on the center rack for 30 minutes, until shepherd's pie is bubbly and the potatoes are golden brown on top.
Remove shepherd's pie from the oven and allow it to cool for at least 10 minutes before serving. Note that the longer the pie sits, the thicker it will become.
Serve heaping portions of shepherd's pie with Irish Soda Bread.
Nutrition Information
Yield

6
Serving Size

1 grams
Amount Per Serving
Unsaturated Fat

0g