Super pimp Irish Soda Bread.
Can we can have a mature conversation about how you should drop everything right now and bake this rad Irish Soda Bread? Like don't even go to work, walk your dog, or put on pants. Just. Bake. Dis. Crunk. Loaf.
Your butter needs a companion and your face needs some comfort.
This recipe is a classic take on traditional Irish Soda Bread. Traditional Irish Soda bread is made with bread flour, buttermilk, and baking soda instead of yeast. No yeast = no wondering if yeastly creatures are alive and active = no waiting for bread dough to rise = super quick slam bam thank you ma'am bread. Many people add raisins (or currants) and caraway seeds for some extra stellar flavor, which is just bril. Like, don't skip the raisins and caraway seeds.
I know what you're thinking…
#DontWorryIt'sGlutenFree.
Or not. Whatever's your jam.
I used my gluten-free all-purpose flour instead of bread flour, and it turned out magnificently. You'd never know thee difference! You can also use regular all-purpose flour – doesn't need to be fancy!
Let's explore the possibilities with this bread for a minute. No brainer: bake it for St. Patrick's Day to go alongside your Shepherd's Pie…or just any dang day you please. My other Irish soda thoughts consist of every sandwich ever (turkey, bacon, avo for.the.win!), French toast, French onion soup, bread pudding, bruschetta, butter, jam, and personalized pizza. Open-faced breakfast sandinger with all the eggs, bacon, and salsa con carne asada. Ugh stop making me hungry, you menace.
Wah wah wah wait….look at this: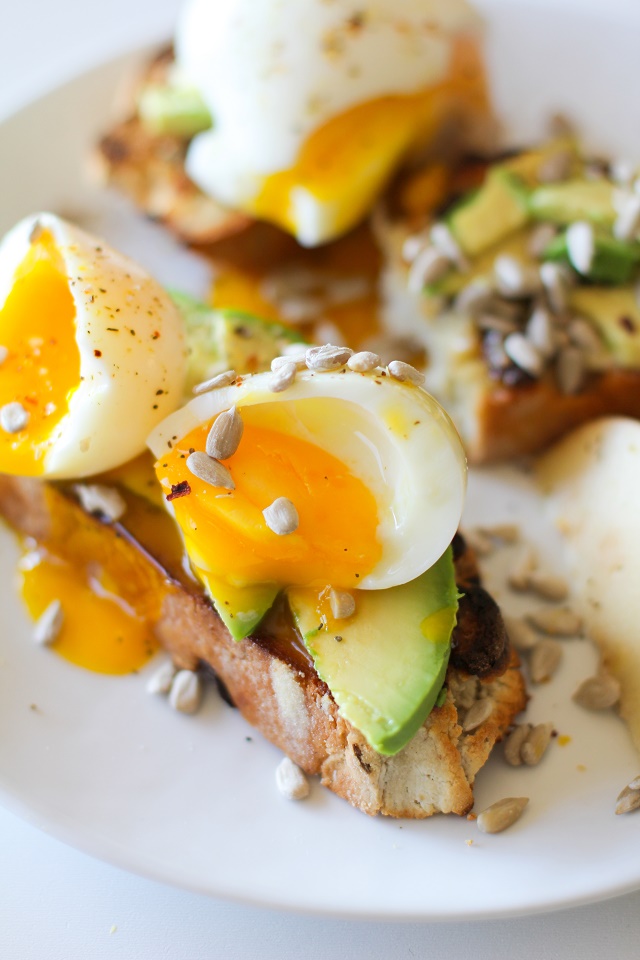 I've been breakfasting like a champ by toasting up hearty slices of Irish soda bread, slathering them in butter, layering them with avocado, and topping them with soft boiled eggs and sunflower seeds. Just.Whoa for your facetrap. I'd be lying if I said I haven't drizzled the whole dang thing in maple syrup, because: blood sugar.
Back to my soda story.
I've been whipping up How To Tutorials for eHow.com, and this project was absolutely spectacular. I'll be posting teasers on here every once in a while to the recipes I make. So get ye some carbs! Head over to eHow for my tutorial on How To Make Irish Soda Bread or simply follow the recipe below.
Questions? Hit me up style!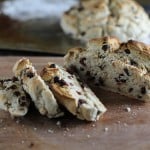 How to Make Irish Soda Bread
Print
Ingredients
4

cups

gluten-free all-purpose flour + more for dusting

1

tablespoon

baking powder

1

teaspoon

baking soda

1

teaspoon

sea salt

1

tablespoon

caraway seeds

1

cup

raisins or currants

rinsed in hot water and patted dry

2-1/4

cups

buttermilk
Instructions
Preheat the oven to 350 degrees F. Lightly oil a large baking sheet using olive oil or cooking spray. Sift together flour, baking powder, salt and baking soda in a large mixing bowl. Add the raisins and caraway seeds and stir well to combine. Create a well in the center of the flour mixture.

Pour the buttermilk into the well.

Stir the buttermilk into the flour mixture, starting in the center and working your way to the outside of the bowl until a dough forms. If needed, add additional buttermilk (2 tablespoons at a time) to form the dough.

Turn the dough out onto a lightly-floured surface and knead for 1 minute. Form a large disc out of the dough.

Cut the dough in half with a knife and with floured hands, form two small discs out of the dough.

Using a serrated knife, cut a 1/4-inch deep X into each disc of dough.

Place both discs of dough on the lightly-oiled baking sheet. Be sure to place the discs far apart, as they will rise while baking.

Bake for 45-55 minutes, or until crust is golden brown and bread tests clean when poked with a knife. Remove from the oven and allow bread to cool at least 20 minutes.

Place Irish Soda Bread on a cutting board. Using a serrated knife, cut slices 1 to 1.5 inches thick. Slather with butter/and or jam and enjoy alongside your favorite entree!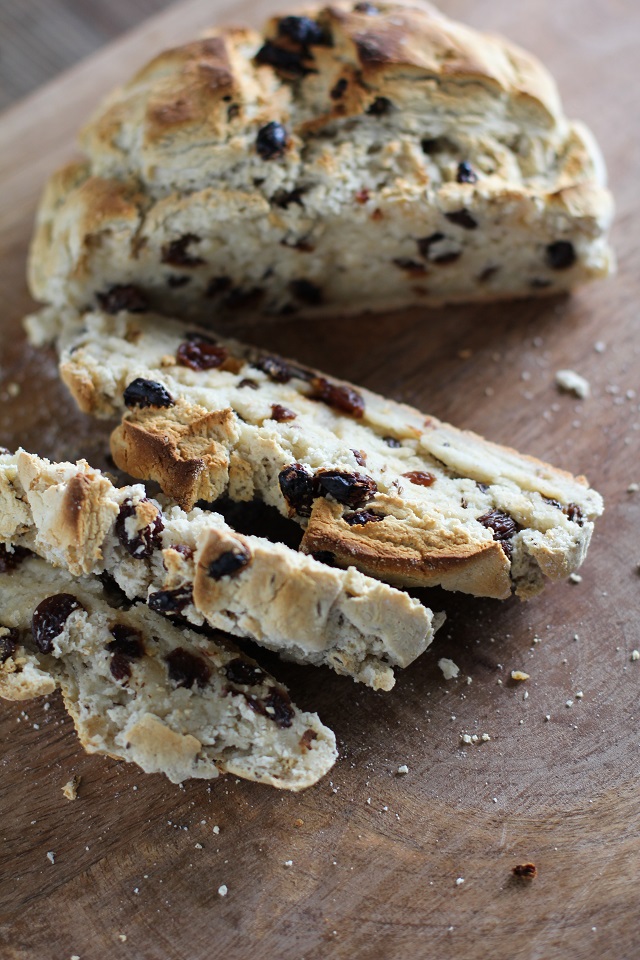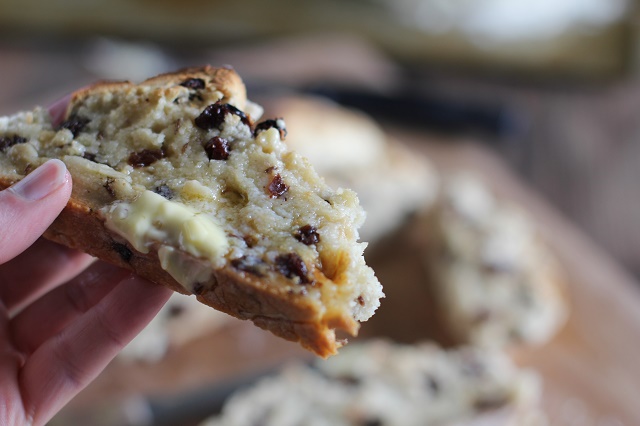 The buttaaaaaaaaaaaaaaaaah
!!