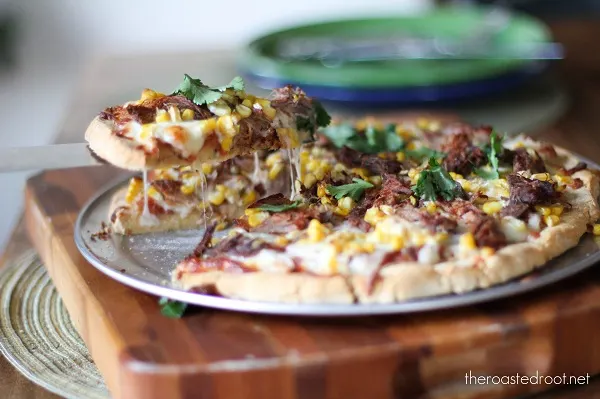 Some days the tears need to flow. Some days there is no worldy reason for tears, but they surface nevertheless. A straw breaks the camel's back, the Hoover Dam flood gates open, fluids pour out of your face and for the next three days, you eyes are doomed to leak at first earshot or sight of anything that illicit any type of emotion whatsoever. What. so. ever!
You wake up feeling under the weather with a sore throat and your bushy-tailed boyfriend makes you hot tea with honey and the tears begin a-flowing.
How about this one: You bake a batch of muffins and they stick to the muffin pan in spite of your pre-oiling methods. Cry, cry, cry, cry, cry. It's not cry-worthy, but that doesn't mean you don't cry. Or this one: the article you wrote for a local publication was well-received, so you "ohthankgod" and sob at the same time.
It's not your fault. Your eyes have sprung a leak and you're just going to have to wait this one out for 2 more days. Someone call the maintenance crew! Keep the news turned off, and by golly, don't put any mascara on until it's fixed!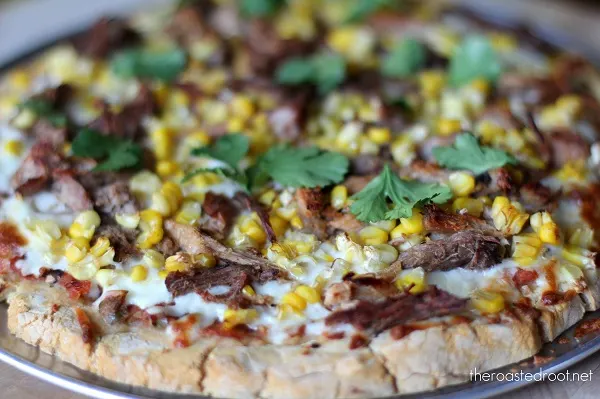 There are tears of joy, frustration, desperation. There are, without a doubt, cries that make no sense at all. And that's the beauty of life. It doesn't have to make a lick of sense because you're human and it feels good to get carried away.
This Carnitas Taco Pizza is worthy of a cry. With shredded pork, salsa, corn, and fresh cilantro – you have all the ingredients of a delicious taco right on top of your pizza. Cry. For the pizza crust, I used Bob's Red Mill Gluten Free All Purpose Flour, but you can use your preferred pizza dough recipe. You can also try my recipe for Cauliflower Pizza Crust. Give yourself something to build on and you'll be crying in no time. Build. Cry. Eat.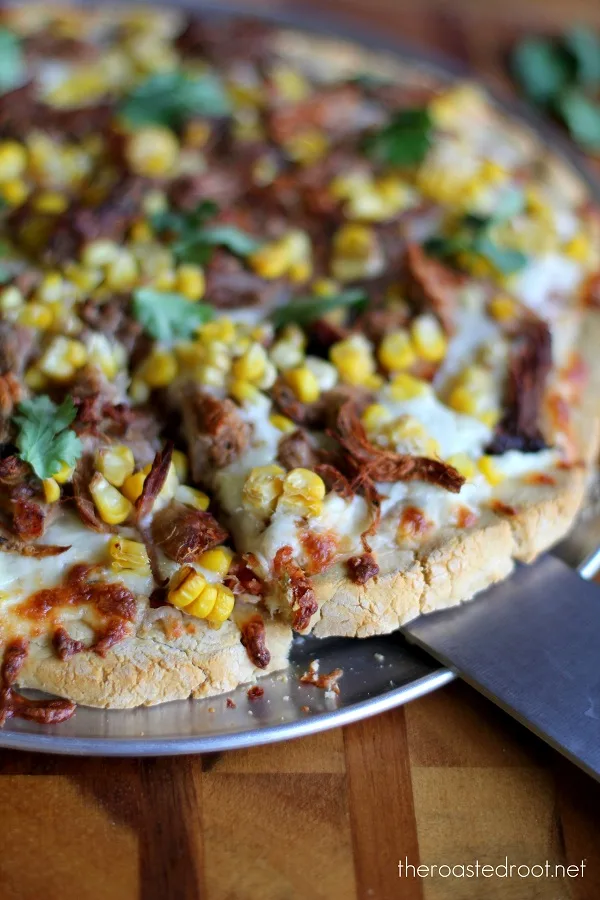 For the carnitas, I used my Carnitas Tacos recipe. Basically, you put a hunk o' pork roast in the crock pot with one can of beer, some spices a couple of limes worth of lime juice and cook it all day on low. Then shred the meat and eat your fill of tacos or taco pizza! I used salsa for the pizza sauce (which you can find on the same recipe as the Carnitas Tacos), and you can also use my Chili Verde Salsa recipe if you like green salsa. SHABAM!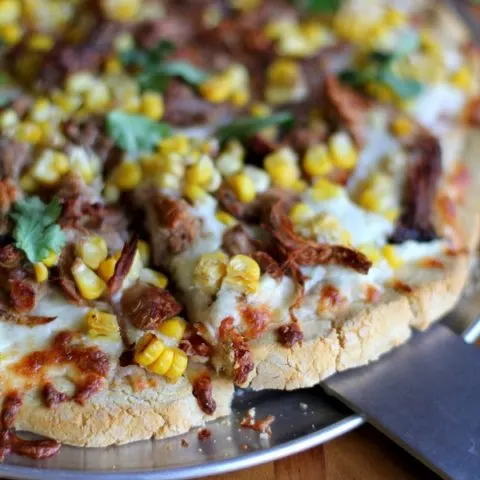 Carnitas Taco Pizza
Total Time:
8 hours
20 minutes
Ever put carnitas on a pizza? You'll LOVE this shredded pork pizza recipe!!
Ingredients
For the Carnitas and Salsa recipe:
see this recipe: https://www.theroastedroot.net/crock-pot-carnitas-tacos-with-red-chili-salsa/
For the Gluten Free Pizza Dough
¾ cup water at 100?F.
1 packet active dry yeast
1 teaspoon salt
2-1/4 cup Gluten Free All Purpose Flour + More for kneading.
For the Pizza:
15 ounces salsa for the sauce
8 ounces Mozzarella cheese, shredded
2 ears of corn, cooked and kernels removed
cups Shredded Pork, 1 to 2 worth
Fresh cilantro
Instructions
To Make the Gluten Free Pizza Dough:
Pour ¾ cup warm water in a bowl. No higher than 100 degrees, no less than 80 degrees (water should feel slightly warm to the touch).
Add the packet of yeast and mix using a fork.
Add ¼ cup of the all-purpose flour and mix until all hunks are out.
Allow this mixture to sit for 15 minutes with a towel covering the bowl. This process gives the yeast time to activate and some food to munch on to make it happy.
Add 1 cup of flour to the yeast and mix thoroughly.
Begin adding the remaining flour, ¼ cup at a time and mixing until incorporated.
By now, the dough should be forming and moving away from the sides of the bowl. If it is still too sticky to grab with your hands, dust a little more flour on the dough.
Turn dough out onto a floured surface and knead for a minute or so. The dough needs to stay soft and not get too tough, so don't overzealously knead. You should end up with a ball of dough that does not stick to your hands but also does not crumble apart.
Coat the ball of dough with a little olive oil and place it in a large mixing bowl with a towel over it.
Allow dough to sit 30 minutes.
Preheat the oven to 375?F.
Prepare a pizza tray or baking dish by coating it lightly with olive oil.
Remove dough from bowl, knead for about 30 seconds, then either roll the dough out or press it into your pizza tray or baking dish using your hands. If the dough gets craggly around the edges, simply smooth it out by pressing it together.
Bake the dough for 15 – 18 minutes until it begins to turn golden brown on the edges and feels firm to the touch.
Remove pizza crust from the oven then build you're momentously delicious pizza.
Start by adding desired amount of salsa (use a slotted spoon to scoop the salsa on the pizza if there is a lot of liquid in it), then cheese and corn, then your shredded pork.
Bake pizza for 15 to 20 minutes until cheese is golden, the pork is crispy and the crust is at desired level of crisp.
Add fresh cilantro and enjoy!
Notes
Beer contains gluten unless otherwise specified. If you are allergic to gluten, make sure you use gluten-free beer for preparing the carnitas or substitute the beer for chicken broth.
Nutrition Information
Serving Size

1 grams
Amount Per Serving
Unsaturated Fat

0g
Other great gluten free pizza crusts:
Perry's Plate: Cauliflower Pizza Crust
Pinch of Yum: Light BBQ Chicken Pizza (with Cauliflower Pizza Crust)
Gluten-Free Goddess: Gluten-Free Pizza Crust
The Devil Wears Parsley: Gluten-Free Pizza Crust
The Best of this Life: Gluten-Free Pizza Crust