Pomegranate Kombucha Floats are a fun fizzy dessert recipe that is a healthier alternative to classic ice cream floats.
Your free pass for eating ice cream is pouring probiotics on it.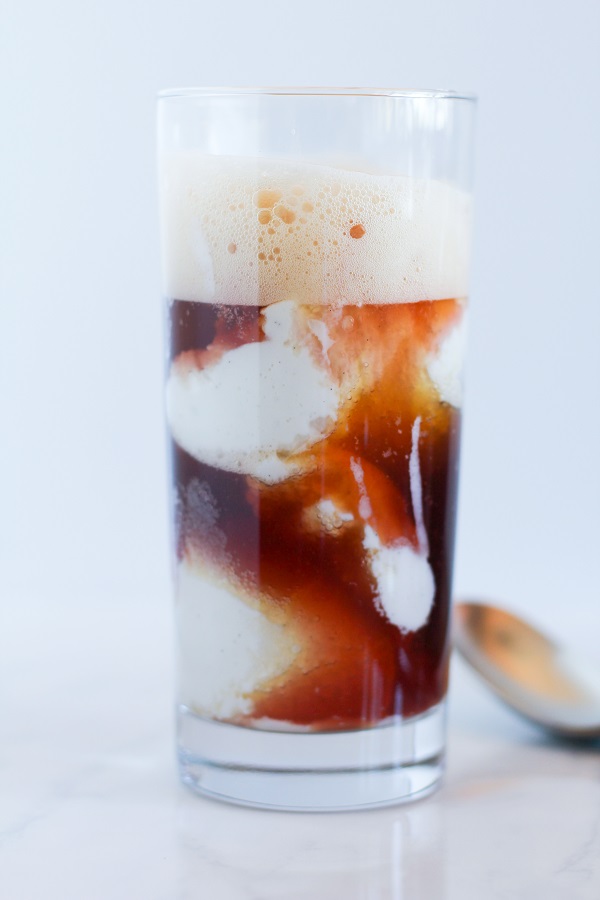 Can we all agree that kombucha is gaining in popularity?
One's favorite kombucha flavor (let me guess: yours is Gingerberry?) is becoming a prominent topic of conversation, more and more people are beginning to brew it at home, and I've even noticed traffic jams around the kombucha case in my local grocery store.
There are many good reasons for the hype. If you are unfamiliar, you can learn why from my 10 Things You Need to Know About Kombucha post. Additionally, if you're interested in trying your hand at home-brewing, check out my post on How to Make Homemade Kombucha.
Pomegranate kombucha is super simple to make because all it takes is home-brewed kombucha and pomegranate juice. In fact, when I first started brewing kombucha, pomegranate juice was my flavor of choice for quite a while.
Adding any 100% fruit juice to homemade kombucha prior to bottling it allows the drink to ferment a second time. Through this secondary fermentation, probiotics continue to grow, and the gasses the emit build pressure in the bottle, resulting in an effervescent (or bubbly) bevvie.
And what better use for a bubbly bevvie than an ice cream float?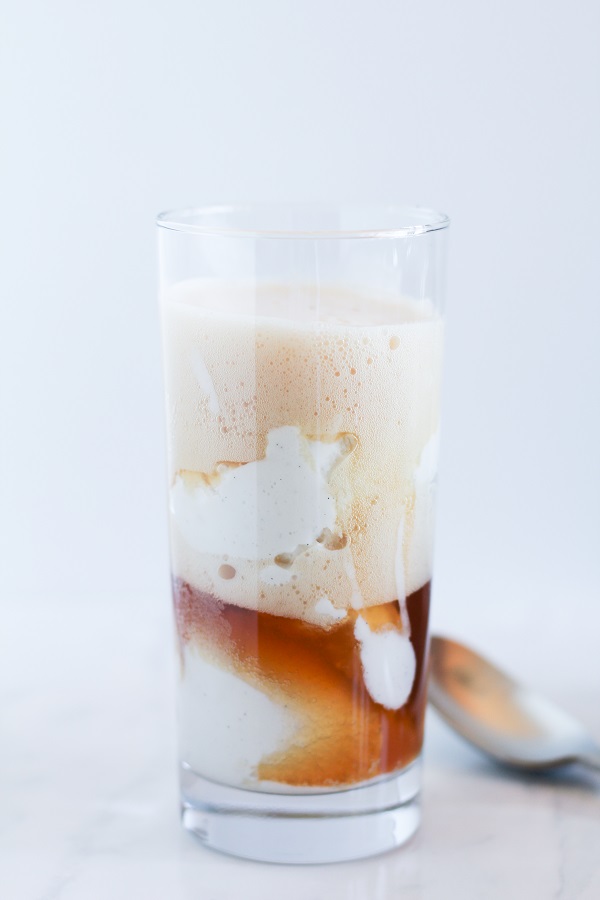 Fun fact: you can use kombucha in the same way you would use vinegar.
It can be used to clean your home (true story), you can add it to homemade salad dressing, put it in a marinade, etc. The acidic pH and flavor makes it ideal for a vinegar replacement, and the probiotics fight bad bacteria to create a sterile environment.
It may sound…well…gross…to combine a vinegar-y flavored drink with ice cream, but it works, I promise! Admittedly, I was hesitant about the flavor, so I also added pomegranate juice in addition to pomegranate komucha to be sure it was sufficiently sweet.
For those of you who are die-hard kombucha lovers, you can definitely try the float without adding more juice.
And just so's you'uns know: my ice cream preference for all of my ice cream-ing needs is coconut milk-based ice cream. Don't tell Ben or Jerry.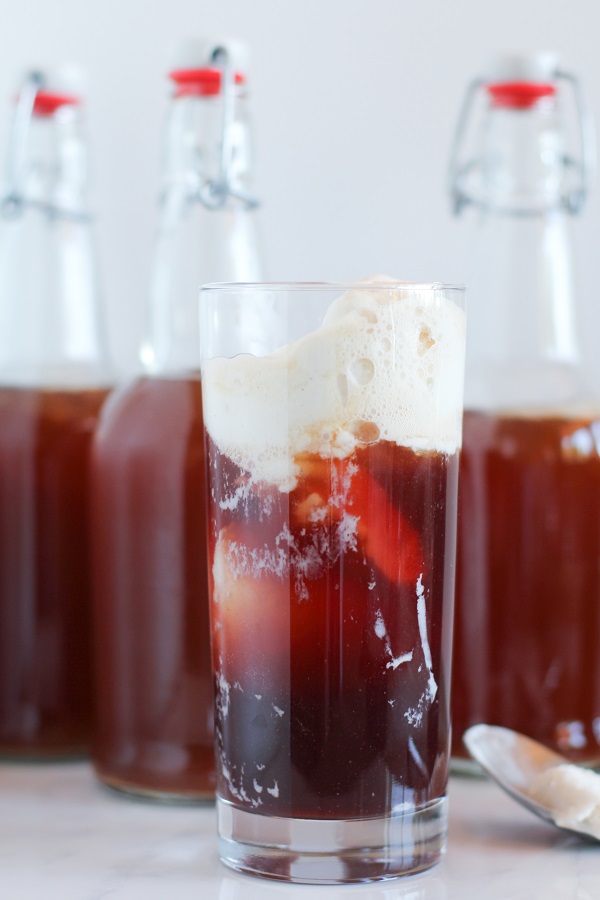 Pomegranate kombucha. It's the root beer to your float.
Pomegranate Kombucha Floats
A healthier ice cream float made with kombucha instead of soda! Pick your favorite kombucha and add a scoop of vanilla ice cream!
Ingredients
Pomegranate Kombucha
1

gallon

home-made kombucha

2

cups

100% pomegranate juice*
Pomegranate Kombucha Float
Vanilla Coconut Milk Ice Cream

homemade or store-bought

Pomegranate juice

Pomegranate kombucha
Instructions
Make Pomegranate Kombucha:
In a large pitcher, combine half of the home-brewed kombucha, and half of the pomegranate juice. Stir to combine.

Pour the kombucha into well-sanitized glass screw-top or flip-cap bottles.

Secure the lids tightly and place bottles in a warm, dark place for 3 days for secondary fermentation.

Place the bottles in the refrigerator and chill completely (note: this will slow down the fermentation).

When ready to open the bottles, make sure you point them away from your face, as gasses will have built, and the drink will be fizzy like soda.
Make Pomegranate Kombucha Floats:
Add desired amount of coconut milk ice cream to a tall glass.

Fill glass about ¼ to ½-way full with pomegranate juice.

Top it off with pomegranate kombucha.

Slurp it down!
Nutrition
Serving:
1
g
|
Calories:
205
kcal
|
Carbohydrates:
20
g
|
Fat:
10
g
|
Sugar:
10
g
Get more recipes for kombucha and other probiotic drinks such as ginger beer and kefir from my cookbook, Delicious Probiotic Drinks.