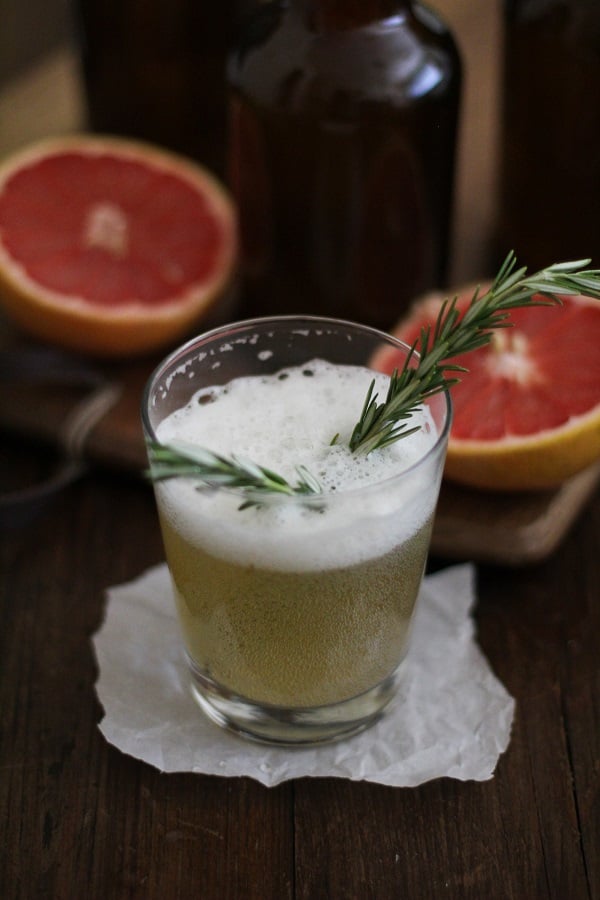 Grapefruit and rosemary may seem like a strange duo, but the two go together like matching bookends. Like Kenan & Kel. Bevis and Butthead. Rhianna and Eminem (just go with it). While I was writing Delicious Probiotic Drinks
, I learned that the ULTIMATE way of getting a consistently bubbly and perfectly tasty probiotic drink was through adding fresh fruit (including the pulp) combined with herbs after the first fermentation was complete.
After brewing countless gallons of beverages, my number one brewer's trick is this: add fresh fruit (perhaps some herbage?) and additional sugar prior to bottling your drink for secondary fermentation. Badabingbadaboom fizzalizz chingchangwallawallabingbang. For reals. Signed, sealed, delivered, this is your key to probiotic bliss. If you're new to brewing, lock those words away in your memory bank until you're ready to use them for your home-brewed elixirs. Also remember these words: Blackberry-Sage, Blueberry-Basil, Lemon-Lavender, and Grapefruit-Rosemary. Insaaaaaaaaaaaanity! Do them.
If you've never made Kombucha, read my post on How to Make Homemade Kombucha!
Do you love a flavored kombucha? Head over to Oh My Veggies for my Grapefruit Rosemary Kombucha recipe.
Sneak Peeks and Giveaways
You can find some of the recipes from my book and enter giveaways to win a copy at the following blogs (check back here over the next month, as bloggers will continue to post recipes, reviews, and giveaways):
Oh My Veggies – Delicious Probiotic Drinks Giveaway
Seaweed & Sassafras – Raspberry Pina Colada Smoothie
Making Thyme for Health – Banana Cream Pie Yogurt and a Giveaway
Climbing Grier Mountain – Homemade Mojito Yogurt plus Probiotic Drinks Cookbook Giveaway
Eat Your Heart Out – Blueberry Mango Smoothie
Kitchen Confidante – Avocado Kale Superfood Smoothie
Boulder Locavore – Raspberry Pina Colada Smoothie and a New Cookbook Giveaway
Coffee & Quinoa – Mocha Yogurt and a Cookbook Giveaway
Also enter my giveaway if you haven't already!
I have no clue how to express my gratitude towards the bloggers who have been helping me get the word out about my cookbook. Other than to say, THANK YOU and in the words of Olivia Newton John, I love you. I honestly love you.
You can also pick up a copy from Amazon.com
or Barnes and Noble.
Resources
Gut health is a real thing. We are the result of what we put into our bodies. And the effect of the things we consume goes beyond physique or body chemistry. Our inputs determine so much of our outputs (TMI? Whateves.), including our overall well-being, emotional, and mental health. Having been blessed with a healthy gut, I feel like I'm speaking out of turn when I talk about gut health, so I figured I would share some resources I have found over the last few months.
NPR Gut Bacteria Might Guide the Workings of Our Minds
Harvard Medical School The Health Benefits of Taking Probiotics
Huffington Post Kombucha and Kefirs: Hype or Healthy?
Radiolab Podcast on Guts