Grain-free paleo sandwich bread made with almond flour and tapioca flour. This easy to make sliced bread recipe is perfect for those who eat gluten-free or grain-free diet! It has a consistency similar to ciabatta bread and is marvelous for toast or sandwiches. It's the best thing since sliced bread!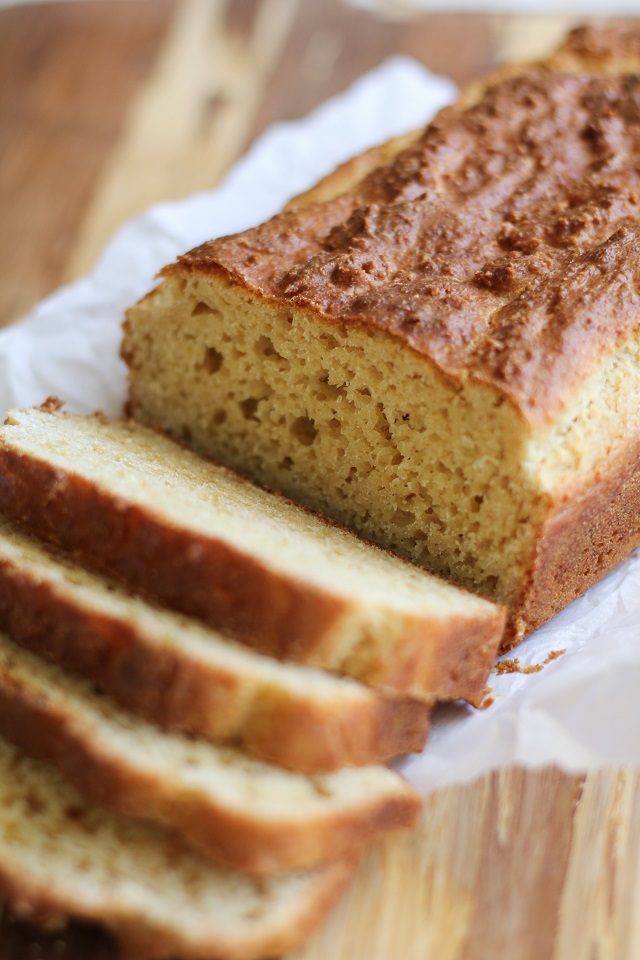 Now that school is back in session, I've been inspired to live vicariously through students of all ages and strengthen my relationship with sandwiches.
Just thinking about all the kidlets carrying their lunch pails with them, donning their thinking caps to become little knowledge receptacles makes me feel nostalgic and warms my heart. There's no denying the relationship between nutrition and the ability to learn and retain information, no matter your age. The way I see it, a big filling sandwich for lunch works wonders for keeping our minds fueled throughout the afternoon hours.
Which brings me to my next point…
SANDWICH BREAD…the maker or breaker of efficient sandwiching bliss. When selecting my sandwich bread, I always select wisely, lest I end up with a broken/torn/squished/unfulfilling lunch. I'm going for three things: 1.) Texture 2.) Durability 3.) Nutrient profile.
After whipping up Almond Flour Pizza Crust a few weeks ago, it dawned on me that the spongy, yet hearty texture and crispy exterior would make the most excellent sandwich bread. Using the same almond flour//tapioca flour//yeast concept, I baked this loaf of grain-free sandwich bread and have been honeymooning with all sorts of sandwiches ever since. I love that the bread is packet with protein from the almond flour, and slow-burning carbohydrates from the tapioca flour. A recipe for digestive happiness!
How to Make Paleo Sandwich Bread:
Add the yeast, coconut sugar, and warm water to a large mixing bowl and stir well. Allow mixture to sit 5 minutes to activate the yeast. Whisk the egg, olive oil, and cider vinegar into the yeast mixture.
Just like you would a normal loaf of bread, you activate the yeast in water with (be sure your water is between 95 and 115 degrees F)…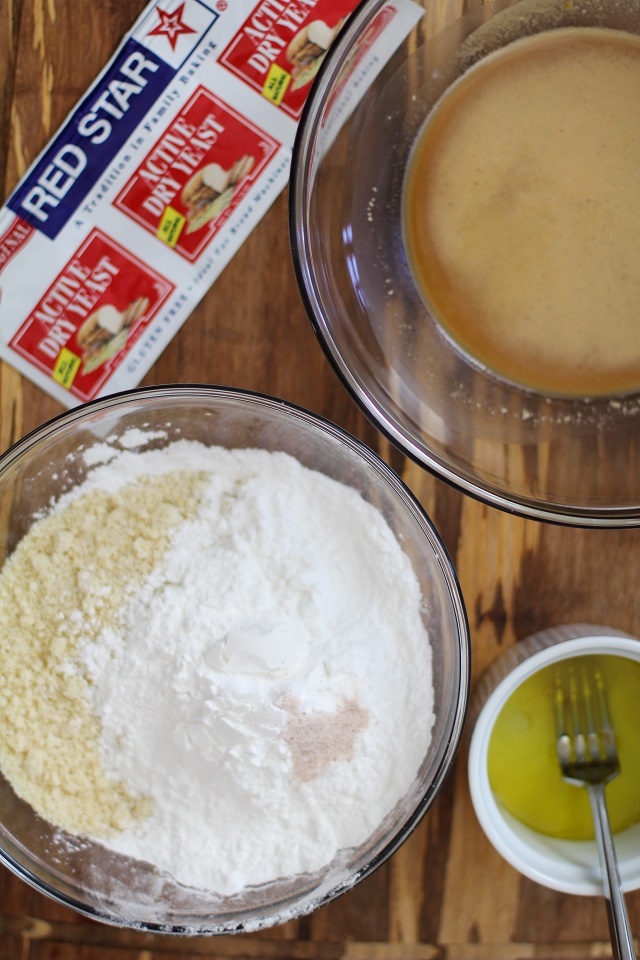 In a separate bowl, stir the almond flour and tapioca flour together until well-combined. Mix in the flours into the water/yeast mixture until combined.
Cover the bowl and put it in a warm spot in your house, and let it rise for 60 to 90 minutes, until the dough has doubled in volume and appears almost bubbly.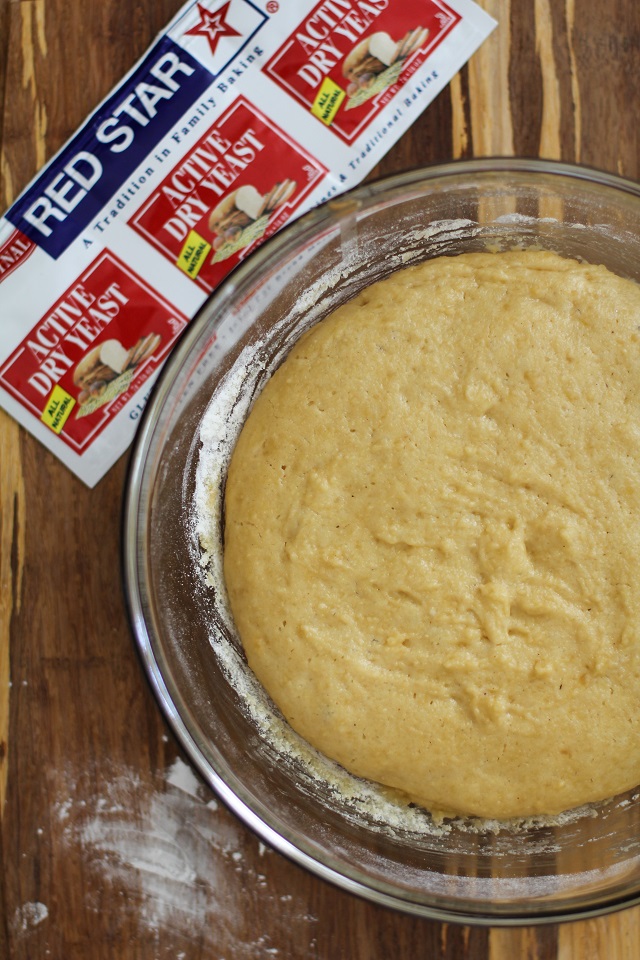 …transfer the bread dough to an oiled loaf pan and bake it off.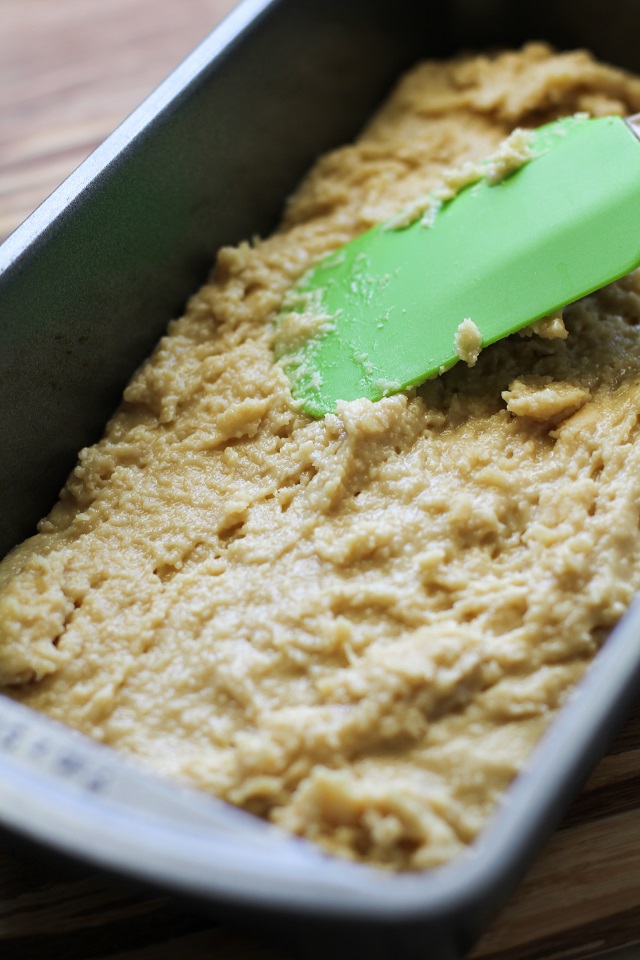 Slice that thing up, and you're ready to insert all your favorite sandwichables.
Let's talk bread texture. This bread comes has a ciabatta-like texture rather than soft and fluffy. I like my sandwich breads rustic so that they hold all of my stuffers nice and neatly without getting sogged out.
This is the perfect bread for panini making or grilled cheese sandwiches – it crisps up easily and does a magnificent job of sandwiching your sandwich innerds. WIN!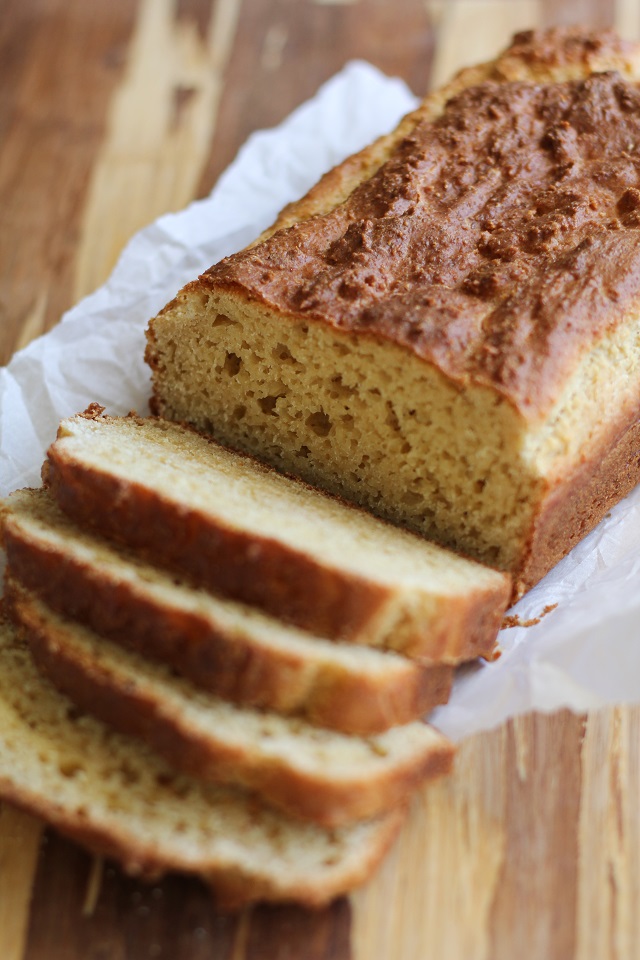 This bread is marvelous for the toasting, butter and jam smearing, open-facing, fully loading, it's just marvelous.
Because I don't like the ends of the loaves to go to waste, I like to spread almond butter on them, topped with banana and honey…maybe even a spriz of cinnamon if I'm really going to let my hair down.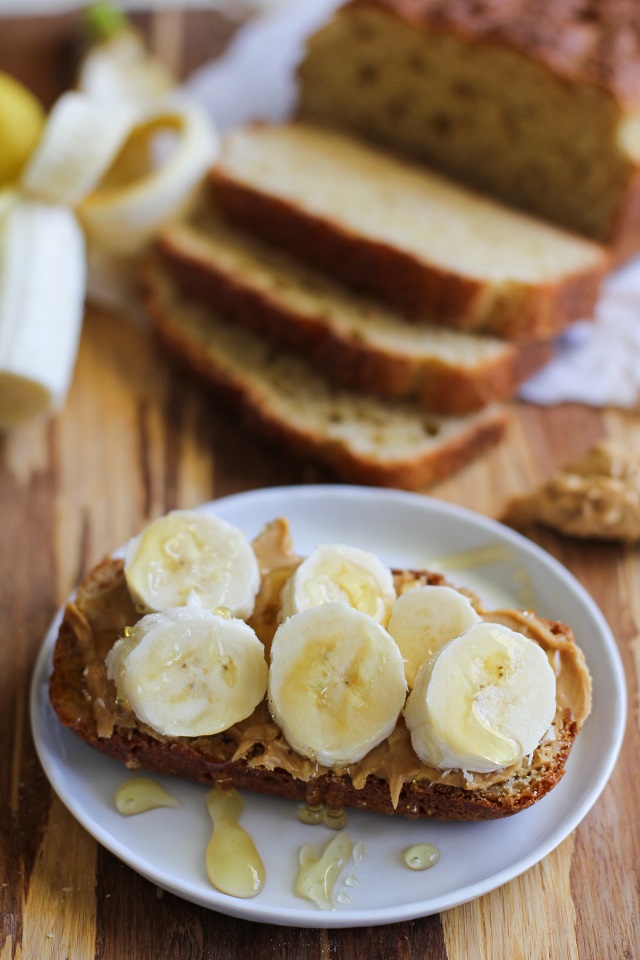 I'll be showing you a fresh and funky sandwich recipe tomorrow that will make you go HEY-YO! In the meantime, get ready for healthy sandwich fest by baking up a loaf of this yeasty grain-free bread!
Be sure to also check out…
More Healthy Gluten-Free Bread Recipes:
My cookbook,
Paleo Power Bowls
, is now available! CLICK HERE to check it out. Thank you for your support!
If you make this recipe, please feel free to share a photo and tag @TheRoastedRoot on Instagram!
Paleo Sandwich Bread (Grain-Free)
The best paleo sandwich bread recipe for sliced bread!
Servings:
1
loaf of bread
Instructions
Add the yeast, coconut sugar, and warm water to a large mixing bowl and stir well. Allow mixture to sit 5 minutes to activate the yeast. Whisk the egg, olive oil, and cider vinegar into the yeast mixture.

In a separate bowl, stir together the almond flour, tapioca flour and sea salt. Pour this dry mixture into the mixing bowl with the wet mixture and stir vigorously for 30 seconds.

Cover bowl with a towel and put in a warm place (next to a window in the sunshine works great). Allow dough to sit 60 to 90 minutes (mine took 60), until it has doubled in size and is full of air bubbles. NOTE: the dough will be very sticky and wet - this is normal.

Preheat the oven to 350 degrees F and lightly oil (or spray) a 9" x 5" loaf pan.

Once the oven has finished preheating, pour the dough mixture into the loaf pan. Note: leaving the dough in the loaf pan while the oven is preheating may cause bread to sink in the middle slightly, so wait until the oven is all the way hot before transferring the dough to the oiled loaf pan.

Bake in the oven for 45 to 55 minutes, or until bread is firm, golden-brown, and cooked through.

Allow bread to cool in the loaf pan for at least 30 minutes before running a knife along the edges, turning it out onto a cutting board, and slicing it with a serrated knife.

Use for toast and/or your favorite sandwiches!
Notes
The bread dough should be very thick. If it's overly dry, you can add a couple tablespoons of water to get it to the consistency you see in the photos. Note that if you bake at sea level, you may need to adjust the liquid amount and the bake time. I bake at 6,000 feet of elevation.
Nutrition
Serving:
1
of 15
|
Calories:
194
kcal
|
Carbohydrates:
12
g
|
Protein:
3
g
|
Fat:
11
g
|
Sugar:
4
g