Creamy vegan cream cheese frosting made with only a few basic whole food ingredients.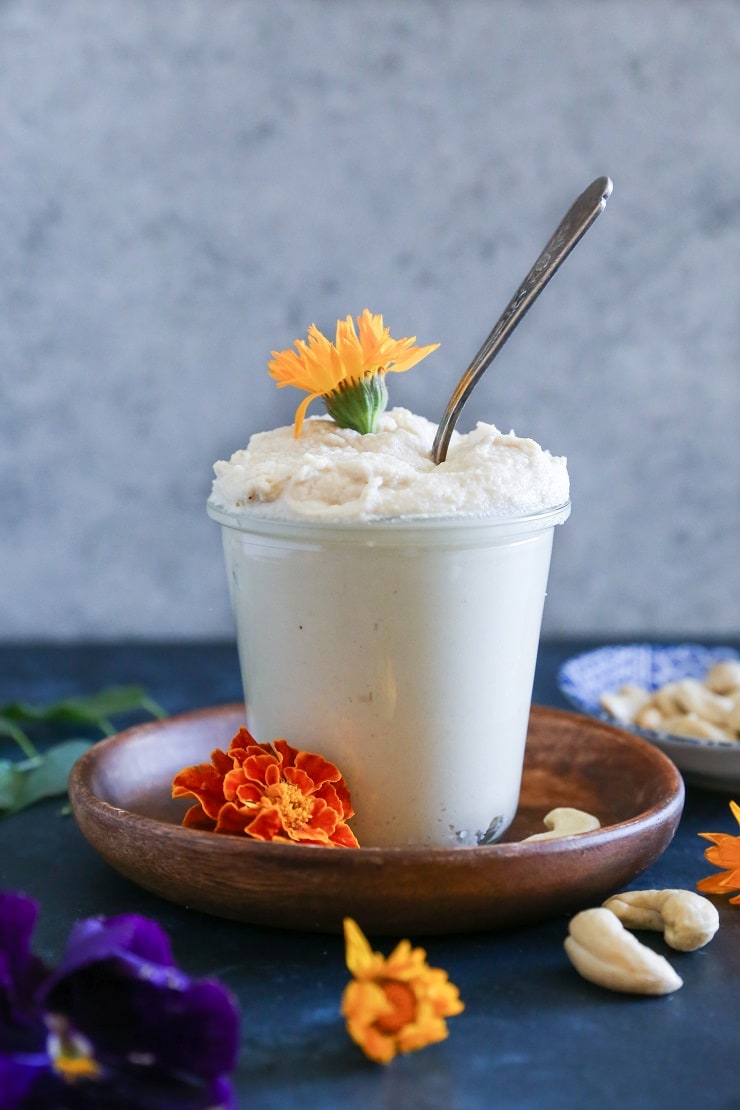 Frosting lovers, you may want to throw on your eye-muffs, because this one's gonna be a doozy…Growing up, I was one of those kids who scraped the frosting off of my friends birthday cakes and straight up discarded it. Just…wasn't having it. Rubbish.
If you're a frosting lover, you may find this type of behavior to be absolutely uncalled for, but if you're like me, and you've never really enjoyed sweet sweets, you can appreciate my habitual cake-in-the-buff tendencies.
So you can probably surmise that the ENTIRE cupcake craze? Totally lost on me. There is one, count em, ONE type of frosting I've always strongly embraced, and that is – you guessed it – cream cheese frosting.
There's something about the tang. The richness. The cream. The not-as-sweet-as-regular-frosting-ness. The essence. I can dig.
Given the fact that I'm not so into processed foods, you can probably guess I don't typically eat traditional cream cheese frosting, even if its homemade with fancy organic cream cheese, unicorn sighs, and puppy dog stretches.
It just doesn't do a body good, as much as I want it to. BUT, over the last few years, I've been making my own healthified version of cream cheese frosting – the likes of which you've already seen on this blog.
But, you guys, this shit is special. It deserves its own recipe, so I'm calling it out… spreading it around, hoping it goes viral, but in the very least if you're a sweet-toothed cautious eater like me, perhaps it will make its way into your own heart and home slash birthday cake.
Ingredients for Vegan Cream Cheese Frosting:
This recipe requires only a few basic ingredients – all of which you may already have in your pantry! Raw cashews, pure maple syrup (or liquid natural sweetener of choice), lemon juice, almond milk, and pure vanilla extract.
As a side note, if you don't mind working with store-bought vegan cream cheese, there are definitely recipes for vegan cream cheese frosting out there that use this product, along with powdered sugar. While this will yield a cream cheese frosting that's closer in consistency to the real deal, for whatever reason, the idea behind using raw cashews is more appealing to me.. Probably because it feels fresher and more controlled.
How to Make Vegan Cream Cheese Frosting:
The only thing about this recipe that requires a little forethought is soaking the cashews. You can get away with soaking them for a few hours if you use boiling hot water, but the frosting will turn out creamier if you can soak them overnight (up to 12 hours).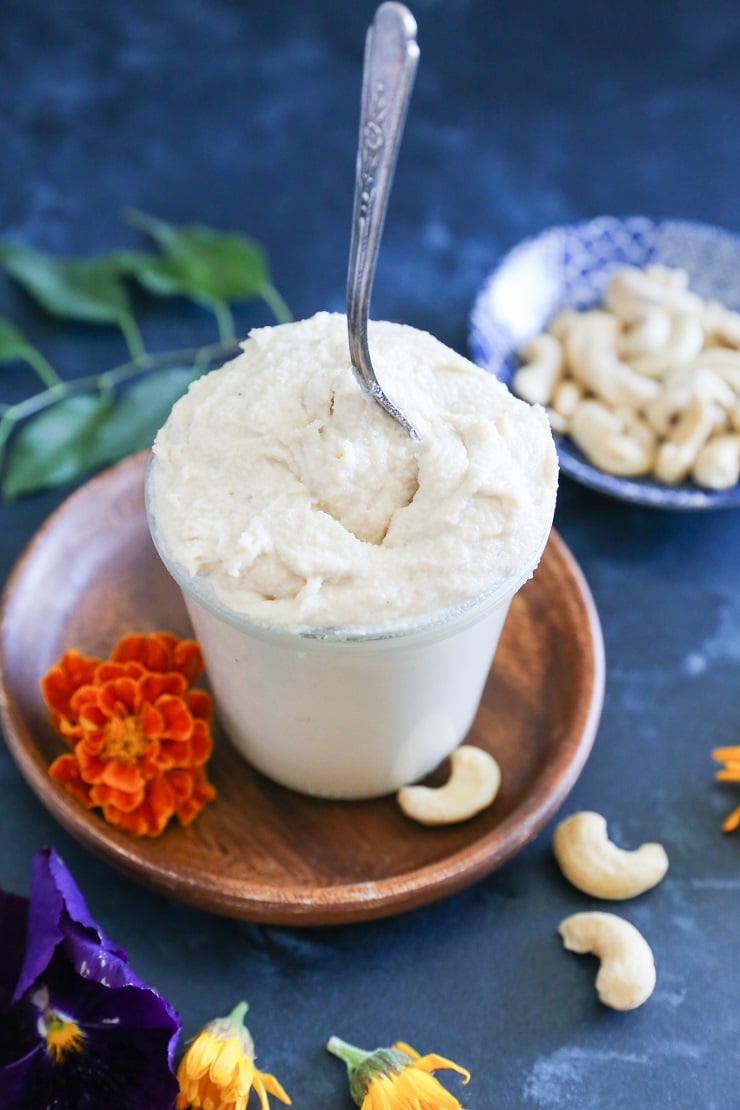 After soaking the cashews, drain them and give them a quick rinse. Add them to a high-powered blender with the rest of the ingredients and blend until a completely smooth frosting forms. If your blender is having trouble blending, add more almond milk (or coconut milk).
Taste the frosting for flavor and add more pure maple syrup and/or lemon juice to taste.
Keto Cream Cheese Frosting:
Looking for a low-carb version of this frosting? Replace the pure maple syrup with sugar-free confectioners sweetener and adding another 1/3 cup of full-fat coconut milk (to offset the loss of liquid).
Recipe Notes:
Couple note about tang: I like my cream cheese frosting with a little extra pizzaz, so I typically use 3 tablespoons of lemon juice rather than the 2 I put in the recipe.
Depending on your tang preference, you can start small with the lemon juice then go bigger from there. In addition, because I'm not vegan, I've made this recipe more often than not using raw honey…I think the flavor turns out closer to actual cream cheese frosting when you use honey, because it adds to the tang factor.
You can use any natural liquid sweetener you'd like here.
Use this Vegan Cream Cheese Frosting on my Paleo Carrot Cake! Or use it to frost any of my muffin or bread recipes. It goes great on my Morning Glory Quick Bread.
My cookbook,
Paleo Power Bowls
, is now available! CLICK HERE to check it out. Thank you for your support!
If you make this recipe, please feel free to share a photo and tag @The.Roasted.Root on Instagram!
Vegan Cream Cheese Frosting
Vegan cream cheese frosting made with raw cashews is rich and creamy – an incredible substitute for regular cream cheese frosting!
Instructions
Soak the cashews in water overnight, or at least 3 hours. Drain cashews and pat dry.

Add the cashews to a food processor and process until a thick paste has formed. You'll need to stop the food processor and scrape the sides several times – this will take a couple of minutes!

Leaving the food processor on, slowly stream the pure maple syrup, lemon juice, and almond milk through the opening. Add the pure vanilla extract and sea salt, and continue processing until the frosting is smooth and creamy. Taste the frosting for flavor and add more pure maple syrup and/or lemon juice if desired. For thinner frosting, add more almond milk

Transfer frosting to a sealable container or jar and refrigerate until ready to use. Frosting will keep for up to 1 week in a sealed container in the refrigerator.
Notes
*Make frosting low-carb by replacing the pure maple syrup with sugar-free confectioners sweetener and adding another 1/3 cup of full-fat coconut milk (to offset the loss of liquid). You can also increase the sweetness of the frosting by adding more pure maple syrup.
Nutrition
Serving:
1
/4 cup
|
Calories:
198
kcal
|
Carbohydrates:
17
g
|
Protein:
5
g
|
Fat:
12
g
|
Fiber:
1
g
|
Sugar:
10
g