Moist, zest grain-free paleo clementine cake made with 5 simple ingredients: whole clementines, almond flour, coconut sugar, eggs, and baking powder. This perfectly sweet cake is both healthy and delicious!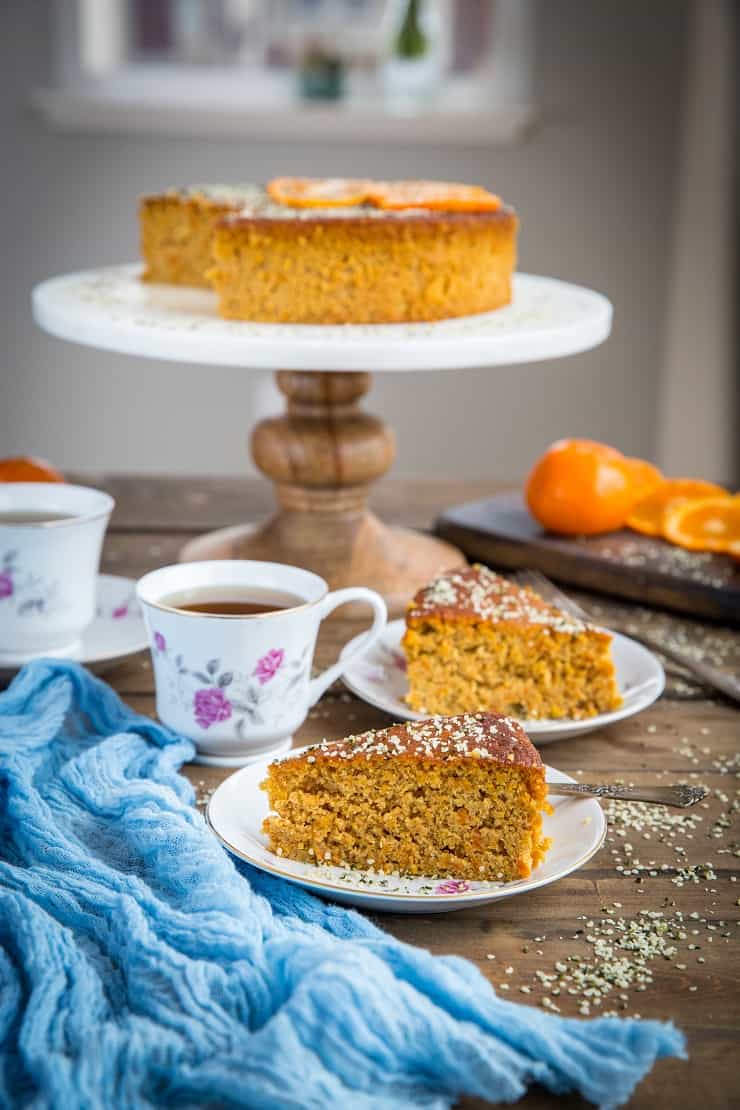 Holy stromboli, do I have a treat for you!
You know those too-good-to-be-true moments that you hardly believe. For instance, when you find the coziest pair of moccasin slippers in your exact size on sale for 70% off MSRP, and you have to do a double take before you can be like, "Duh, I MUST purchase!" Or, when some steamy dreamboat wants to date you, put buns in your oven, AND bare witness to your ugliest of flaws? Or, when you find $20 in the pocket of a pair of jeans you haven't worn for 3+ years?
I daresay, this is one of those moments, my friends.

You've stumbled onto a cake that requires almost zero ingredients, very little brain power to prepare, with an incredibly succulent outcome that happens to be far better for you than any cake you've ever laid mouth on. If I could actively sell you a recipe, it would be THISONE.
Have you preheated your oven yet??
You do realize this is a cake-for-breakfast situation, right?
I just heard the sound of thousands of ovens being turned on.
You guys, the preparation of this cake is going to blow.your.mind. First of all, it is made with WHOLE clementines. You read that correctly – everything goes in, including the rind. Secondly, only 5 basic ingredients are required (six if you count sea salt). Thirdly, it's prepared in a food processor. And lastly, the whole cake is grain-free, refined sugar-free, and dairy-free, but there's no way in hells bells you'd ever realize it.
The inspiration for this cake comes from Smitten Kitchen's Clementine Cake, which I made for the first time a whopping seven years ago. I have made it twice since, which says a lot, considering I very rarely put a recipe on repeat (on account of being a recipe developer for a living..).
I use coconut sugar to sweeten this cake, which yields a perfectly zesty and sweet cake, while being lower on the glycemic index than your typical cake. If you prefer pure maple syrup over coconut sugar, don't fret: I have an option for you (see the notes in the recipe card). If you go the pure maple syrup route, note that the cake will turn out with a very custardy texture, which I LOVE..but if you're looking for a cake-like texture, I would stick with the coconut sugar. Just food for thought.
So here's how this cake prep goes down (spoiler alert: it's a time investment, but also super easy to make).
How to Make Paleo Clementine Cake:
Boil the clementines for 2 hours (that's right, TWO HOURS). Allow them to cool, then pulse them in a food processor. Add the remaining cake ingredients and pulse just until combined. Pour it into an 8-inch (or 9-inch) spring form pan, bake, and you're all set!
I enjoy slices of this cake for breakfast or snack, but you can absolutely reserve it for that after-dinner treat.
You can also top the cake however you'd like, using chopped nuts, seeds, fresh berries or fruit, etc. You can frost the cake with Vegan Cream Cheese Frosting or drizzle it with homemade Paleo Salted Caramel. I went with clementine slices and hemp seeds just for decoration, as the cake is plenty flavorful on its own.
If you don't have an entire three hours to devote to this cake all at once, never fear. You can cook the clementines ahead of time to prepare the recipe in parts, or you can multi-task while the clementines are cooking…once they're simmering, they really need zero attention. You can use oranges (I recommend cara cara oranges) in place of clementines if you'd like. You're aiming for just under 1 pound total.
You guys, I love this cake so much, that I daresay it gives my Paleo Carrot Cake a run for its money for Easter Brunch. If you're looking for a powerfully flavorful and cozy cake, either one is a fabulous option! This clementine cake requires far fewer ingredients, though the prep time is longer. With so much deliciousness, you can't go wrong!
Have a marvelous Easter weekend. Much love to you and yours! xo
My cookbook,
Paleo Power Bowls
, is now available! CLICK HERE to check it out. Thank you for your support!
If you make this Paleo Clementine Cake, please feel free to share a photo and tag @TheRoastedRoot on Instagram!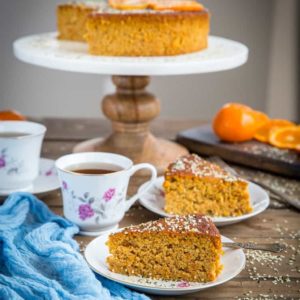 Paleo Clementine Cake
Print
Instructions
Place whole clementines (rind included!!) in a pot and fill with water. Bring to a full boil on the stove top. Reduce heat to a gentle boil and cook for 2 hours. Drain clementines and allow them to cool to room temperature.

Preheat oven to 375 degrees F and line an 8-inch or 9-inch spring form pan with parchment paper.

Transfer clementines to a food processor and process until smooth. Add remaining cake ingredients and process just until combined. Transfer cake batter to prepared spring form pan.

Bake 40 to 50 minutes, until cake is golden brown around the edges, and feels firm when gently poked in the center. Turn off oven and allow cake to sit an additional 5 minutes in the still hot oven (note: I bake my cake for 40 minutes).

Allow cake to cool at least 1 hour before slicing and serving
Recipe Notes
To Take the Pure Maple Syrup Version:
Ingredients:
5 clementines 3 navel oranges, 1 pound

6 eggs

1 cup pure maple syrup

3 cups almond flour

¼ cup tapioca flour

1 teaspoon sea salt
Instructions:
Follow instructions in recipe card above.