Moist, zesty grain-free Paleo Clementine Cake made with 5 simple ingredients: whole clementines, almond flour, coconut sugar, eggs, and baking powder. This perfectly sweet cake is a healthier option yet still tastes magically decadent!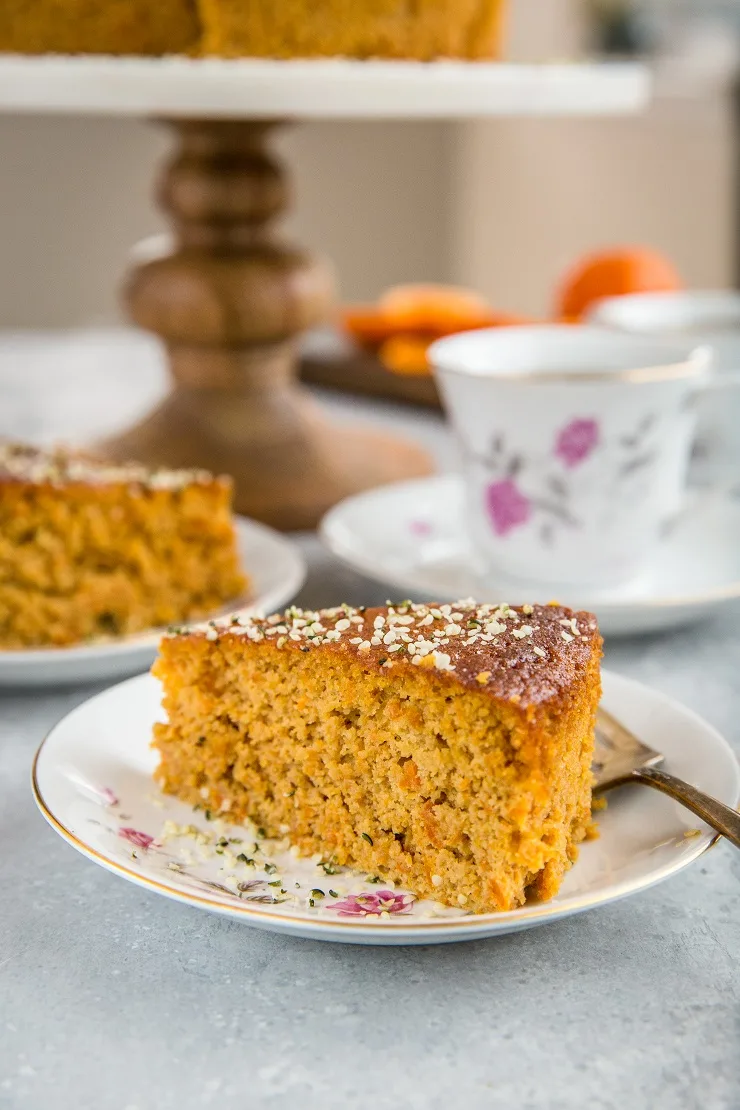 Friends. This cake is almost too good to be true.
Grain-free, refined sugar-free, dairy-free, FIVE ingredients, no oil, zesty, moist, fluffy, addicting… I can't sing enough praises!
This crazy unique Paleo Clementine Cake recipe requires practically zero ingredients, very little brain power to prepare, with an incredibly succulent outcome that happens to be incredibly moist, zesty, with a texture so lovely, it's almost indistinguishable from cake made with regular all-purpose flour.
And if that doesn't sell you, the fact that you get to blend entire clementines into the cake will. I KNOW, RIGHT?!
Have you preheated your oven yet??
You do realize this is a cake-for-breakfast situation, right?
I just heard the sound of thousands of ovens being turned on.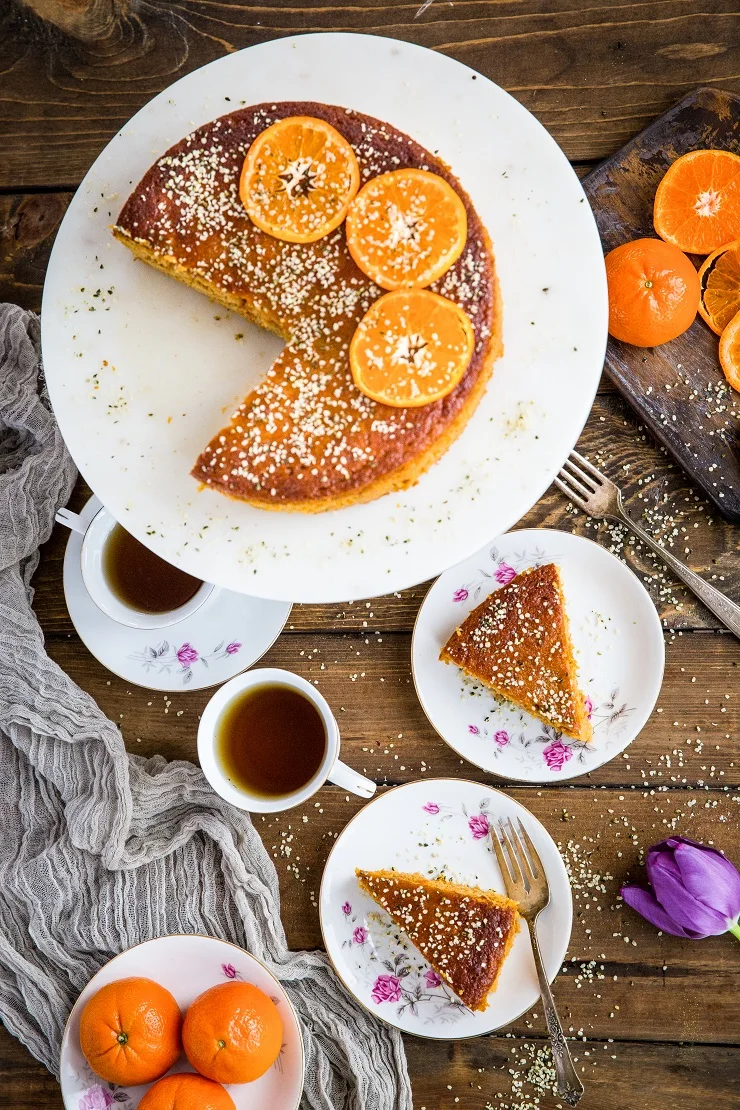 Ingredients for Paleo Clementine Cake:
Clementines: As I mentioned before, whole clementines are boiled then blended into the cake. The boiling process softened up the peel and brings out the natural sweetness and zest of the clementines so that they are easy to blend and provide all sorts of amazing flavor.
You can replace them with a similar citrus fruit (cara cara oranges are great) – just make sure you use just under one pound of fruit.
Almond Flour: The base of the cake! Almond flour provides a nice moist, spongy texture to the cake. I haven't tested the recipe using any other flour, so the only one I can say for sure that will work as a replacement is hazelnut flour. I'd be willing to bet cassava flour would work well too.
Eggs: In order to make the cake nice and fluffy, we use a ton of eggs! The eggs provide additional fat (crucial for the baking process) and ensures the cake holds together.
Coconut Sugar: I use coconut sugar to sweeten this cake, which yields a perfectly zesty and sweet cake. Because coconut sugar is less refined and lower on the glycemic index than regular cane sugar, it tends to be my preference in cake recipes. You can absolutely swap it for regular cane sugar in a 1:1 exchange!
If you prefer pure maple syrup over coconut sugar, don't fret: I have an option for you (see the notes in the recipe card). Fair warning: If you go the pure maple syrup route, note that the cake will turn out with a very custardy texture, which I LOVE; but if you're looking for a cake-like texture, I would stick with the coconut sugar. Just food for thought.
Baking Powder & Sea Salt: Baking powder leavens the cake and makes it hold together nicely and the sea salt just enhances all the flavors in one magical moment.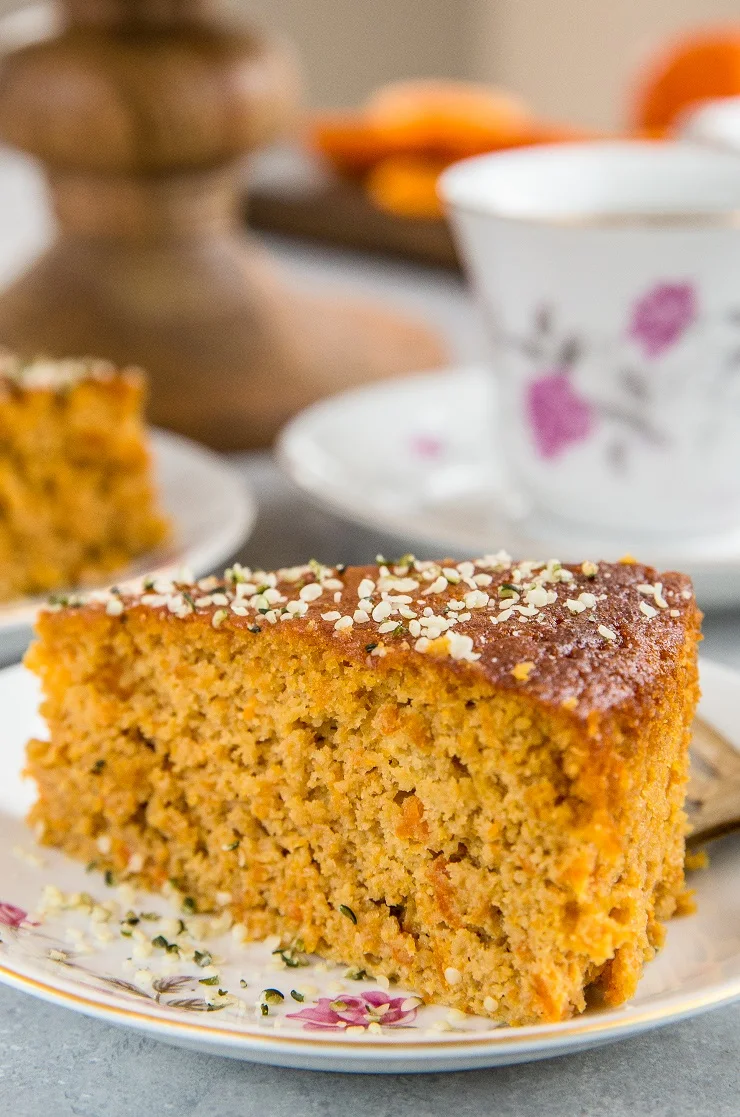 So here's how this cake prep goes down (spoiler alert: it's a time investment, but also super easy to make).
How to Make Paleo Clementine Cake:
Boil the clementines for 2 hours (that's right, TWO HOURS). Allow them to cool, remove the seeds, then pulse them in a food processor until they are completely smooth.
Note: if you have a pressure cooker, you can pressure cook the clementines on high with 2 cups of water for 10 minutes.
Allow the pressure cooker to naturally release completely, then remove the clementines from the pressure cooker, drain the water, and allow the fruit to cool completely before moving on.
Beat the eggs in a mixing bowl until well-beaten. Transfer all of the ingredients for the cake, including the clementine puree, to the mixing bowl and mix just until combined. Pour the batter into an 8-inch (or 9-inch) spring form pan, bake, and you're all set!
I enjoy slices of this cake for breakfast or snack, but you can absolutely reserve it for that after-dinner treat.
You can also top the cake however you'd like, using chopped nuts, seeds, fresh berries or fruit, etc. You can frost the cake with Vegan Cream Cheese Frosting or drizzle it with homemade Paleo Salted Caramel. I went with clementine slices and hemp seeds just for decoration, as the cake is plenty flavorful on its own.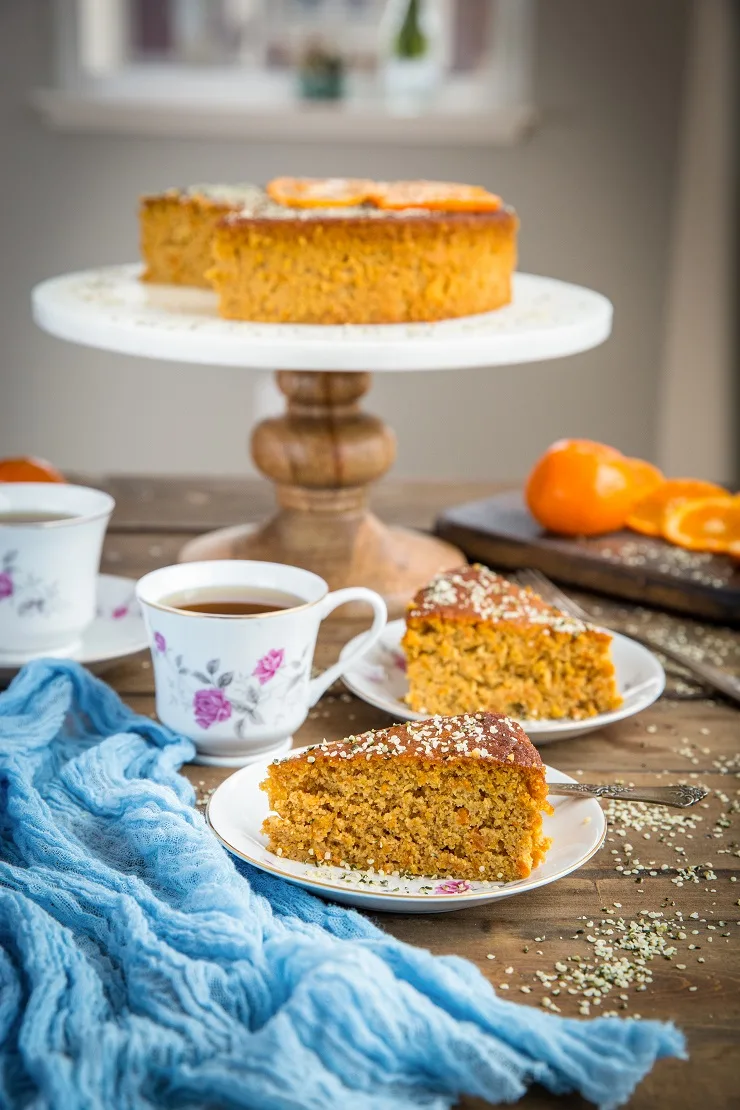 Do I Really Use the WHOLE Clementine??:
Yes! You don't peel the clementines at any point. Boil them whole with the peel on, blend them whole with the peel on 😉
Recipe Tips:
If you don't have an entire three hours to devote to this cake all at once, never fear. You can cook the clementines ahead of time to prepare the recipe in parts, or you can multi-task while the clementines are cooking…once they're simmering, they really need zero attention.
You can use oranges (I recommend cara cara oranges) in place of clementines if you'd like. You're aiming for just under 1 pound total.
I love this cake so much, that I daresay it gives my Paleo Carrot Cake a run for its money for Easter Brunch.
If you're looking for a powerfully flavorful and cozy cake, either one is a fabulous option! This clementine cake requires far fewer ingredients, though the prep time is longer. With so much deliciousness, you can't go wrong!
Have a marvelous Easter weekend. Much love to you and yours! xo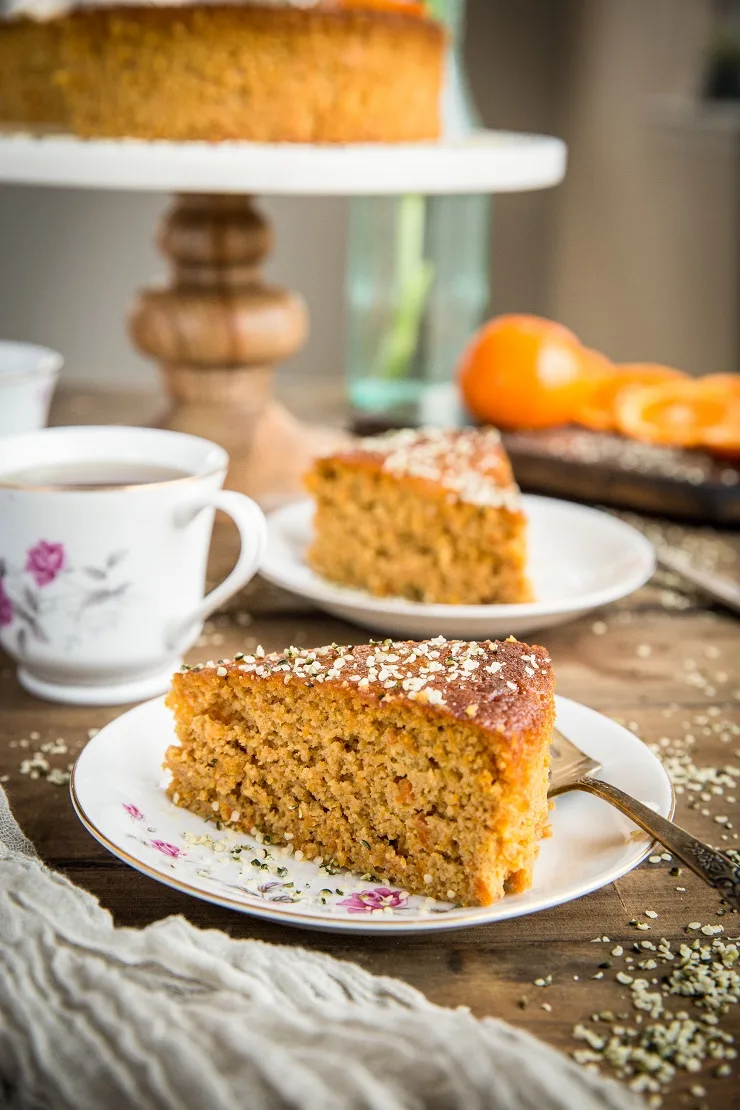 More Delicious Cake Recipes:
My cookbook,
Paleo Power Bowls
, is now available! CLICK HERE to check it out. Thank you for your support!
If you make this Paleo Clementine Cake, please feel free to share a photo and tag @The.Roasted.Root on Instagram!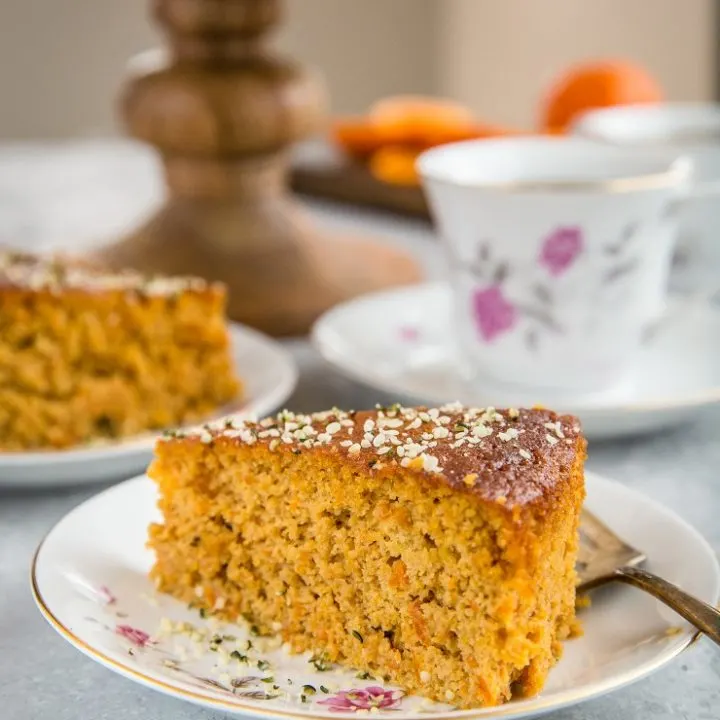 Paleo Clementine Cake
Moist, fluffy, zesty amazing grain-free cake made with only 5 ingredients? What could be better? 😉
Instructions
Place whole clementines (rind included!!) in a pot and fill with water. Bring to a full boil on the stove top. Reduce heat to a gentle boil and cook for 2 hours. Drain clementines and allow them to cool to room temperature.
Preheat oven to 375 degrees F and line an 8-inch or 9-inch spring form pan with parchment paper.
Cut the cooled clementines in half and remove the seeds. Transfer the clementines to a food processor or blender and process until smooth.
Beat the eggs in a mixing bowl until well-beaten. Transfer the remaining ingredients for the cake, including the clementine puree, to the mixing bowl and mix just until combined. Note: if you prefer, you can blend all of the ingredients in the same blender/food processor you used to blend the clementines.
Transfer cake batter to prepared spring form pan.
Bake 40 to 50 minutes, until cake is golden brown around the edges, and feels firm when gently poked in the center. Turn off oven and allow cake to sit an additional 5 minutes in the still hot oven (note: I bake my cake for 40 minutes).
Allow cake to cool at least 1 hour before slicing and serving
Notes
To Make the Pure Maple Syrup Version:
Ingredients:
5 clementines or 3 navel oranges (1 pound)
6 eggs
1 cup pure maple syrup
3 cups almond flour
¼ cup tapioca flour
1 teaspoon sea salt
Instructions:
Follow instructions in recipe card above.
Nutrition Information
Yield

12
Serving Size

1 of 12
Amount Per Serving
Calories

246
Total Fat

11g
Unsaturated Fat

0g
Carbohydrates

31g
Fiber

3g
Sugar

24g
Protein

9g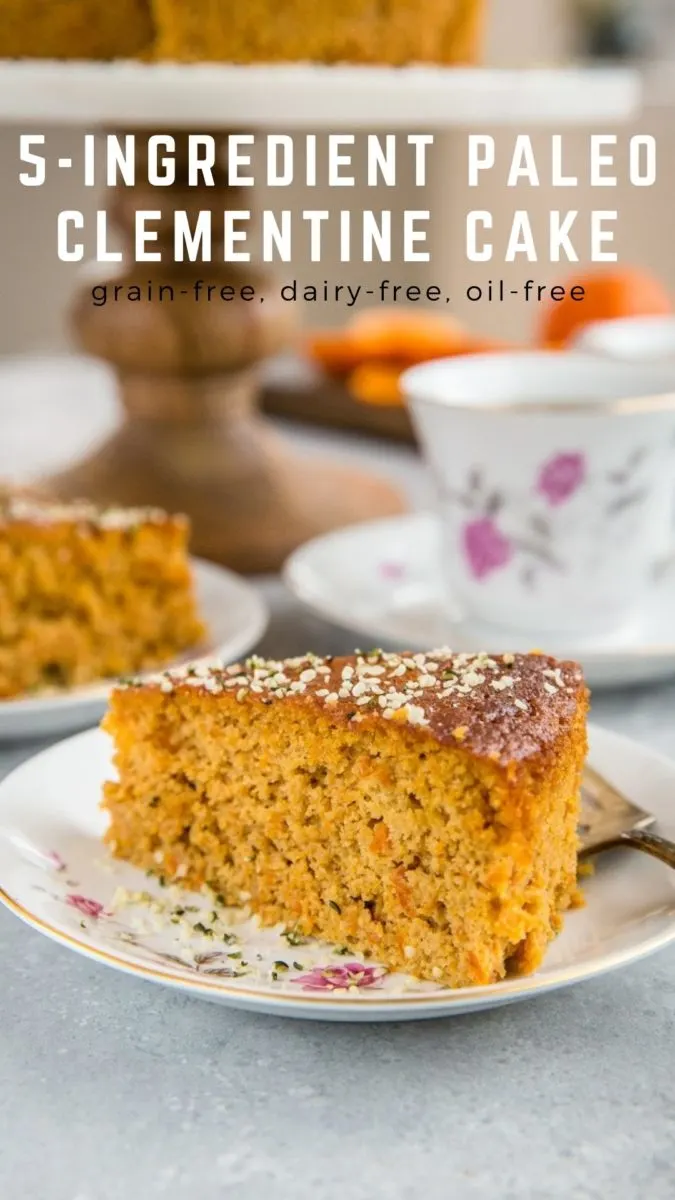 This post contains affiliate links, which means I make a small commission off items you purchase at no additional cost to you.