Moist, grain-free naturally sweet almond flour fig cake – a simple, healthy paleo-friendly dessert that is refined sugar-free, dairy-free and healthy! You'd never know this cake is secretly good for you!
If this cake were a person, I'd marry the shit out of it.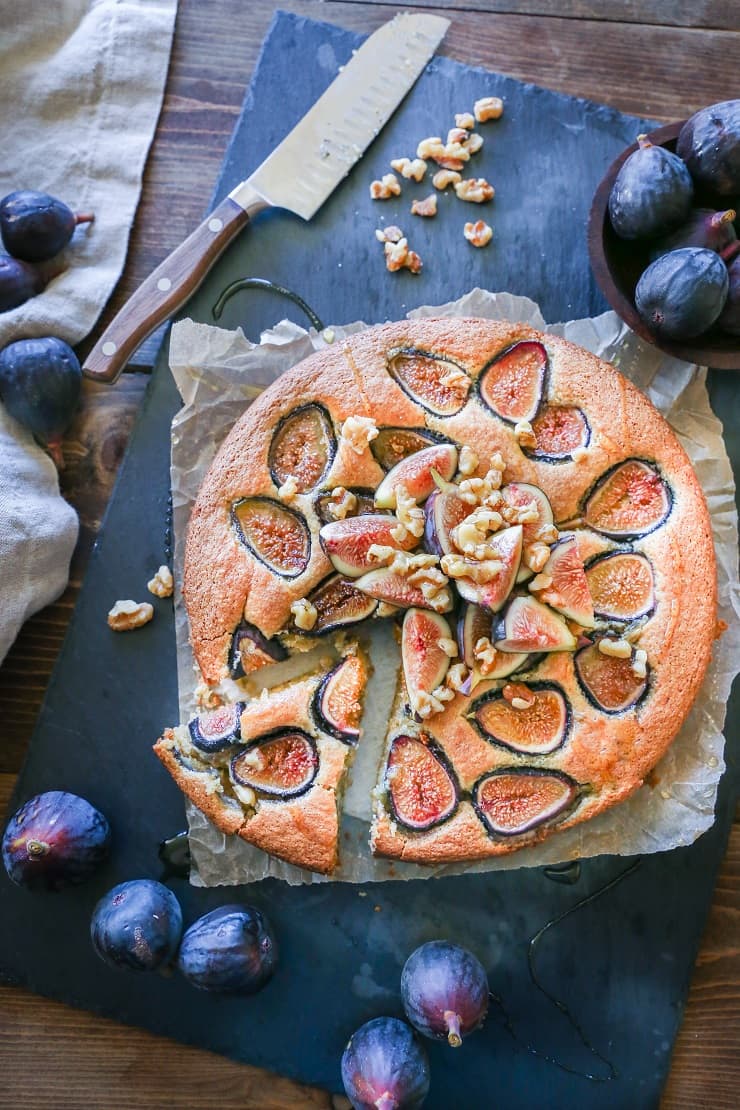 After posting the 40 Must Make Gluten-Free Fig Recipes roundup last week, I became inspired to join in the fun, so I picked up ripe organic figs from my local grocery store and got to pondering about a simple, cozy cake.
This almond flour fig cake encapsulates everything I love about a good dessert.
It's sweet, but not over-the-top sinful, moist (<- never give up, never surrender), contains a rustic down-to-earthiness while concealing a complex, sexy array of flavors and textures.
If it were a person, it'd be that strong silent type who lives a small yet well-examined life. Who probably lives in the woods on well water, wears flannel, speaks wisely with integrity or not at all. Not that I dedicate vital mind space to making cake-to-person comparisons.
The ingredients required here are nothing radical – almond flour, pure maple syrup, and coconut oil are the building blocks, resulting in a sweet, buttery, dense yet airy fig cake (almond flour is magical in that way) with warmth from a touch of cinnamon and pure almond extract. The fresh figs on top add to the rustic element and the fig seeds yield a nice textural pop.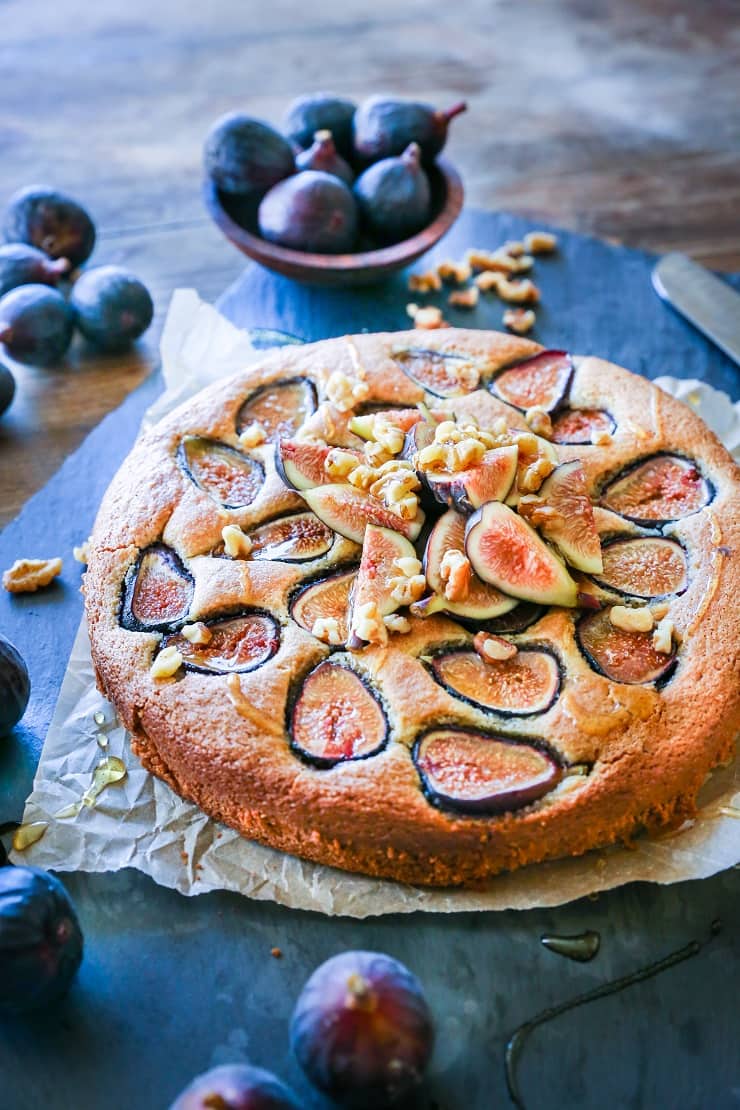 When all's said and done, this cake is:
Grain-free, gluten-free, and paleo-friendly

Naturally sweetened (cane sugar-free)

Dairy-free

Full of protein

Healthy enough to eat for breakfast

Tender and melt-in-your-mouth-y
I shared the heck out of this cake and got rave reviews. I got a few "fucking delicious," remarks, and the general consensus was that the cake is super moist and is reminiscent of a poppy seed cake. The poppy seed cake comparison stems from the fact that I added almond extract to the batter, and poppy seed cakes often contain almond flavor.
The way I see it, the recipe for the cake can be modified every which way to form virtually any flavor of cake. For instance, you can try a lemon poppy seed approach, turn it into a vanilla bean extravaganza, add your favorite homemade frosting or glaze, turn it into a chocolate fest (note: if you add cocoa powder to the batter, you may need to add a small amount of additional coconut oil).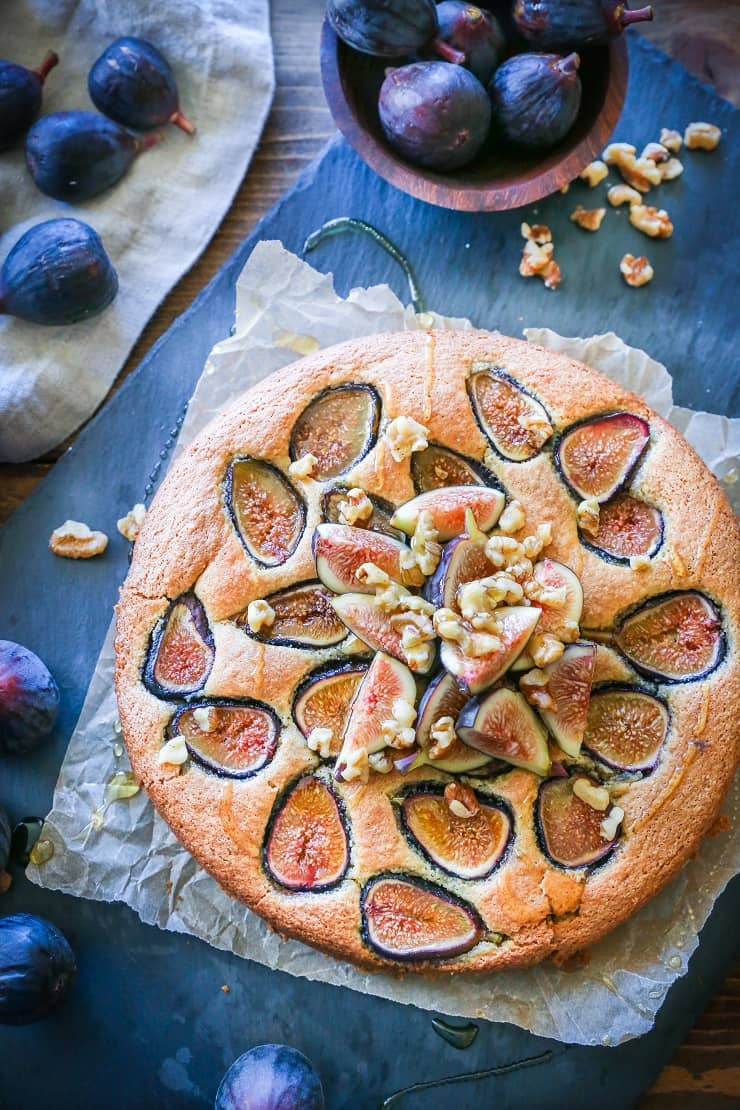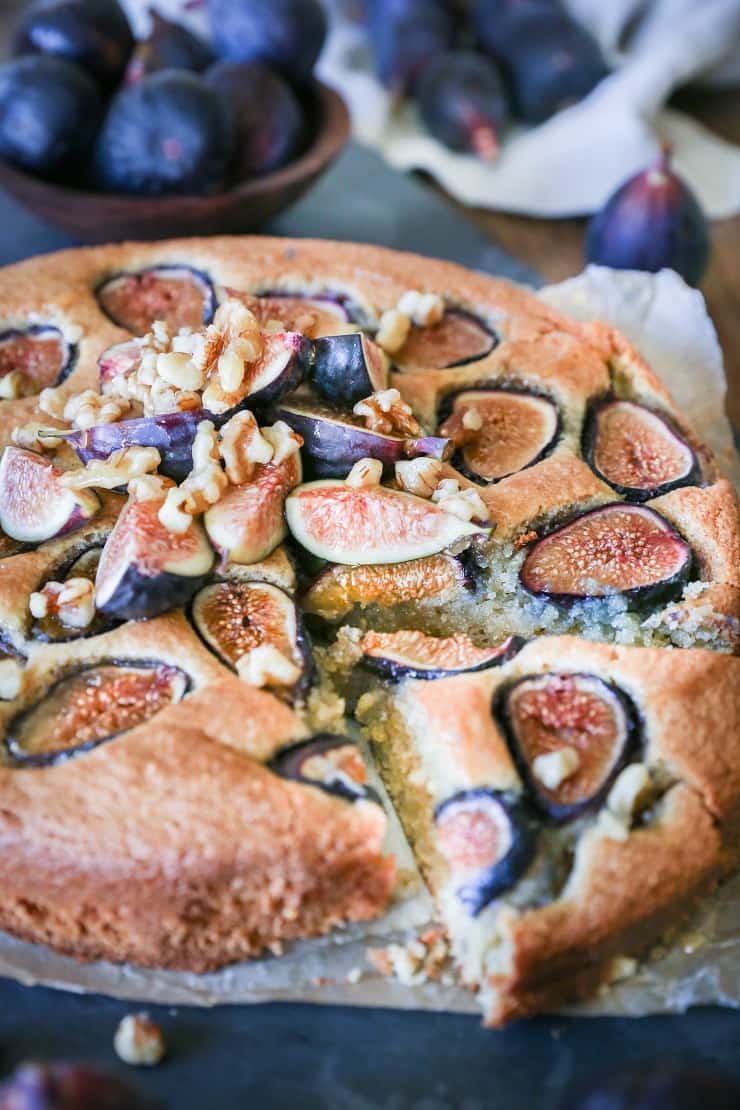 Tips and Notes:
Please read the full recipe instructions before preparing this cake. Don't skip the part where you turn off the oven at the end and leave the cake sitting in the warmth. This step ensures the cake is cooked through yet remains super tender and moist.

If you're not a fan of almond flavor, you can skip the almond extract, although this is my favorite feature of the cake. You can also scrape a real vanilla bean to give the cake an ultra vanilla flavor.

I used Bob's Red Mill's almond meal/flour for this fig cake – this recipe has not been tested with any other brand of almond flour, so there is no guarentee the use of a different almond flour will yield the same result.
The coconut oil can be replaced with unsalted softened butter, or olive oil or grapeseed oil. If using olive oil, I recommend you do not use Extra Virgin, as the cake will turn out with a noticeable olive oil flavor.
This recipe has been tested using both pure maple syrup and maple cream – both yield a fantastic result, although I do find the maple cream to be slightly more pleasing.

If you can't get a hold of fresh figs, you can slice virtually any fruit and layer it on top – try peaches, pears, apricots, strawberries, or blueberries for instance.

You can serve the cake with chopped ripe figs, chopped raw walnuts, and a drizzle of honey on top to take the level of fancy up one notch.




My cookbook,

Paleo Power Bowls, is now available! CLICK HERE to check it out. Thank you for your support!

If you make this recipe, please feel free to share a photo and tag @TheRoastedRoot on Instagram!

Almond Flour Fig Cake (Paleo)

Paleo Almond Flour Fig Cake made grain-free, refined sugar-free - super moist and amazing treat.

Print

Instructions

Preheat the oven to 350 degrees F and line a 9-inch springform pan with parchment paper.

Add all of the ingredients except for the figs to a high-powered blender. Blend just until combined. Note: the batter will be very thick.

Pour the cake batter into the prepared pan and smooth into an even layer. Arrange the sliced figs on top, pushing them gently into the batter.

Bake on the center rack of the preheated oven for 20 to 25 minutes or until cake is golden-brown. Turn off the oven and keep the cake in the hot oven for another 10 to 15 minutes (until the center of the cake feels firm when gently poked) before removing.

Allow cake to cool 30 minutes before releasing it from its mold. Serve with fresh sliced figs and a drizzle of honey or pure maple syrup if desired.

More Almond Flour Treats: