Grain-free almond flour waffles made quickly and easily using your blender. Top these paleo waffles with your favorite goodies for the ultimate breakfast or snack!
I've never fancied myself a particularly polite eater, and waffle feasting is no exception.
I really think waffles were designed to be eaten with the hands. I'll set out to slay a waffle or 5, and although the experience begins with said waffles neatly arranged on a plate (or in a bowl, because that's how I roll) with inappropriate amounts of toppings,
I always seem to drop the fork, scoot the toppings to the middle of the waffles, and eat them like tacos.
Spoiler alert: I do the same thing with pancakes.
It may be the number 1 Most Gratifying Experience I've had in weeks. Which is probably why waffle tacos are their own essential food group in my diet.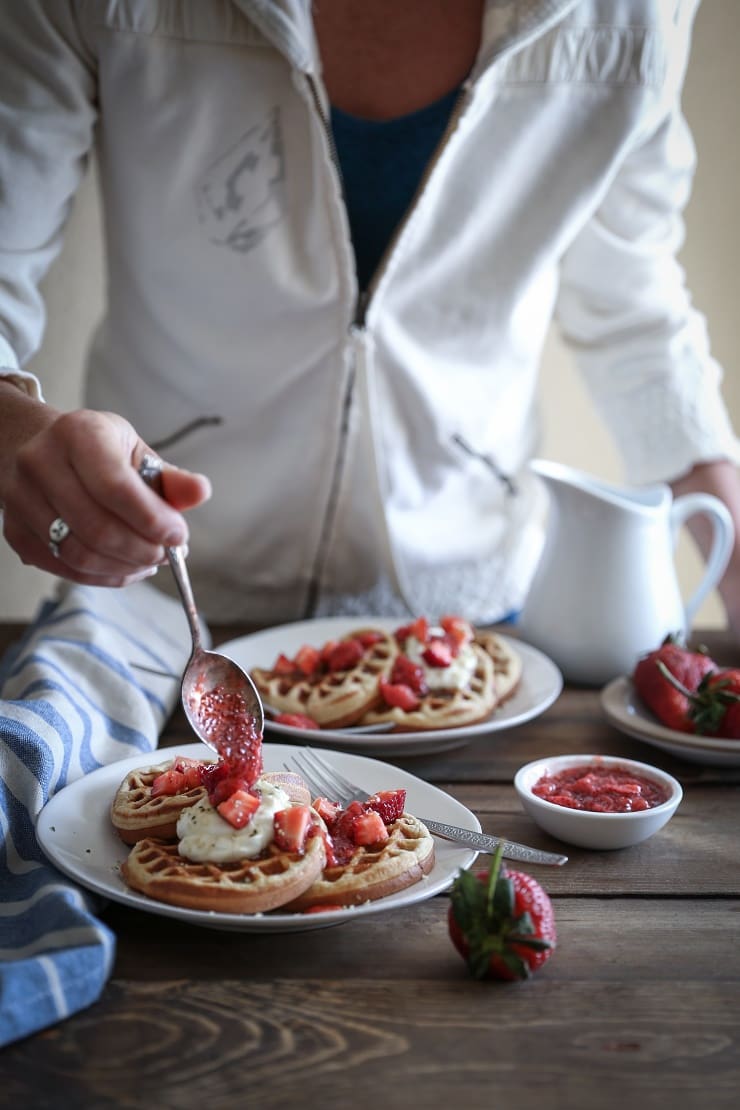 I posted this recipe for Paleo Waffles with Strawberry Compote a couple years ago using coconut flour, and I think it's high time we re-visit the topic using almond flour, whaddya think?
I use a combination of almond flour and tapioca flour, which generates an awesome waffle that holds together with flying colors. Way I see it, you want them sturdy, you know, for all the topping, stacking, and folding you'll be doing.
Recipe Options:
You can get funky fresh with this recipe by omitting the oil and adding one large ripe mashed banana.
You can add fresh or frozen blueberries to the batter, chocolate chips, you name it, this is your rodeo. For an ultra rich waffle, use full-fat coconut milk in place of almond milk.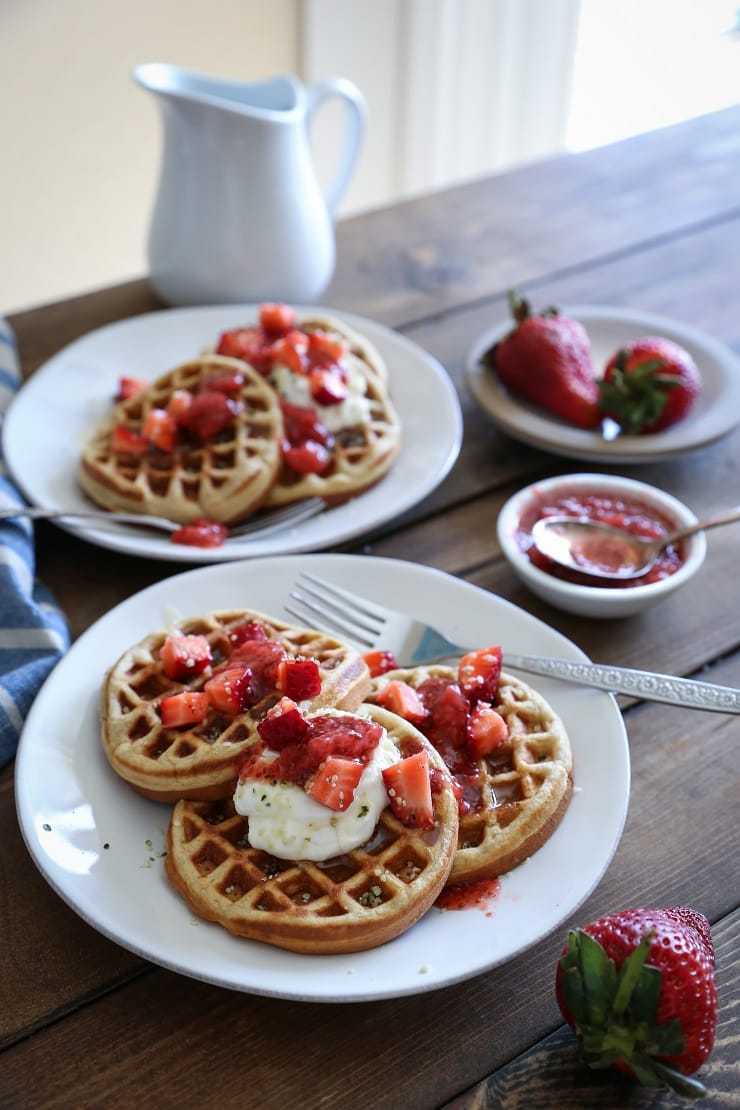 Truth be told, I usually eat my waffle tacos as a mid-morning or afternoon snack. I make waffles ahead of time and eat on them throughout the week come 10am or 2pm-ish when there's a lull in energy.
You see, I'm just so into my morning veggie scramble, that I reserve other breakfast foods like pancakes, waffles, oatmeal, and/or chia seed pudding for when I'm foraging for snacks.
Toppings? I thought you'd never ask.
I topped these beauties with a dollop of coconut whipped cream, strawberry chia seed jam, fresh chopped strawberries, hemp hearts, and honey. Go big or go home, as they say. You can also go with your favorite fresh seasonal fruit, yogurt or nut butter…get frisky!
Recipe Notes:
If you don't use tapioca flour in your baking regularly, you can omit it from the recipe and replace it with 1 cup more almond flour.

If you need an AIP version of waffles, check out this amazing recipe from Tasty Yummies for Autoimmune Protocol Waffles.
I used a mini waffle maker to prepare these waffles. It made 9 small waffles, so if you use a regular-sized waffle maker, you should end up with 4 or 5 full-sized waffles.
Get them tacos…err…I mean, waffles!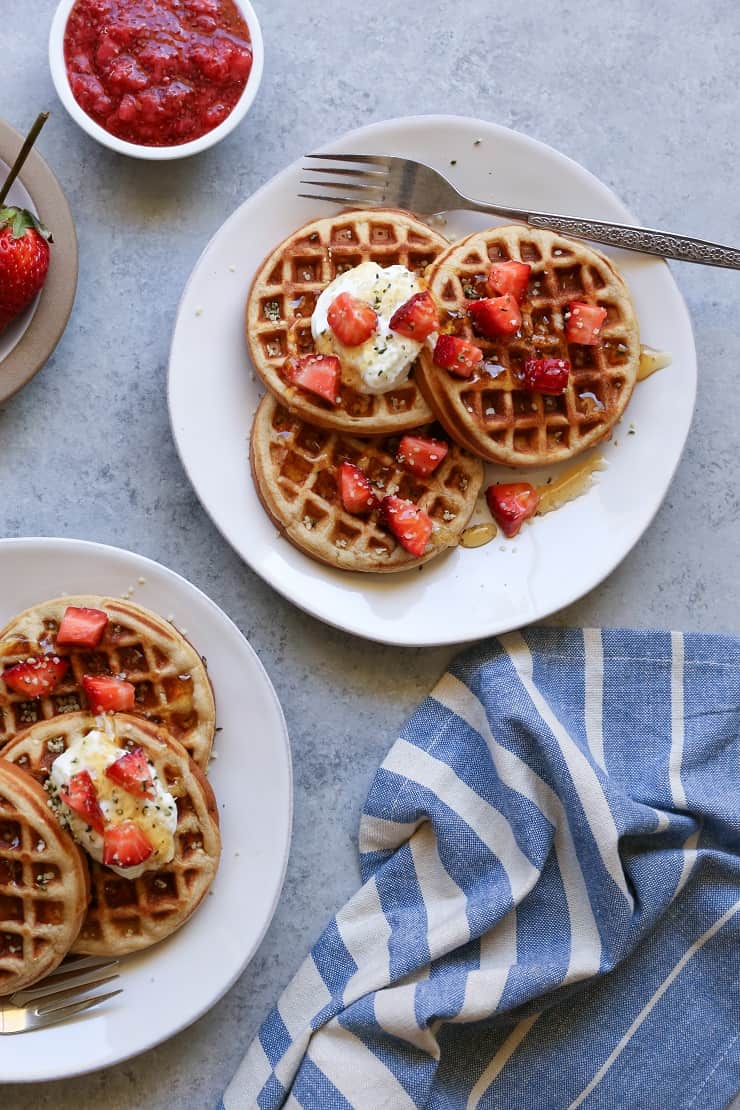 If you love waffles, also check out my Paleo Chocolate Chip Pecan Waffles, Paleo Pumpkin Waffles, Banana Walnut Waffles with Cinnamon Bourbon Syrup, and my Gluten-Free Sourdough Waffles!
My cookbook,
Paleo Power Bowls
, is now available! CLICK HERE to check it out. Thank you for your support!
If you make this recipe, please feel free to share a photo and tag @The.Roasted.Root on Instagram!
Grain-Free Almond Flour Waffles
Grain-free paleo waffles made with almond flour. Dairy-free, fluffy, moist and delicious
Servings:
9
small waffles
Instructions
Add the ingredients for the waffles to a blender and blend until smooth. Allow batter to sit 5 minutes. Plug in your waffle iron and lightly spray with cooking oil.

Once the waffle iron is hot, pour batter in the center and cover with the lid. Allow waffles to cook a little longer past the green light of the waffle iron, about 3 minutes (to 5 minutes for crunchy waffles). Repeat for remaining batter.

Top waffles with coconut whipped cream (or yogurt!), homemade jam, fresh chopped fruit, hemp hearts, and/or almond butter. Get wild!
Nutrition
Serving:
1
of 9
|
Calories:
117
kcal
|
Carbohydrates:
8
g
|
Protein:
3
g
|
Fat:
9
g
|
Sugar:
4
g
This post contains a few affiliate links, which means that I make a small commission off items you purchase at no additional cost to you.