Dairy-free, refined sugar-free homemade whipped cream made with only three ingredients: coconut cream, pure maple syrup, and vanilla extract. Make this spiffy whipped cream to go along with any and all of your dessert recipes.
Whipped cream. We all love it, we all crave it, we all have been known to squirt the stuff straight into our mouths and call it dessert. While I love whipped cream just like the next person, I tend to make it homemade, whether it be with dairy milk or coconut milk because I can make it without cane sugar using natural liquid sweeteners and keep it clean without preservatives.
From pancakes to scones to cookies and cakes, I love using coconut milk and coconut oil in place of regular dairy milk and butter. Coconut whipped cream is suuuuper rich, decadent, and packed with flavor without the need to add tons of sugar. You can top any of your favorite desserts with it, stick it in your coffee, dunk fresh or grilled fruit in it…or do as I do and eat it off a finger spoon.
While making whipped cream using coconut milk is easy, it does require some forethought. You either need to refrigerate a can of coconut milk overnight, or get a hold of a can (or two) of coconut cream (see notes at the bottom on coconut milk), which can be difficult to find. Nevertheless, the result is well-worth the overnight wait. For all you'uns who love whipped cream on your treats, but want to keep it clean, this one's for you!
Start by sticking a can of full-fat coconut milk in your refrigerator and leave it there overnight – we're talking a solid 24 hours or even longer. We do this so that the fatty (delicious) cream part separates from the coconut water part. You scoop said coconut cream out of the can, and save the coconut water for smoothies, pancakes, or baked goodies.
Add the coconut cream, maple syrup, vanilla extract, and a pinch of salt to your mixer and attach the whisk attachment. You can also use a bowl and a hand mixer. Placing the bowl in the refrigerator ahead of time also helps keep the coconut milk cool for optimal fluffiness.
Start the mixer on a low speed and whisk for 10 to 20 seconds to avoid any splashing…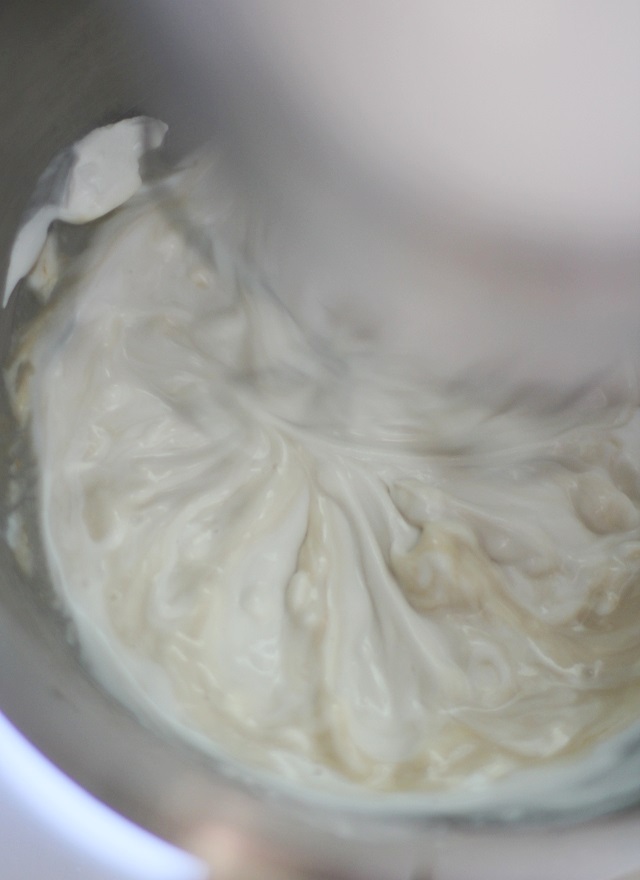 ….then bump up the speed to medium for 10 to 20 seconds…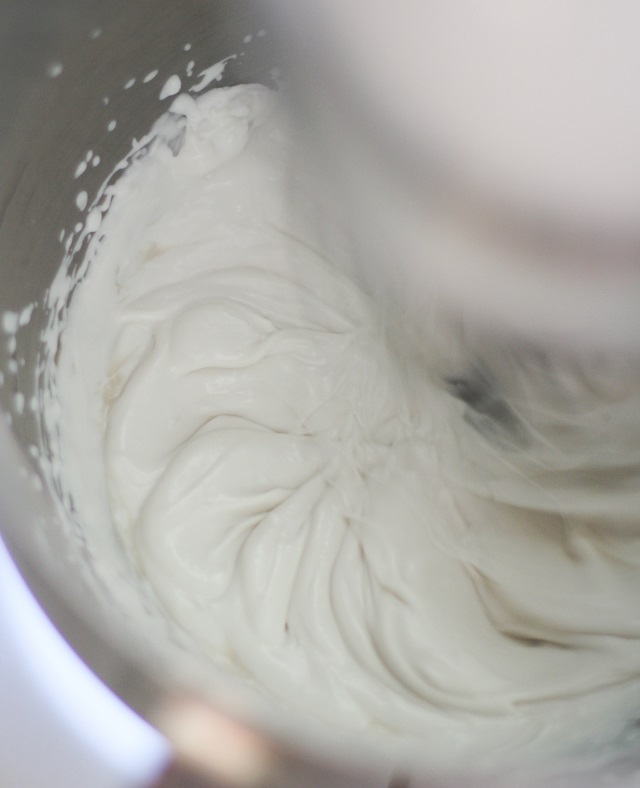 …and then increase the speed to high.
Continue mixing until cream is thick, fluffy, and forms ridges when scooped out with a spoon.
Serve alongside your favorite healthy desserts, or with fresh or grilled fruit, oatmeal, etc.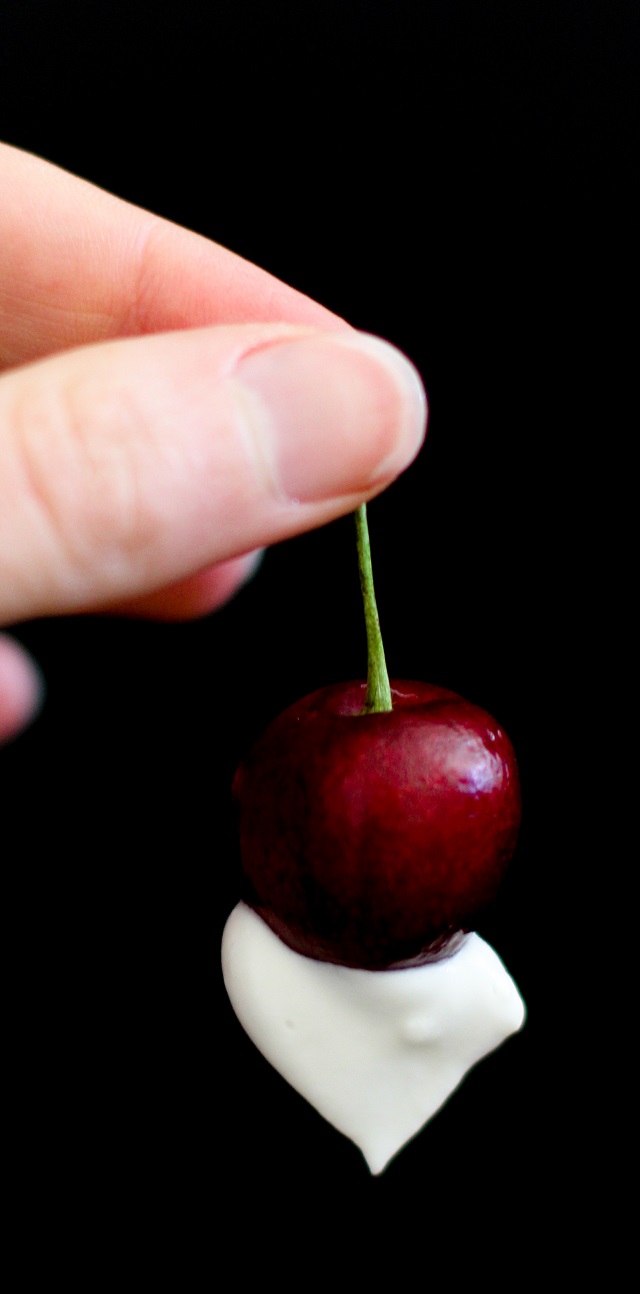 A Few Notes and Tips:
While coconut whipped cream is an amazing replacement for store-bought dairy whipped cream, it will not turn out as fluffy as whipped cream from an aerosol can. You could attempt to get it fluffier by using a whipped cream dispenser that uses cream chargers, although I've never tried this method. Note: when making whipped cream using regular heavy whipping cream, you will still get a thicker whipped cream than store-bought, although heavy whipping cream does yield fluffier results than coconut milk.
Be careful when choosing your coconut milk, as some brands will stay creamy (or even chunky) in spite of refrigerating. I use Thai's coconut milk for all my coconut milk needs, but there are several other brands that work, including Trader Joe's, Native Forest, and Whole Foods. Lite coconut won't work, and neither will the coconut milk that comes in a carton. Additionally, some brands will work sometimes and not work others. For instance, I put a can of Thai coconut milk in my refrigerator for 2 days once, and the coconut cream still hadn't thickened by the time I opened it.
If you can find a can of coconut cream at your supermarket, you can use that instead of coconut milk. For best results, you'll still want to refrigerate the coconut cream before whipping. Depending on the size of the can of coconut cream, you may need to add more pure maple syrup and vanilla extract.
You may use granulated or powdered sugar instead of pure maple syrup. If you choose to do so, start by adding 1 tablespoon, and add 1 to 2 more to taste.
You can save coconut whipped cream in a sealed container just like you would regular whipped cream. It will thicken up slightly as it sits.
These dessert recipes would be even more amazing served with coconut whipped cream:
Get that cream!
How to Make Coconut Whipped Cream
Homemade dairy-free coconut milk whipped cream is easy to make and is such a creamy, delicious alternative to regular whipped cream
Servings:
1
scant cup of coconut whipped cream
Instructions
Place a full-fat can of coconut milk in your refrigerator for at least 24 hours.

Open the can and scoop out the thick cream at the top, saving the coconut water for other uses.

Add the coconut cream to a mixer (or a bowl if using a hand mixer), along with the rest of the ingredients.

Beat on low speed using a whisk attachment for 10 to 20 seconds, then slowly bump up the speed to high. Continue whipping the coconut cream until fluffy and stiff ridges form.

Serve on your favorite dessert.
Notes
*Use 1 (14-ounce) can coconut cream instead of coconut milk if available.
Nutrition