Last weekend, I was scrolling through my instagram feed like a straight up gangster and saw Kelly from Hidden Fruits & Veggies had instagramed a picture of cabbage stewing in a crock pot. So I of course liked and commented and was all "yoooo gimme someuh dat crock o' cabbage!" Except I said it like a normal person. Lo and behold, the crock o' cabbage was for you and me because Kelly is guest posting today!
I love Kelly's style of cooking and sense of humor. She leaves some HILLarious comments on my posts that make me LOL like I've never LOLed before. Kelly's witty and fun and I always enjoy reading her blog and gaping at her unique and healthful vegetarian recipes. I'll leave you to your Kelly treat so she can tell you all about her Mexican Cabbage Soup!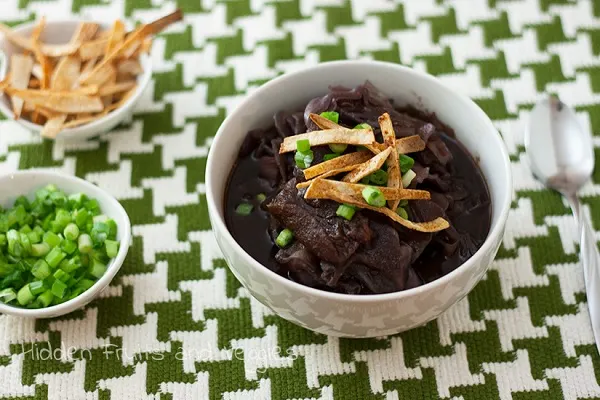 – – –
Hello everyone! Kelly here from Hidden Fruits and Veggies. I was pretty excited when Julia asked me to guest post — my blog is just under a year old and I feel very much like a 7 year old getting to sit at the grown up's table. I usually blog about healthy vegetarian foods, often vegan and sometimes gluten free. Another thing you should know about me is that I'm very, very lazy — so slow cookers, FTW!
I feel very robbed when it comes to cabbage. For the first 23 years of my life, I thought I hated it. It was the icky stuff that came in bagged salad mixes and it had no place on my plate. My parents gave me a few heads last, last summer and I had no idea what to do with them, until I stumbled upon a recipe for Mexican cabbage. The way to my heart is through Mexican food, like I assume holds true for most normal people, right? This recipe doesn't have much to do with the recipe that ignited my love fire other than it has lots of cabbage and some Mexican spice.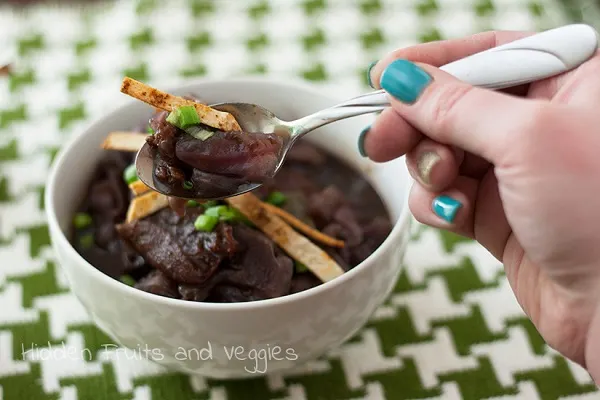 Another bonus about this soup? You open a few cans, sprinkle some seasonings, chop like two things, and walk away. Just make sure you come back to dinner in a few hours and enjoy. Also, toppings. Because cabbage as like 4 calories, you can cover this baby in sour cream or cheese without a second though. For bonus points: cut a corn tortilla into strips, spritz with nonstick spray, shake on some taco seasoning, and put under the broiler until crispy — put those crunchy bits on your soup and slip into heaven. Serve alongside a salad for a light dinner or serve as an appetizer for tacos or burritos! I'll suggest 10 minute TVP tacos.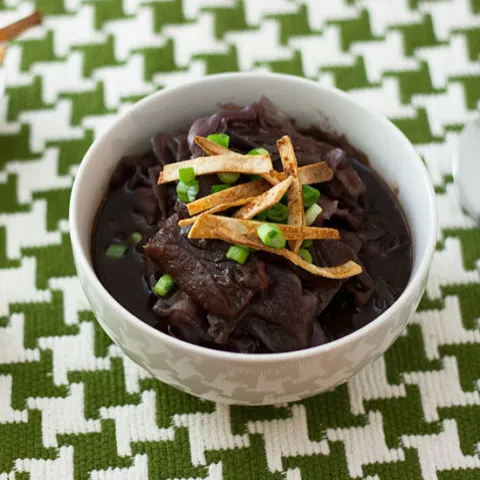 Mexican Cabbage Soup
Total Time:
6 hours
5 minutes
Mexican Cabbage Soup is a rich and flavorful soup that is big in flavor but is still nice and light.
Ingredients
1 head cabbage (I used red, but green works)
1 - 2 bell peppers
2 15 oz cans Mexican stewed tomatoes, the kind with jalepenos and cumin
2 1/2 tbsp . chili powder
5 c vegetable broth
15 oz can tomato sauce
1 bay leaf
1/2 tbsp . oregano
1 tbsp . low sodium soy sauce or liquid aminos
1 tbsp . liquid smoke
a few shakes each garlic and onion powder
salt and pepper to taste
Toppings: tortilla strips, cheese, green onions, sour cream
Instructions
Slice the cabbage and peppers into half inch strips.
Combine all ingredients in a large slow cooker (except optional toppings). It's okay if not all of the cabbage is covered.
Cook on low for at least 6 hours, up to 10.
Serve with optional toppings.
Notes
To keep it gluten free, use liquid aminos or buy gluten free soy sauce.
Nutrition Information
Yield

8
Serving Size

1 grams
Amount Per Serving
Unsaturated Fat

0g