Hearty, flavorful sausage and cabbage stew made quickly and easily using your Instant Pot! Make this meal ahead of time and have it on hand for the whole week!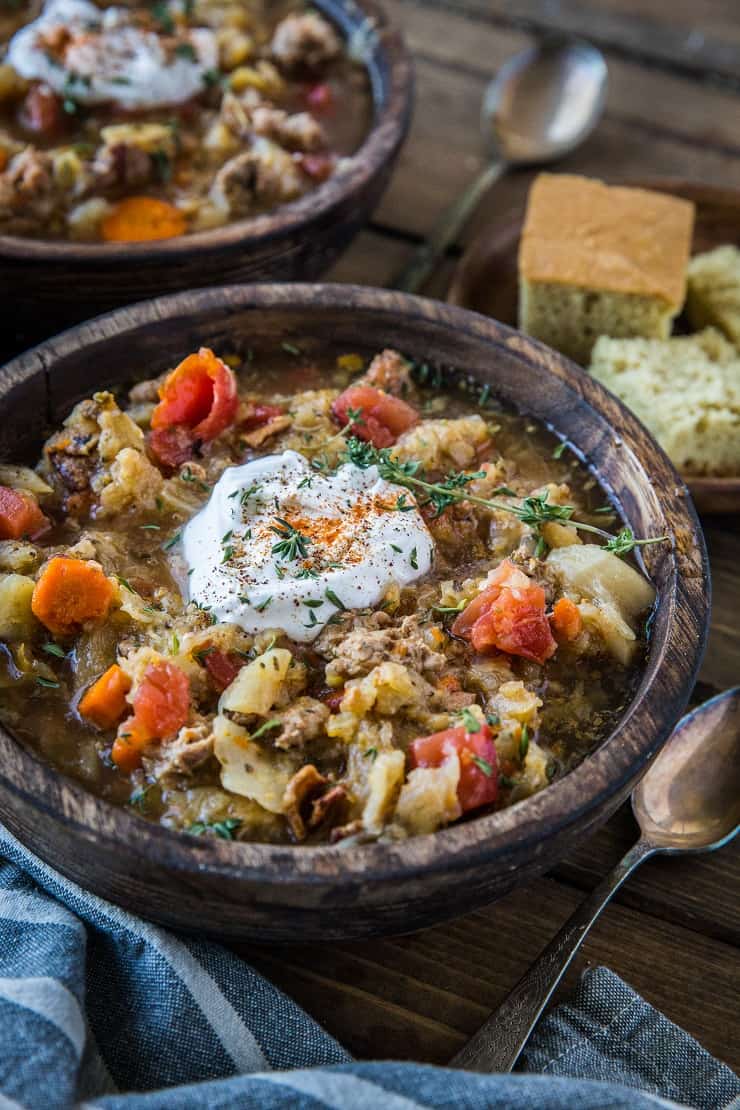 Hey, you! How was your Thanksgiving?
My family kept things traditional and mellow, with a turkey, a couple vegetable side dishes, mashed sweet potatoes, and that Paleo Pumpkin Cheesecake I showed you last week. *Simple* goes a long way in keeping things light and fun in my family!
While the couple months surrounding Thanksgiving, Christmas and New Year can be disorienting for many of us, I'm doing what I can to stick to my regular eating and exercise regimen this year (last year was a doozy for me!!) even if that does sound like an epic snooze fest.
For me, that means not allowing myself to get carried away with sugary blissful treats (you know how I love my sugar…) and not allowing other people's re-evaluation of their own habits seep through to mine. I'm still developing dessert recipes, just doing everything in my power to keep the consumption of them at a reasonable level.
And so!
Meals like this Instant Pot Sausage and Cabbage Soup continue to be my main squeeze. I love them so.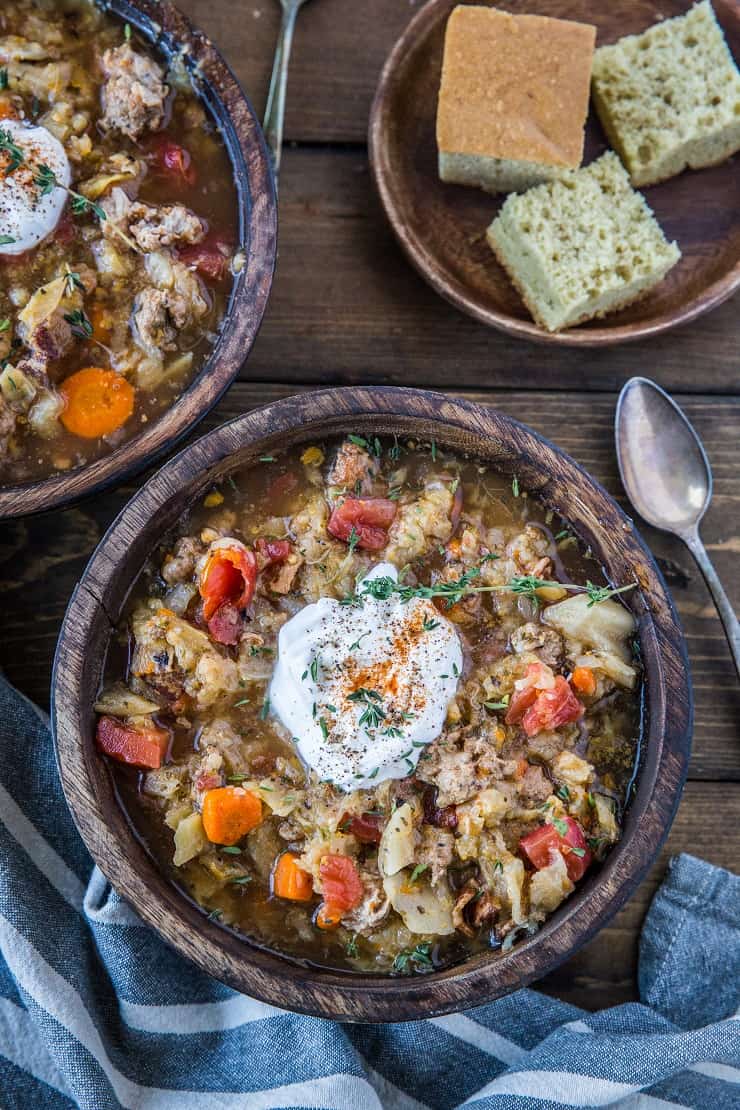 If you've been around my site 100,000 years, you may remember my Translyvanian Stock Pot post from way back when. Do you? Do you?
The recipe is crazy simple to prepare and also crazy flavorful. We're simply stewing bacon, turkey Italian sausage (I use Diestel turkey Italian sausage, which I buy from Whole Foods), and some veggies like cabbage, carrots, and onion. We toss in some spices including a cinnamon stick for added pizzaz and BOOM: super filling, clean, and satisfying stew to warm our bellies all winter long.
…Well, this Instant Pot Sausage and Cabbage Stew is basically identical except for one vital change: It is made in the Instant Pot. I've made this recipe many many times over the years using my Dutch oven on the stove top, but wanted to give it the ol' pressure test.
Spoiler alert: this stew turns out so marvelously in the Instant Pot!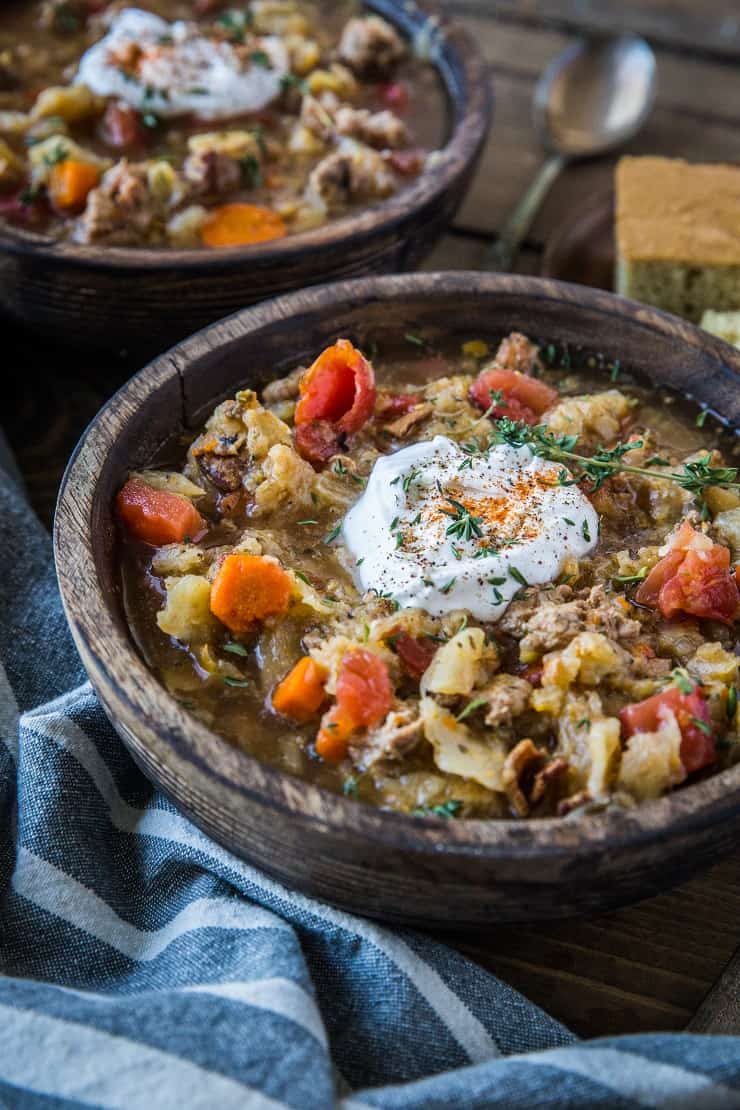 Don't worry, you can also make it in your slow cooker! All the bases are covered!
How to Make Instant Pot Sausage and Cabbage Stew:
Turn your Instant Pot on the Saute mode and add the bacon. Cook the bacon until much of the fat has rendered, but the bacon is still somewhat floppy (not crispy).
Add the veggies and stir them around for a couple of minutes.
Scoot the vegetables off to one side of the pot, then add the turkey italian sausage to brown it up.
Once the meat has browned, add the remaining ingredients, secure the lid, then put the Instant Pot on Stew/Meat mode. Set the time for 35 minutes.
Once the IP has finished its stew mode, allow it to naturally go into the Keep Warm mode for 30 minutes. After that, you can activate the quick release.
Slow Cooker Method:
Follow Steps 1 through 3 using a skillet on the stove top. Transfer everything (including the rest of the ingredients on the ingredients list) to your slow cooker, then set it on low. Cook for 4 to 6 hours, or until the meat is very tender and cooked through.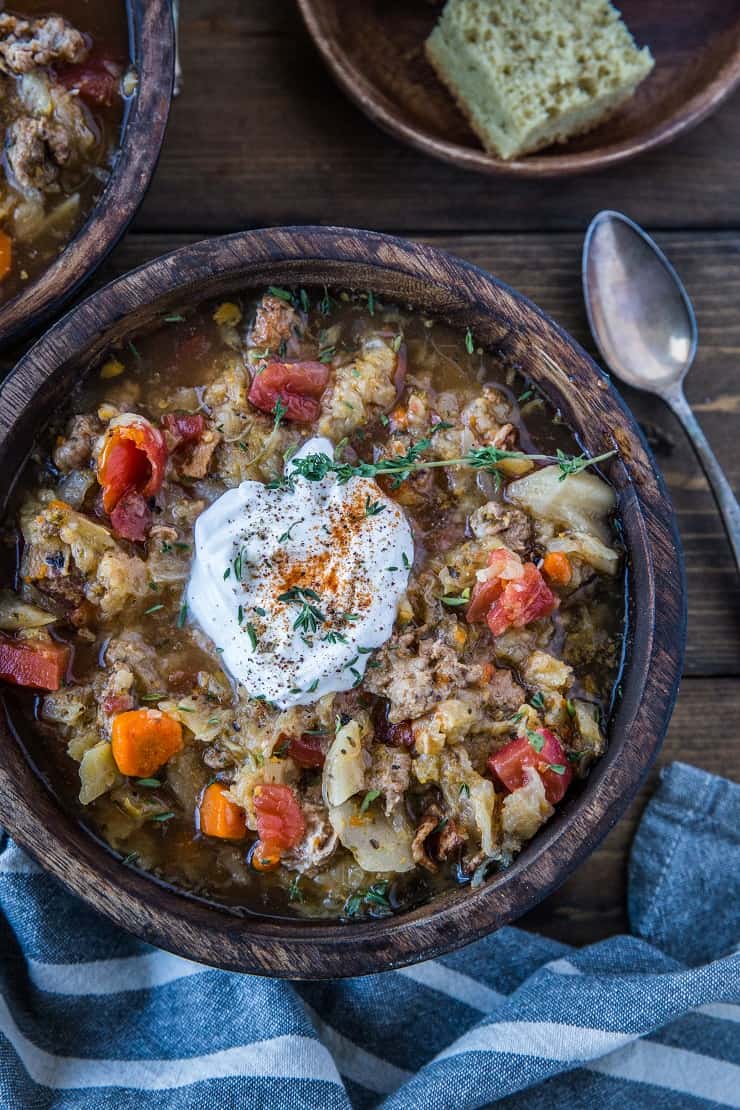 Serving Options:
I ate this stew with a dollop of coconut milk yogurt on top and hunks of my Paleo "Cornbread" with ghee smeared on it This was basically was the most delightful decision I've made in weeks.
You can also try out my Grain-Free Biscuits, or Cheese and Herb Irish Soda Bread. Or go bread-free!
Stew it up, lil' darlin'!
Instant Pot Sausage and Cabbage Stew
Wildly flavorful and satiating sausage and cabbage stew is easy to make and so comforting!
Servings:
4
to 6 Servings
Ingredients
Instructions
Plug in your Instant Pot and put it on the 'Saute' mode. Allow it to heat for a couple of minutes.

Add the chopped bacon and cook, stirring occasionally, until much of the fat has rendered but the bacon is still tender.

Add the onion, carrots, and garlic. Saute for 2 minutes.

Scoot the vegetables off to the side of the Instant Pot and add the ground turkey Italian sausage. Allow the meat to brown for 2 minutes on one side, then flip and allow it to brown another 2 minutes. Stir the turkey into the vegetables.

Add the remaining ingredients to the Instant Pot in the order in which they appear on the list. Stir well. Note that the cabbage will sit on top and will not fully be submerged - this is perfectly fine. Just do your best to stir and call it good.

Secure the lid on the Instant Pot and place it on the 'Stew/Meat' setting. Set the time for 30 minutes. Once the Instant Pot has finished pressure cooking, allow it to go into the Keep Warm mode for 30 minutes. Set the release to venting to release the steam.

Stir everything well and remove the cinnamon stick from the stew. Serve stew with coconut milk yogurt on top with a side of paleo cornbread.
Nutrition
Serving:
1
Serving (of 4)
|
Calories:
375
kcal
|
Carbohydrates:
19
g
|
Protein:
39
g
|
Fat:
16
g
|
Fiber:
5
g
|
Sugar:
11
g