Sautéed acorn squash and brussels sprouts with maple-cinnamon glaze, pecans, and bacon makes for a marvelous side dish to go alongside your favorite fall or winter-inspired entrée.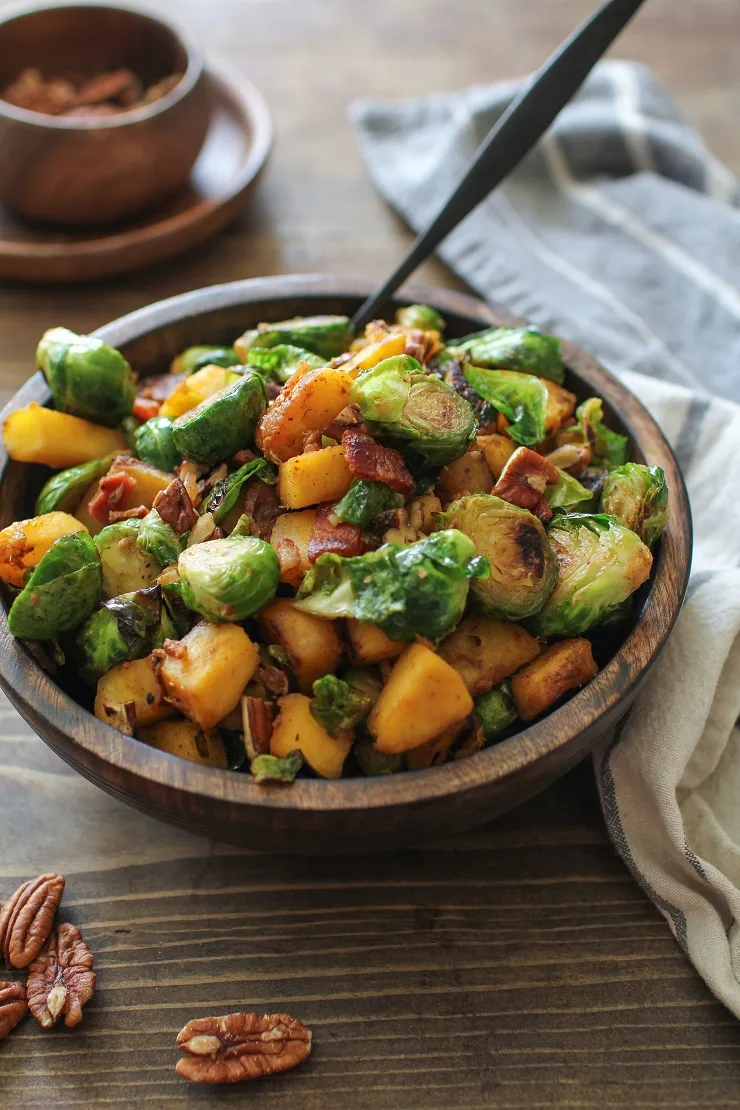 You're looking at one of those times I ate a side dish for dinner.
This Maple-Cinnamon Acorn Squash and Brussels Sprouts is so tasty and satisfying, it can be difficult to stop!
Ordinarily, I would enjoy it alongside Orange Ginger Turmeric Whole Roast Chicken, Garlic Herb Roast Beef, or My Go-To Crispy Salmon, but sometimes a girl just needs to eat 12 pounds of vegetables for everything to be right in the world 😉
This side dish is a something-for-everyone situation, as it covers many-a-palate. Acorn squash people? Covered.
Brussels sprouts people? Covered. Bacon, pecans, and sweet-and-savory lovers? Covered, covered, covered.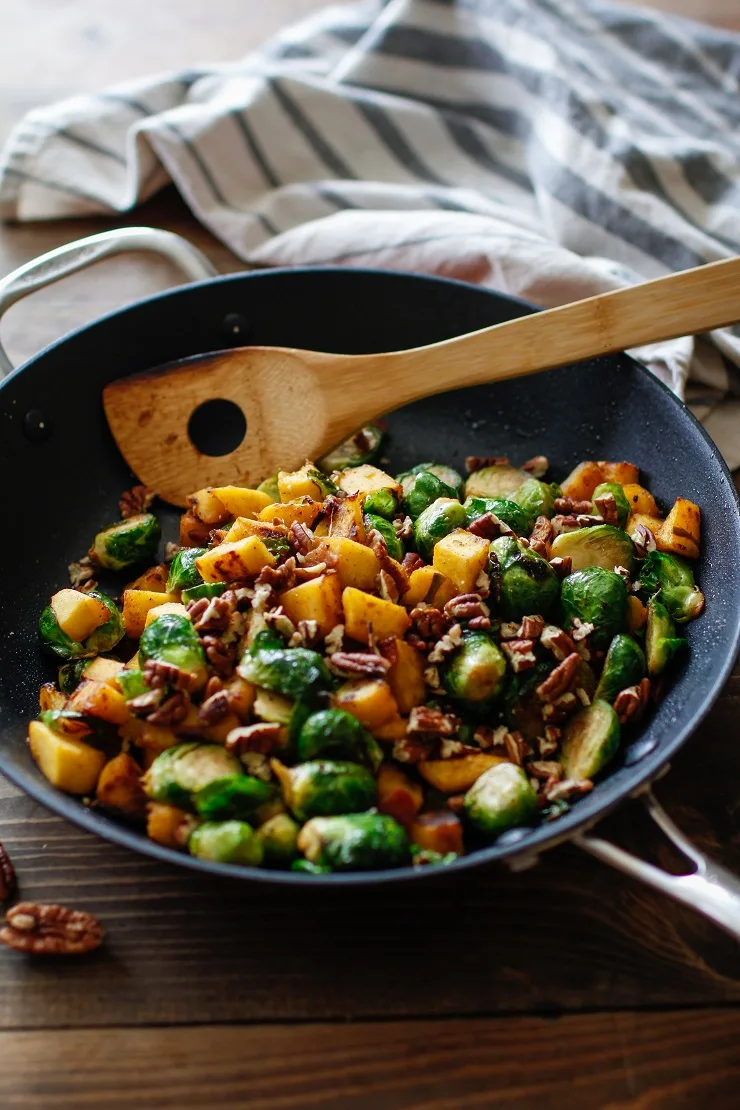 Here comes the tricky part. This side dish requires a few steps.
I'll be the first to admit, peeling and chopping an acorn squash is not my idea of an evening soiree under the stars, but I can reassure you, the effort is worth the final product.
Want to know a trick I use to save some time?
I use the packaged brussels sprouts that have already been trimmed and halved. BOOM! That's efficiency.
In order to cook both the acorn squash and brussels sprouts to perfection, I choose to cook them separately.
This way, I don't run the risk of having either (or both) vegetable turn out over cooked or under-cooked, or worse: one vegetable under-cooked and the other over-cooked…that'd just be a disaster.
How to Make Sautéed Brussel Sprouts and Acorn Squash:
Essentially, once the vegetables are chopped and we're ready to cook, here is our order of operations:
1.) I cook the bacon first in order to render some fat, then remove the bacon and cook the brussels sprouts in the bacon fat. (Note: If you're vegetarian, skip this step and cook the veggies in coconut oil – the coconut oil is lovely in this dish!)
2.) Once the brussels are finished, I transfer them to a bowl and use the same skillet to cook the acorn squash (at this point, you can add more oil to the skillet if necessary).
3.) As soon as the acorn squash is cooked through, I add the brussels back in, along with the chopped up bacon bits.
4.) The part that comes next will require you to exercise your trust fairies. Because next, we add pure maple syrup and ground cinnamon. I know…freaky. It may seem peculiar to add a sweetener to a savory dish, but the salty fatty bacon and sweet pure maple syrup create a beautiful little balance, most favorable to the tongue palate.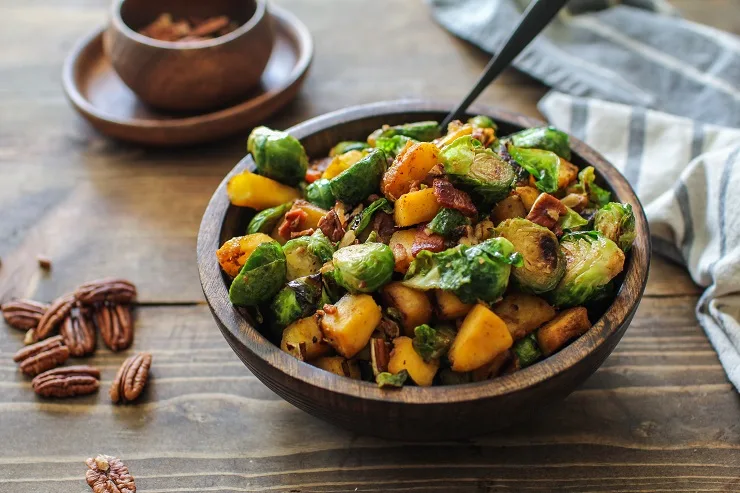 All flavors, textures, heart feels added together makes for a dish I could eat almost every single day.
In high volume.
Like it's dessert.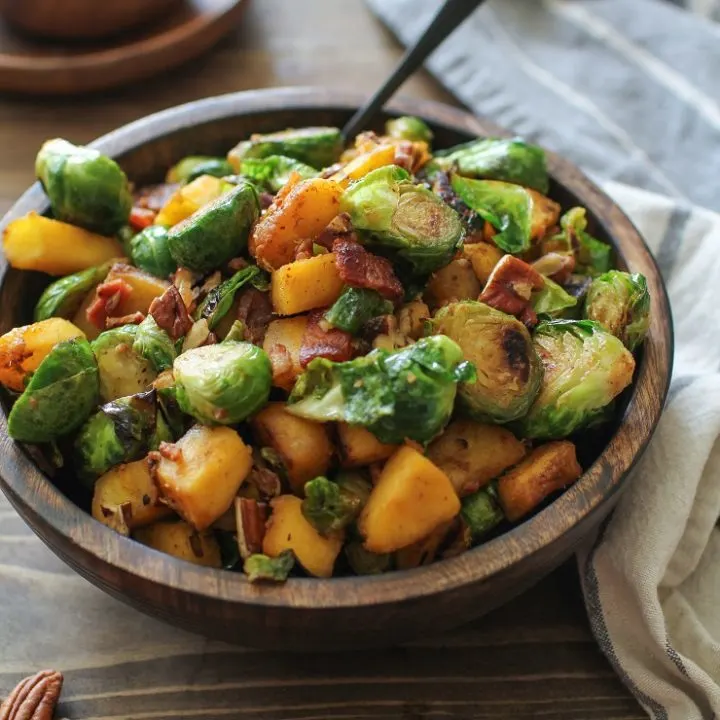 Glazed Acorn Squash and Brussels Sprouts
Maple-Cinnamon Glazed Acorn Squash and Brussels Sprouts with Bacon is a delicious and nutritious side dish!
Ingredients
5 slices thick-cut bacon
16 ounces Brussels sprouts, trimmed and halved
1 medium acorn squash, peeled, seeded, and diced
½ teaspoon sea salt, to taste
¼ teaspoon ground cinnamon
3 tablespoons pure maple syrup, to taste
1/3 cup raw pecan halves, chopped
Instructions
Heat a large skillet to medium-high on the stove top. Once hot, add the bacon and cook, flipping every 1 to 2 minutes, until fat has seeped out and bacon has reached desired amount of crisp, about 3 to 5 minutes. Remove bacon from skillet and transfer to a cutting board, leaving the bacon drippings in the skillet. Chop the bacon and set aside until ready to use.
Add the chopped Brussels sprouts to the skillet with the bacon drippings and reduce the heat to medium. Stir the Brussels sprouts well, cover, and cook for 2 to 3 minutes. Uncover, stir, and continue cooking until Brussels sprouts have reached desired done-ness, about another 4 to 5 minutes. Transfer Brussels sprouts to a plate and set aside.
Place the skillet back on the hot stove top and add 1 to 2 tablespoons of olive oil if necessary. Transfer the chopped acorn squash to the skillet, stir well, and cover. Cook 4 to 5 minutes, stir, and remove the cover. Cook an additional 8 to 10 minutes, until acorn squash is golden-brown and cooked through.
Transfer the Brussels sprouts to the skillet with the acorn squash, along with the chopped bacon, cinnamon, sea salt, pure maple syrup, and pecans. Stir well to combine and continue cooking until heated through, about 3 minutes.
Transfer to a serving bowl and serve alongside your favorite entree.
Nutrition Information
Yield

6
Serving Size

1 Serving
Amount Per Serving
Calories

151
Total Fat

9g
Unsaturated Fat

0g
Carbohydrates

17g
Fiber

4g
Sugar

10g
Protein

7g
More Healthy Side Dishes: