Stuffed Sweet Potatoes with Caramelized Pears, Pecans, and Cranberries are a flavorful healthy side dish perfect for sharing with company!
It's the final countdown before Thanksgiving – do you have your menu dialed in? Feeling extra grateful? Are you PUMPED?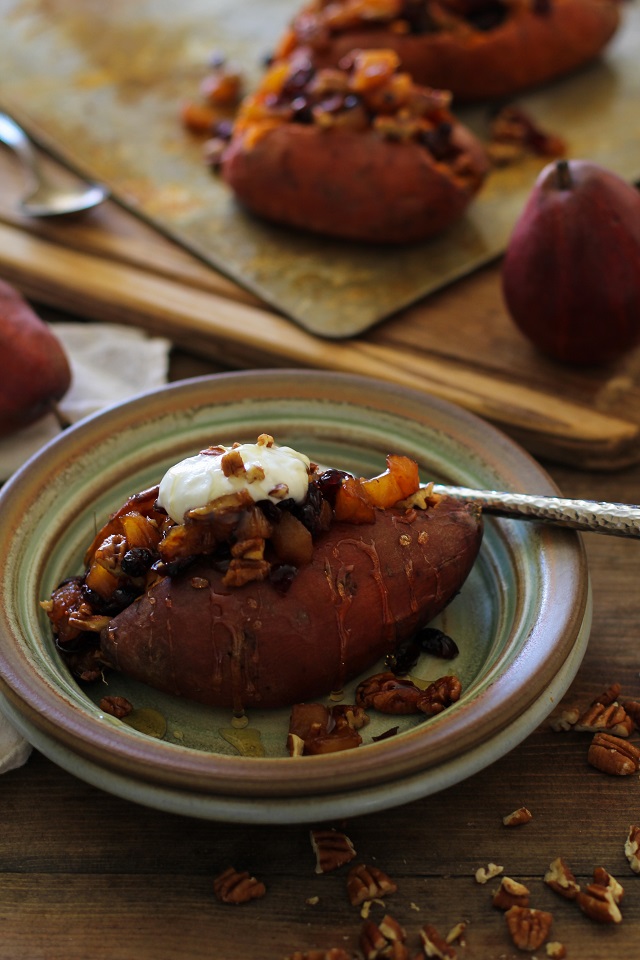 This may be an extreme thing to say a.) on a Monday, b.) when the competition for the perfect side dish is THICK, c.) when you make recipes for a living and will probably end up eating your words at some point down the road…but I'll just have to say it anyway…
This is more than likely the best side dish I've ever made. Bar.none. Reasons? I've got plenty.
1.) It's an all-the-flavors walk down the Eightfold Path to taste bud bliss (<- more on that later).
2.) It's so carbs.
…and yet, it's your Get Out of Kale Free Card –>
Healthy side dish alert!
3.) It's basically an entrée.
You'll have no room for pie.
This is basically pie.
Let's get down to the nitty gritty of this recipe, shall we?
How to make Stuffed Sweet Potatoes:
This is basically a deconstruction and reconstruction situation. We roast, we mash, we stuff, we twice-bake, we adorn in toppings, we admire, we devour. These taters are stuffed with yogurt (among other things) – look out! It may sound like something you've never even heard of, but rest assured, this dang thing works!
I've been a big fan of Nancy's yogurt for years, and was psyched when they said they were interested in partnering with me to bring you a holiday-inspired recipe. Because I'm a ginormous fan of sweet potatoes in any form, I figured I'd offer up a twice-baked stuffed sweet potato recipe with a bamboozle of flavors. I roasted the sweet potatoes, then scooped out the flesh and mashed it up with Nancy's whole milk plain yogurt, some cinnamon, and honey, making a sweet, tangy, creamy treat that wows your face, yet is still healthful.
The stuffing situation: I sautéed up some pears with more cinnamon, more honey, dried cranberries and pecans. This kit and kaboodle makes for a super filling and comforting side dish…that could totally pass for dessert if you ask me!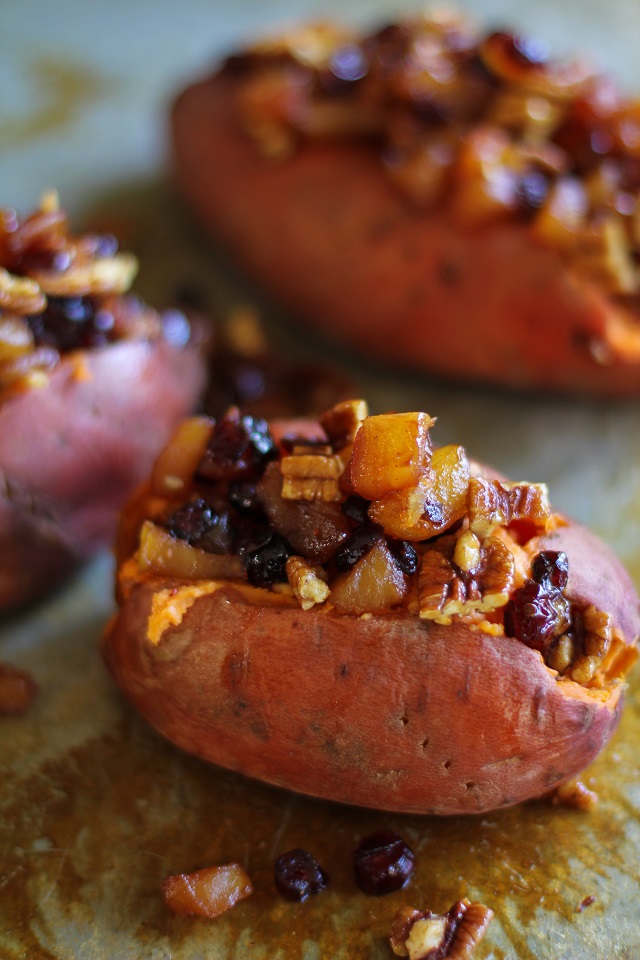 Mash ups? You can use apples instead of pears, golden raisins instead of cranberries, pure maple syrup instead of honey, and/or walnuts instead of pecans. Definitely employ whatever goodies you have on hand on the ol' pantry shelf before making a special trip to the store.
The way I see it, this is the perfect easy side dish to include on the dining table this Thursday. Just be sure to serve the potatoes with a drizzle of honey and a dollop of plain yogurt on top to really step the experience up a notch.
Your Get Out of Kale Free Card….annnnd GO!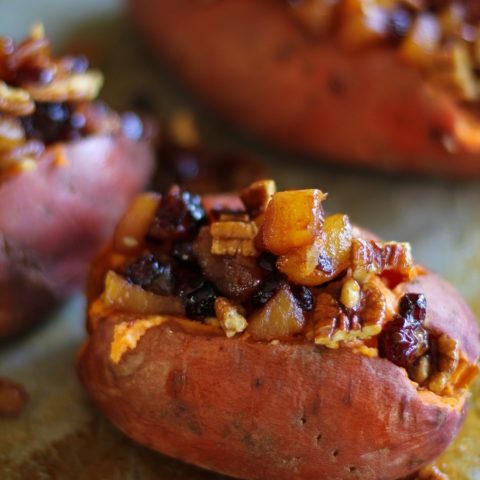 Stuffed Sweet Potatoes with Caramelized Pears, Pecans, and Cranberries
Total Time:
1 hour
15 minutes
Stuffed Sweet Potatoes with Caramelized Pears, Pecans, and Cranberries make for a glorious side dish to any meal!
Ingredients
3 medium sweet potatoes, roasted
1/3 cup Nancy's Whole Milk Plain Yogurt
2 tablespoons to 3 honey, to taste
¼ teaspoon ground cinnamon
Pinch sea salt
For the Caramelized Pear Stuffing:
2 large pears, peeled and chopped
2 tablespoons honey
2 tablespoons unsalted butter or coconut oil
¼ teaspoon ground cinnamon
¼ cup dried cranberries
1/3 cup raw pecans
Pinch sea salt
Instructions
Preheat oven to 400 degrees F.
Wash and pat dry the sweet potatoes.Poke several times with a fork and wrap in foil. Place potatoes on a baking sheet and roast for 45 to 60 minutes, until very tender when poked with a fork.
While potatoes are roasting, prepare the caramelized pear stuffing. To do so, peel, core, and chop the pears. Add them to a small saucepan along with the rest of the ingredients for the pears. Cover and heat to medium-high and bring to a full boil. Reduce heat slightly and continue cooking, stirring occasionally, until pears are tender and caramelized, about 8 to 10 minutes. Set aside until ready to use.
Lower the oven temperature to 350 and remove the potatoes from the oven. Once cool enough to handle, unwrap the potatoes, cut down the length of each, and scoop out much of the flesh into a mixing bowl. Add the yogurt, honey, cinnamon and salt. Mash and stir until well-combined. Taste stuffing mixture for flavor and add more yogurt and/or honey to taste. Place potatoes back in the oven and cook until heated through, about 8 to 10 minutes. Serve with hot caramelized pear mixture, and enjoy.
Nutrition Information
Yield

3
Serving Size

1 Serving
Amount Per Serving
Calories

414
Total Fat

18g
Unsaturated Fat

0g
Carbohydrates

59g
Fiber

8g
Sugar

37g
Protein

3g
This post is sponsored by
Nancy's
. As per usual, all thoughts, feelings, and opinions expressed are my own.