Herb and citrus whole roast chicken with turmeric and ginger. Served with a side of roasted vegetables, this makes for a winning meal that happens to be paleo and Whole30 approved.
This chicken may as well go down in history as the chicken that launched a thousand ships.
Story time!
After preparing and shooting this recipe, I left my boyfriend alone with this chicken for a total of one hour, and I came home to a partially-consumed chicken and no boyfriend.
Turns out he had to leave the premises lest he eat the entire thing.
His words: "I ate a wing, and then I ate a drum, and then I ate a thigh…" When G has a difficult time controlling himself with food, you know you've hit the sweet spot.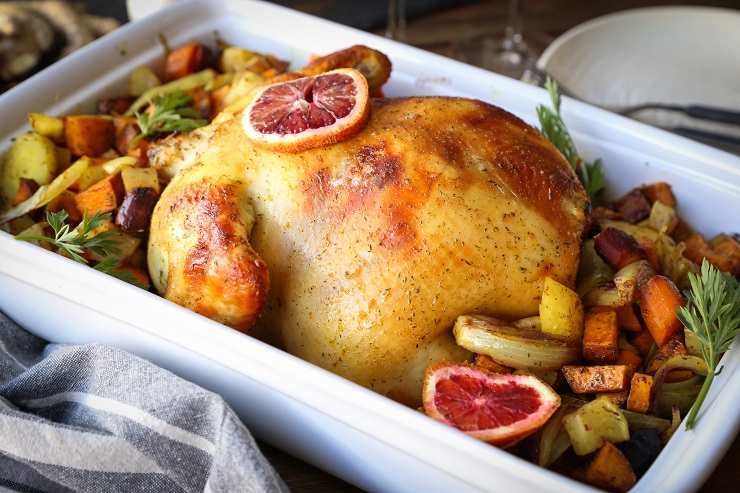 All this to say, if you like chicken at all, I highly suggest you make this whole roast chicken your weekend project.
Oh, and if you have limited or no experience with the whole body chicken thing, no sweat! The process for an entire chicken is virtually the same as pieced out chicken. We season, we bake, we conquer.
While the ingredient list is long on this recipe, you likely already have most of what you need.
How to Marinate and Roast Whole Chicken:
The basic premise behind this chicken is we marinate the whole thing prior to roasting.
Have you ever marinated a whole chicken? In the past, I've always just used an oil and spice slurry, but lemme just tell you…marination is queen.
To make the marinade, we combine tasty ingredients like orange extract, orange zest and juice, oil, vinegar, fresh ginger, and some pure maple syrup. Blend it up in a blender, and presto! You have the marinade that launched a thousand ships.
Once the marinade was properly assembled, put the entire chicken in a large zip lock bag, pour in the marinade, sloshed it around, then stuck it in the refrigerator.
So stinkin' easy.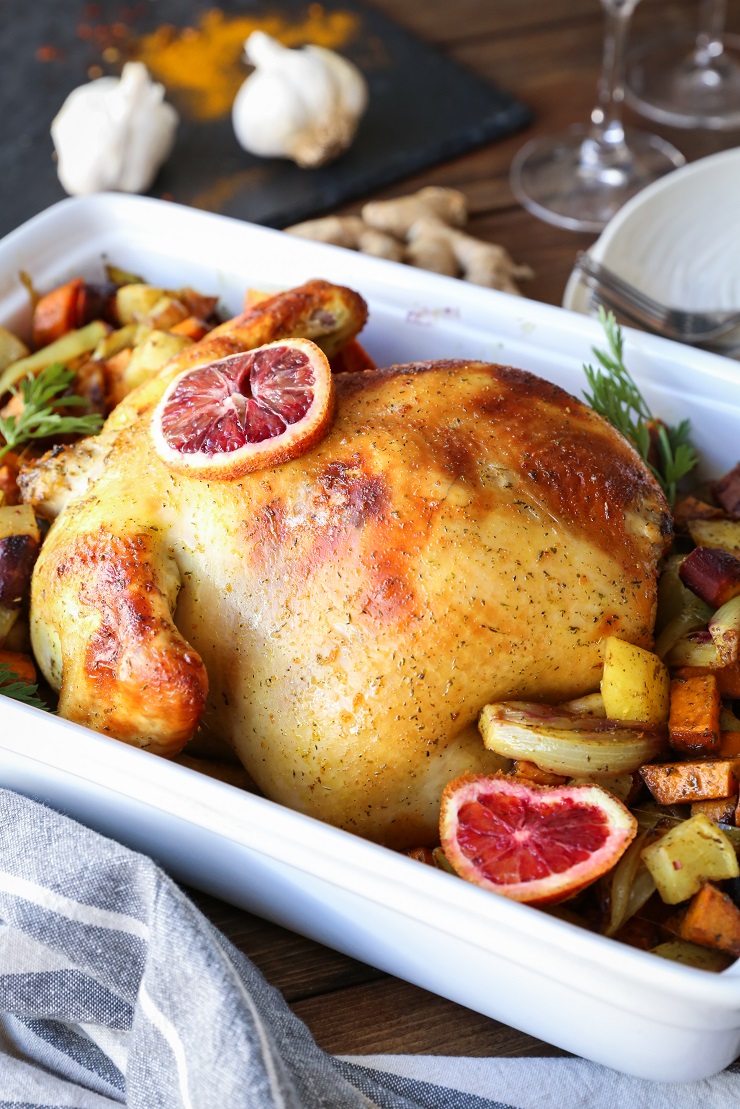 I allowed my chicken to marinate for only about three hours, which turned out to be plenty of time.
If you want to be a real go-getter, you can definitely marinate overnight!
The meat expert boyfriend just suggests you don't marinate for over 24 hours. 8 to 12 hours is ideal.
Roasting Tips:
Choose a whole chicken that looks like it has a great deal of fat on it. The fattier the meat, the more flavorful it will be.
You can use chicken that's already pieced out for this recipe! If so doing, still use bone-in, skin-on chicken pieces for the tastiest result.
Allow the chicken to sit at room temperature for about 10 to 15 minutes prior to roasting – this ensured the chicken will cook evenly.
Tailor your roast time to the size of the chicken. In general, chicken takes about 20 minutes per pound to bake, so a 3-pound bird will require about 1 hour of roast time. Be cautious of over-cooking, as chicken can dry out quickly once it's over-baked.
According to the FDA, chicken is safe to consume once the breast reaches 165 degrees F. Poke a meat thermometer into the thickest part of the breast (without touching bone) to check the temperature.
The wings, drumsticks, and thighs require longer roast time than the breast. If you want to be a real badass, you can pull the chicken out when the breast reads 160 degrees F (it will continue raising in temperature while it rests), dismember it and put the wings, drums, and thighs back in the oven to finish roasting.
For crispy skin, broil the chicken for 1 to 2 minutes once it has finished roasting.
Once the chicken is fully cooked, allow it to rest for 10 to 15 minutes. This allows the juices to distribute throughout the bird, thus ensuring superior flavor and texture.
Don't let the drippings in the roasting pan go to waste! You can spoon them over the chicken and vegetables – there's tons of flavor in the drippings!
One last thing. I designed this recipe to be a two-parter to include the Orange Ginger Turmeric Roasted Root Vegetables I posted yesterday, but once it dawned on me how long the ingredient list would be, I turned it into two recipes.
If you look closely, you'll notice the marinade ingredients for the chicken are basically identical to the marinade ingredients for the roasted vegetables, so ingredient-wise, you're pulling the same goods out of the pantry.
To summarize, I highly suggest pairing this chicken with those vegetables. Good talk.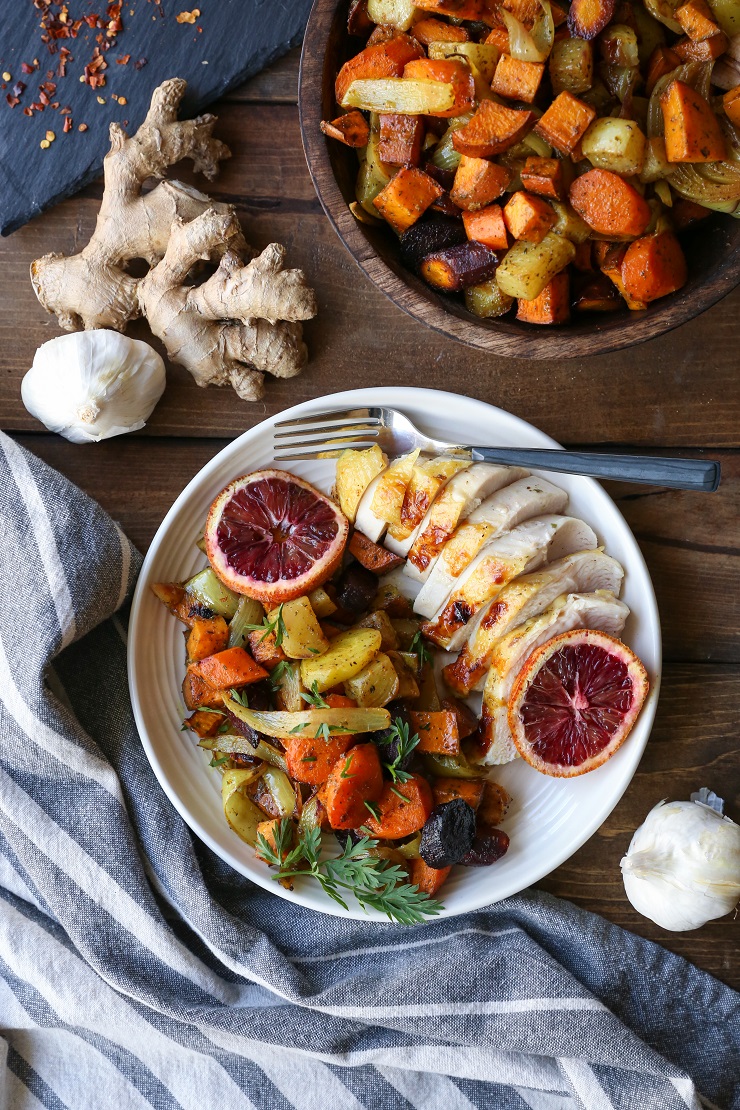 Get your mitts on this lovin'.
My cookbook,
Paleo Power Bowls
, is now available! CLICK HERE to check it out. Thank you for your support!
If you make this recipe, please feel free to share a photo and tag @The.Roasted.Root on Instagram!
Orange Ginger Turmeric Whole Roast Chicken
Roast Chicken and vegetables makes for a winning, nutritious meal!
Ingredients
1

3 to 4 pound whole chicken

1/3

cup

olive oil

2

teaspoons

orange zest

1/3

cup

fresh orange juice

2

tablespoons

fresh ginger

peeled and grated

2

tablespoons

cider vinegar

1

tablespoon

pure maple syrup

1

teaspoon

dried thyme

1

teaspoon

dried parsley

1

teaspoon

dried oregano

1

teaspoon

onion powder

2

teaspoons

garlic powder

1/2

teaspoon

ground turmeric

2

teaspoons

sea salt
Instructions
Add everything but the chicken to a blender and blend until completely smooth.

Place the chicken inside of a large (gallon-sized) zip lock bag. Pour in the marinade, seal the bag, and slosh it around to be sure the full chicken is coated. Refrigerate 3 to 24 hours. If possible, slosh the marinade around a few times during the marination process.

Preheat the oven to 375 degrees F.

Place the chicken (and all of the juices) on a roasting pan (or baking sheet or casserole dish). Note: it's best if you can allow the chicken to sit at room temperature for 10 minutes prior to roasting to ensure it roasts evenly.

Place the chicken on the center rack of the preheated oven and roast 1 hour to 1.5 hours (depending on size of chicken), or until the internal temperature of the chicken reaches 165 degrees F. A 2.5 to 3 pound chicken should take just over an hour.

Remove the chicken from the oven and allow it to rest 10 minutes to allow the juices to distribute throughout the bird. This will ensure the chicken has the best texture and will make it easier to cut as well. Dismember the chicken and serve alongside roasted vegetables.
Notes
You can swap out any of the dried spices for your favorites.
Nutrition
Serving:
1
of 6
|
Calories:
461
kcal
|
Carbohydrates:
3
g
|
Protein:
37
g
|
Fat:
33
g
|
Sugar:
3
g