If there's one dish that has the capability of sling shotting me back to my childhood, it's potatoes au gratin. A former plain-vanilla eater, the only dinner items I would reliably eat were lasagna, potatoes, rice pilaf (from the box), and barbecue chicken. Aside from those hot topics, all bets were off when it came to what I'd agree to consume. You could 200% rule out anything green, fresh, and un-slathered in cheese.
One of my favorite dishes my parents made when I was growing up was scalloped potatoes. Or potatoes au gratin…or au gratin potatoes. No matter the title you give it, everyone in the family enjoyed the hearty side dish to the extent that we never had leftovers. Cheese + potatoes = food of dreams.
While I still love all things cheesy potato, I try to keep my dairy intake at a bare minimum. Rather than loading up on the heavy cream, I opted for coconut milk in this recipe. Does it sound crazy? It may just be, but
I used Andre Prost coconut milk to prepare this dish and loved the way it turned out. The coconut milk is so thick and creamy, making the dish all sorts of comforting and flavorful. In the world of coconut milk, not all cans are created equally! Some are creamier than others and some can be grainy or watery.
Having had a number of years of experience cooking and baking with coconut milk, I have narrowed down my go-to brands to an art. Andre Prost's coconut milk is everything I love in a coconut milk – authentic and creamy with the ability to add richness and flavor to any dish it is applied to. If you've never tried it, you can find it in the baking aisle (not the international aisle) of your grocery store.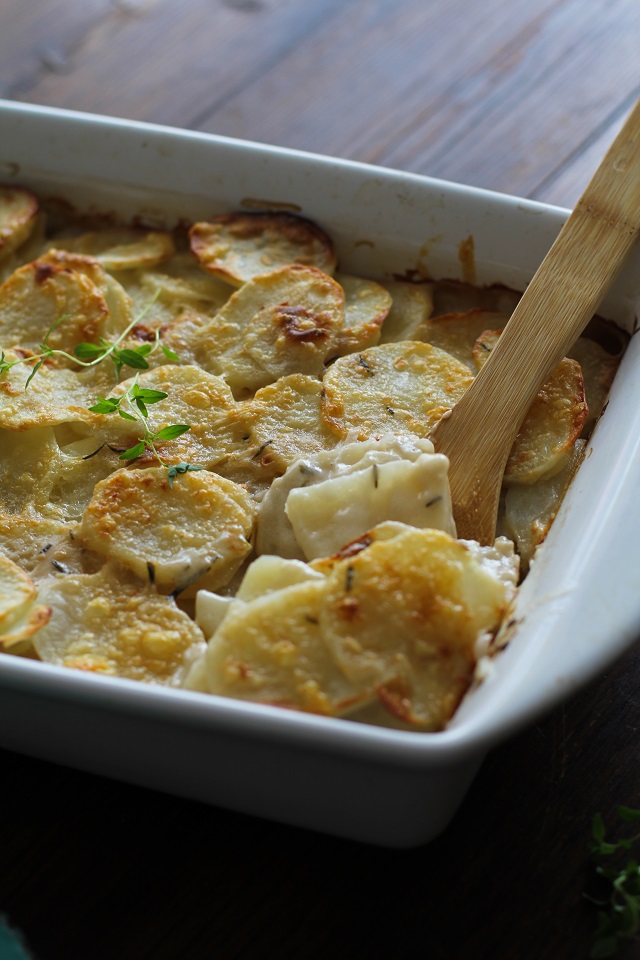 In addition to coconut milk, I used aged gruyere cheese and fresh rosemary and thyme in this casserole dish o' bliss. Flash fact: did you know aged cheeses have a much lower lactose content than un-aged cheeses? For those of you who are sensitive to dairy, this is an important little detail for your digestive happiness!
I adapted this recipe from Andre Prost's Coconut Milk Au Gratin Potatoes. Because I'm all about garlic and herb flavors, I added more, but left much of the recipe unchanged. Instead of gruyere, you can also use parmesan or gouda. To make this recipe vegan, replace the butter with vegan spread and use vegan cheese. I will say, this recipe requires quite a bit of prep, but you can expedite the process by using a mandolin slicer to slice the potatoes. Regardless, it is worth the time investment.
Bringing back my childhood favorite to share with the family, I made this dish for Thanksgiving. my whole family raved about it PLUS it made so much, we ended up with leftovers. This dish can serve upwards of 12 people. The herby, cheesy creamy flavors slow-baked into the potatoes makes for a filling flavor-packed addition to your holiday feast, or comfort food any time of year!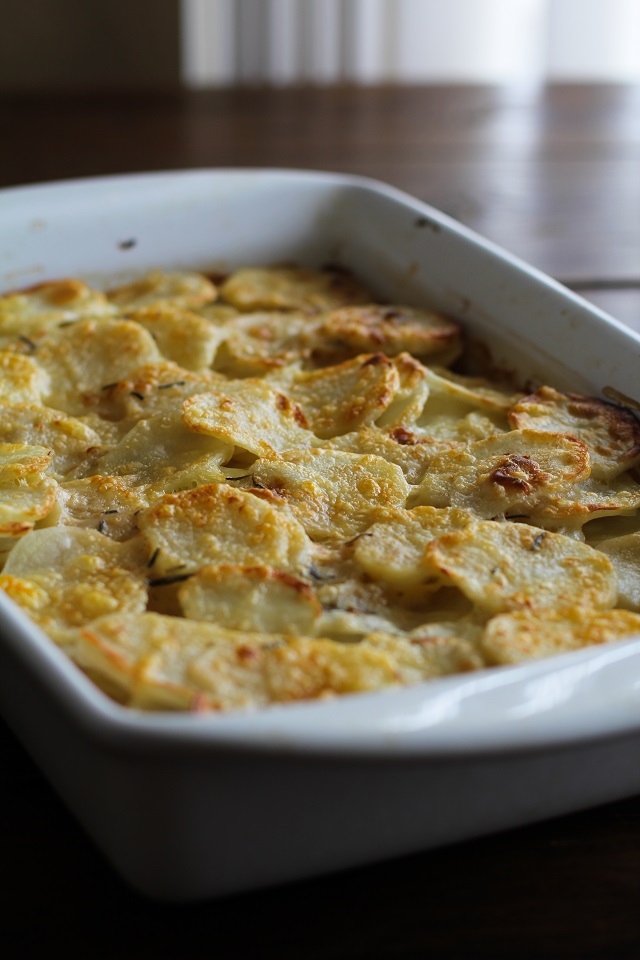 In addition to their Coconut Milk Au Gratin Potatoes, I'm looking forward to whipping up a big batch of Coconut Eggnog to share with my family on Christmas Eve and Christmas, as well as Coconut Creme Brulee for a super rich and fancy (yet easy!) dessert.I'm also all about a steamy bowl of Cream of Broccoli Soup and/or Shrimp Bisque to keep my winter menu equal parts healthful and cozy.
Because: carbs
Herbed Coconut Milk Potatoes Au Gratin
Print
Ingredients
2-13.5

oz

cans Andre Prost coconut milk

1

tablespoon

sea salt

or 2 teaspoons regular table salt

2

teaspoons

finely minced garlic

2

teaspoons

fresh rosemary

2

teaspoons

fresh thyme

Freshly ground black pepper

5

lbs

gold or russet potatoes

peeled and thinly sliced

3

tablespoons

butter or vegan butter spread

2 1/2

tablespoons

flour

3

cups

grated Gruyere cheese

or non-dairy cheese of choice
Instructions
Preheat the oven to 375° F. Lightly grease a 9 x13 inch baking dish.

In a medium saucepan bring Coconut Milk, salt, garlic, rosemary, thyme and pepper to taste, to a boil. Turn off heat and set aside. Note: mixture will taste salty alone but not when combined with potatoes.

Wash potatoes well, slice thinly and cover with cold water. Set aside.

Melt butter or (or vegan spread) in a medium-size saucepan over medium heat. Whisk in flour until smooth. Cook, whisking constantly, until mixture turns a golden brown color.

Slowly whisk in the herbed coconut milk, a bit at a time. Stirring, bring to a boil and remove from heat.

Drain potatoes and layer 1/3 on bottom of baking dish, overlapping each slice about half way. Pour 1/3 coconut sauce over potatoes and sprinkle with 1 cup of cheese. Repeat layers 2 more times, only reserving last cup of cheese for later.

Cover with foil and bake 45 minutes. Remove foil and sprinkle with cheese. Bake uncovered 15-20 additional minutes. If potatoes are soft and a darker color is desired, broil potatoes until cheese is nicely browned.
This post is sponsored by Andre Prost. Per usual, all thoughts, feelings, and opinions are my own.