Healthy Sweet Potato Casserole with crispy nutty streusel topping – a grain-free, refined sugar-free, dairy-free recipe that's also paleo-friendly. This casserole is the perfect side dish for the holidays!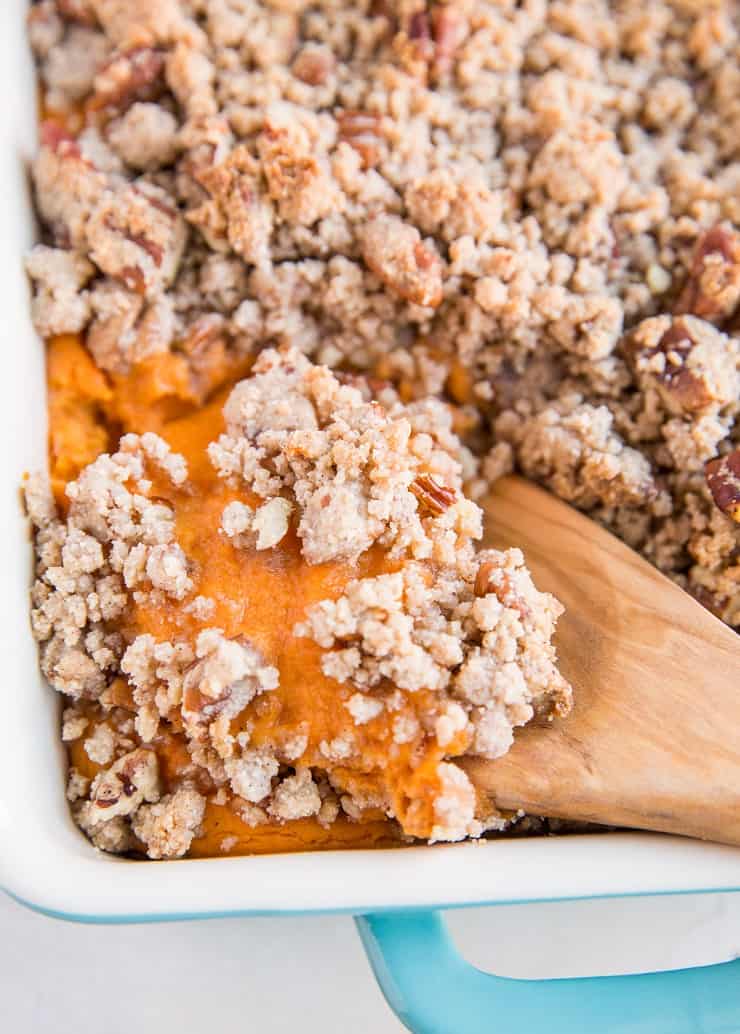 Side dishes are serious business this time of year, and it shouldn't come as a shock that when it comes to side dishes, all-things sweet potato rank highest on my radar.
My family has plenty of age-old traditional side dishes we default to each year for Thanksgiving and Christmas, and the sweet potato casserole is no exception.
Let me tell you, my sister makes a mean sweet potato casserole, including gobs of butter, brown sugar, and cream, topped off with marshmallows.
Just. Yum.
Because I just HAVE to prove to my family any chance I get that traditional yummy comforting dishes can taste great while being not only not bad for you, but good for you, a couple years back for Thanksgiving, I healthified the sweet potato casserole.
I know. Rude.
But ever since that fateful Thanksgiving, we haven't looked back.
Okay, okay…I make mine, sis makes hers, we all take a little (read: a lot) of both, and call it a feast.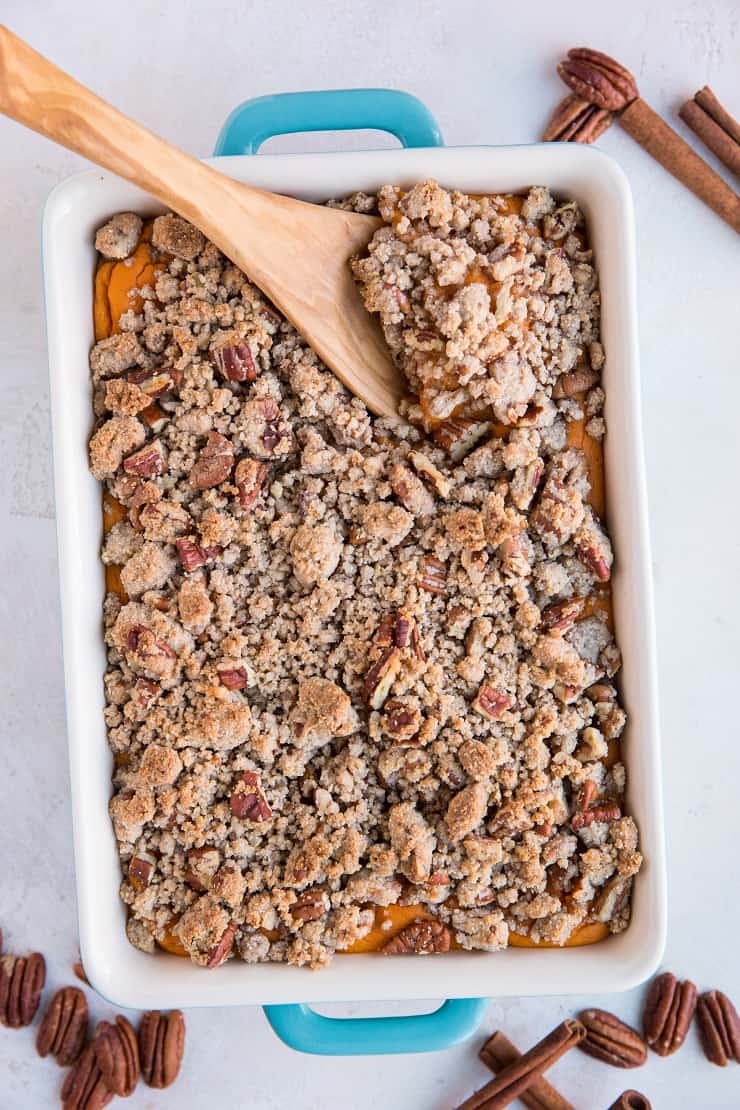 Flavor and texture talk: this dish basically tastes like you're eating a shortbread cookie on top of a pillow of autumn bliss. Enough said.
It's warmly-spiced and sweet without being too sweet. If you're anything like me and go bonkers for sweet potatoes, this sweet potato casserole can be your dessert. Dollop of coconut milk whipped cream on top?
Ohhhh momma, now we're talking.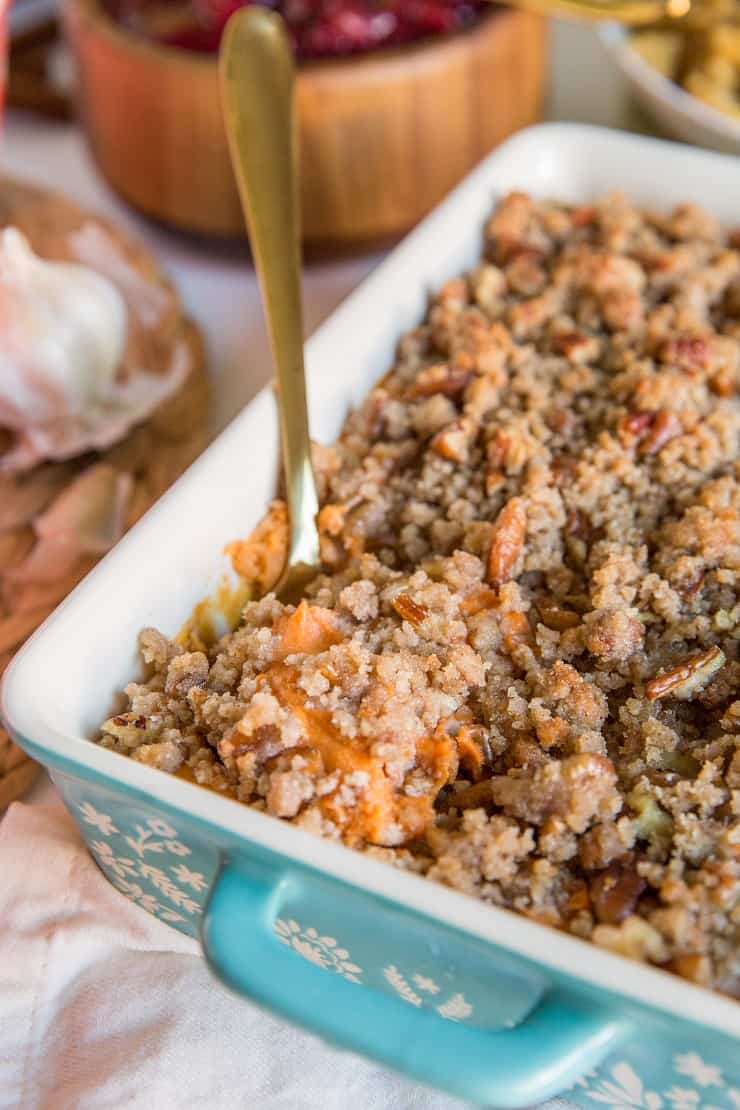 Preparing this dish is super easy!
How to Make Healthy Sweet Potato Casserole:
Chop three large sweet potatoes and boil them for about 15 to 20 minutes, until they are nice and soft.
Note: You can also roast or stem them, but boiling them is the fastest option).
While the sweet potatoes are cooking, make the grain-free crumble topping. To do so, simply add the ingredients for the topping to a mixing bowl and stir until well-combined. Set aside until ready to use.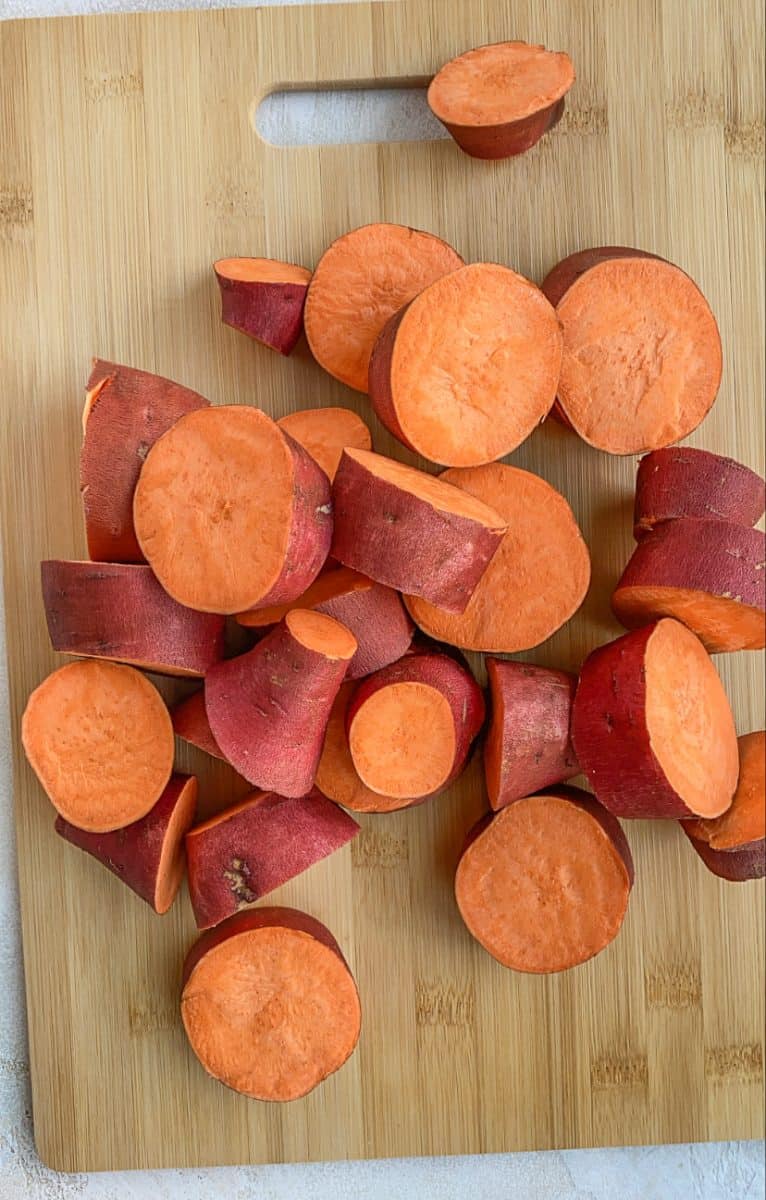 Allow the sweet potatoes to cool, then peel them (option to leave the peel on!). Add potatoes to a blender with the coconut milk, maple syrup, salt, cinnamon, and vanilla extract.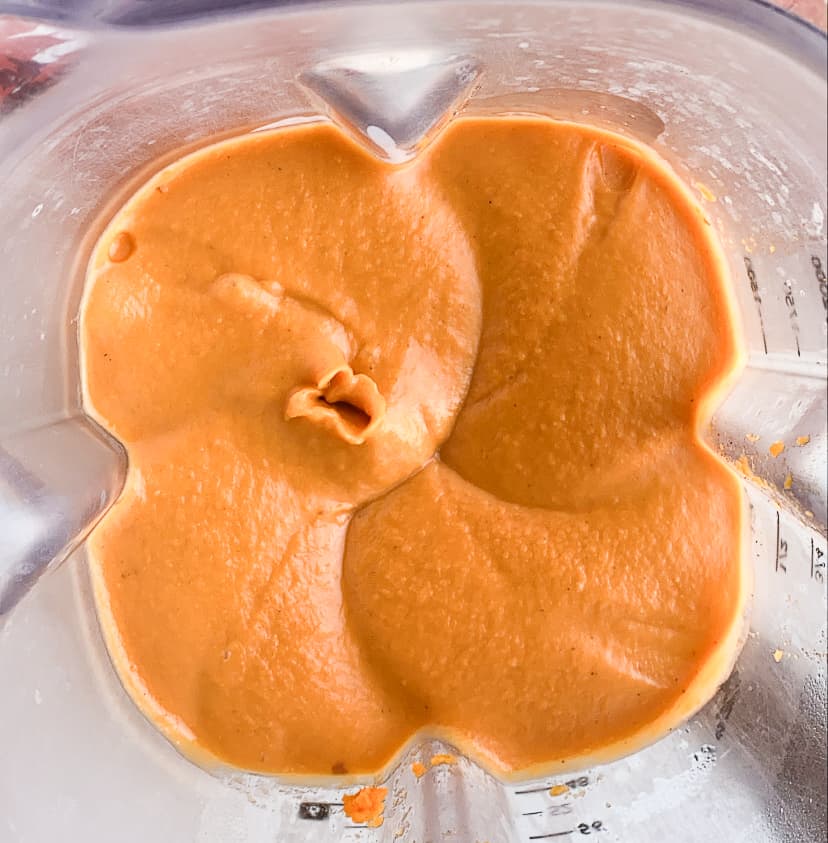 Note: As an alternative, you can mash everything together with a potato masher to maintain some chunky texture if desired.
Transfer the mashed/pureed up potatoes to a small casserole dish, and top with a grain-free mixture of almond flour, tapioca flour, coconut oil, pecans, and maple syrup.
Cover the casserole dish with foil and bake at 350 degrees Fahrenheit for 40 minutes. Remove the foil and continue baking another 10 to 15 minutes, or until the topping is nice and crisp and the sweet potato mixture is a bit bubbly.
BAM! you have yourself a paleo-friendly lightened up version of sweet potato casserole.
Slash dessert vegetables.
However you want to look at it.
More Healthy Side Dishes:
Enjoy!
If you make this healthy sweet potato casserole recipe, feel free to share a photo on Instagram and tag @The.Roasted.Root!
Healthy Sweet Potato Casserole (Paleo)
Healthy Sweet Potato Casserole made without dairy, sugar, or grains!
Instructions
Prepare the Filling:
Chop sweet potatoes into large chunks, place them in a large pot and cover with water. Cover the pot and heat until boiling. Boil the potatoes until they're soft when they're poked with a fork, about 20-30 minutes.

Drain the sweet potatoes into a colander and allow them to cool to room temperature (this is so that the sweet potatoes don't cook the eggs when blended together – you can refrigerate the potatoes to speed up the process).

When the potatoes are cool, remove the skins (I often leave them on…this is a matter of preference). Place potatoes in a blender with the remaining filling ingredients. Blend until everything is well combined.

Preheat the oven to 375° F.

Transfer the sweet potato mixture to an 8" x 8" square casserole dish and spread it evenly.

Mix together all the ingredients for the topping in a mixing bowl. Spread the topping over the sweet potato mixture as evenly as possible.

Cover the casserole dish with foil. Bake on the center rack of the preheated oven for 40 minutes. Remove the foil and continue baking another 10 to 15 minutes, until the topping is golden-brown and crispy and the filling has risen and is slightly bubbly.
Notes
If you aren't dairy-free, you can replace the canned coconut milk with heavy cream and replace the coconut oil with melted butter.
Nutrition
Serving:
1
of 12
|
Calories:
290
kcal
|
Carbohydrates:
28
g
|
Protein:
7
g
|
Fat:
17
g
|
Fiber:
2
g
|
Sugar:
12
g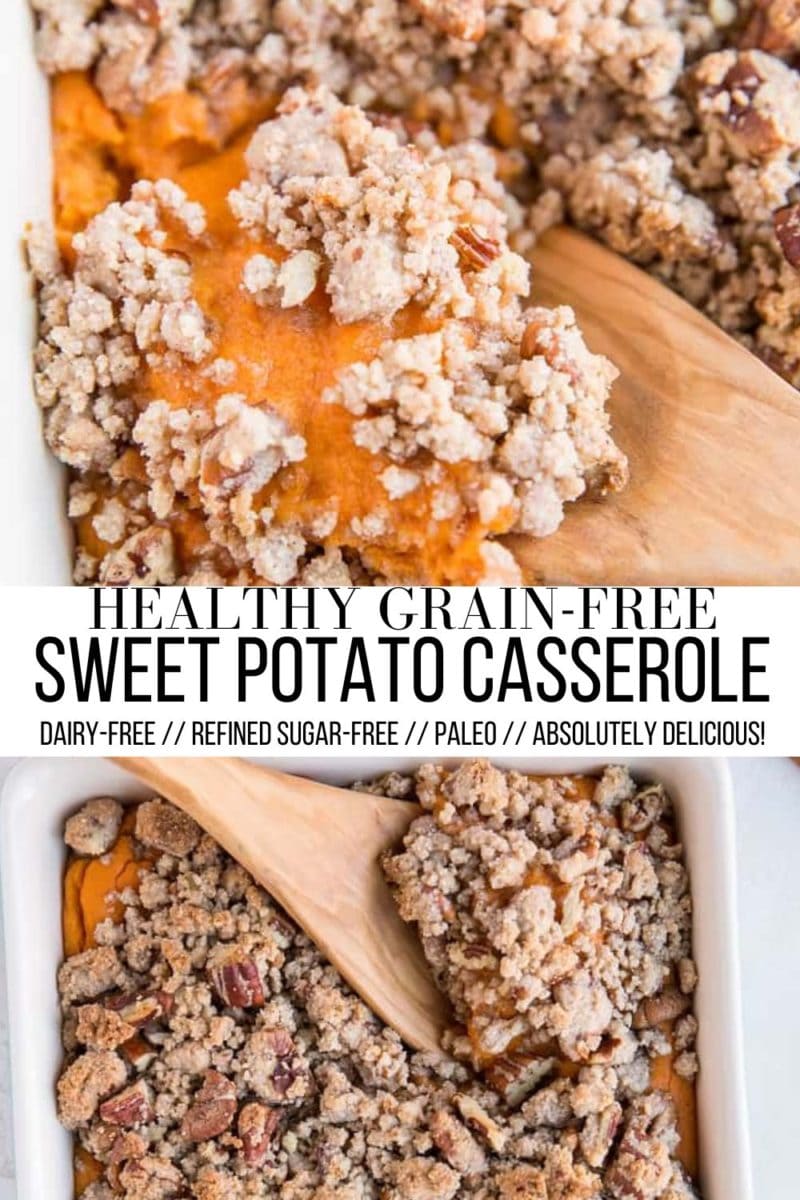 This post contains affiliate links, which means I make a small commission off items you purchase at no additional cost to you.