Squeaky clean summer kale salad with avocado, red onion, pumpkin seeds, and lemon-basil dressing.
You guys, I almost did something silly. I almost named this salad, "The Best Damn Kale Salad Ever."
Trouble.
In spite of the fact that it really is quite good, I decided I had better stay away from any "Best Of" statements when it comes to kale…because have you caught wind of the kale opinions out there? It's savage, man! Better to play it safe.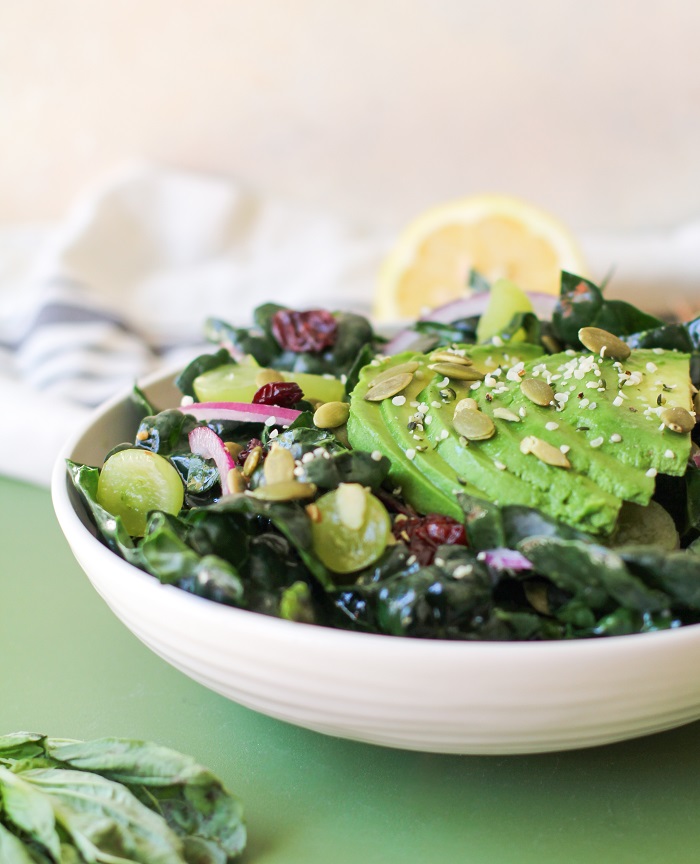 After tossing the "Best" attribute out the window, I thought I could name this salad, "The You Just Turned 30, So Here's Your Bowl of Rabbit Food Salad. Sorry About it."
…Because I turned 30 last week, so I'm going to need lots of kale.
I'm a little concerned about what this 30 thing entails. Not because the number itself sends me into an otherworldly amygdala breakdown (when it comes to age, I just can't even give a care), but because of what the landmark 3-0 represents. Basically? Cellulite + the expectation of adultly conduct. Age-appropriate clothing, slang, luggage, wall art, and food? I just don't even know how to behave. Does not compute. Amygdala overload. Powering…down…
Just kidding, I'm still here.
Thoughts on eye cream? Warm lemon water in the morning? Words of wisdom on staving off the thigh nuggets as long as humanly possible? I'm taking all colors of advice and user's manuals here, folks.
In celebration of the big 3-0, the man and I drove up to Bend, Oregon for a five-day eating, drinking, and mountain biking extravaganza. This was my third time visiting Bend, and each time I go, I'm more and more impressed by its badassedness. The food and drink alone can keep you entertained FOR HOURS, and also the trails are boat loads of fun. Scenery? On point. Hiking/biking/trail running? Super filthy.
All this to say, I may have overdone it on the food and alcohol sitch, which is exactly where this beautiful kale salad comes into play. It un-writes all the wrongs. Okay, maybe not all of the wrongs, but it's a pretty powerful cleanser.
Kale. Grapes. Dried cranberries. Red onion. Pepitas. Avocado. Lemon Basil Dressing. You've got it made. This is our gateway to an easy go-to summer kale salad. Add, subtract, multiply, divide…you can approach this thing in an innumerality (<- made up word) of ways.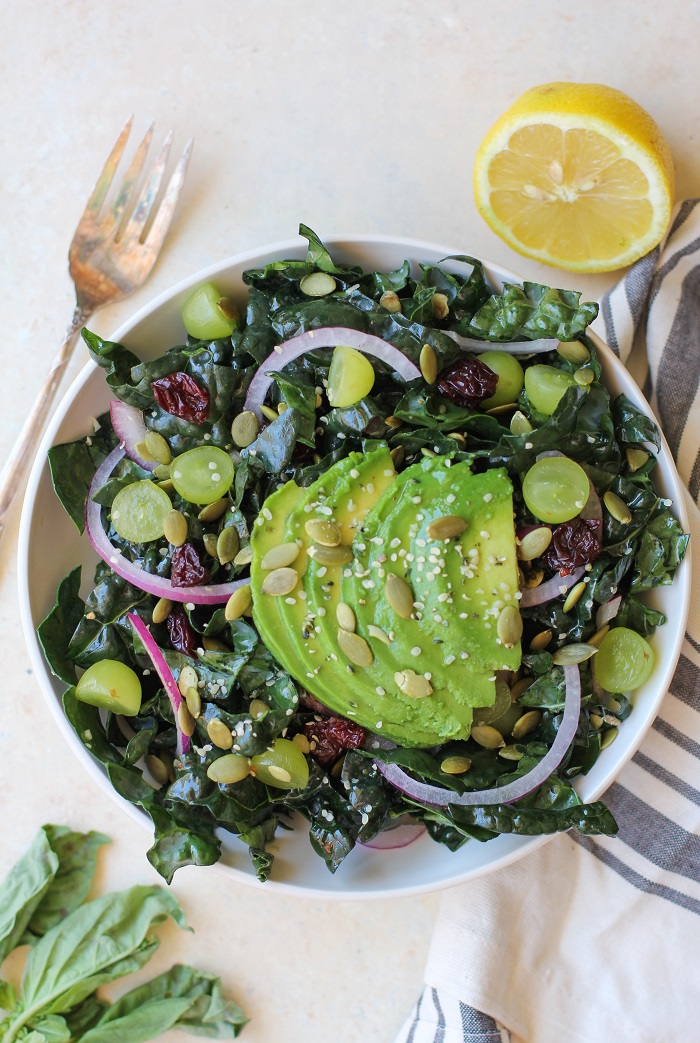 Full disclosure: this salad lacks cheese. And potentially a runny egg. I'd suggest adding them both for a more filling meal.
The dressing is a simple combination of lemon juice, olive oil, and fresh basil. You can use whatever herbs you have on hand, or skip the herbs altogether. Also check out my Kale Salad with Pumpkin Seeds, Dried Cherries, Cotija Cheese, and Lemon Parsley Dressing for more kale inspiration, as that is what this salad is modeled after.
What else? Do you want to see a Things to Do and Places to Eat in Bend post? Would it be useful for your upcoming summer travels? Or do you want to take a peep into the way I spend my free time? Be forewarned, it's messy.
The Best Dayum Kale Salad Evah.
Keep calm and Kale Salad On. <- don't hit me.
Lemon Basil Kale Salad with Avocado
Lemon Basil Kale Salad with Avocado is a fresh herby delicious salad recipe
Ingredients
Lemon Basil Dressing:
3

tablespoons

fresh lemon juice

2

tablespoons

olive oil

1

teaspoon

agave nectar or pure maple syrup

2

leaves

large fresh basil

finely chopped

1

clove

small garlic

minced
Kale Salad:
1

large bunch lacinato kale

chopped, or kale of choice

1

ripe avocado

peeled and diced

1

cup

grapes

halved

1/3

cup

red onion

thinly sliced

1/4

cup

pumpkin seeds

1/4

cup

dried cranberries
Instructions
In a small bowl, whisk together the ingredients for the dressing.

Add the kale to a serving bowl and drizzle in desired amount of dressing. Toss well to coat, and allow kale to sit at least 10 minutes to let the acidity from the lemon soften some of the fibrousness of the kale.

Add the remaining ingredients for the salad to the serving bowl and toss everything together. Serve alongside your favorite entree, or add grilled chicken to make a meal of it.

Add cheese (such as goat or feta) and runny egg as necessary.
Nutrition
More Kale Salad Recipes:
Crunchy Mandarin Kale Salad with Lemon Poppy Seed Dressing
Cranberry Kale Salad with Roasted Pecans and Feta
Massaged Kale Salad with Avocado and Pickled Red Onions
Lemony Kale Salad with Parmesan Crisps
Thai Chicken Chopped Kale Salad
Baby Kale Salad with Strawberries, Goat Cheese, and Strawberry-Mint Vinaigrette