Crunchy Detox Mandarin Kale Salad with avocado, mango, and lemon poppy seed dressing makes for a vibrant superfood meal.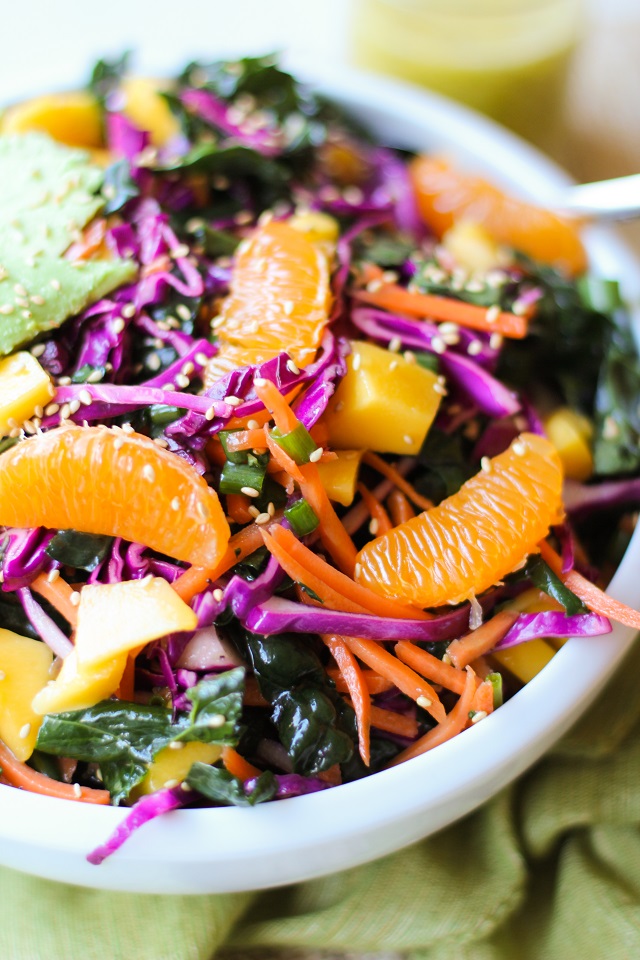 I have such a crush on this salad.
Admittedly, I'd take a bowl of vegetation over a bowl of mac n cheese any day, so stranger confessions have been made on The Roasted Root, but this is by far my favorite wintertime salad.
Just lookit how vibrant the thing is.
The kale-cabbage-carrot trifecta makes for some serious crunch, while the mandarin-mango-avocado trifecta softens it up, creams it out, and is responsible for explosions on your tongue buds.
And yes, we are still talking about salad.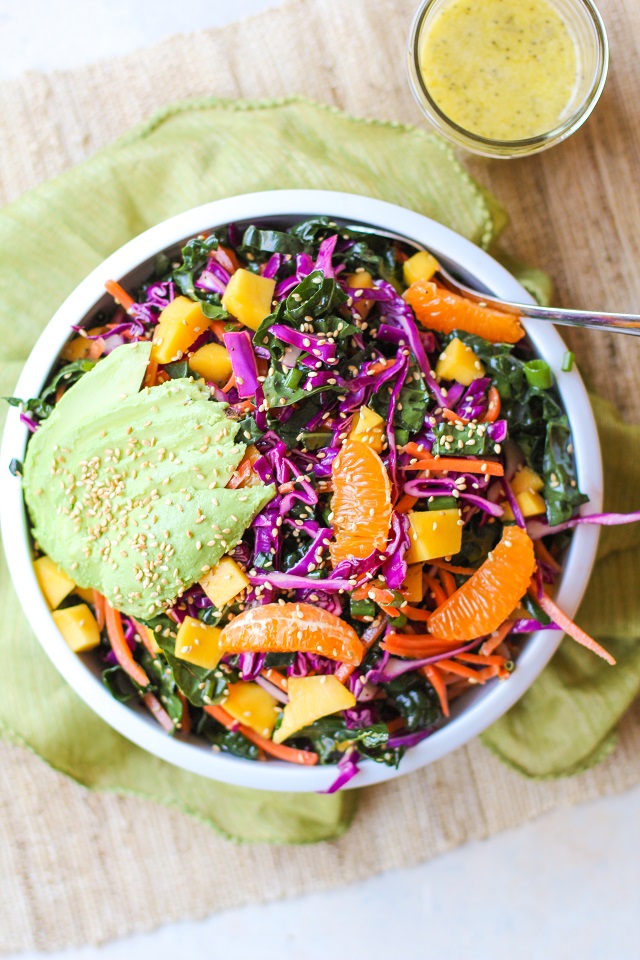 Citrus fruit! It's in season. Do you adore them?
The grapefruit, mandarins, lemons and limes, oh my? I absolutely love little bitty mandarins poked all spunky and vibrant-like in my salads.
Lemon poppy seed dressing? So fine!
Because it's citrus season, I'm enjoying my salads with anything orange-like, and salad dressings lately have been all about the simple lemon juice and oil combo.
Those avocado slices? They make this ish real.
I recommend you mash them up with your fork and stir them into the salad so that the creaminess coats a bit of the crunchy kale.
The lemon poppy seed dressing is super simple, yet super perfect for making all the componentry come together into one big love boat.
Be sure you don't skimp on the avocado and the dressing! And be sure to stir. The more you toss this salad, the better it is.
Recipe Adaptations:
If you can't handle the high-octane snap crackle pop or kale, you can halve the amount of kale and add in some spring or field greens so that you're not constantly chomping through this thing.
You can turn the lemon poppy seed dressing into an orange poppy seed dressing.
Add some sliced grilled chicken for a protein infusion. Add some roasted walnuts or almonds, you vixen, you.
All ingredients added together, you're looking at a vitamin-filled superfood salad packed with crunch. Vegan and paleo-friendly, too, though!
Crunchy Kale Mandarin Salad with Lemon Poppy Seed Dressing
Crunchy Kale Mandarin Salad with avocado, cabbage, carrots, and Lemon Poppy Seed Dressing is a blast of color, flavor and nutrients!
Ingredients
Mandarin Kale Salad:
2

bunches lacinato kale

thinly sliced, tuscan

½

small head red cabbage

thinly sliced

2

cups

grated carrot

1

bunch green onion

chopped

1

large ripe mango

chopped

4 to 6

mandarins

peeled and separated

1

large ripe avocado

peeled and sliced

Slivered almonds and sesame seeds for serving
Lemon Poppy Seed Dressing
Instructions
Prepare the salad dressing:
Add all of the ingredients for the salad dressing except for the poppy seeds to a small blender. Blend until completely smooth. Stir in the poppy seeds and set aside until ready to use.
Prepare the salad:
Add all of the ingredients for the salad to a large serving bowl. Drizzle desired amount of dressing over salad and toss well to ensure everything is coated. Serve with sliced almonds and sesame seeds.
Nutrition
Serving:
1
Serving
|
Calories:
358
kcal
|
Carbohydrates:
40
g
|
Protein:
8
g
|
Fat:
21
g
|
Fiber:
16
g
|
Sugar:
20
g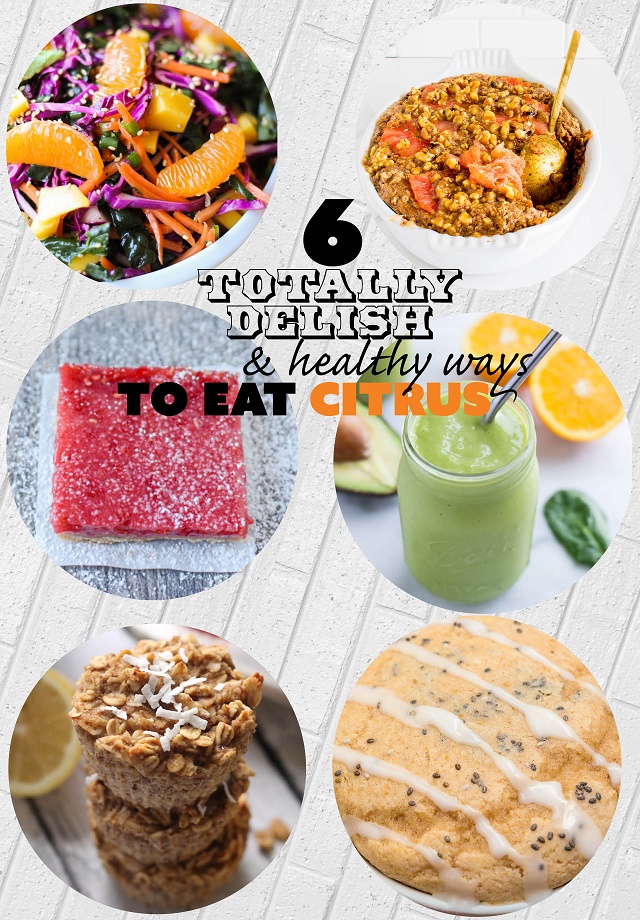 This month for our healthy recipe roundup, Alexis, Sarah, Arman, Kylie, Lindsay and I decided to hone in on the citrus fruit group. In honor of the sweet, tangy, vitamin and antioxidant-rich fruit, the gang and I are dishing up healthy recipes using various citrusy items to keep you eating in season.
Lemon Coconut Baked Oatmeal Cups from Hummusapien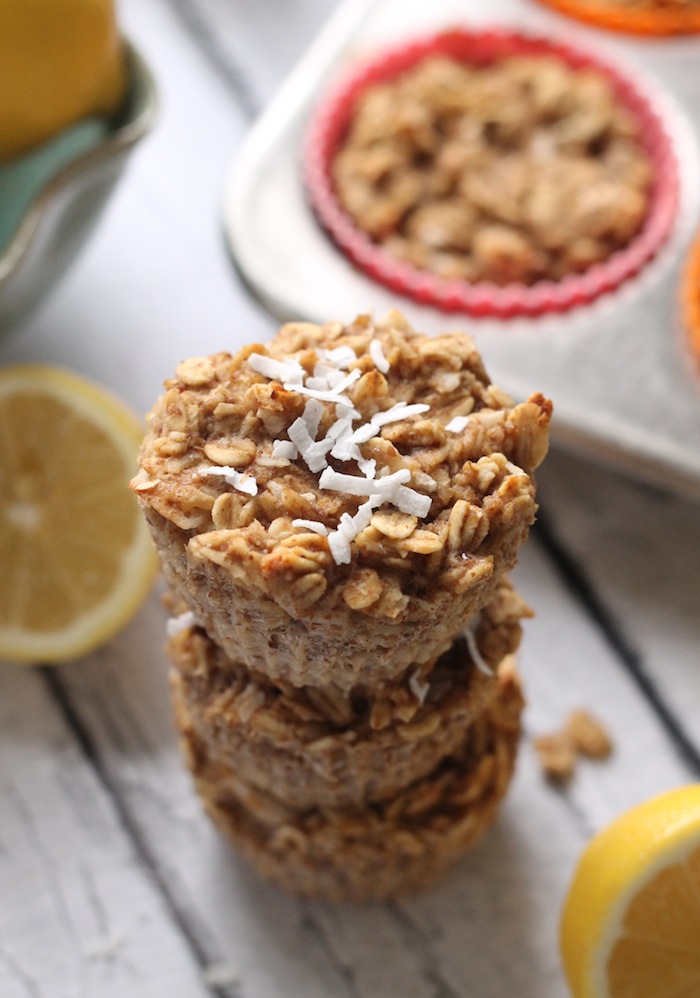 Orange Avocado Smoothie from Making Thyme for Health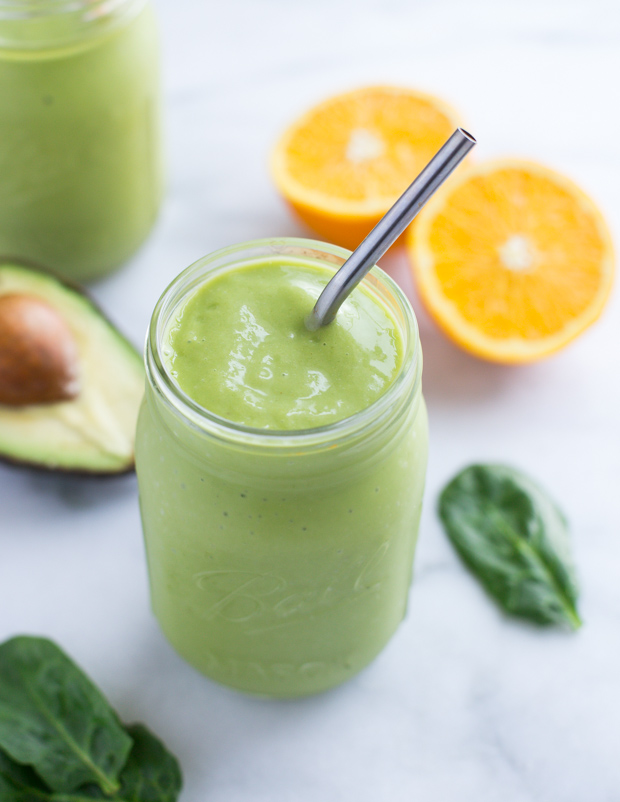 Healthy 1-Minute Lemon Poppy Seed Muffin from The Big Man's World