The best kale salad on the face of the planet: Lemony kale salad with parmesan crisps and a sunny side up egg.
AKA THE BEST KALE SALAD IN ALL THE LAAAAAAAAAND!
Please don't leave.
At least stay for the preview!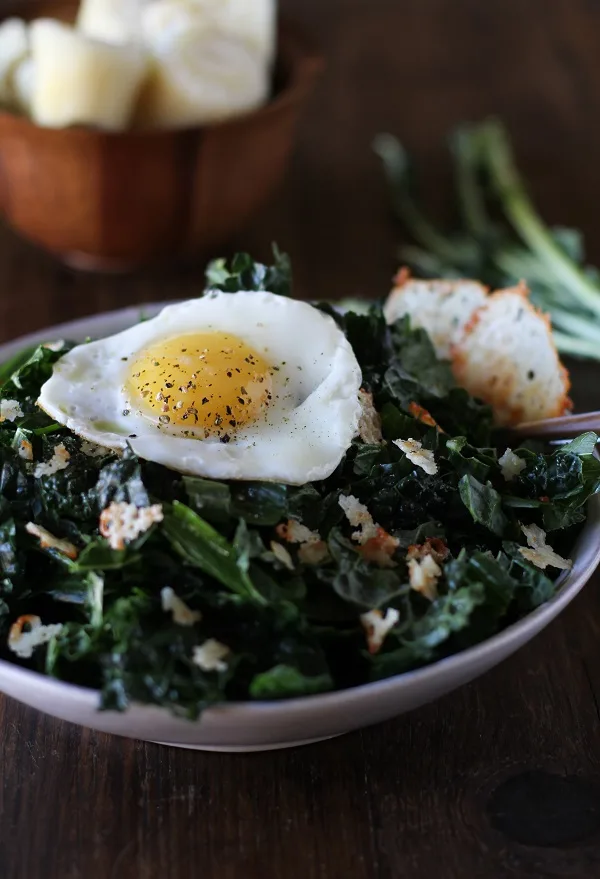 At some point between writing Let Them Eat Kale!, and…well…now, I began a hot pursuit of THEBEST kale salad in ALLTHELAND.
Meaning, I've been scouring local restaurants for saladspiration so that I could snag their idea, copy cat it, stick it on this here blog and call it: "THE BEST KALE SALAD IN ALL THE LAND" < – not that I'm shouting…It's just that my blog post titles appear in capital letters, so I figured I'd give you a real accurate visual.
So, I may have become a bit of a kale snot.
A lot of a kale snot.
A medium-sized to epically large snoody snot kale snot.
Snot major.
Wait, don't tell me: you've been on the prowl for the most righteously awesome kale salad in all the nine kingdoms, too? You're an epically large snoody snot kale McSnotsalot too? This is why we're friends.
Back to my kale salad story.
My friends and I have narrowed it down to three kale salads from three different restaurants. We all agree the Kale Caesar from Bowl, the Highway to Kale from Laughing Planet, and the Kale Salad from Campo are the top three in town. BUT, we are all at odds about which restaurant has THEBEST kale salad in ALLTHELAND, as we all have a different opinion. Anyhoo, to cut to the chase, my favorite kale salad is the one from Campo.
All's it is, is blanched kale dressed with lemon-garlic vinaigrette, a poached egg on top, and a little sumpin' sumpin' they call, "crispy grana padano"…which I like to call, "parmesan crisps."
Have you ever had parmesan crisps? They're dope, mates. Real dope. And they're easy to make. Here's what you do: Plop piles of fresh grated parmesan on a parchment-lined baking sheet, like so: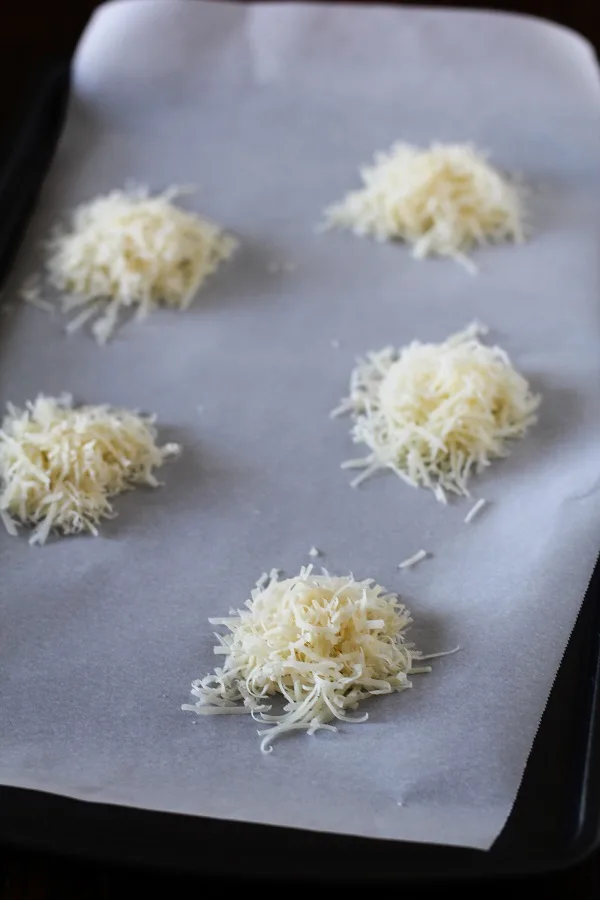 Bake at four hundo F for 5 to 8 minutes until your parm babies get nice and crispy.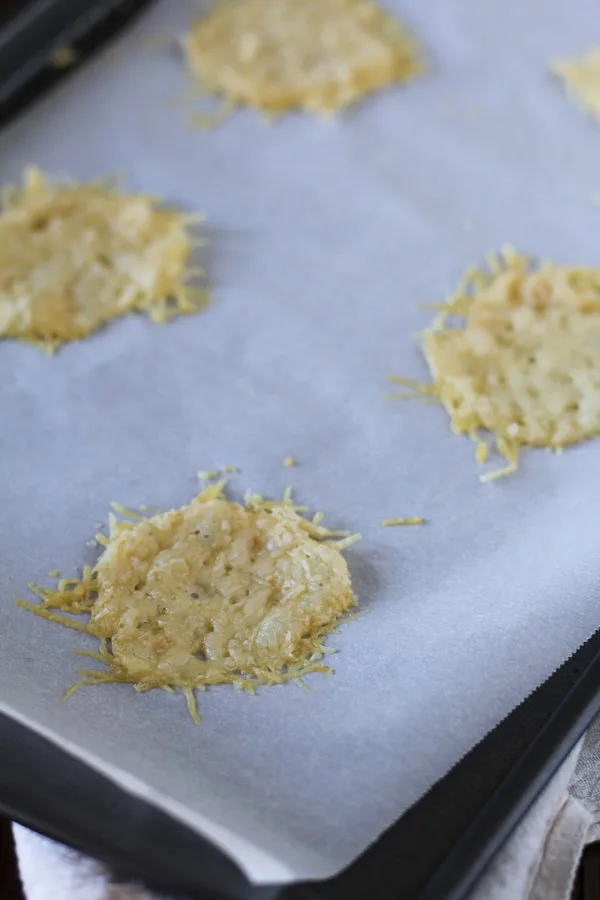 BOOM! Crack for cheese lovers.
You then break up your crack…err…crisps…and toss them in your salad. This is, in my opinion, what makes this salad the bomb diggity.
As you can see, I did not poach my egg the way Campo does…on account of the fact that my egg poaching skillz need some fine tuning.
So I sunny side up-ed it. So long's there's a runny yolk on top, you're sitting pretty. I also did not blanch my kale, because I'm totes fine with it raw. But if you prefer your kale a little softer and less bitter, blanch those leaves!
Confession: The reason I did not title this recipe, "the best kale salad on the face of the planet" is because I know soooomeone's going to make it and leave a comment like, "Rabble rabble hoopty loo, this is NOT the best kale salad ever," which is too much for my fragile ego to take. So I gave it a humble title instead.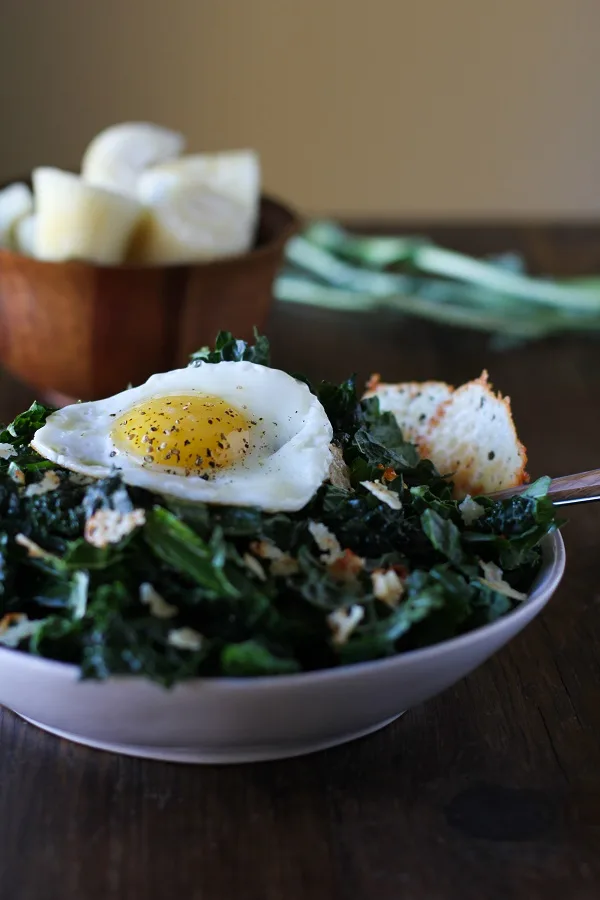 What's in your favorite kale salad?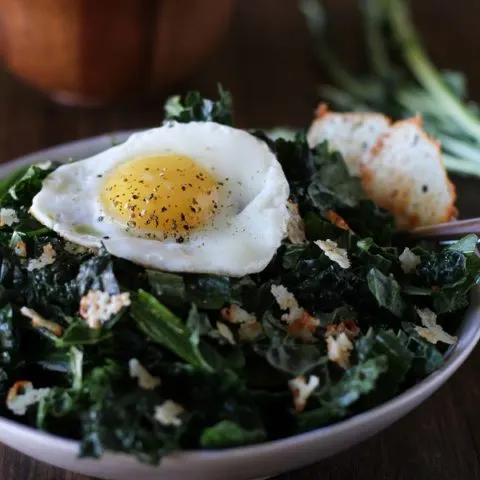 Lemony Kale Salad with Parmesan Crisps
If you love crispy parmesan cheese, you'll love this Lemony Kale Salad with Parmesan Crisps - crunchy, tangy and cheesy for a nutrient boost!
Ingredients
5 tablespoons aged parmesan cheese, grated
1 head lacinato kale, stems removed, thinly sliced
3 tablespoons fresh lemon juice
1 tablespoon olive oil
1 clove garlic, minced
1 teaspoon whole grain mustard
1/8 teaspoon kosher salt, or to taste
2 fried, poached or sunny side up eggs for serving
Instructions
To make the parmesan crisps:
Preheat the oven to 400 degrees F.
Grate 5 tablespoons worth of aged parmesan cheese
Line a baking sheet with parchment paper
Measure 1 tablespoon of parmesan cheese and place it in a pile on a baking sheet. Repeat for remaining cheese
Bake for 5 to 8 minutes, or until browned and crispy.
Allow parmesan crisps to sit on the hot baking sheet a couple of minutes before gently peeling them off of the parchment. Use your hands to break the parmesan crisps up into small bits for adding to the salad.
Prepare the salad:
Add the raw (or blanched) chopped kale to a medium-sized serving bowl.
In a small bowl, whisk together the lemon juice, olive oil, garlic, mustard, and salt until well-combined.
Pour the dressing over the kale and toss until everything is well coated.
Add the parmesan crisps and serve with a poached, fried, or sunny side up egg.
Nutrition Information
Yield

2
Serving Size

1 of 2
Amount Per Serving
Calories

273
Total Fat

17g
Unsaturated Fat

0g
Carbohydrates

15g
Fiber

5g
Sugar

3g
Protein

17g