Massaged kale salad with avocado, sunflower seeds, and pickled red onions – a healthful and nutritious salad recipe that's easy to throw together at a moment's notice.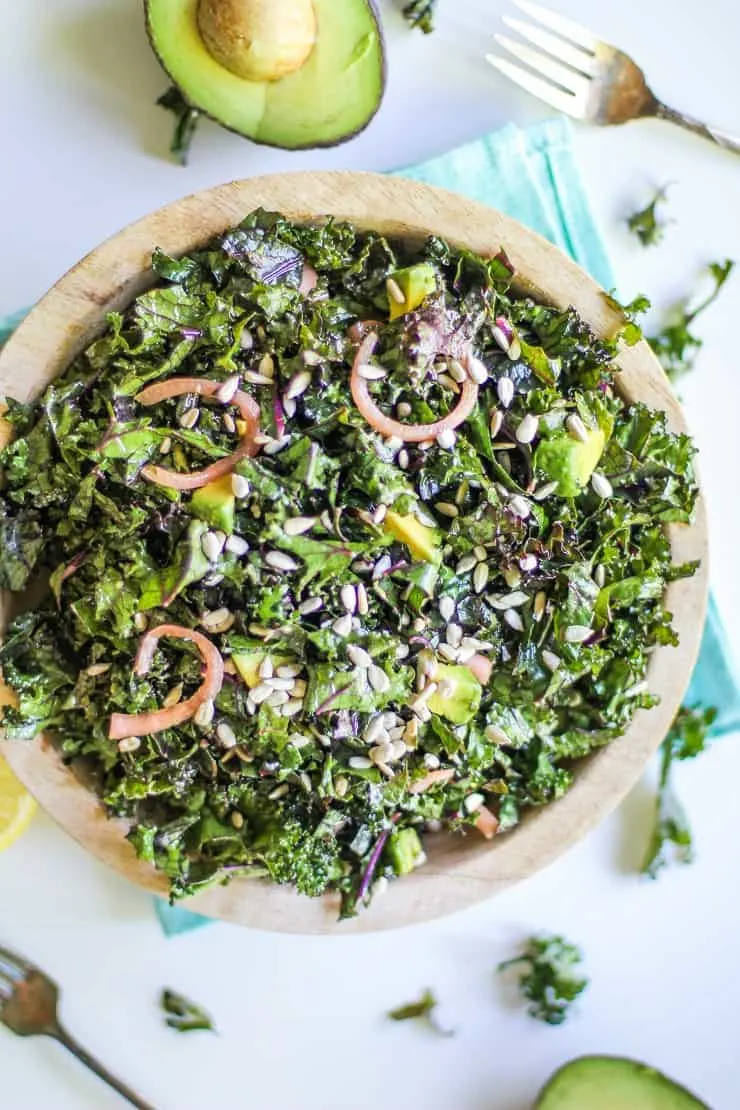 While I try to avoid discussing serious topics on my blog, I'm sharing a recent event that moved me.
Don't worry: it has a happy ending. Being as it is the day after Mother's Day, this post is well-timed as it involves one of my close friend's mothers, an incredibly strong woman who I consider family.
My friend (we'll call her S), who I've known since the third grade, called me a little over a month ago and told me her mom (we'll call her T) had stage 3 breast cancer.
While my heart was bleeding for my friend and her family, she sounded very upbeat and optimistic on the phone, which in turn helped me to not FREAK OUT.
S told me the course of treatment T would go through and reassured me that this was far from terminal. I began recounting all of the trips I took with the family – several to San Francisco, one to Hawaii, all the time I spent in their home, and all of the support the whole family had always given me. In spite of my friend's optimism, it scared me to think someone with whom I've been so close was about to undergo what could be a long and painful treatment.
The details leading up to the diagnosis blew me away. T had gotten a mammogram and received completely normal results.
Relying on her own intuition that something was wrong, she pressed her doctor to give her another mammogram and run more tests. As it turns out, she not only had a benign tumor, but her cancer was stage 3. T's doctors were initially going to have her go through a round of chemo, followed by a double mastectomy, followed by more chemo.
After a biopsy of one of T's lymph nodes, they realized the cancer hadn't spread and they could proceed with a mastectomy immediately instead of an initial round of chemo.
The whole thing happened so quickly. T was in and out of surgery, and was even up walking around, her normal self within 2 days. It was amazing to see this tough-as-nails woman before and after her surgery and be reassured that her battle was over.
There are so many lessons to be learned from this experience. First and foremost, you never know when someone will give you life-changing news, so always be sure to tell people how you feel. Life is too short to skip the important steps, like telling someone you love them and continually giving support to others.
Secondly, cancer can happen to anyone.
T has maintained an incredibly healthy lifestyle her entire life. She exercises regularly – in fact, she is more active than most people I know – and eats very healthfully. She takes care of her mind, body, and soul, which did not prevent her from getting cancer, but did help her recover so quickly.
Lastly, follow your intuition.
Even if test results come back negative. T did the right thing by not relying on her initial test results. Trust your instincts, and be your own hero in this life.
I prepared a dinner for the family after T underwent her double mastectomy. I brought the beet burgers I showed you last week, as well as this kale salad, and a healthy dessert (to be posted soon).
It was so nice spending quality time with the family, knowing T was safe and healthy, and enjoying great conversation as though cancer had never happened. The whole evening was so positive and lighthearted, a true inspiration.
Massaged Kale Salad:
Now for the massaged kale salad.
I know…I know…it's made out of kale.
But you guys, I promise you'll want this in your life. This is an easy go-to recipe to keep around for decades. For those of you who are familiar with massaging kale, this is old news.
But for those who are unfamiliar and view kale as tough to chew and super fibrous, this is a game changer.
By massaging lemon juice into finely chopped kale leaves, we allow some of those rough fibers to break down and soften. This makes the salad easier to chew and really quite pleasant!
Avocado is a win for all the salads, but it's particularly useful in combination with kale.
The healthy fat in avocado helps your body process and absorb the nutrients in kale, and makes the salad go down real easy.
I added some of those pickled red onions I showed you last week, giving the salad a nice flare.
This is a great salad to make in large batches to share with friends and family – a guaranteed crowd pleaser and healthy to boot!
You may also love my Massaged Kale Salad with Rosemary Walnuts and Blueberry Vinaigrette!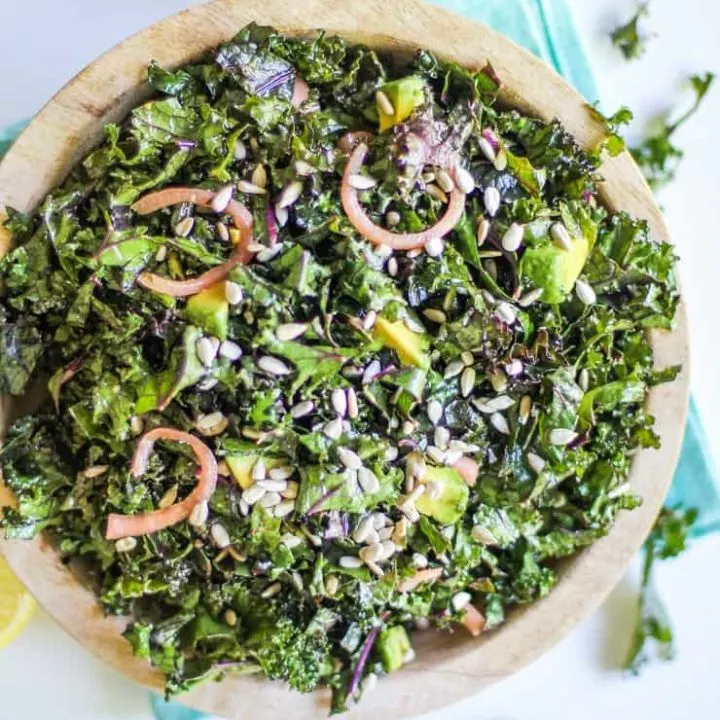 Massaged Kale Salad with Avocado and Pickled Red Onions
Massaged Kale Salad with Avocado and Pickled Red Onions makes for an amazing go-to side dish or light dinner perfect for any gathering.
Ingredients
1 leaves head red kale, finely chopped
4 tablespoons lemon juice, separated
1 large ripe avocado, peeled and diced
2 tablespoons sunflower seeds
Instructions
Wash the kale leaves and pat them dry. Remove the leaves from the stems and finely chop the leaves (you can save the stems for smoothies or feed them to your dog!). Place the kale leaves in a large serving bowl and add half the lemon juice. Massage the kale leaves (taking large amounts in your palms as though you're ringing out a dish towel) until they begin to wilt and soften, about 2 to 3 minutes. Allow the leaves to sit 10 minutes to soften further.
In a small bowl, whisk together the remaining lemon juice, olive oil, and sea salt. Pour dressing over the salad. Add the diced avocado, pickled red onions, and sunflower seeds, and toss everything together until well combined. Serve alongside your favorite entree, and enjoy!
Notes
*You can replace the pickled onions with sliced raw red onion
Nutrition Information
Yield

4
Serving Size

1 Serving
Amount Per Serving
Calories

216
Total Fat

22g
Unsaturated Fat

0g
Carbohydrates

5g
Fiber

3g
Sugar

1g
Protein

2g