Kale salad with pepitas, dried cherries, cotija cheese, and lemon-parsley dressing is a wildly crunchy and nutritious healthy salad recipe.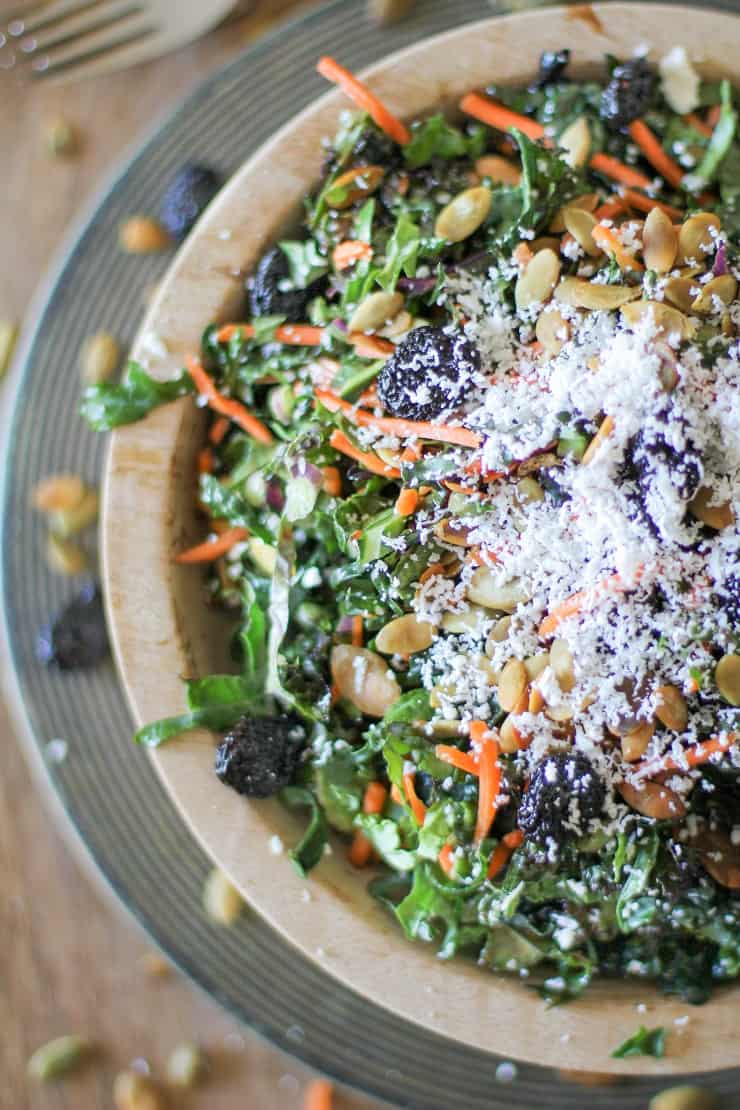 How was your weekend? Are you enjoying all the daylight hours? Has it warmed up in your neck of the woods yet? We enjoyed 70-degree weather over here in No Winter's Land, and it already feels like summer. Summer = bikinis = salad, yes?
I've been on a quest to copycat my three favorite kale salads from restaurants in town. Like I told ya last week in my recipe post for Copycat Trader Joe's Curried Chicken Salad this is what we recipe developers do when we get bored of our own cooking.
We make Other People's Recipes (OPR). A few months ago, I posted a Lemony Kale Salad with Parmesan Crisps (copycatted from Campo).
I then posted this Spicy Kale Caesar Salad with Roasted Garlic (copycatted from Bowl), and finally, I'm posting the Highway to Kale, from Laughing Planet. You guys it's so full of goodies, I can hardly wait for you to eat it!
What is the kale is the Highway to Kale?
WELL.
Ingredients for This Kale Salad:
It involves lots of dino (lacinato) kale, pumpkin seeds, dried cherries, and a little sprinkle sprinkle of cotija cheese on top.
Wrapped up in the most bangarang lemon-parsley dressing in all the land. The lemon-parsley dressing is the real clincher for this salad. It's so flavorful and unique, plus did you know parsley is ridiculously good for you?
It's high in Vitamin K, followed by Vitamins C and A, and is pegged as a cancer-fighting food (learn more about parsley here).
This bowl has all my favorite salad elements: The crunch, the sweet, the cream. Just put a ring on it, already!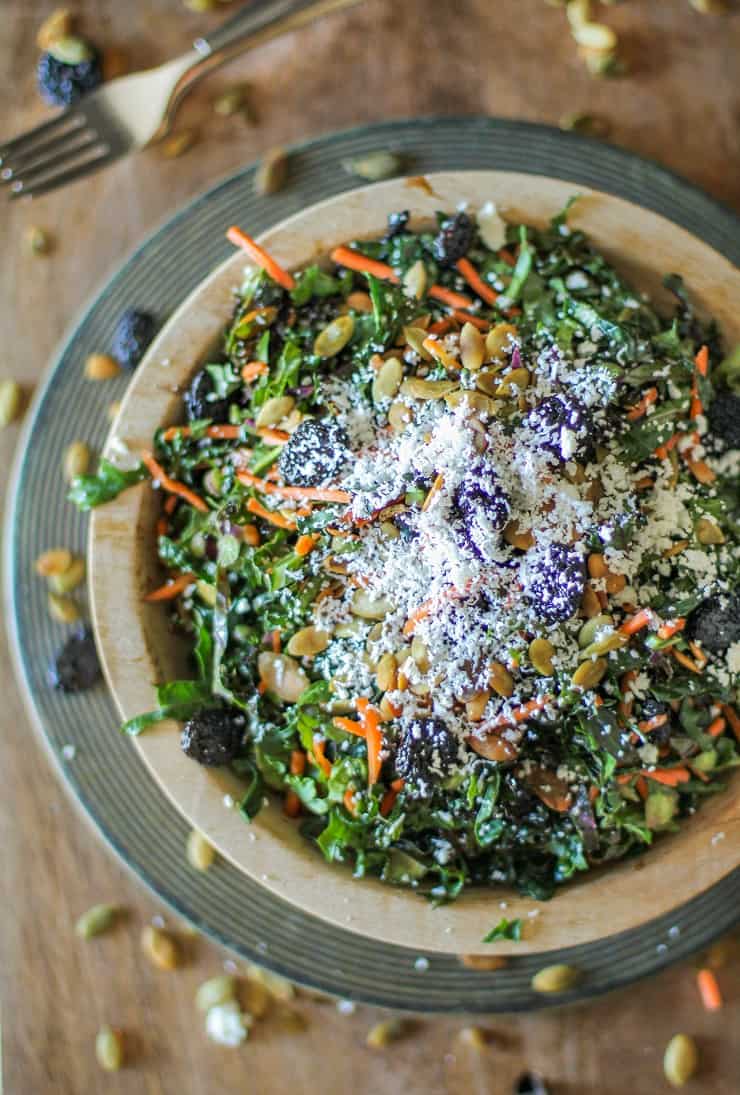 You guys, I have a sneaking suspicion you're going to addict yourself to this salad. Unlike most of my salad recipes, there's zero cooking involved. The thing goes down real easy, and need I tempt you further by telling you this healthy salad will clean you right out? It will. Super digestive stimulant right here!
Can we talk about your digestive system a little more? Just kidding, that's awkward.
More Nutritious Salad Recipes:
We're on the highway to kale!
Highway to Kale Salad
An amazing crunchy kale salad with carrots, dried cherries, pumpkin seeds, and cotija (or feta) cheese.
Ingredients
Lemon-Parsley Dressing:
1

cup

grapeseed or olive oil

½

cup

apple cider vinegar

¼

cup

fresh lemon juice

1

tablespoon

stone ground mustard

1

lemon

zested

½

cup

flat leaf parsley leaves

roughly chopped

3

cloves

garlic

minced

¼

teaspoon

kosher salt

or to taste
Kale Salad:
8

ounces

lacinato and red leaf kale

thinly sliced

1/4

cup

raw pumpkin seeds

pepitas

1

cup

shredded carrot

½

cup

dried cherries

1/2

cup

cotija cheese

grated + more for serving*
Instructions
Prepare the Lemon-Parsley Dressing:
Add all ingredients for the dressing to a small blender or food processor. Blend until completely smooth.
Prepare the salad:
Add all ingredients for the salad to a large serving bowl. Add desired amount of lemon-parsley dressing and toss well to coat. Serve heaping bowlfuls of salad with additional cotija cheese grated on top.
Notes
*You can replace the cotija cheese with feta or goat cheese if you prefer.
This makes a huge salad for one or a side salad for two people.
Nutrition
Serving:
1
Salad
|
Calories:
892
kcal
|
Carbohydrates:
91
g
|
Protein:
18
g
|
Fat:
108
g
|
Fiber:
19
g
|
Sugar:
44
g