Rich, creamy, low-carb keto coffee ice cream. This sugar-free ice cream recipe is easy to prepare and results in better-than-store-bought ice cream!
This post is sponsored by Vital Proteins.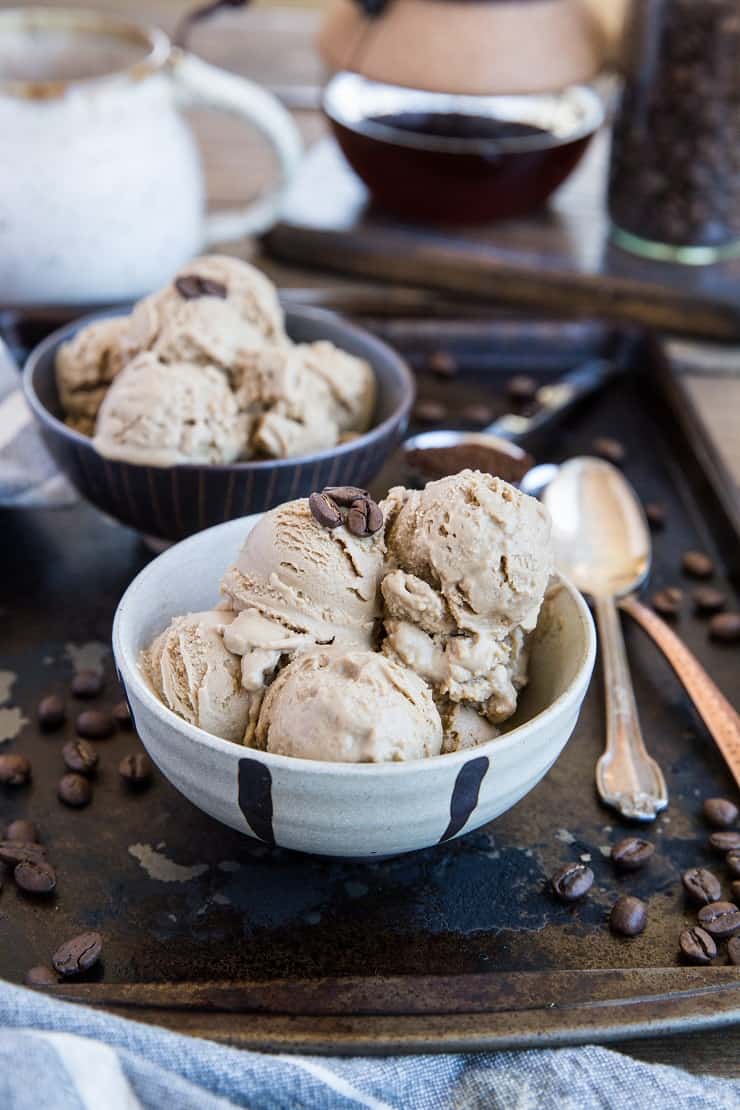 When pressed to divulge my favorite flavor of ice cream, I always have a difficult time landing on one straight answer. Each has so much to offer!
My all-time favorite one day could be completely different from my all-time favorite the next. It's just so mood-based.
Plus, I am convinced there many invisible forces at bay as well, such as the moon cycle, tide, astrological alignment, whether or not Channing Tatum sneezed that day…you name it — there really is no picking a favorite flavor.
I will say, I have always, always loved a great espresso or coffee ice cream. I find the flavor of coffee to be one of the most comforting experiences this world has to offer, so infusing my soul-soothing ice cream with it is a mega win.
If you read my Vanilla Keto Ice Cream post a few weeks ago, you remember my affinity for the sugar-free ice cream.
There's no denying my epic sweet tooth, but I'm also cognizant of my blood sugar, and try to avoid the highs and lows that come with eating conventional desserts.
If you're new to the concept of low-carb ice cream, I highly suggest you read that post, as I discuss the various milks and sweeteners you can use to customize your homemade sugar-free ice cream.
In order to make a coffee ice cream, you need all the same ingredients you would use for plain vanilla ice cream plus instant coffee granules. That's it!
If you don't have instant coffee on hand, no problem! You can find it in the coffee section of any grocery store.
I use Vital Proteins Beef Gelatin in all of my ice cream bases now. I wish I discovered this method years ago when I first bought my ice cream maker!
Beef gelatin generates that custardy, creamy texture that you love in your store-bought ice creams. Vital Proteins Beef Gelatin comes from grass-fed bovine hide, is flavorless, and can be mixed into either hot or cold liquid.
It is amazing for your digestive health, as it helps promote a healthy gut lining and aids with digestion.
I've been putting beef gelatin in my Bulletproof coffee every morning, (in addition to the Marine Collagen I've been using for the past 2 years), which makes it amazingly frothy.
I noticed a big improvement in my IBS symptoms after incorporating collagen and gelatin into my diet. They both really do wonders for your gastrointestinal health.
Keeping the recipe low-carb, I use heavy whipping cream and sugar-free sweetener.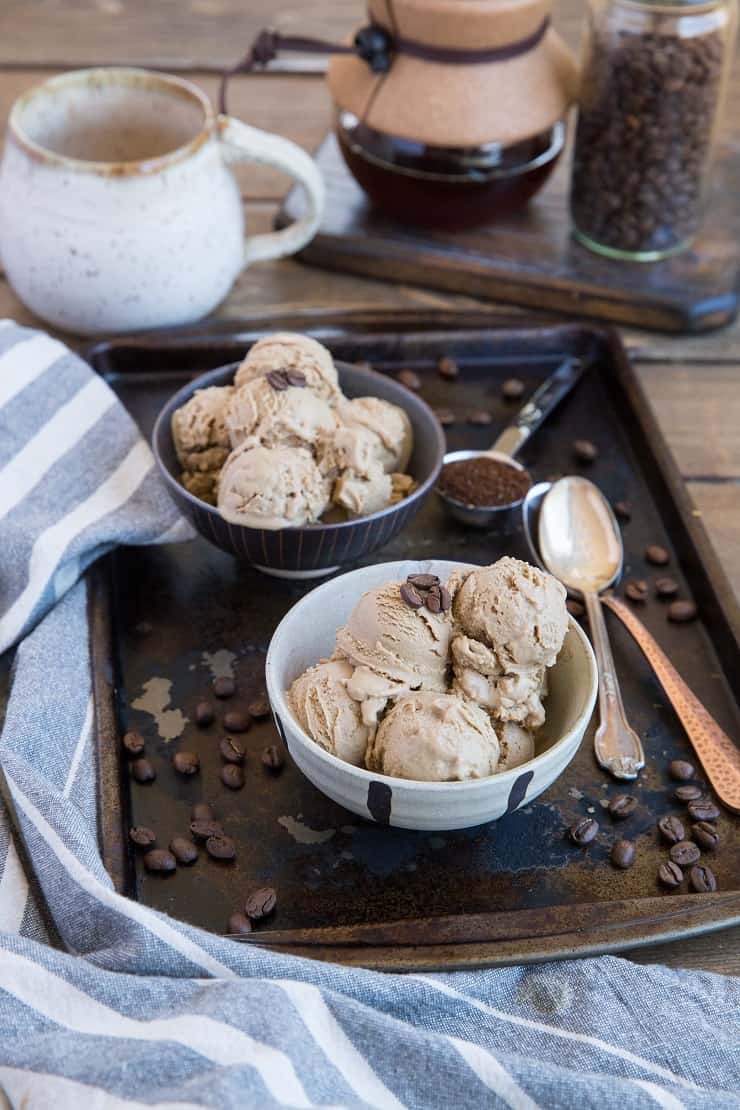 What Type of Sweetener to Use:
The zero-sugar sweetener world has come a long way in the last decade, so if you're new to the concept but are hesitant because you've heard bad things about sugar-free sweeteners, I am confident you can find the one that is right for you.
Aim for a sugar alcohol that is extracted from plant matter, such as monk fruit sweetener, xylitol or erythritol.
If you don't follow a ketogenic diet, you can sweeten the ice cream with 2/3 to 1 cup of pure maple syrup, or 1 cup of coconut sugar.
Substitutes for Cream:
You can absolutely swap out the heavy whipping cream with a lower-fat milk (see recipe notes) – just remember lower fat milks have a higher carb content, which does make a difference if you are keto (but is inconsequential if you are not keto). My preference next to heavy cream is full-fat canned coconut milk (you'd need 2 cans for this recipe).
How to Make Keto Coffee Ice Cream:
To prepare this keto coffee ice cream, you simply whisk all of the ingredients together in a saucepan until the mixture comes to a gentle steaming point (you don't want it to boil or else the milk may separate!).
Remove it from the heat and allow it to cool, then transfer it to a sealable container and refrigerate until chilled.
Once the ice cream has chilled, it will be completely congealed on account of the beef gelatin – this is normal! You'll simply give it a good stir and pour it into your ice cream maker. This is when the magic happens! The result is the creamiest, thickest, most delicious homemade ice cream!
If you don't own an ice cream maker, no worries! This recipe makes a marvelous no-churn ice cream because it is already thick and creamy and doesn't really require churning. See the recipe card for the no-churn method.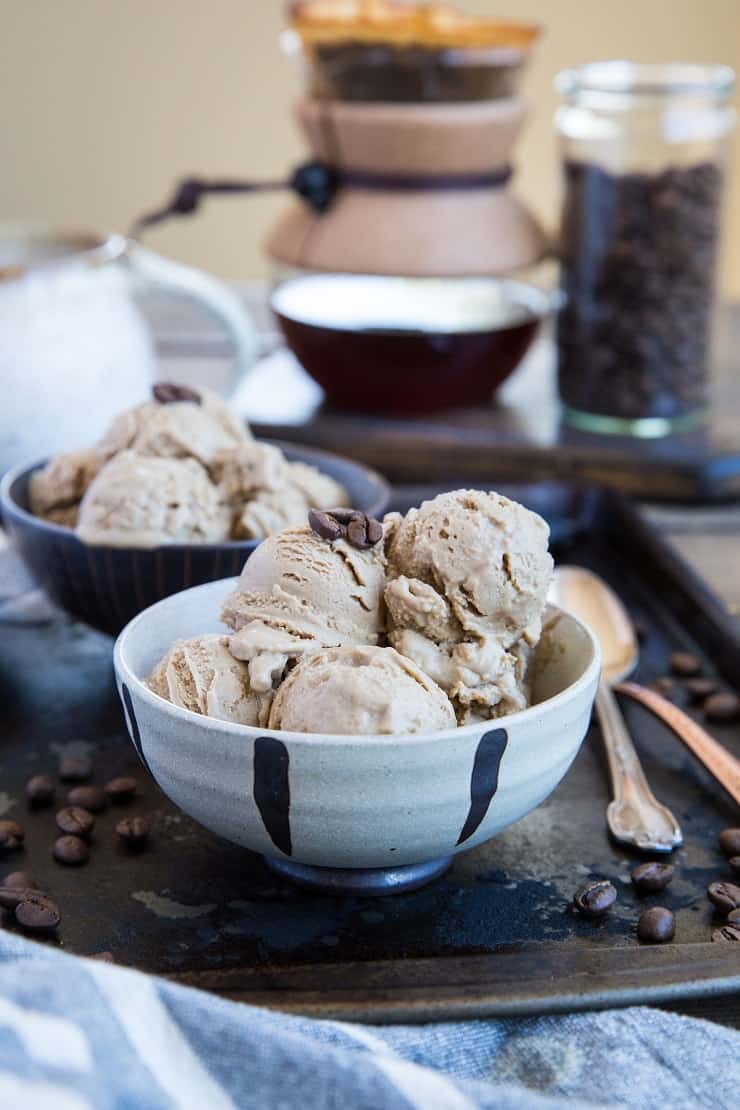 And that's all you need to know, folks! Making ice cream at home is fun, easy, and magically delicious. It's a great activity for the whole family if you have children! I hope you love this recipe as much as I do…don't forget to share!
More Healthy Ice Cream Recipes:
My cookbook,
Paleo Power Bowls
, is now available! CLICK HERE to check it out. Thank you for your support!
If you make this recipe, please feel free to share a photo and tag @TheRoastedRoot on Instagram!
Keto Coffee Ice Cream
Sugar-free keto coffee ice cream is thick, creamy and absolutely delicious!
Instructions
Place the bowl of your ice cream maker in the freezer and freeze overnight. Note: if you don't own an ice cream maker, no big deal! You can still make this recipe.

Add all ingredients to a medium-sized saucepan and whisk well.

Place the saucepan on the stove top and heat to medium. Cook, whisking consistently until mixture is beginning to steam but does not reach a full boil. Remove from heat and allow mixture to cool before transferring it to a sealable container. Refrigerate at least 2 hours, or until completely chilled.

Stir the ice cream base well (it will be thick!!) and pour it into your ice cream maker. Turn ice cream maker on and churn until very thick and creamy. Serve immediately for soft serve consistency or for an ice cream consistency, transfer to a sealable container and freeze for at least 2 hours (Note: if you don't own an ice cream maker, simply transfer the base to a freezer-safe container and freeze 4 hours or until completely frozen. If possible, stir a couple of times during the freezing process).

Allow ice cream to thaw 10 minutes before scooping and serving.
Notes
*Replace heavy whipping cream with half & half or whole milk for a lower-fat, slightly higher carb ice cream. I prefer using organic whole milk to keep the ice cream much lower in calories.
**Use your favorite zero-sugar sweetener. I use Swerve. Depending on the level of sweetness you like for your ice cream, add more sweetener up to 1 3/4 cup.
Nutrition
Serving:
1
(of 6)
|
Calories:
304
kcal
|
Carbohydrates:
3
g
|
Protein:
3
g
|
Fat:
32
g
|
Sodium:
35
mg
|
Sugar:
2
g