Dairy-free, refined sugar-free paleo mint chocolate chip ice cream made with coconut milk and sweetened with pure maple syrup. Plus an option for adding matcha powder for an antioxidant infusion!
Before we get this conversation about ice cream going, have you guys seen the show, "Casual?" It's a Hulu Original made by the same folks who created "Juno." Main characters: perma-bachelor, recently divorced psychologist + her 16-year-old daughter. FABULOUS. The plot: just getting through this life. My interest: super smart and witty dialogue and socially awkward interactions.
Love it, watch it, make it your addiction.
…Alongside this paleo mint chocolate chip ice cream.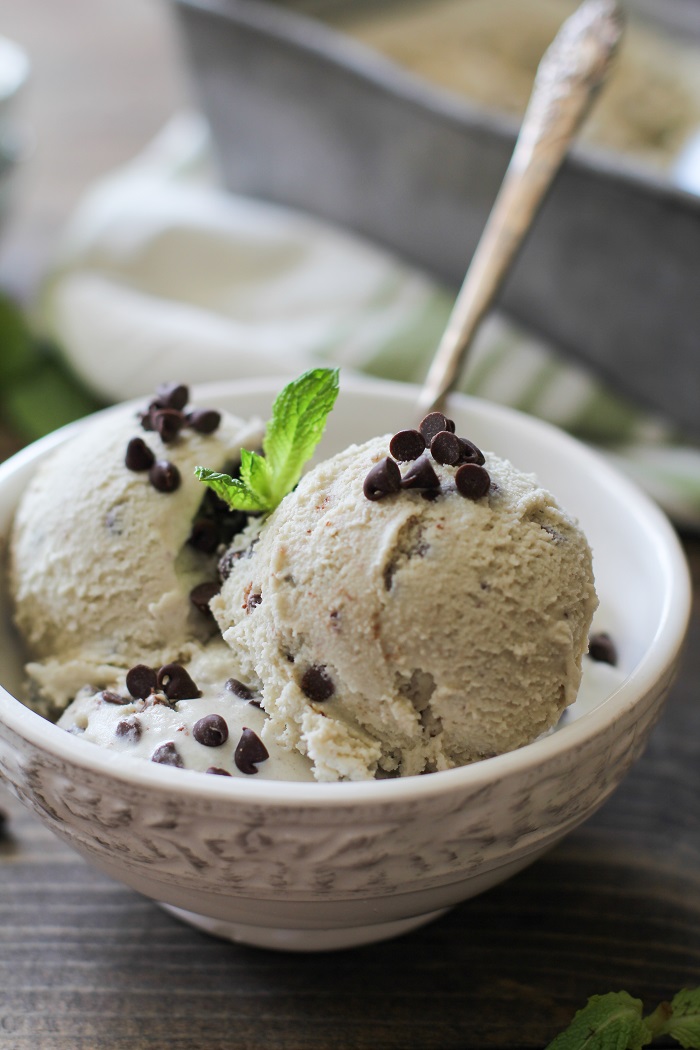 Fridaaaay! Day of dessert (+ wine/beer/booze)!
Do you do what I do and attempt to go alcohol and dessert-less (minus daily dark chocolate, of course, and the occasional occasion to sip on wine) during the week and then indulged throughout the weekend? There may be no rhyme or reason to taking said approach to sweets, but it's my theory and I'm sticking to it. At any rate, I do try to manage my desserts the same way I manage my real food: in the healthy-esque fashion without dairy, gluten, or cane sugar.
When I was growing up, my three siblings and I often butted heads when it came to food preferences. Can you imagine being my parents? Preparing cohesive meals for four fiery, stubborn-as-mules ruffians without hearing complaints? Said situation existed never. Luckily, we were all easy to please in the dessert department, and all of us agreed upon a mutual love for mint chocolate chip ice cream. So we had it in stock. Always.
Mint chocolate chip ice cream. So diplomatic.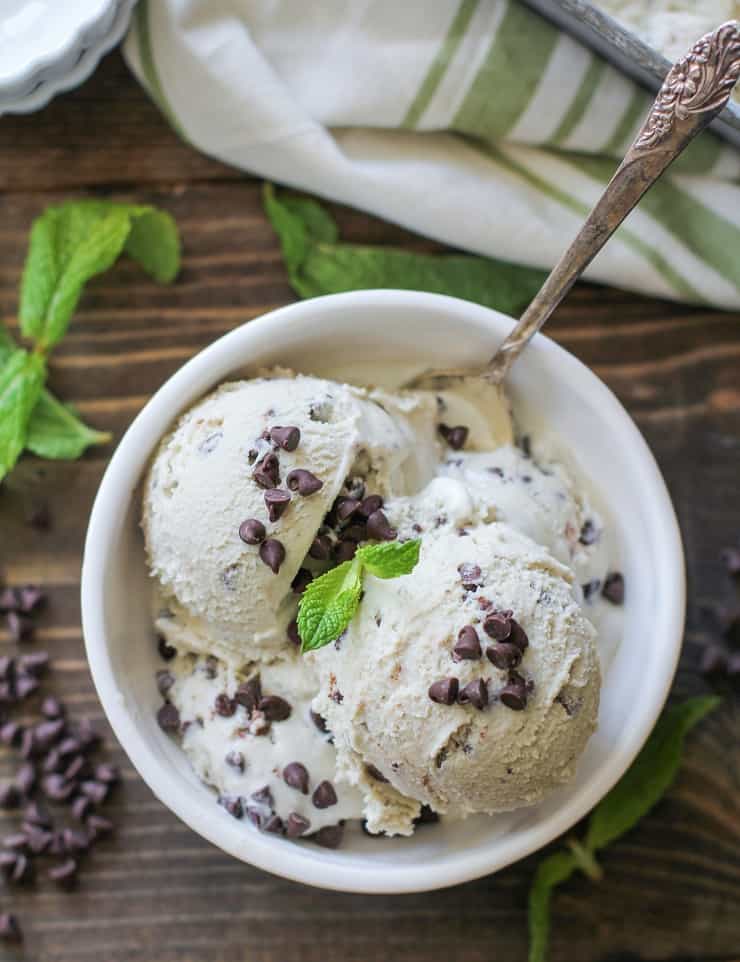 Way I see it, the mint-chocolate varietal is a something-for-everyone treat. Cool, sweet, creamy, refreshing, studded with chocolate…truly hits the spot on a hot summer's day. Should we go ahead and make it dairy-free, cane sugar-free, and eggless (read: paleo and vegan)? Sure thing, my babies!
There's a secret gem hidden inside this paleo mint chocolate chip ice cream. Spoiler alert: it's an avocado.
You're no stranger to the avocado-based dessert. We whipped up No-Bake Vegan Key Lime Tarts AND Vegan Key Lime Ice Cream last summer, and earlier this year, we mowed through Healthy 4-Ingredient Chocolate Mousse…all containing – zat's right – zee avocado. Why avocado? The fat helps bind and create a creamy texture without the need for actual cream/dairy, and the avocado flavor is so subtle, it's it's easy to mask with the flavor you're going for. In this case: the mint flavor.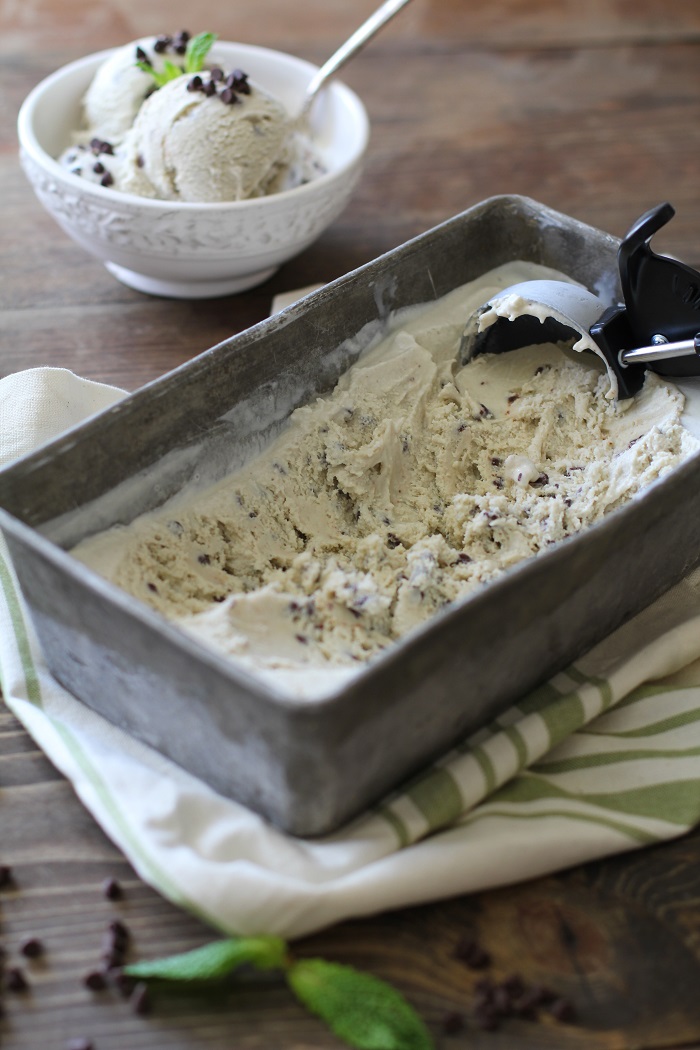 Preparing this ice cream (or should I say, n'ice cream?) is about the easiest thing you've done in weeks. Simply toss all of the ingredients (except for the chocolate chips) into a blender, blend until completely smooth, and pour into your ice cream maker. Once the ice cream begins to thicken, you can pour in your chocolate chips (this ensures the mix in well, and don't all sink to the bottom of the ice cream maker). Once the ice cream has finished churning, you can serve it straight from the maker for a soft serve consistency, or freeze it for a few hours if you're going for a true ice cream consistency.
If you don't own an ice cream maker, you can skip it and pour the ice cream base into a freezer-safe container. Freeze for 5 to 8 hours (until solid), then thaw for 5 to 8 minutes before scooping and serving. If you're able to stir the ice cream every 1 to 2 hours, that will help the ice cream freeze evenly and turn out creamy.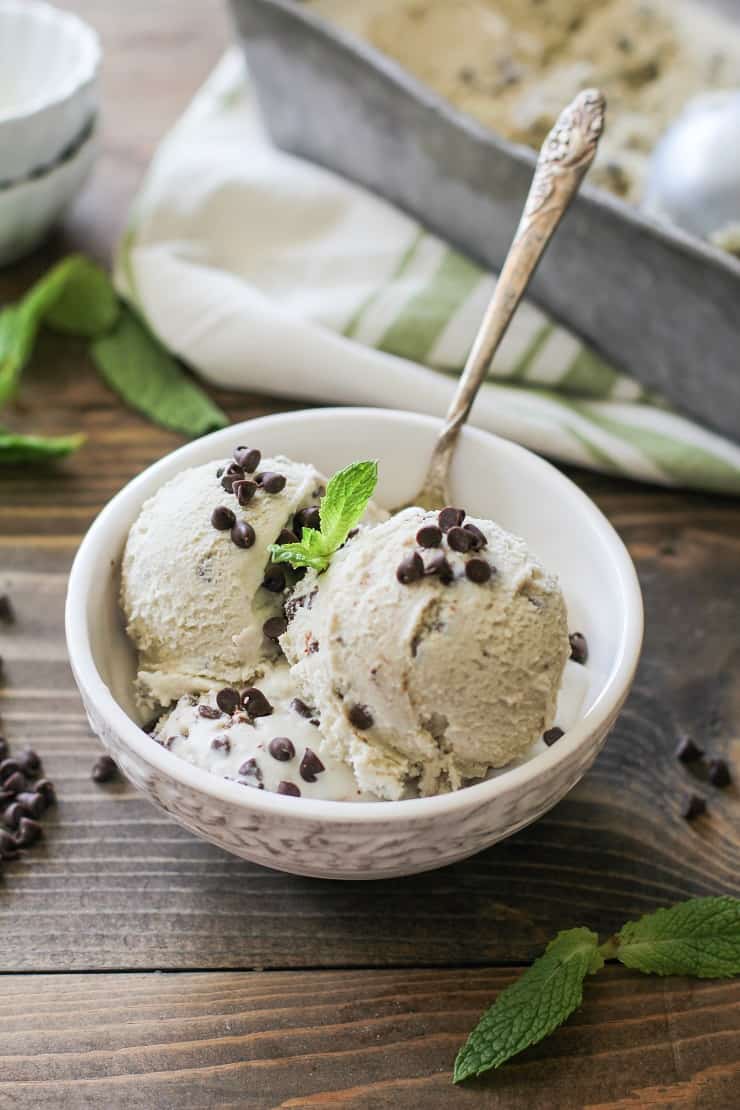 To add matcha powder or not to add matcha powder? For some extra antioxidants and a smidge of green tea flavor, you can 1 teaspoon to 1 tablespoon of matcha powder. If this will be your first go with matcha powder, I suggest keeping it on the light end to see how you like it, then go stronger. Simply add it to the blender with the rest of the ingredients should you choose to do so!
Tools I used to prepare this recipe:
Psst! If you don't follow a dairy-free, sugar-free diet and are looking for a fully-leaded authentic mint chocolate chip ice cream, check out my recipe for Homemade Mint Chocolate Chip Ice Cream on ehow.com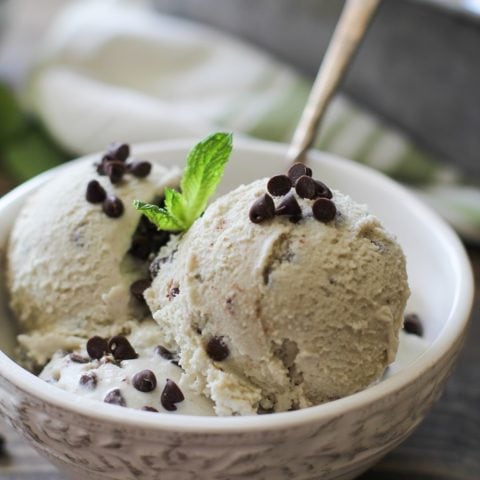 Paleo Mint Chocolate Chip Ice Cream
A vegan and paleo version of mint chocolate chip ice cream will knock your socks off!
Ingredients
1/3 cup + 2 tablespoons pure maple syrup *, or more to taste
1 small ripe avocado, peeled and chopped
1-¼ teaspoons pure peppermint extract
1 to 3 teaspoons matcha powder, optional
1 cup mini chocolate chips**
Instructions
Place the bowl of your ice cream maker in the freezer overnight (or follow the instructions specific to your ice cream maker prior to preparing the ice cream base).
Add all of the ingredients except for the chocolate chips to a blender. Blend until completely smooth (Note: if adding matcha powder, you'll need to blend longer in order to get the powder to incorporate). Taste the mixture for flavor and add additional pure maple syrup if desired.
Set up your ice cream maker and pour the ice cream base into the bowl. Turn your ice cream maker on and allow it to churn until very thick, about 30 minutes. Keeping the ice cream maker on, add the chocolate chips and continue to churn until ice cream maker begins to bog down, about another 10 minutes.
Serve ice cream immediately for soft serve consistency, or transfer to a freezer-safe container and freeze at least 2 hours. Thaw for 5 to 10 minutes before scooping and serving.
Instructions for No Ice Cream Maker:
Prepare the ice cream base by blending all of the ingredients together (except for the chocolate chips). Pour the ice cream base into a freezer-safe container. Freeze for 3 hours, stirring every hour if possible. Stir in the chocolate chips then freeze another 3 to 4 hours, until solid. When ready to serve, thaw the ice cream 5 to 8 minutes before scooping.
Notes
*You can replace the maple syrup with honey **To keep this recipe vegan, be sure to use vegan chocolate chips
Nutrition Information:
Serving Size:

1 grams
Amount Per Serving:
Unsaturated Fat:

0g
Healthy Dairy-free Ice Cream Recipes: