Low-carb keto ice cream recipe with lots of milk options and sweetener options to tailor the recipe to your diet. This easy recipe can be made with or without an ice cream maker.
You guys, I made keto ice cream!
Full disclosure before we proceed: I do not follow a ketogenic diet. I do eat low-carb for health reasons, but I'm not diligent enough about my macros to be keto.
I have lived in and out of ketosis for a number of years and find it keeps me lean, balances my hormones, and boosts my energy like crazy; however, for me, keto isn't a sustainable lifestyle simply because I like to having more freedom with my carb intake.
In essence, if I find my way into ketosis by virtue of the fact that I eat a very low-carb diet, cool…but it isn't something I strive for.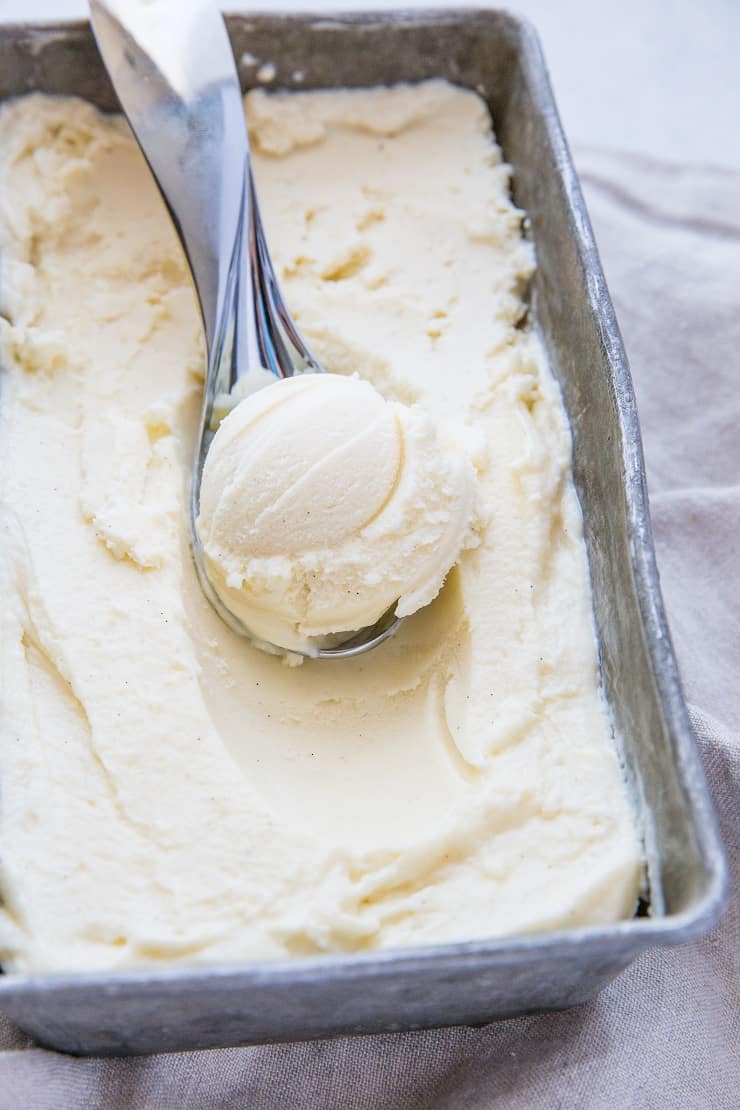 What is sustainable for me? Ice cream that won't spike my blood sugar. That, I could eat every.dang.day.
Let's back up a tick. If you aren't familiar with keto and you want to know more, read my post on What is Keto and is it Right for You?.
If you're like me and you can destroy a pint of Halo Top in a nano second, this recipe for vanilla keto ice cream was created in your name. Throughout the post, you'll get a sense for how to make low-carb ice cream using ingredients that fit whatever lifestyle you follow.
How to Make Keto Ice Cream:
So how do we make low-carb, keto ice cream? The basic formula is: a low-carb milk + zero-sugar sweetener + egg yolks + beef gelatin. This combination yields the creamiest, dreamiest ice cream that beats store-bought every dang time!
Simply heat everything up on the stove top in a saucepan. You want the mixture to barely begin to steam, but not come to a full boil. Once heated, transfer the ice cream custard base to a large glass container and refrigerate until chilled.
Once chilled, transfer the vanilla custard to your ice cream maker and churn!
Do note: If you allow the mixture to chill completely, it will become very thick and coagulate (almost like flan or thick pudding). This is normal! You'll simply stir this mixture very well before adding it to your ice cream maker. Trust me, it will work.
From this base, you can create a multitude of other flavors. Just be careful to pay attention to the carbohydrate content of anything else you add to make sure the ice cream maintains the macro profile you're looking for.
I'm going to get into the nitty gritty of how you can customize this ice cream recipe according to your desired carb v. fat intake. There will be talk of calories, which I usually avoid with all my might, but it's relevant to this post, so we're going to dive right in.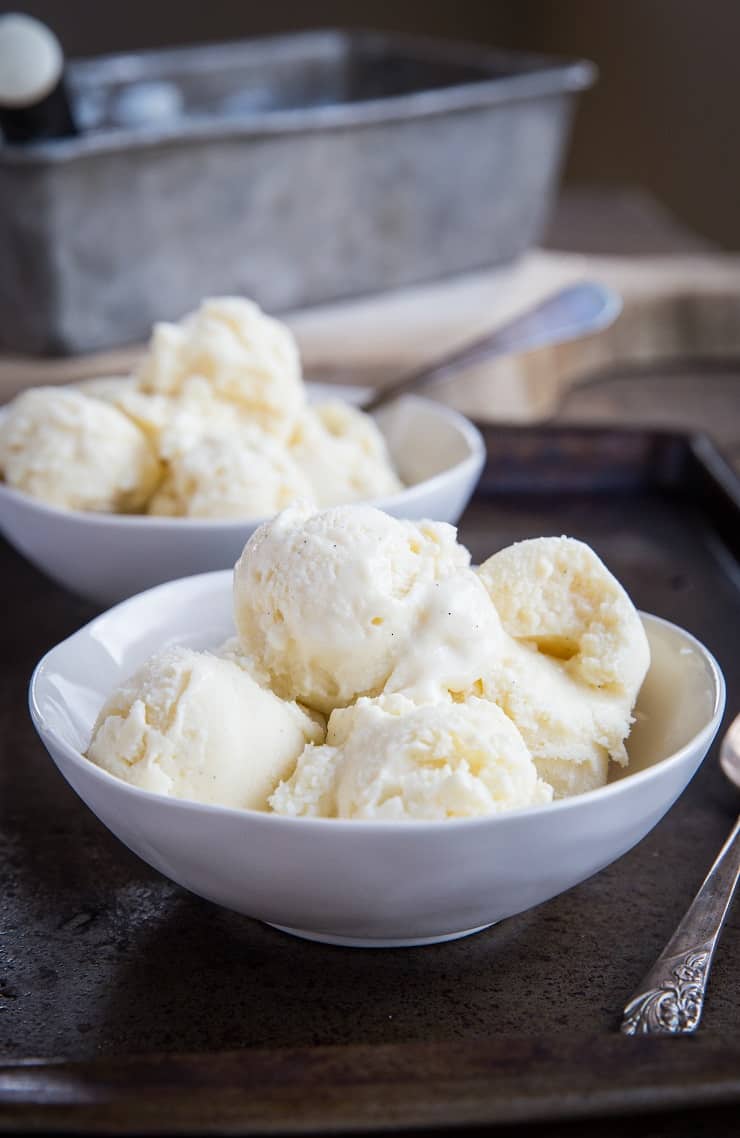 Milk Options:
Okay you guys, here's where the adventure begins. You get to choose which milk to use according to your dietary needs. If you're a low-carb eater, you can get away with using whole milk or half & half, so long as you're cognizant of the rest of the carbs you're taking in throughout the day.
If you're strictly keto, you will want to stick with heavy whipping cream, which contains only a tiny amount of carbs – 6.5 grams per 1 cup. BUT a lot, a lot of fat (and calories). If you're keto, you can still go with the whole milk or goat milk version (more on that in a few paragraphs), you'll just be eating up much of your carb intake, which in my opinion should be reserved for foods that are more nutrient-dense (i.e. your veggies).
This brings us to the low-carb v. fat debate. Are you fine with higher fat so long as the ice cream is low-carb, or are you okay with a moderate (I'd argue still low) amount of carbs with less fat?
Heavy Whipping Cream
When you use heavy whipping cream to eliminate carbs, you're amping up your fat intake big time, along with calories. If doing so is built into your diet plan, proceed forth. Just know that one 1/2 cup serving of ice cream with heavy whipping cream contains 421 calories, 50 grams of fat, 0 grams of carbs, and 1 gram of protein. Again, if this is something that doesn't concern you, awesome!
Whole Milk
If you're simply trying to stay away from excess sugar, the whole milk version may be the best way to go, as it contains around 125 calories per serving (I consider one serving to be 1/8 of the recipe, which is over 1/2 cup of ice cream), 13 grams of carbs, 5 grams of protein, and 6 grams of fat – this is a similar macronutrient profile to Halo Top.
You're getting a super rich and creamy ice cream with a small amount of carbs compared to your standard ice cream. The downside is, for many people on keto, one serving of this ice cream takes up the entire carb content they can eat for the whole day.
Goat Milk
So what have I been doing? I've been using goat milk. I eat a lower-carb diet because my body doesn't do well with most forms of carbohydrates, but I'm nowhere near keto, so for me the heavy whipping cream version is simply too aggressive.
I tend to process goat milk better than cow's milk, so I've been using whole (vitamin D) goat milk and love the way it turns out. The goat milk version is 98 calories per serving (again, I consider one serving 1/8 of the recipe), and 6 grams of carbohydrate. There's also 7 grams of protein, and 5 grams of fat which is a pretty fabulous macro spread if you ask me.
Coconut Milk
Are you keto and dairy-free? You'll want to go with the coconut milk option, which let me just say, is one of my personal favorites.
The coconut milk version of this recipe is 228 calories per serving, 1.5 grams of carbs, 4 grams of protein, and 21.5 grams of fat. Just like sourcing your dairy, be sure to source your coconut milk wisely.
I always go with organic coconut milk with no added emulsifiers because gums bother my digestive system, but if your body does find with starches and gums, you can be more lenient with the type of coconut milk you use.
If you are less concerned about how insanely rich your ice cream is, you can dabble with other milk options such as almond milk or cashew milk, or incorporate blended soaked cashews into the ice cream (just like you're making vegan cheesecake ). Again, know that using nuts and nut-based milks will add carbohydrates to the ice cream, so be cognizant of that if you're keto.
All of the above mentioned options yield incredibly creamy ice cream that will drive your taste buds bonkers.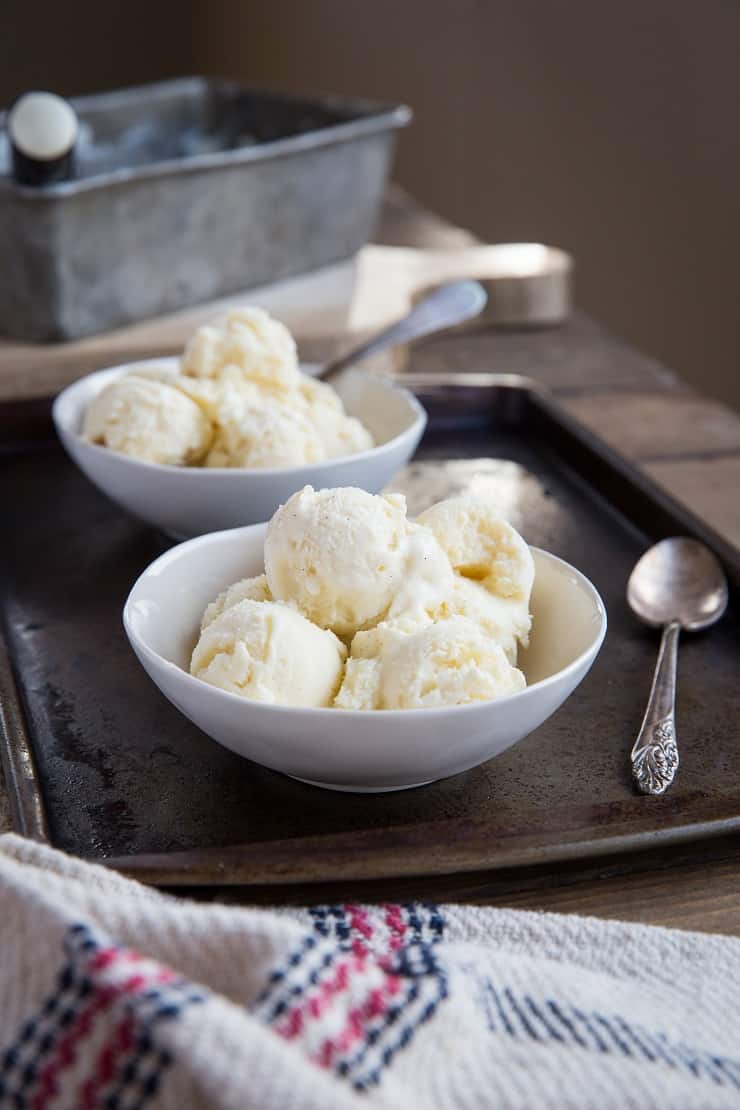 Sweetener Options:
My personal preference when it comes to zero-sugar sweeteners is Swerve. I've found some sugar alcohols to be unfavorable to my digestive system, but Swerve seems to do just fine! For me, Swerve tastes closest to actual sugar without that sugar alcohol flavor. Other great sweetener options are Stevia, Monk Fruit Sweetener, Erythritol, and Xylitol.
How much sweetener should you use? That's entirely up to you. All the above options have zero calories, zero carbohydrates and zero sugar, so theoretically, you can sweeten to your heart's delight without a blood sugar backlash.
I personally prefer my sweets to be less sweet than your standard dessert, so I only use 1/3 cup of Swerve. If you were to aim for standard ice cream sweetness, you'd be using closer to 1 cup or even more.
The only issue I have with the amount of sweetener used is I find at a certain point, it becomes wonky on my digestive system. If you've been around the sugar alcohol block a time or two, you know exactly what I'm talking about. If you're new to low-carb or keto, start small and work your way up to give your body time to adjust.
What's the deal with beef gelatin?
The function of beef gelatin in this recipe is to help emulsify it into custard-y bliss. I use Vital Proteins Grass-Fed Beef Gelatin which is flavorless and works like an absolute charm. You can also use agar for a plant-based gelatin, although agar does contain a small amount of carbohydrates. Can you make the ice cream without beef gelatin? Yes. You can omit it altogether and still end up with a delicious ice cream, it just won't be quite as soft and creamy.
Beef gelatin is also packed with protein, collagen, and is amazing for your digestive health. In essence, not only does it make your ice cream super thick and creamy, it also gives it a nutritious boost. Because beef gelatin thickens and coagulates liquid, you will notice as your ice cream base cools in the refrigerator, it gets very thick.
In fact, if you allow the ice cream base to sit for more than a few hours, it will quite literally turn into custard. This is no big deal at all! You can simply stir it up before pouring it into your ice cream maker and proceed as normal. 🙂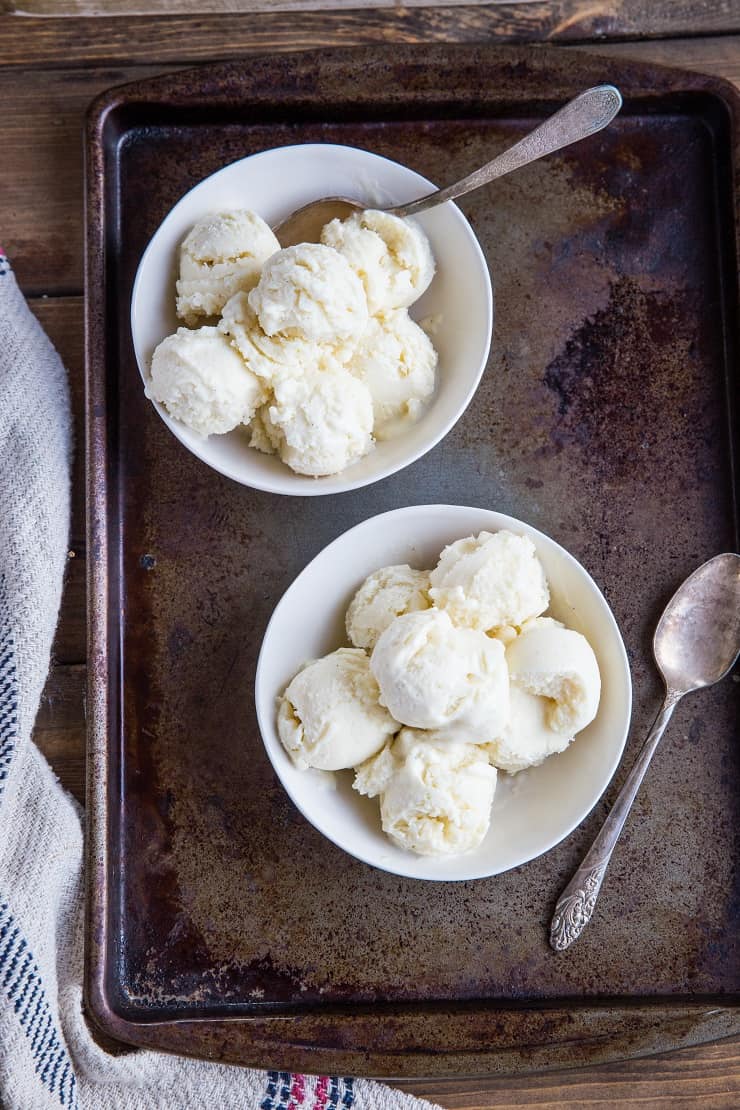 Summary:
So what is my opinion on the best recipe for low-carb ice cream? The goat milk option has the best macronutrient profile for me personally…it is low in calories and carbohydrate, high in protein, and lower in fat. PLUS you aren't sacrificing any of the richness…it turns out CRAZY rich! Is it technically keto? Yes and no.
Yes, because it's under the amount of carbs you need for the day when on keto (which for sedentary people is around 20-30 grams).. but realistically, no because I'm assuming you're going to want to get more of your carbs from vegetables rather than ice cream.
Can you taste the goat milk? Yes, but not overwhelmingly so. To me, it just has the slightest tang (kind of like frozen yogurt), which I enjoy.
If you can't hack the goat milk, in my opinion your next best option is whole cow's milk…again just be sure you're okay with the carb content (the 13 grams of carbs per serving may be the only carbs you can consume for the whole day if you're strictly keto, so obviously you're going to want to get those carbs from more nutritious whole foods). If you're going for ketones here, obviously you're going to want to stick with the heavy whipping cream route.
In order to keep this recipe truly keto and not cause any unnecessary stress from the keto diehards, I have the heavy whipping cream version in the recipe card and have added the other milk options to the notes.
No Churn Option:
If you don't own an ice cream maker, no big deal! This recipe will still turn out amazing as a no-churn ice cream. Simply skip the ice cream maker and freeze the ice cream base in a freezer-safe container until it's frozen. Viola! No churn ice cream.
Every time I make ice cream, I'm asked which ice cream maker I use. I use the Cuisinart Pure Indulgence 2-Quart Ice Cream Maker. I've had it for over 5 years, have made countless batches of ice cream with it and absolutely love the way the ice cream turns out!
To Vanilla Bean or Not to Vanilla Bean:
Depending on the flavor you're going for, you can absolutely go with or without a vanilla bean. You're already putting two tablespoons pure vanilla extract in the ice cream base to make it nice and vanilla-y, yet adding a vanilla bean adds an extra depth of flavor.
If you don't keep vanilla beans on hand, don't sweat it! Just be sure you use a high quality pure vanilla extract like Nielsen-Massey or Frontier.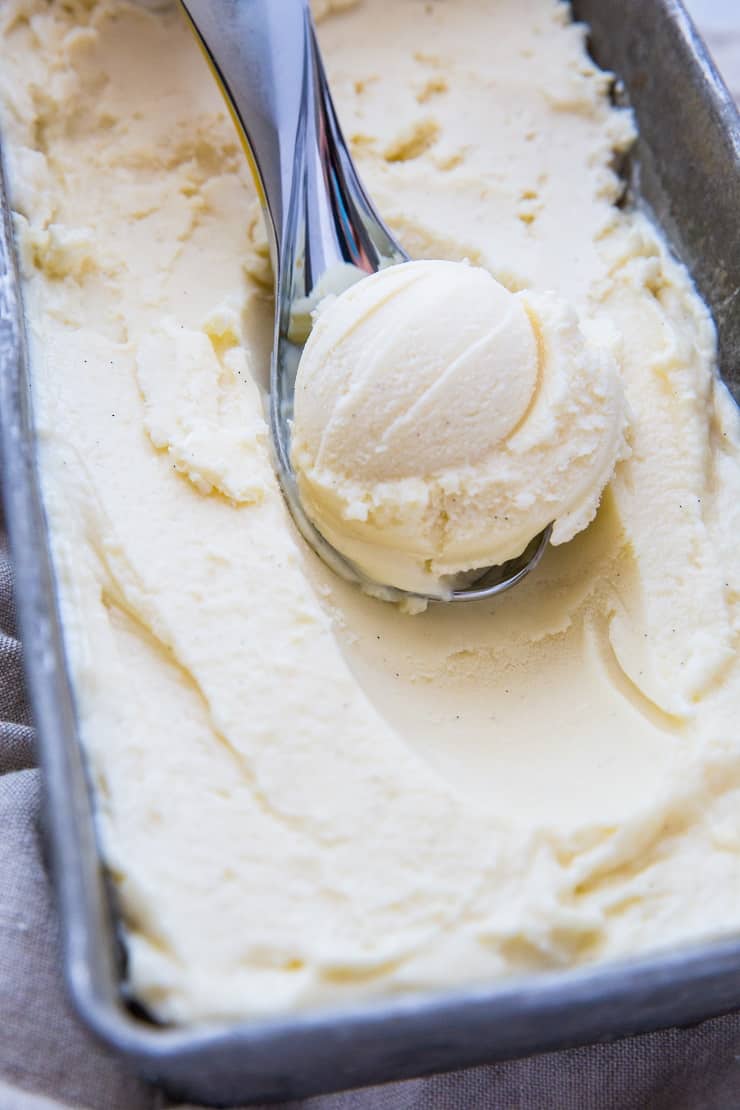 So! Low-carb ice cream? You guys can go wild with the possibilities. Just be sure you're choosing a milk that works best for you. I'm always a major proponent for choosing organic and paying attention to any additives.
Use this keto ice cream recipe as your base for all your low carb ice creams! Consider adding protein powder, cocoa powder, mint leaves and mint extract, matcha powder, and other ingredients that won't spike the carbohydrate content but will boost the flavor to your liking.
Check out my other Keto Ice Cream Recipes:
My cookbook,
Paleo Power Bowls
, is now available! CLICK HERE to check it out, and thank you for your support!
Go get your cream on!
Vanilla Keto Ice Cream
Creamy low-carb vanilla keto ice cream made with just a few basic ingredients. A no-churn option included so no ice cream maker necessary!
Instructions
Place the bowl of your ice cream maker in the freezer and freeze overnight. Note: if you don't own an ice cream maker, no big deal! You can still make this recipe.

Add all ingredients to a medium-sized saucepan and whisk well. Note: be sure you open and scrape the vanilla bean into the mixture prior to adding the full bean...this way you get a great deal of vanilla flavor out of it.

Place the saucepan on the stove top and heat to medium. Cook, whisking consistently until mixture is beginning to steam but does not reach a full boil. Remove from heat and allow mixture to cool before transferring it to a sealable container. Refrigerate at least 2 hours, or until completely chilled.

Stir the ice cream base well and pour it into your ice cream maker. Turn ice cream maker on and churn until very thick and creamy. Serve immediately for soft serve consistency or for an ice cream consistency, transfer to a sealable container and freeze for at least 2 hours. Note: if you don't own an ice cream maker, simply transfer the base to a freezer-safe container and freeze 4 hours or until completely frozen.

Allow ice cream to thaw before scooping and serving.
Notes
*Replace heavy whipping cream with whole milk, goat milk, or full-fat canned coconut milk according to your dietary needs.
**Sweeten the ice cream according to your personal taste. I only use 1/3 cup and find it plenty sweet. I suggest using Swerve (this is what I use), Stevia, or Monk Fruit Sweetener, but you can use any of your favorite zero-sugar sweeteners.
Nutrition facts are calculated based on the heavy whipping cream version of this recipe.
Nutrition
Serving:
1
1/2 cup
|
Calories:
421
kcal
|
Protein:
1
g
|
Fat:
50
g
Disclosure: This page contains an Amazon Affiliate link. If you purchase a product through this link, your cost will be the same but I will receive a small commission. Thanks for your support!