Peach Almond Yogurt Cheesecake Bars are cream cheese-less cheesecake! These gluten free, naturally sweetened cheesecake bars are healthy enough to eat for breakfast. Which means you should eat them for breakfast.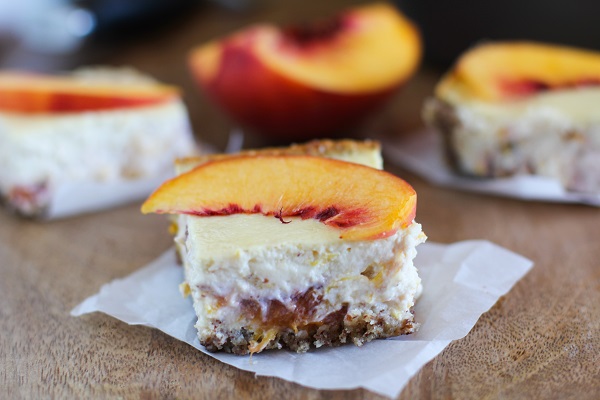 I'm going to miss the peaches. There, I said it.
I'm just as excited about cool weather, scarves, butternut squash and hot toddies as the next eager beaver, but can we freeze time for a hot minute and bask in the last moments of ripe, drippy summer fruit? Because once it's goes, it's gone, man. And then we're left with what? Persimmons?
Let's all call a spade a spade and say that summer is the best of all the fruit seasons.
I mean, what will this peach almond yogurt cheesecake look like come winter? Persimmon cheesecake? Inconceivable.
#FirstWorldProblems.
BUT the disappearance of peaches and all the other summer fruit is future tense.
In the present tense, we still have peaches (hooray!). Let's roast them and put them in yogurt cheesecake.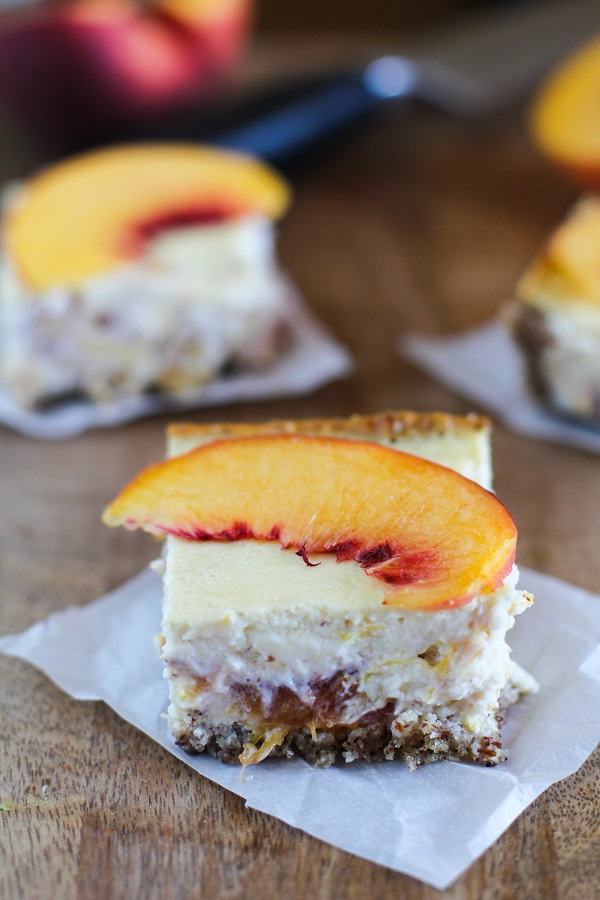 You're looking at these peach almond yogurt cheesecake bars like you want one in the palm of your hand. This is why we're friends.
This is definitely not your run-of-the mill cheesecake.
First off it's made without cream cheese. Plain full-fat yogurt, pure maple syrup, vanilla extract, and tapioca (or corn) starch are all you really need for the base.
Bonus points: this cheesecake is made in a blender.
More bonus points: the crust is made with almond meal, maple syrup, and coconut oil, making for a completely healthful gluten free treat.
The cheesecake isn't overly sweet, which is how I prefer my treats.
You can easily add more maple syrup to the cheesecake base, or just douse it in maple syrup, agave, or honey when you serve it. Case in point: sweeten to taste.
#cheesecakeforbreakfast and GO!
Peach Almond Yogurt Cheesecake Bars
Peach Almond Yogurt Cheesecake Bars is a delicious healthier cheesecake recipe made with yogurt instead of cream cheese. Light and mouth-watering!
Ingredients
For the Yogurt Cheesecake:
2

cups

plain whole milk yogurt

1/3

cup

maple syrup

2

eggs

1

teaspoon

pure vanilla extract

1/2

teaspoon

almond extract

2

tablespoons

+ 1 teaspoon tapioca starch*

1

cup

peach

halved, roasted, and chopped (about 1 roasted peaches)
Instructions
Prepare the Almond Crust:
Preheat the oven to 375 degrees F and lightly oil an 8" x 8" baking pan.

In a bowl, mix together all ingredients for the crust.

Pour the crust into the prepared baking pan and press it into the bottom and sides.

Bake in the oven for 10 to 15 minutes, until edges are slightly browned.

Set aside and allow crust to cool to room temperature.
Roast the Peach:
You can roast the peach while you're baking the almond crust.

Cut the peach in half, remove the pit, and lightly coat the flesh with olive oil or coconut oil.

Place the peach cut-side down on a baking dish and place in the oven with the crust. Roast for 20 minutes, or until the peach skin is pulling away from the flesh, and juices are seeping out.

Remove from the oven, allow peach to cool, then chop it and set aside.
Prepare the Yogurt Cheesecake:
Lower the temperature of the oven to 350 degrees F.

In a blender or food processor, combine all of the ingredients for the cheesecake filling except for the roasted peaches. Blend just until combined.

Add the chopped roasted peaches and pulse/blend quickly just to combine with the filling.

Pour the cheesecake filling into the pan with the crust and bake for 30 to 45 minutes**

Turn the oven off and allow the cheesecake to sit for 10 minutes inside the hot oven before removing it.

Allow cheesecake to cool for 20 minutes, then place it in the refrigerator to chill for 2 hours.

Cut cheesecake squares and serve with fresh peaches and a drizzle of honey.
Notes
*You can replace the tapioca starch with corn starch.
**I bake at high elevation, so it took my cheesecake a full 45 minutes to bake. It will take less time at a lower elevation.
Nutrition
Serving:
1
Slice
|
Calories:
287
kcal
|
Carbohydrates:
26
g
|
Protein:
11
g
|
Fat:
16
g
|
Fiber:
2
g
|
Sugar:
16
g