Hey, Ja Ja Jaded…
Such a catchy tune..
Valentine's Day.
Twenty-four hours on the space time continuum. It's just a day…no cause for stress…no reason to panic…
Okay, I've been a little panic-y. Regarding How To Tackle Valentine's Day on My Blog.
And by "a little," I mean, my blood pressure has been off-the-charts. Since Jan 31.
The Holiday of Expectation and Obligation is upon us, and I'm at an imaginary crossroads, feeling as though I need to choose a side. Team Hearts & Flowers or Team Haterade. The romantic in me wants to whisper sweet nothings to your eye sockets and feed you all the edibles that are seeping with love potion number nine, but the realist in me can't help but type words like, "Nothing says twue wuuuuv like a dozen dead flowers," and/or "Valentine's Day is where good flowers go to die."
Because it's true. Those poor, poor flowers. They never really had a chance at life.
Aren't you glad you're reading this on a Monday?
It just so happens that my take on Valentine's Day makes me sound like I have more baggage than LAX in spite of the fact that I wholeheartedly, unabashedly, and shamelessly desire, respect, and love ooey gooey drippy fantastical love.
My lack of interest in the holiday is not because I'm damaged, renounce twue wuuuuv, am an antiestablishmentarianist, and have zero capability of absorbing love emotions through the receipt of cheesy gifts, like commercially-made chocolates packaged in a big bulbous red heart and flowers THAT ARE DEAD, PEOPLE (even though some of the aforementioned is absolutely true). It's because I find the holiday to be drenched in meaningless obligation and an un-sexy portrayal of romance (kind of like someone shoving their tongue in your mouth like they're searching desperately for a piece of gum).
No one makes it through Valentine's Day unscathed. Even us naysayers who saaay we don't give a lick about it. No one wins at Valentine's Day. Except those who do, but seriously, who are those people? And are they battery-operated?
I know, I know. Cue up the carousel and start counting the baggage.
Someone get this girl a shot of whiskey. Make it a double.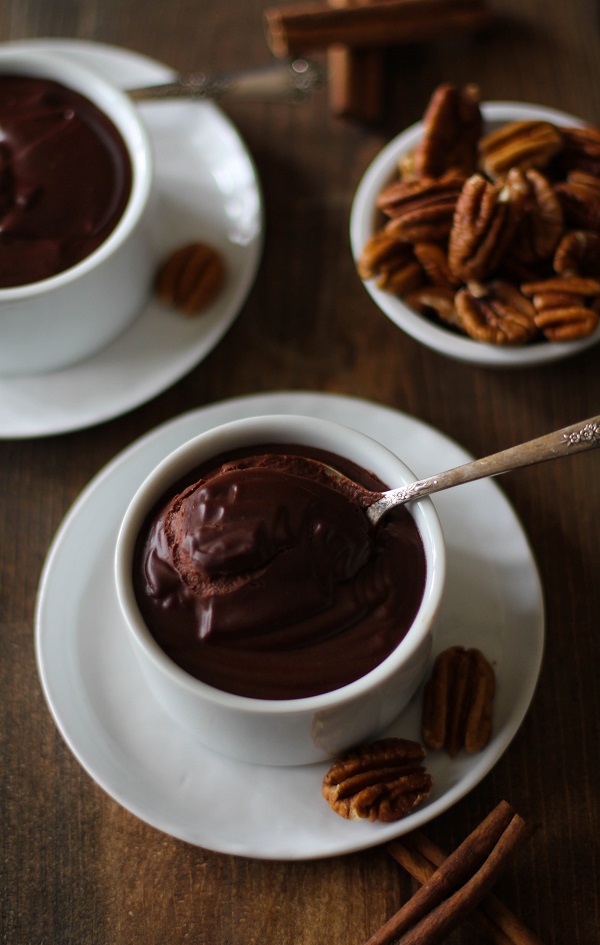 Now that I've sold you my Team Haterade diatribe, may I please soften the blow with some creamy chocolate?
Chocolate is delicious.
That's the main bullet point of this post.
Irrespective of relationship status or team affiliation, all I reeeeeeally want to say is, MANGE ZEEZ POTS DE CREEEEEME-uh < – said in a french accent, of course.
Have I mentioned zere are beetz dans zeez beet pots de creeeeme-uh? Beets and chocolate. Both aphrodisiacs, both equally delicious…a winning combination…don't pretend you don't love it…don't play hard to get…make these pots de creme…this is an every-day-appropriate recipe that I just so happen to be posting the week of Valentine's Day. No big deal. Don't make it awkward.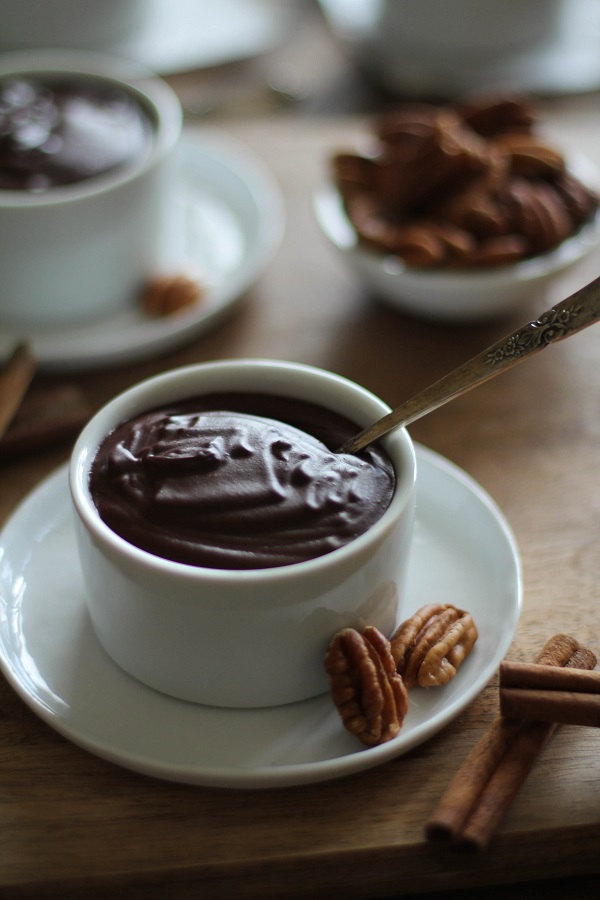 You guys, there's no creme in these beet pots de creme, ohhhhhh I tricked ya! They're creme-less pots de creme that are also dairy-free and contain no added sugar. Full-fat coconut milk is what gets the job done here, and it gels with dark chocolate chips for an insanely dense, rich, and decadent treat. A treat that happens to be an aphrodisiac. And happens to be perfect for romantic holidays that rhyme with shmaleyvines ray.
This instead of dead flowers, if you please.
Dark Chocolate Beet Pots de Creme
A superfood dark chocolate pots de creme recipe that is easy to make and so rich and delicious!
Instructions
Add the dark chocolate chips to a medium-sized mixing bowl.

In a small bowl, stir together 1/4 cup of the coconut milk and the tapioca starch until smooth and all the lumps are out.

Place the remaining coconut milk in a blender with the beets and cinnamon and blend until completely smooth.

Transfer the coconut milk/beet mixture to a saucepan and heat over medium, just until the mixture begins to steam and become slightly frothy (don't let it come to a boil). Add in the tapioca starch mixture and salt and whisk constantly until mixture is thick, about 5 minutes. Remove from heat and pour into the bowl with the chocolate chips. Stir until well combined and all of the chocolate chips have melted.

Divide chocolate beet mixture among four or five 5-ounce ramekins, and allow them to cool slightly before placing them in the refrigerator. Chill for at least 2 hours before serving.
Nutrition