Pumpkin cheesecake. It's really very pleasing. What's not to adore about a silky-smooth, creamy, sweet piece of pumpkin-y feel good that melts in your mouth and leaves you love drunk in decadent satisfaction?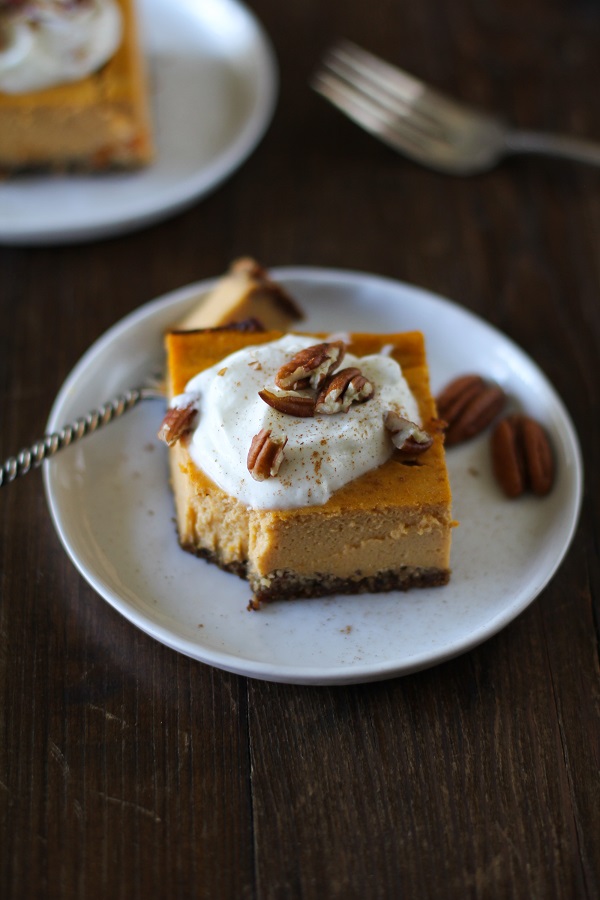 True story, kidlets: I once made a pumpkin cheesecake before I left for a trip to Europe, and I told my roommate at the time, "feel free to eat that pumpkin cheesecake in the fridge, yeeeerwelcome, catch ya on the flippity flip," only to return home after three weeks to a completely un-touched pie.
At first, I assumed it was because I hadn't made it abundantly clear that the pumpkin cheesecake was fair game, but after cutting off a hefty slice of the three-week-old cheesecake for myself (some may call this gross, while others may call it immunity-building) and offering some to my roommate yet again, I was met with a shocking discovery: not everyone loves pumpkin cheesecake.
Cue record scratch.
You may have noticed there are those who would walk 500 miles for pumpkin cheesecake, and those who could give a flying wooptyloo about it.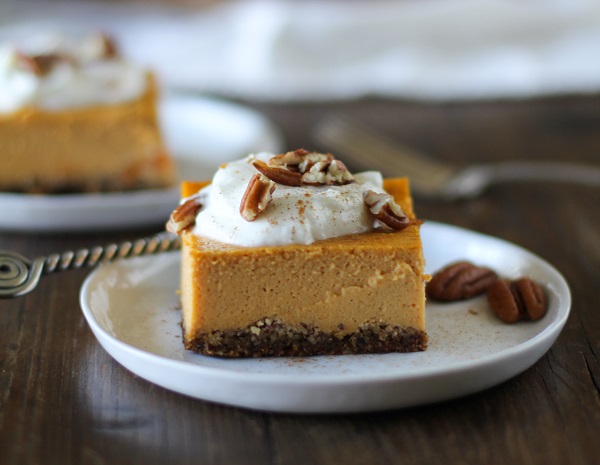 This is a rough time of year for non-pumpkin eaters. Those of us who love pumpkin tend to think those who don't care for it have broken taste buds. Which is why my best piece of advice is to package those pumpkin naysaying feelings up and bury them down deep so that they never.see.the.light.of.day. You pick your battles in life, and the pumpkin battle is tough to win. Even if Gerard Butler is on your team.
What were we talking about?
Oh yeah, how much we all love pumpkin cheesecake. I employed a little substitution wizardry for this recipe in order to make it nice and healthful. I made the pumpkin cheesecake filling with Noosa's plain yoghurt instead of cream cheese and pure maple syrup instead of cane sugar. The crust? Made it out of hazelnut meal for a little gluten omission action. Basically, this tasty treat health in a hand basket.
If you're not hot to trot about pumpkin cheesecake, you can check up on the Peach Almond Yogurt Cheesecake Bars I showed you a few weeks ago. Same idea, minus the pumpkin, plus the peach. These yogurt cheesecake recipes are fantastically easy to make, as you simply put all of the ingredients for the cheesecake filling in the blender. I made this recipe into bars by using a square pan, but you can most definitely use a round pan to make a proper cheesecake-looking apparatus. Do what you gotta do to get this ish done!
Gluten free pumpkin cheesecake. Get love drunk off of it!
Maple Pumpkin Cheesecake Bars
Maple Pumpkin Cheesecake Bars made with Greek yogurt instead of cream cheese is a lightened up version of the classic dessert.
Ingredients
For The Maple Pumpkin Cheesecake Filling:
Instructions
Prepare the Hazelnut Crust:
Preheat the oven to 350 degrees F and lightly coat an 8" x 8" square baking pan (or 8" round cake pan) with oil.

In a mixing bowl, stir together all of the ingredients for the crust.

Pour the crust mixture into the prepared baking pan and press it into the bottom and sides of the dish with your hands, evenly distributing the mixture (note: this doesn't have to be perfect).

Place the crust in the oven and bake it for 8 minutes, until slightly browned on the edges. Remove from oven and allow crust to cool.
Prepare the Pumpkin Cheesecake Filing:
Add all ingredients for the cheesecake to a blender and blend just until completely combined.

Pour the cheesecake filling into the pan with the crust.

Bake cheesecake in the oven for 40 to 50 minutes, until the center is set up and doesn't jiggle when you shake the pan.

Allow the cheesecake to cool at room temperature for 30 minutes, then place it in the refrigerator to chill and set up for at least 2 hours prior to serving.

Serve with a dollop of plain Greek yogurt (or whipped cream), chopped nuts, and a drizzle of pure maple syrup.
Notes
*I recommend using full-fat plain yogurt that is very thick and creamy. 2% or whole milk Greek yogurt works, too!
**You can replace the tapioca flour with corn starch. I have not tested this recipe using corn starch, but have read that you can use corn starch as a 1:1 replacement for tapioca flour.
Nutrition