Zesty Fruit Salad with coconut milk, basil, lime zest, and a touch of pure maple syrup for the ultimate creamy, dairy-free, mayo-free fruit salad recipe!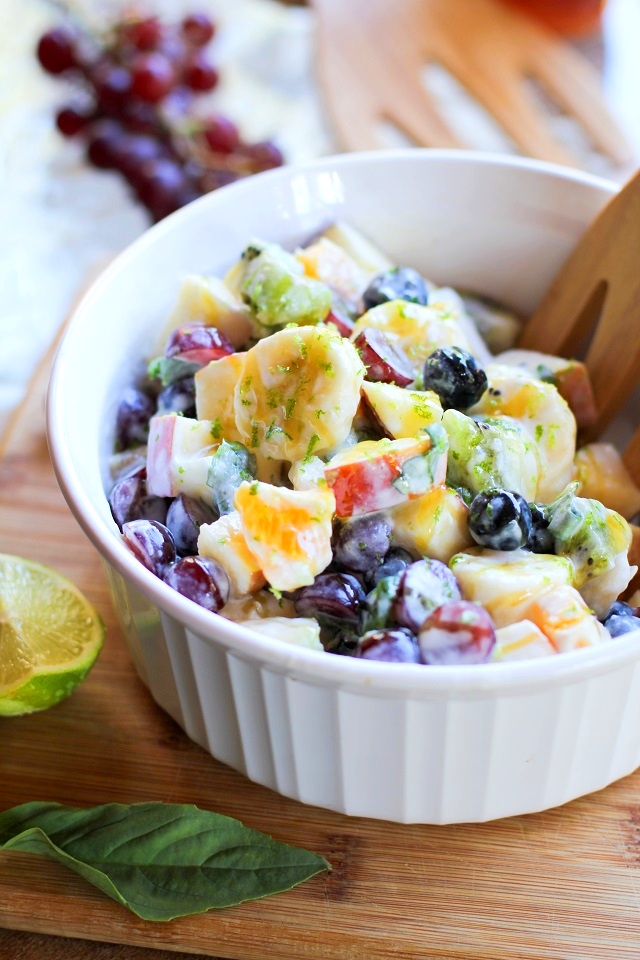 Heyo! How was your weekend?!
It's been a one-thing-after-the-other kind of life lately – just the way I like it. Last Wednesday, I hopped on a flight due East, and joined many amazing bloggers for a Tour de Sabra's Factory in Richmond, Virginia.
I'll give you a full recap soon, but for now, let's just say the whole trip was a wonderful experience. I arrived home late Friday night, then hit the trails biking on Saturday. Then proceeded to hit the trails running on Sunday.
…And proceeded to brag about all of it on the Instagram.
…Because if a tree falls in the woods and no one was there to post a picture of it on Instagram, it never happened, right? Thank you for bearing witness to my life.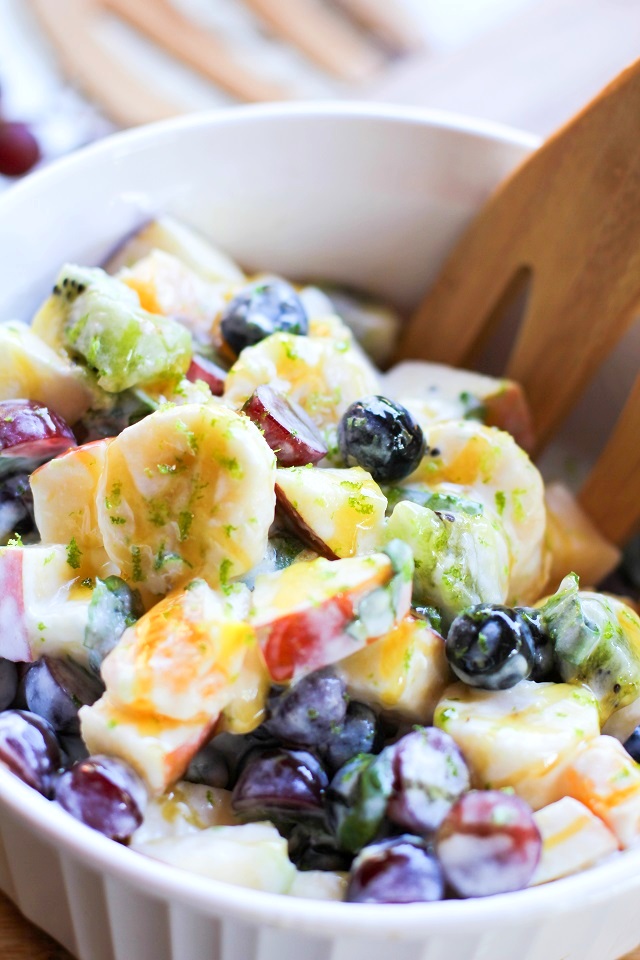 ALSO, somewhere between flights across the country and testing all of Sabra's hummuses with my head hole, I turned the big twennyNINE. <- said like Schmidt from New Girl.
And now I feel like I owe you a blog post about the 29 Things I've Learned Thusly, or tell you the 29 Must-Own Items That Will Make You Appear 21 When You Are, In Fact, TwennyNINE, or 29 Ways to Open a Bottle of Wine Without a Corkscrew, 3 of Which Totally Work. Etc.
But let's face it, I'm probably not going to do any of that. But I will continue to drink milkshakes like it's my birthday, because: calcium.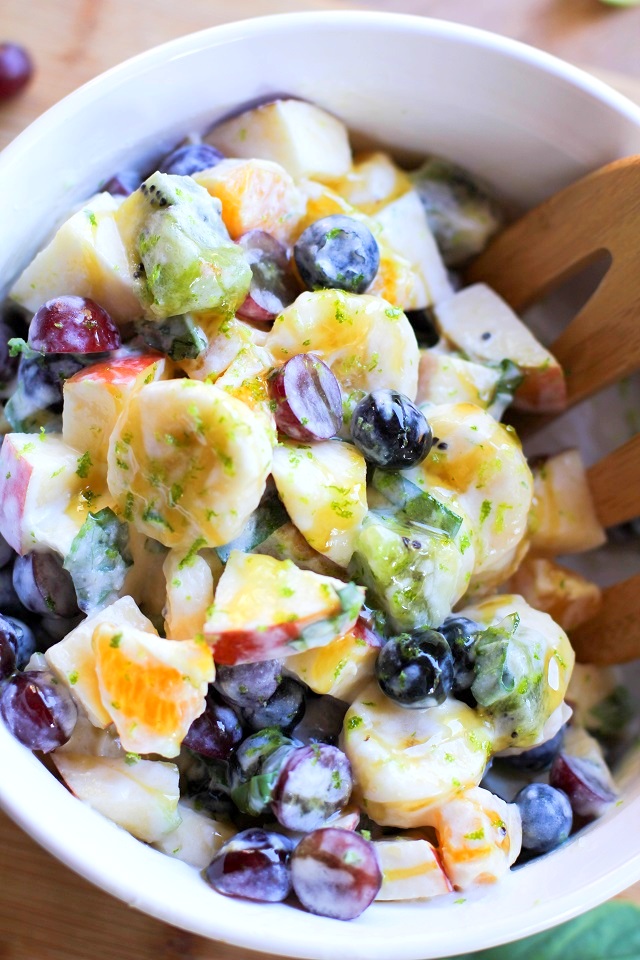 Ensalada de Frutas!
This is fancy.
Up until making this recipe, I always thought of fruit salad as just a fancy and fantastic excuse to eat Cool Whip and marshmallows. Duh-licious. I admit, I've always loved this classic concoction but haven't considered fruit salad a big life To Do on account of…well…the Cool Whip…and possibly the marshmallows. But mostly the Cool Whip.
Clearly, it didn't dawn on me that there are no Fruit Salad Rules to follow, until it did. At which point, I was all, "What in the hay fever, Julia, how come we've never made fruit salad ever in the history of our lives?" <- I'm allowed to refer to myself as, "we," because as already mentioned, I'm a Gemini, which means I'm more than one person in real life.
Let us proceed.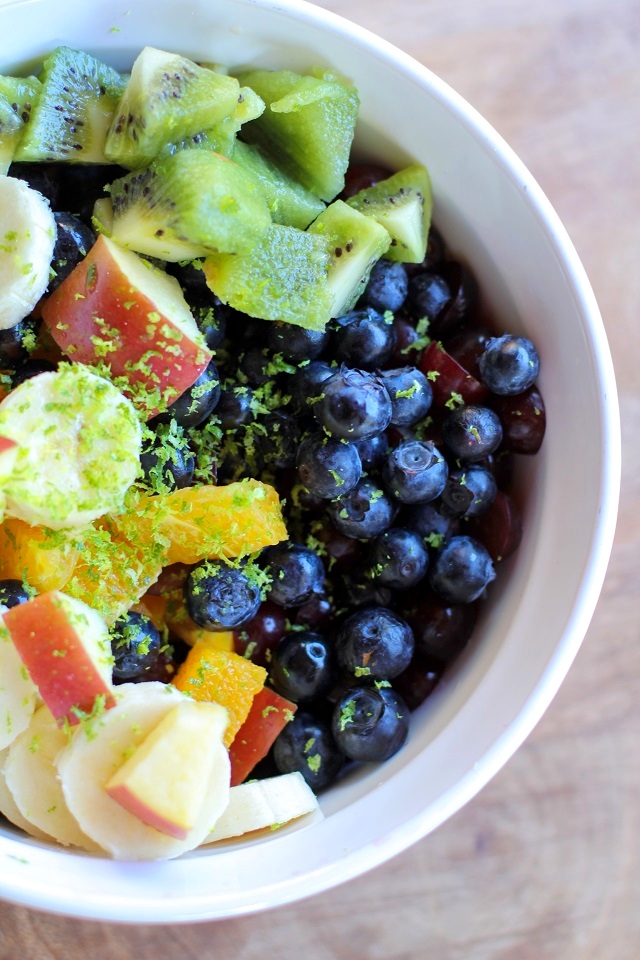 Here's how it happened: I had all sorts of fruit in my refrigerator, along with an open can of coconut milk, yogurt (I use dairy-free coconut milk yogurt. CocoYo is my favorite), and basil (so, like, all of the ingredients…right there in the ice box).
I took my whozits and whatzits galore, scrambled them up in that over-sized ramekin you see in my photogs, and created a healthy fruit salad with a ridiculous amount of flavor.
The lime zest, the basil, the coconut, oh my! It's a bombardment for your taste buds, and oddly reminiscent of a Peter Gabriel song <- roll with it.
You can make this salad your own by incorporating your favorite fruits. If, by happenstance, you're a big fan of the melons (the eating kind, not the thinking kind), this would be a great place to put them all. You can also use mint instead of basil, or make coconut whipped cream in order to make the dressing uber thick.
I am complete.
Zesty Fruit Salad with Coconut Milk and Basil
Zesty Fruit Salad with Coconut Milk and Basil is a fresh and flavorful take on classic fruit salad
Ingredients
1

large fugi apple

cored and chopped

1

navel orange

peeled and chopped

2

kiwifruit

peeled and chopped

1

large ripe banana

peeled and chopped

1

cup

blueberries

1

cup

red grapes

halved
Lime Coconut Basil Dressing:
1/3

cup

full-fat canned coconut milk

3

tablespoons

Greek yogurt*

6

leaves

basil

finely chopped

1

lime

zested

2

teaspoons

pure maple syrup or honey
Instructions
Add all of the fruit to a large serving bowl. In a small bowl, whisk together the coconut milk, yogurt, basil, and lime zest. Pour the coconut milk mixture over the fruit and toss everything together. Drizzle the honey over the fruit salad and serve.
Notes
*Use dairy-free yogurt to keep recipe dairy-free. I like CocoYo coconut milk yogurt.
Nutrition
Serving:
1
Serving
|
Calories:
125
kcal
|
Carbohydrates:
27
g
|
Protein:
2
g
|
Fat:
2
g
|
Fiber:
4
g
|
Sugar:
19
g