The batter for this paleo Dutch baby pancake comes together in seconds in your blender. Refined sugar-free, dairy-free, and healthy, this paleo Dutch baby is a true delight!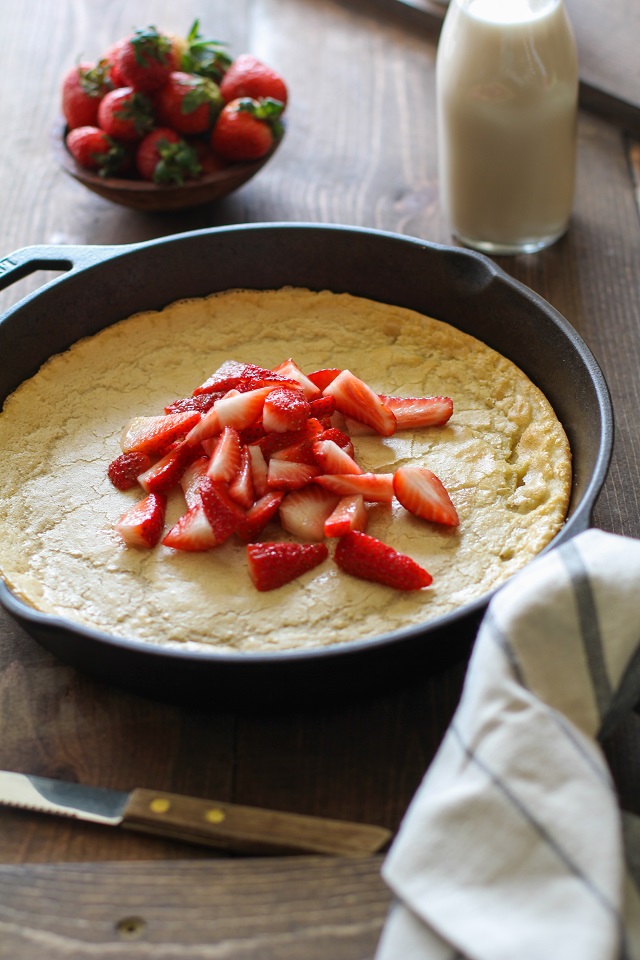 The.dutch.baby. The concept on this thing is so on point.
Let's think about this. Who is a large-and-in-charge skillet flapjack wrong for? I couldn't tell ya. Don't even want to solve that quandary. I can say, this mondo pancake sitch is perfect under the following conditions:
You're serving guests slash family.
You have taste buds and a stomach organ.
You can lay some serious mouth on a batch of pancakes ee'ry day but are a firm believer that even the best things in life should be easy like Sunday morning.
You can't be bothered with repetitive pancake flipping because you have laundry to do and little rascals to to herd.
You locked your keys in your car and needed to run 3 uphill miles home on a 6-lane busy street on a Saturday with a whisky hangover, then 3 miles back uphill (okay, you caught me…downhill the second time) to said vehicle with your spare key and all you could think about the whole time was old fashioned glazed doughnuts…
…if any or all of the above pertain, then this dutch baby thing is for you.
Big portion pancake. Big portion comfort food. Big skillet, low maintenance, best when eaten in volume.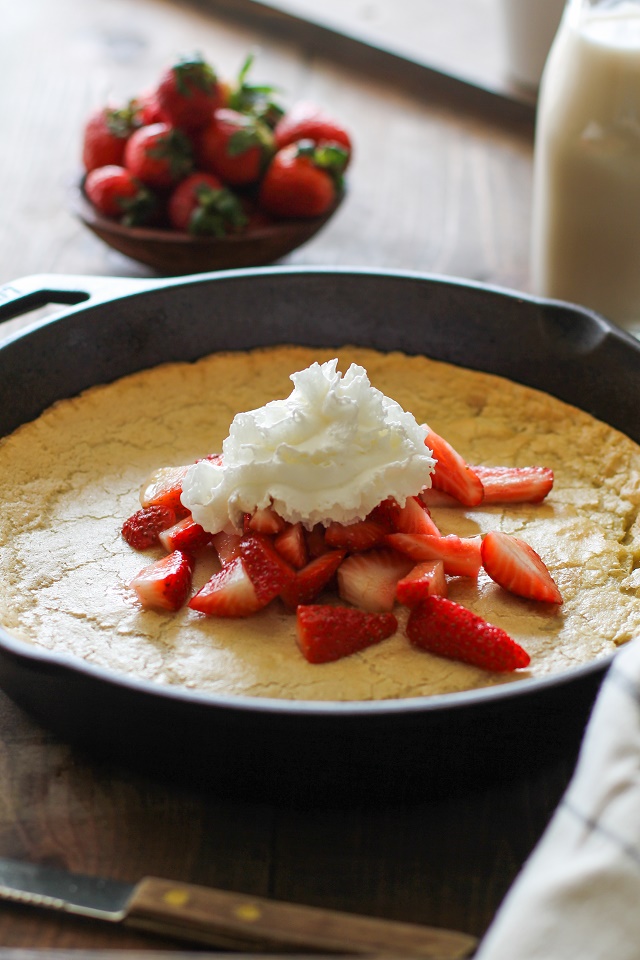 Let's talk recipe formula, folks. This is basically the only dutch baby recipe you'll need in your life eveaaaaahs. The almond flour/tapioca flour combo keeps this breakfast gluten free, and yields a fluffy yet dense result, the way a good dutch baby should be. It's also dairy-free, refined sugar-free, and paleo-friendly.
For me, simply serving the pancake with fresh fruit and whipped cream is the key to a super satisfying morning wake up call. You can step it up a notch by stewing the fruit to make a compote, or serve with butter and pure maple syrup.
Keeping the pancake dairy-free, I used Suncoast Gold's macadamia nut milk. Have you ever tried mac milk? Game.change.er! It's super rich and creamy and literally tastes like you're drinking melted ice cream…minus the brain freeze slash sugar coma.
Recently, the Australian-based company revised its formula to remove Maltodextrin and Carrageenan from its macadamia nut milks. Suncoast's new version includes Locus Bean Gum, Gellan Gum and Sunflower Lecithin and results in the same consistency and flavor. Truthfully, this is the all-time best nut milk I've drank, which is speaking worlds for a girl who grew up drinking a glass of whole milk at every meal. I've been drinking it plain (which I rarely do with nut milks), using it in smoothies, and I even like to heat it up and drink it as a night cap.
Preparing this pancake is laughably easy. You simply blend all of the ingredients together in a blender, pour the batter in a cast iron skillet and bake it off. No hovering over the stove, no botched pancake flips, just an easy skillet of fluffy pancake lovin' for the whole family to share. Or for you to eat by your onesie…that's cool, too.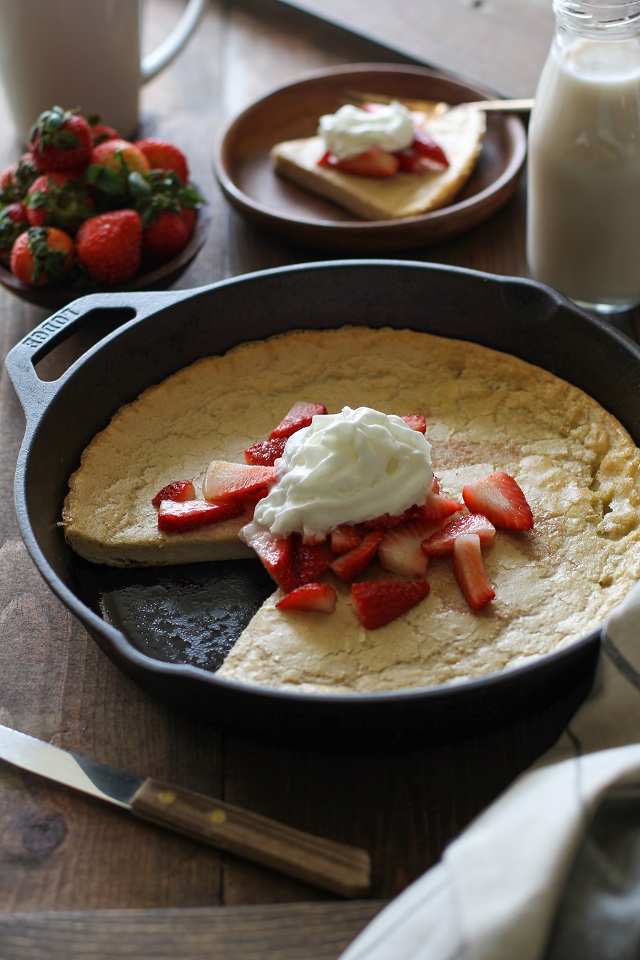 Find out where you can get your paws on Suncoast Gold macadamia milk by checking out their store locator (Pssst! You can also get it on Amazon). Also stay connected by following the brand on Facebook and Twitter.
And now…blend, bake, eat, repeat!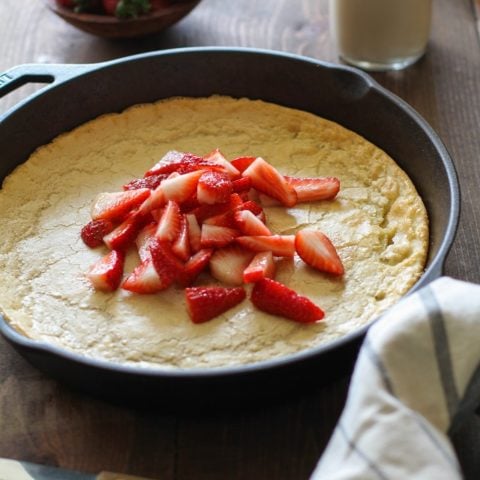 Grain-Free Dutch Baby
Yield:
1 dutch baby pancake
If you love a Dutch Baby, get a load of this grain-free version! You'll never be able to tell the difference!
Ingredients
3 eggs
1 cup Suncoast Gold Macadamia Nut Milk
½ teaspoon pure vanilla extract
1 cup almond flour/meal
1/3 cup tapioca flour
¼ teaspoon ground cinnamon
¼ teaspoon sea salt
Instructions
Preheat the oven to 400 degrees F.
Add all of the ingredients for the dutch baby pancake to a blender. Blend until smooth.
Add enough melted coconut oil or olive oil to a 12-inch cast iron skillet to coat the surface, about 2 to 3 tablespoons. Pour the batter into the cast iron skillet and place on the center rack of the preheated oven. Bake 22 to 25 minutes, or until pancake is cooked through and is golden-brown on top.
Allow pancake to cool 5 minutes before cutting large chunks and serving with fresh fruit and whipped cream, and/or pure maple syrup.
Nutrition Information
Yield

1
Serving Size

1 grams
Amount Per Serving
Unsaturated Fat

0g
This post is sponsored by Suncoast Gold. Per usual, all thoughts, feelings and opinions are my own, and I thank you for supporting the brands that help make this site possible.