Grain-free, dairy-free, refined sugar-free Paleo Gingerbread Pancakes made with almond flour! These warmly-spiced fluffy pancakes are perfectly sweet – amazing during the holiday season and beyond!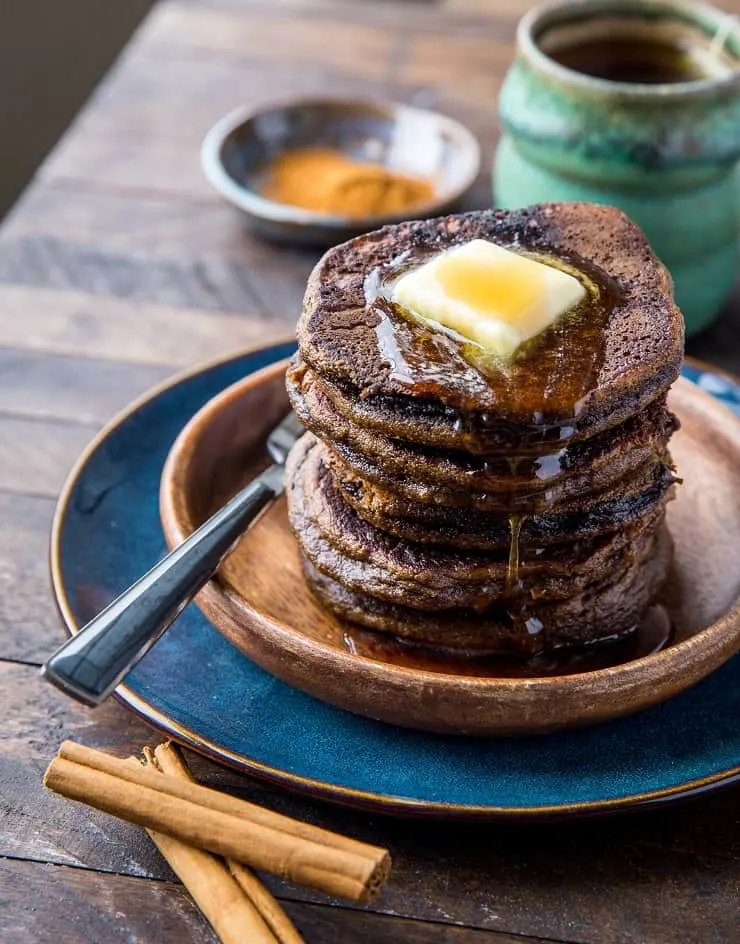 Have you made my Paleo Gingerbread Loaf or Paleo Gingerbread Muffins yet??
I find gingerbread to be one of those timeless holiday classics – the flavor is so unique and brings back all sorts of nostalgic memories from holidays passed.
For this reason, I'm always up for a good gingerbread treat, regardless of the form it takes!
If you're a fan of molasses, ginger, or all things gingerbread, you'll get a kick out of these pancakes.
Even if you're a savory breakfast eater like me, these pancakes are awesome as a mid-day snack or even dessert!
Ingredients for Paleo Gingerbread Pancakes:
These grain-free paleo gingerbread pancakes are made with almond flour, tapioca flour, molasses, and unsweetened almond milk.
They're refined sugar-free and dairy-free, making them a pretty stellar option for those looking to keep breakfast mouth-wateringly delicious, yet allergy-friendly.
If you're looking for a special holiday breakfast to share with your loved ones, these pancakes may be a marvelous fit.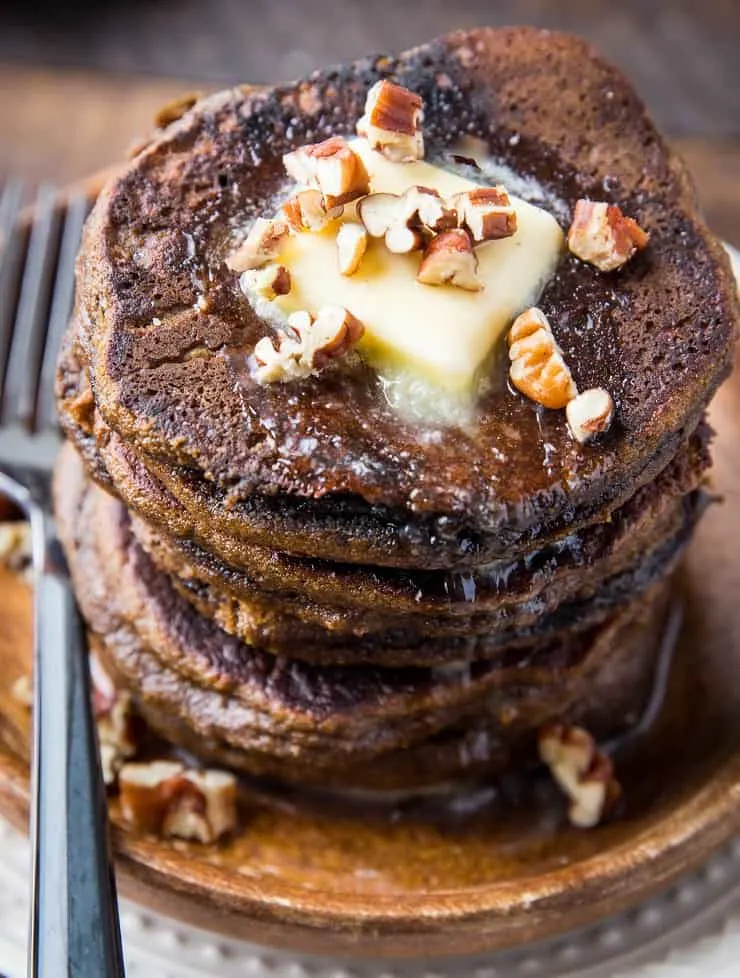 How to Make Paleo Gingerbread Pancakes:
All you do to prepare these pancakes is toss all the ingredients in a blender (or you can use a mixing bowl, just as you would regular pancakes!).
Heat a skillet or griddle over medium heat and cook up a stack of these moist beauties!
Do note that grain-free pancakes require slightly more time to cook than regular pancakes, so cooking them over a lower heat is advised.
If the batter appears very thin, add 1 to 2 tablespoons of coconut flour to thicken it. You can also use more almond flour or tapioca flour if you don't have coconut flour on hand
In addition, molasses as a low burn temperature so it's very easy to burn the pancakes if they stay on the skillet for too long. Just keep a watchful eye, and all will be fine!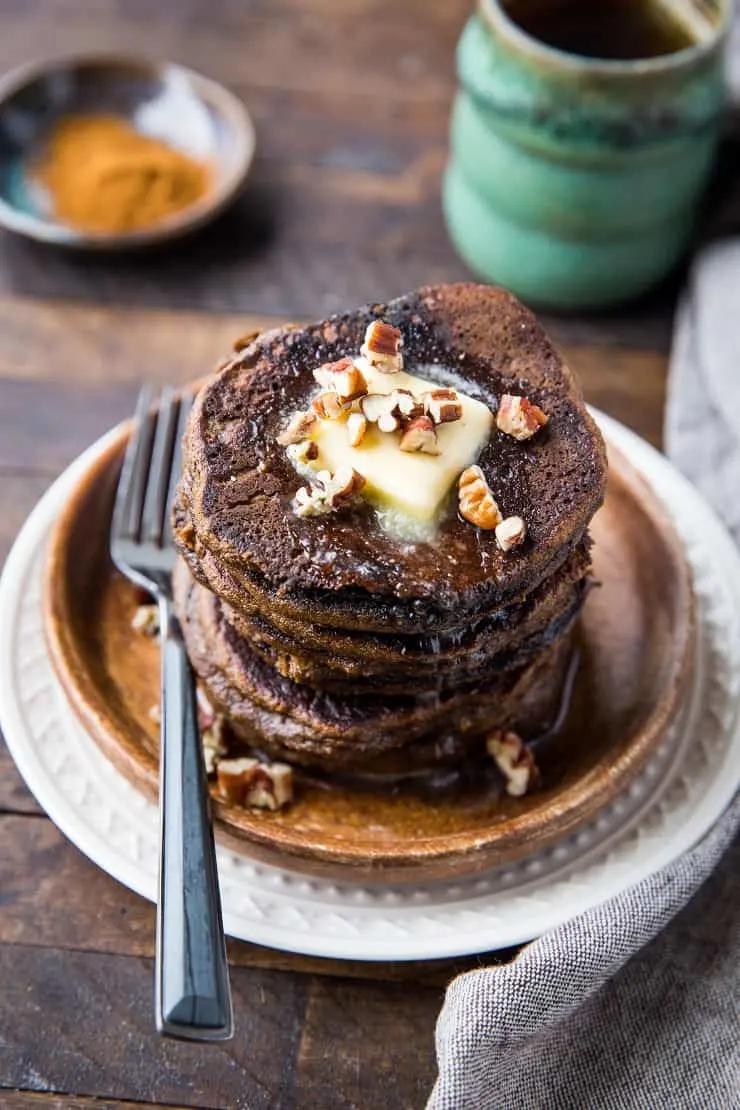 I enjoy gingerbread pancakes with a dollop of butter and pure maple syrup.
It may sound plain or old fashioned, but it's just so tasty!
You can get creative with your toppings by serving them with homemade coconut milk whipped cream, paleo salted caramel, and/or go with almond butter.
If you want to be a true hero, you can add some chopped crystallized ginger to the batter, or sprinkle crystallized ginger on top!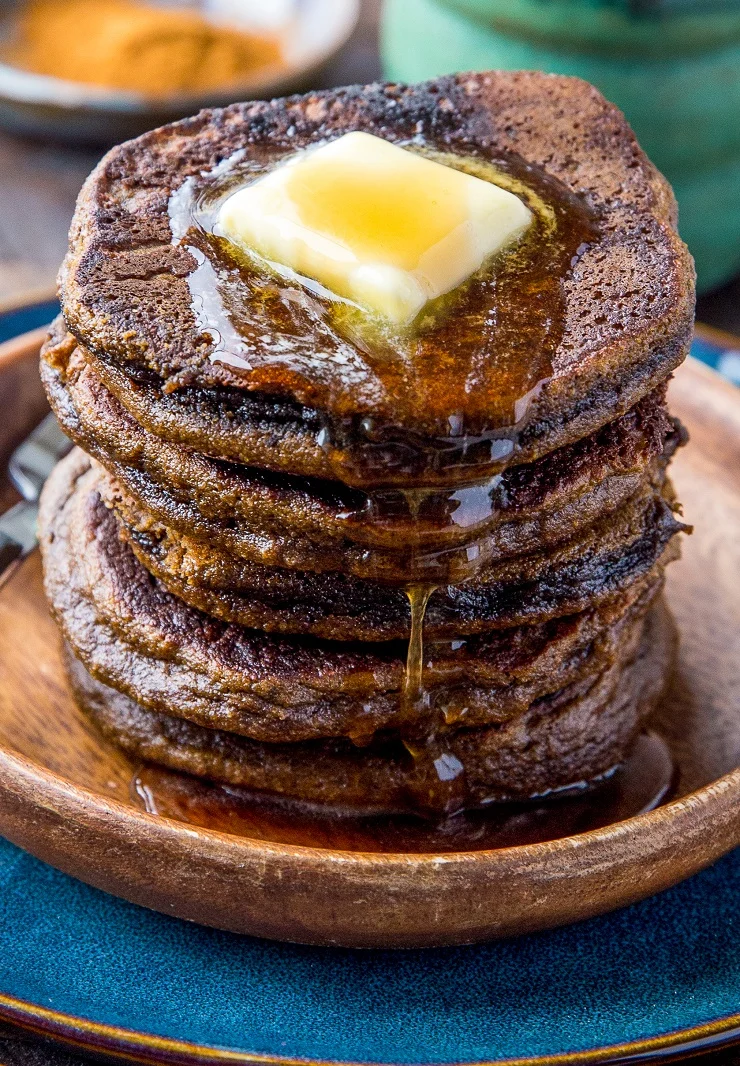 I hope you love this explosion of flavor as much as I do!
More Healthy Grain-Free Pancake Recipes:
My cookbook,
Paleo Power Bowls
, is now available! CLICK HERE to check it out. Thank you for your support!
If you make this recipe, please feel free to share a photo and tag @The.Roasted.Root on Instagram!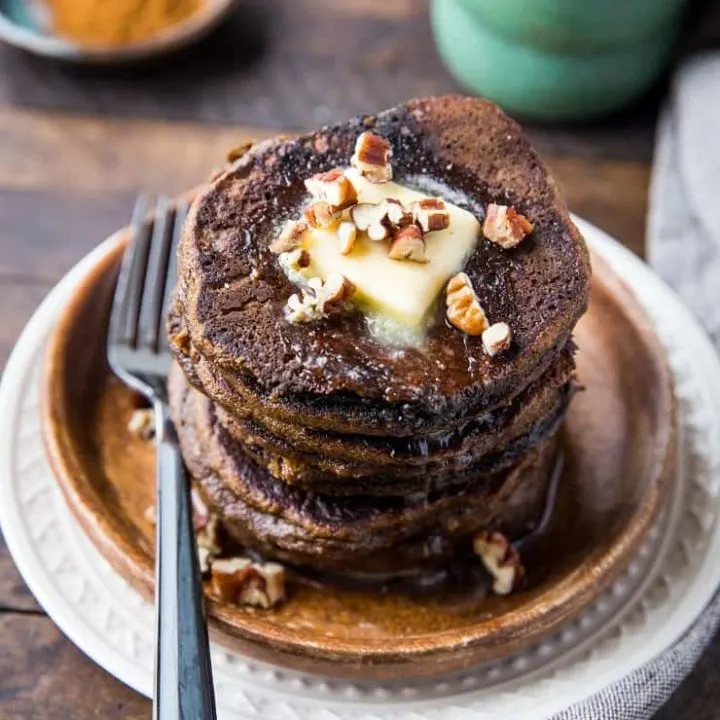 Paleo Gingerbread Pancakes
Paleo Gingerbread Pancakes made with almond flour and molasses
Instructions
Add all ingredients to a blender and blend until completely smooth.
Heat a large non-stick skillet to medium and add enough avocado oil (or high-temperature cooking oil) to lightly coat the surface.
Measure a scant 1/4 cup of batter and pour it onto the hot skillet. Cook until the sides begin to firm up, about 2 minutes. Carefully flip and cook an additional 1 to 2 minutes, until pancake is cooked through. Repeat for remaining batter.
Note that molasses burns at a low temperature so be sure to keep a watchful eye on the pancakes and adjust the heat down if the pancakes look too dark.
Serve pancakes with choice of toppings, and enjoy!
Notes
*If you don't have pumpkin pie spice, use 1 teaspoon of ground cinnamon, 1/4 teaspoon of ground nutmeg, and 1/4 teaspoon of ground ginger. You can also add fresh ginger if you'd like!
Nutrition Information
Yield

8
Serving Size

1 Pancake
Amount Per Serving
Calories

178
Total Fat

13g
Unsaturated Fat

0g
Carbohydrates

11g
Fiber

1g
Sugar

1g
Protein

6g