SURPRIIIIIIISE! Welcome to my new home! The Roasted Root has come into its own…nestled into a makeover…has laid down some…roots! I've kept this nugget of information hidden from you for a while and am so happy to show you my new site design.
I had my site re-designed by the lovely Shay Bocks, who also designed Pinch of Yum, Oh my Veggies, Prevention RD, Homegrown & Healthy and more! I had been tinkering around with the idea of redesigning my site for quite some time and came to terms with the fact that as much as I love pretty websites, I don't really have the knack for doing it on my own. I knew I needed help. So I kept scrolling to the bottom of sites with fun designs, and guess whose name was aaaaalways at the bottom? Mmmhmmmm ahhhh shhhhheeee… it son! that'd be the talented Shay Bocks.
I thought the re-design would take a million years but it went super quick! Shay is so easy to work with, is so sweet, and truly has an eye for beauty. If I lived anywhere near her, I'd ask her on a lady date.
So check up on it, take a gander around…have a looksy into my fancy new recipes page layout! Love the visuals, love me some Shay! There are a couple of pages that are under construction (due to yours truly) but aside from that, this is now where I be. And I couldn't be happier!
Okay, SALMON!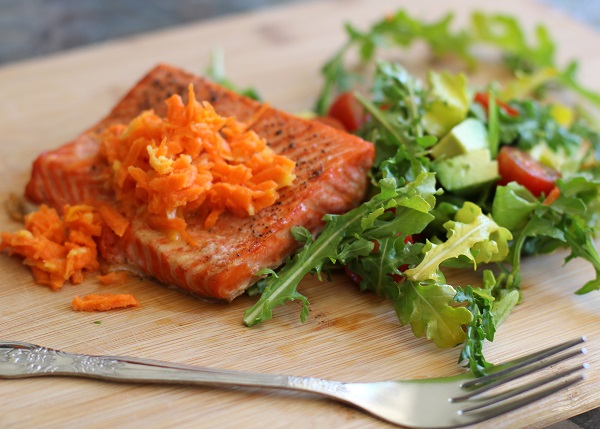 Over the holiday week…end I went to my mother's in the mountains and made this Crispy Salmon and Arugula Salad with Carrot-Ginger Vinaigrette from Cooking Light Magazine. In spite of living with pork-and-beef-loving-man-cake, my favorite animal protein tends to be on the seafood side of things. Tack on some ginger, and I'm sold down the river.
You'll notice the recipe involves Carrot-Ginger vinaigrette, which would necessitate a food processor or blender that's not more than 50 years old in the real world. This is the perfect example of how mountain land differs from real land. Mountain land smoothies are….chunky. Mountain land homemade vinaigrettes are…relish. In my defense, I did put all ingredients in said 58-year-old blender and gave a real go at stopping, stirring, starting, cursing, repeating, hand-throwing and f-bomb-dropping….and in spite of my futile efforts, what I got is what you see in the picture. Relish. And It's wonderful!
This recipe is simple, yet unique and nothing but great for you. It is perfect for any night of the week. The carrot-ginger vinaigrette makes a fantastic relish and the whole thing can be yours in less than 30 minutes.
Thank you, my dear friends, for all of your kind words regarding my second cookbook, Let Them Eat Kale!. I feel lucky to have you around and your support is so valuable to me!
Crispy Salmon with Carrot-Ginger Relish
Print
Ingredients
For the Carrot Ginger Relish:
½

cup

grated carrot

2

teaspoons

fresh ginger

grated

1

tablespoon

olive oil

2

teaspoons

rice vinegar

Zest of 1 orange

3

tablespoons

fresh squeezed orange juice
For the Salmon:
2 6-

ounce

salmon fillets

1

teaspoon

coconut or olive oil

Sea salt and pepper
For the Arugula Salad:
4

ounces

baby arugula

about 6 cups loosely packed

1

cup

cherry tomatoes

halved

1

avocado

pitted and diced
Instructions
To Prepare the Carrot Ginger Relish:
Combine olive oil, rice vinegar, orange juice and orange zest in a small bowl and whisk together.

Add the grated carrot and ginger and stir everything together. Set aside.
To Prepare the Salmon:
Line a cookie sheet or baking dish with aluminum foil and put the oven on the high broil setting.

Coat the fish in about one teaspoon of coconut oil or olive oil and sprinkle with sea salt and pepper.

Broil fish on high for 8 to 10 minutes or until cooked in the middle and crispy on the top.

When the salmon is ready, plate it with half of the carrot ginger relish on top. You can pour some of the juices from the carrot ginger relish over the fish, but this vinaigrette should also be used for the arugula salad.
To make the arugula salad:
Combine all salad ingredients in a salad bowl.

Toss the salad together with the vinaigrette from the carrot relish.