Crispy Curried Salmon with Basil Coconut Rice is a marvelously flavorful, comforting dinner recipe. Packed with protein, healthy omega-3 fats and complex carbohydrates, this recipe makes for a well-balanced meal.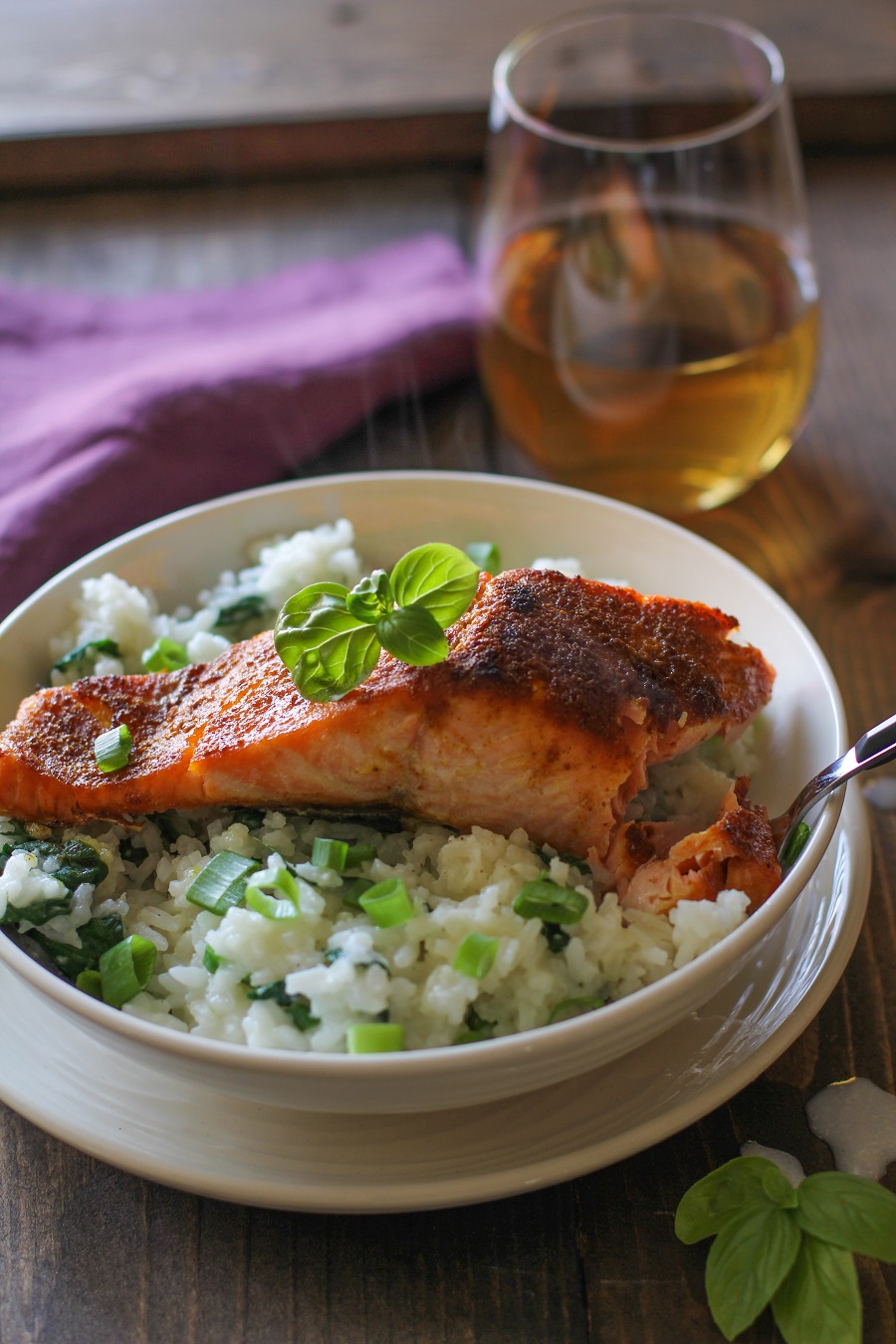 Is there such a thing as mid-week food blues?
Seems to me, I start each week with the best of intentions: with salad (and/or other rabbit-foodly foods). But by the time Wednesday hits, all's I want to do is park my knives, exit the kitchen – nay, the premises – and go on a foodscapade (<- which translates to driving to the nearest, largest, shredded beefliest, cheesiest, wettest wet burrito in town and tossing all aspirations for clean eating out the window).
While turning into a rebellious sultry burrito maven every Wednesday (through Sunday) is a delicious way to be, I've been trying to tame the take out beast and cure the mid-week food blues by coming up with satisfying meals that are still fun, spunky, and easy as sin to throw together on a whim. Enter this.
Salmon with rice and some greens is basically my idea of the perfect dinner. Carbs, protein, vitamins…all you need to make you feel full and satisfied, yet light and clean. Throw in some exotic spice like the yellow curry powder you always keep in hearty supply and badda bing badda boom: easy, cheap, fancy, much sexier than mid-week giant wet burrito mongering.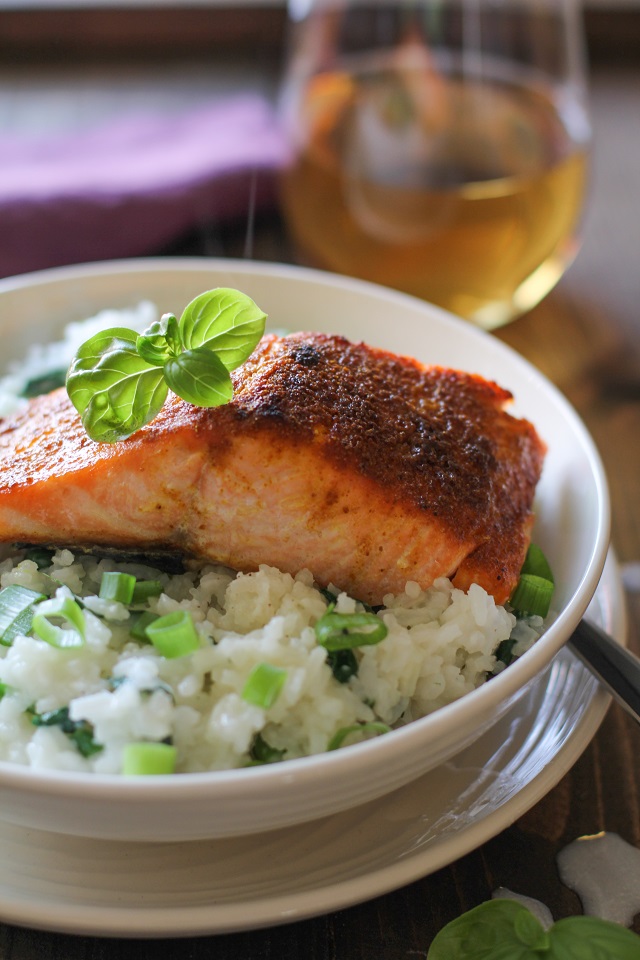 If you've been around The Roasted Root for a while, you know my favorite way of preparing salmon is broiling it. The process takes no time at all and the result is always amazing – a crispy exterior with a moist, perfectly cooked interior. All you do to make it happen is drizzle the salmon with olive oil, give it a generous sprinkle of your favorite spices, dried herbs, and salt, and broil it on the top shelf for 10 to 15.
To make this a super simple endeavor, I just used yellow curry powder and some sea salt. You can incorporate your favorite spice rubs, or even just do a lemon, salt, and pepper shebang.
Coconut rice…have you been down this road before? If not, I highly recommend you give it a go. All's it is is cooked rice + full-fat coconut milk + a sprinkle of salt. To add even more flavor, I sautéed garlic, green onion, and spinach to incorporate into the rice, and also gave it a drizzle of lime juice. If you want to get frisky, you can add liquid aminos, soy sauce, miso paste, and/or wasabi.
Altogether, the whole meal takes less than an hour to prepare, and if you're using leftover cooked rice, you can shave the prep time down to 20 – 30 minutes – perfect for any weeknight, but also a marvelous date night meal. This crispy salmon and a big heaping pile of rice is also my go-to on weekends after a long trail run, hike, or bike ride. It replenishes the carbs burned and re-fuels the protein tank.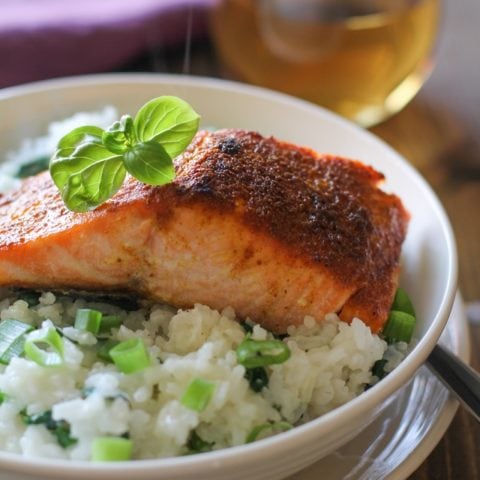 Crispy Curried Salmon with Basil Coconut Rice
Crispy Curried Salmon with Basil Coconut Rice is a marvelously flavorful, comforting dinner recipe. Packed with protein and healthy fat.
Ingredients
1 pound salmon filet, cut into 2 or 3 strips, .75 to 1-
1 tablespoon curry powder
For the Basil Coconut Rice
3 cups cooked white rice
3 cloves garlic, minced
3 green onions, chopped
¼ cup fresh basil, chopped
1 heaping handful baby spinach
2 tablespoons fresh lime juice, to taste
Instructions
Prepare the salmon:
Put the oven on the high broil setting and move one of the racks to the top shelf. Lightly oil the bottom of a casserole dish.
Drizzle the salmon with oil (about 1 to 2 tablespoons), then sprinkle each piece generously with curry powder. If your curry powder does not contain salt, sprinkle with sea salt as well. Place salmon on the top shelf of the oven and broil for 10 to 15 minutes, until crispy and cooked through.
Prepare the coconut rice:
While the salmon is cooking, prepare the rice. Add the coconut milk to a saucepan and heat to medium-high. Add the garlic and green onion and cook until fragrant, about 3 minutes. Add the basil, spinach, and lime juice and continue cooking until spinach has wilted. Add the cooked rice, stir everything together until well combined, and continue cooking until rice is heated through, about 5 minutes. Add sea salt to taste and hot sauce if desired.
Serve salmon with basil coconut rice
Nutrition Information
Yield

2
Serving Size

1 grams
Amount Per Serving
Unsaturated Fat

0g