Cobb Salad with homemade green goddess dressing, avocado, bacon, blue cheese or feta cheese, cherry tomatoes, and fresh crisp greens. An easy, filling, and nutritious meal that can be made any night of the week.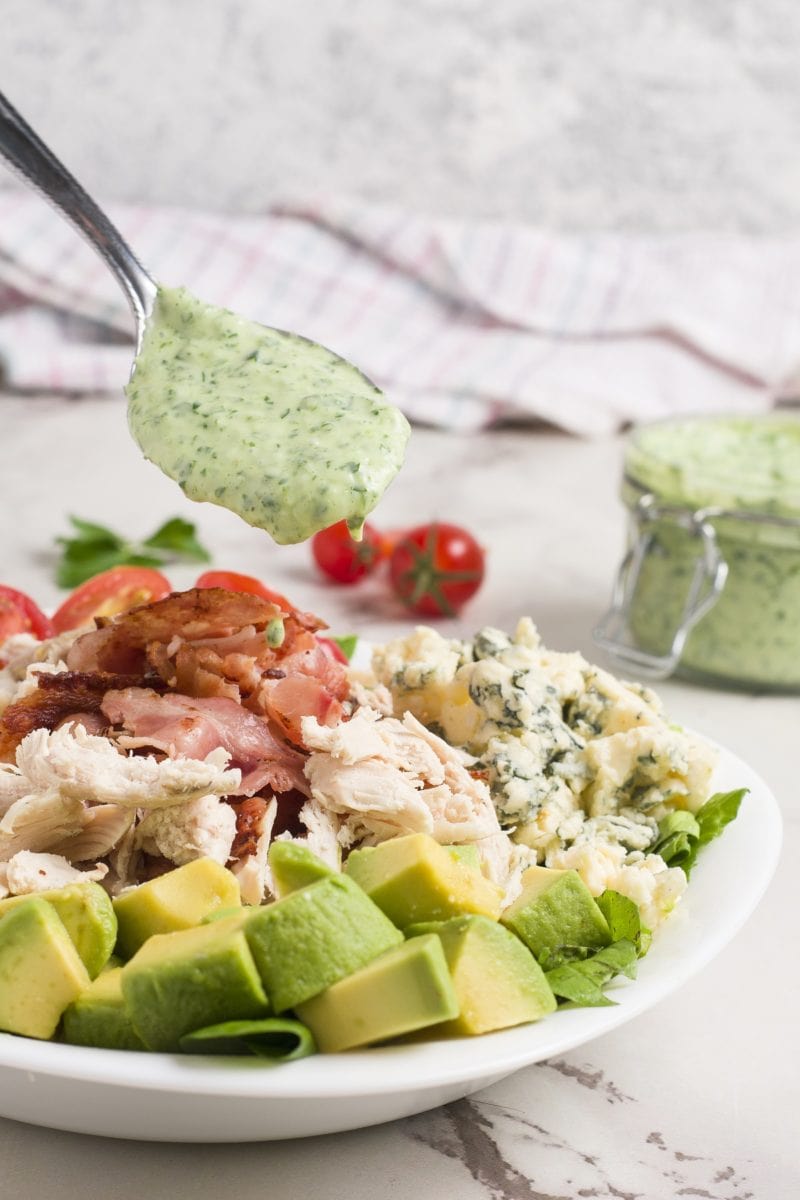 I assume we've all enjoyed the famous Cobb Salad at a restaurant, but have you made it at home?
Homemade Cobb Salad is a major upgrade from many of the classic Cobb salad recipes you'll find in restaurants.
The quality of the ingredients as well as the portion and type of ingredients is under your control for optimal freshness and flavor.
It's the tenderness of the chicken, the generous portion of crispy bacon and creamy avocado, and the dressing that really does it for me!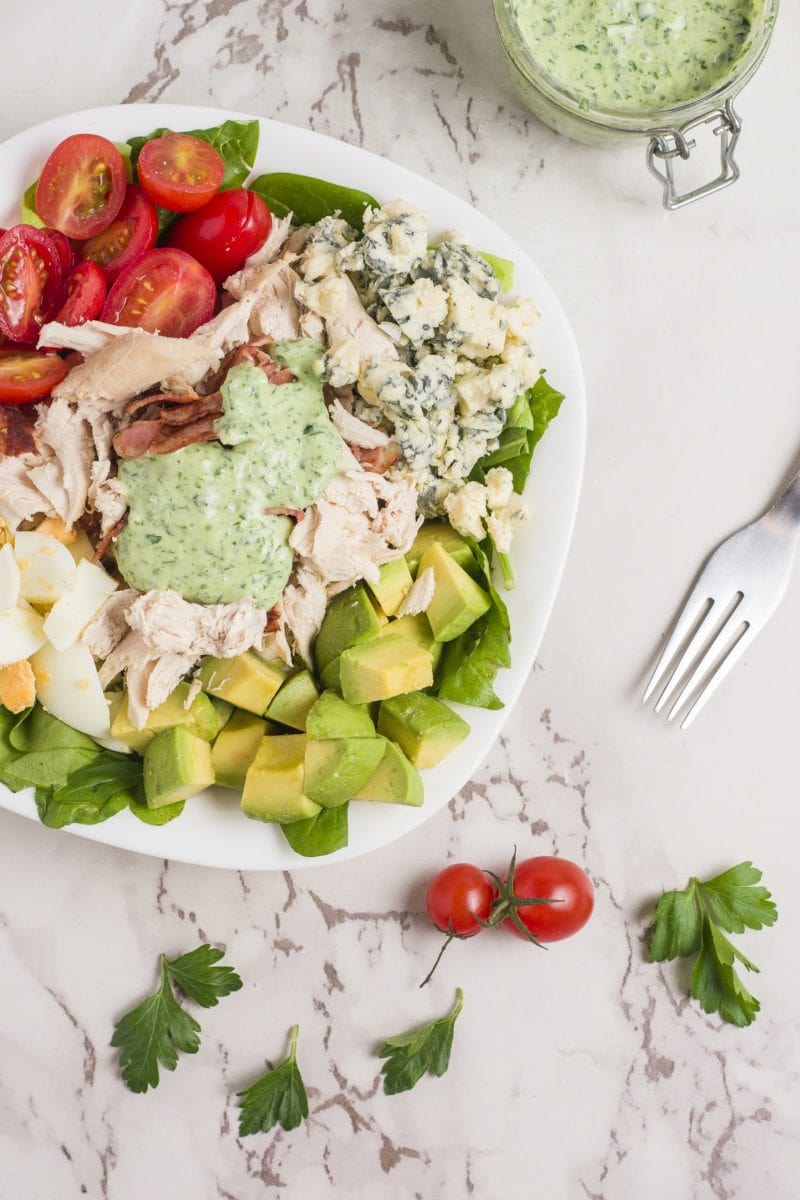 What is Cobb Salad?:
In case you're unfamiliar with it, Cobb Salad includes cooked chicken, bacon, hard-boiled eggs, cheese (often cheddar or blue cheese), and a variety of vegetables served on a bed of greens.
Cobb Salad originates from a restaurant in Hollywood, CA in 1937. Legend has it the owner, Bob Cobb (what a name!) created the Cobb salad during the late night or early morning hour while he was pulling random ingredients out of the refrigerator.
And so, in a torrent of refrigerator cleanout, the most amazing salad in American history was born.
Since then, many restaurants and individuals have found inspiration to create their own unique Cobb salad recipes.
I love adding avocado and either blue cheese or feta cheese, because I find both provide that creaminess and tanginess that I find so enticing in salads.
You can add goodies like chopped or grated carrot, cucumber, sprouts, chives, red onion, green onion, and more if you'd like!
Traditional Cobb Salad is served with Ranch or Blue Cheese Dressing, but I got a wild hair and whipped it up with my Mayo-Free Green Goddess Dressing.
The end result is a filling, fresh salad with a remarkably creamy healthier herb-infused dressing to tie it all together into one blissful meal.
While Cobb salad isn't a new culinary adventure for most people, a straight-forward and familiar meal can be just the ticket to a pleasant evening in.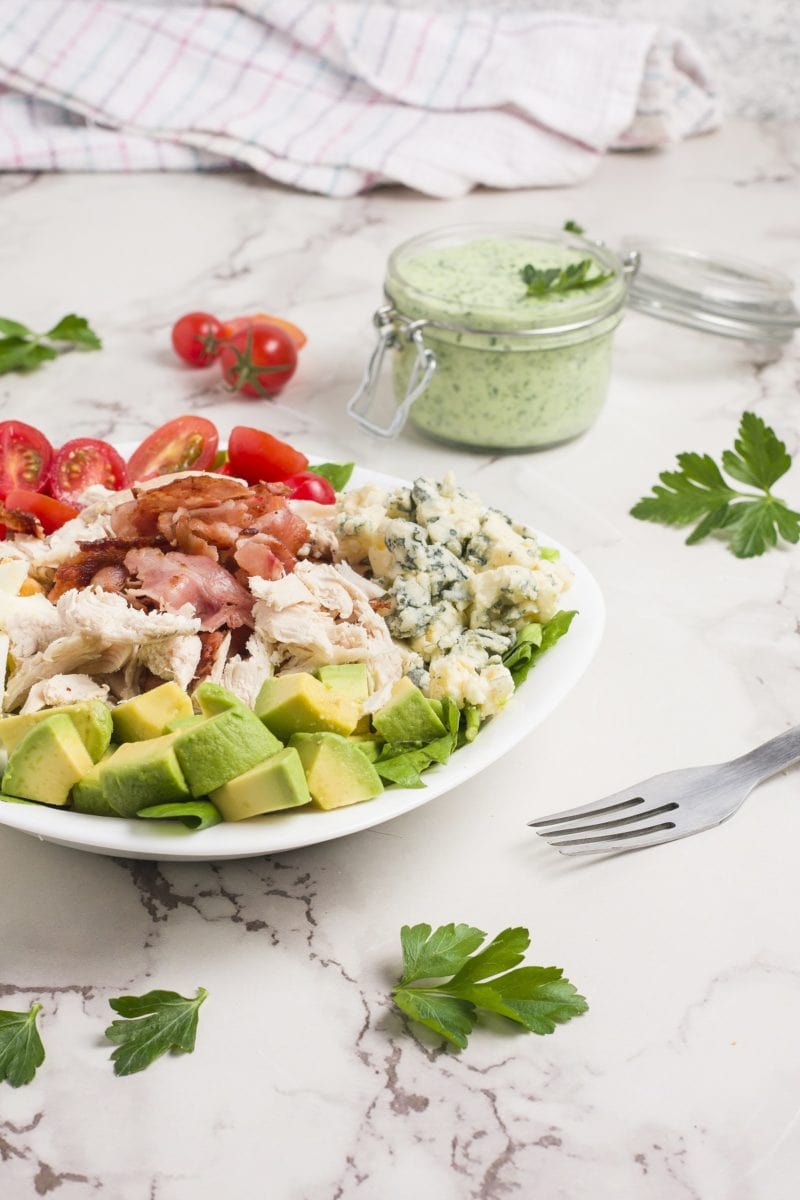 Why This Recipe Works:
Between the avocado, feta (or blue cheese if you can dig), hard-boiled egg, chicken, and the bacon, there is a bounty of flavor, texture, and protein. This is a meat lover's salad, fit for a even the most masculine man.
Just tell him there's bacon.
Plus, healthy Cobb salad is completely customizable so you can add your favorite proteins and fresh produce depending on what you're feeling and what's in season.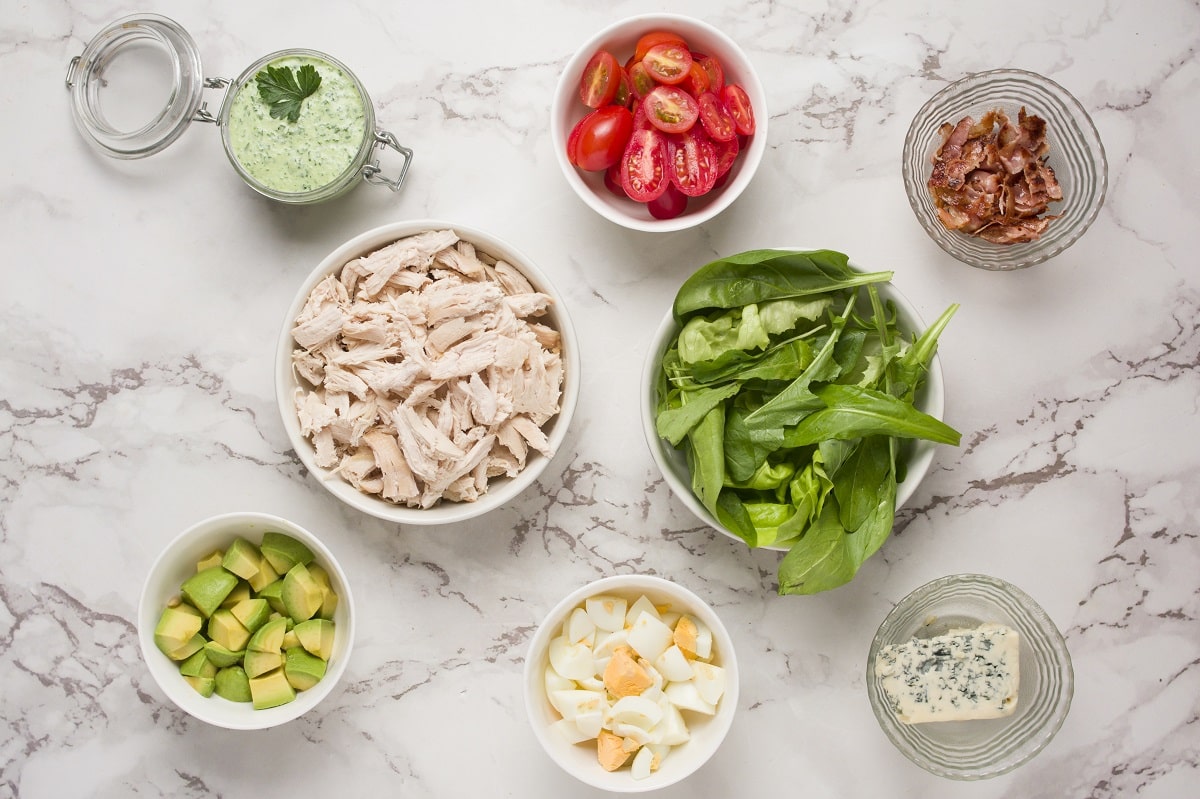 Let's discuss the fresh ingredients in Cobb salad!
Ingredients For Cobb Salad:
Chicken breast, crispy bacon, hardboiled egg, greens, and some form of cheese are the main staples of a traditional Cobb Salad recipe.
There are many ways we can go about these ingredients!
For instance, if you want to save yourself some time, you can do what I do when I don't feel like cooking and buy a rotisserie chicken from the store instead of cooking a chicken breast.
Don't tell the food blog authorities I encourage this.
As an alternative, you can use chicken deli meat or turkey deli meat, which is often the approach to restaurant-style Cobb salads.
When it comes to bacon, I always go with a quality thick-cut bacon, which I find provides the best flavor and texture.
Because I like dark leafy greens for an infusion of vitamins, I always use a spring mix, spinach, or power greens mix for the lettuce portion. If you prefer romaine lettuce or iceberg lettuce, feel free to make the swap!
Advance Prep:
If you love making recipes in advance to assemble them when you're ready to eat, you'll love this easy Cobb Salad recipe because there is plenty of opportunity to cook ahead.
Prepare the chicken, cook the bacon, prepare the dressing, and boil the eggs up to 5 days ahead of time and store them in a separate airtight container in the refrigerator.
Once you're ready to make the salad, simply chop everything up and enjoy!
How To Make Cobb Salad:
Make The Dressing:
Begin by making the dressing (or skip this step if you're using store-bought dressing). To do so, simply blend the ingredients for the dressing in a food processor or a small blender until it reaches your desired consistency.
Add sea salt and lemon juice to taste. Transfer the dressing to a jar or airtight container and refrigerate until ready to use.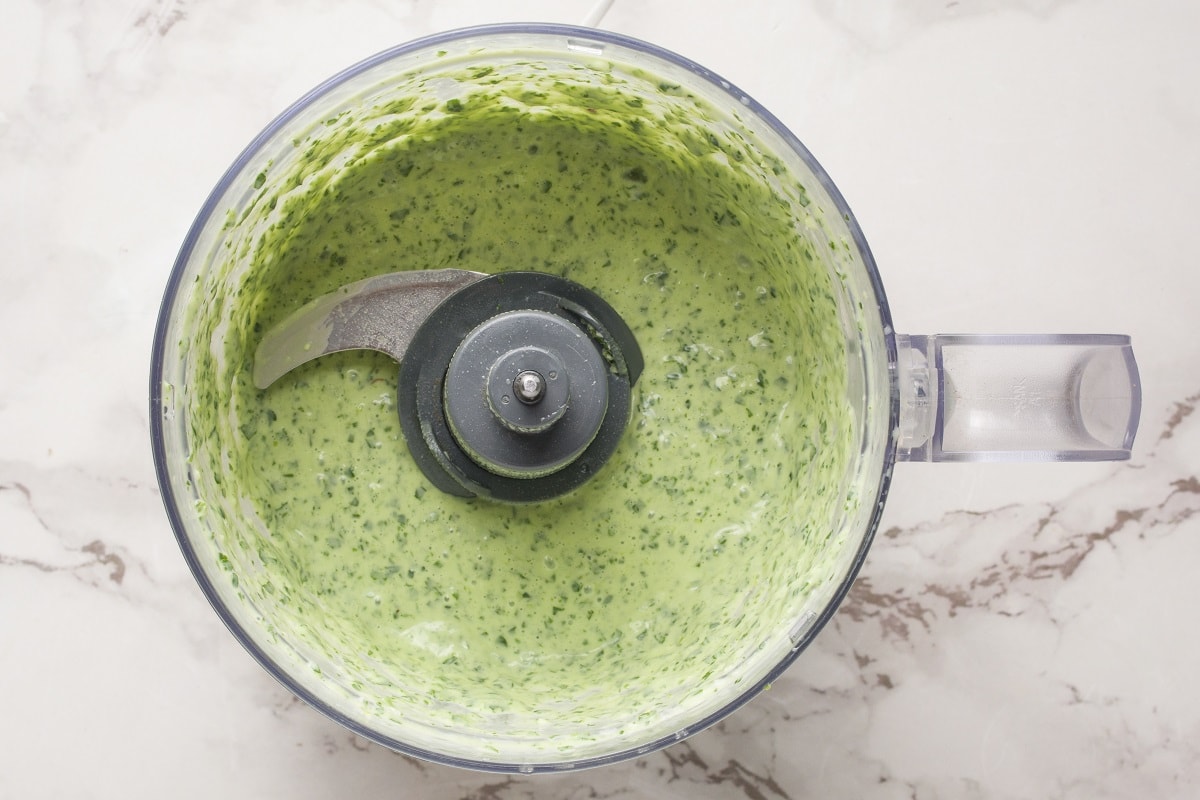 Cook the Eggs:
Because the eggs need some time to chill, I cook them early on in the process so that they can cool off while I'm preparing the rest of the recipe.
Hard boil them on the stove top for 10 minutes then immediately transfer them to an ice bath to chill for 15 minutes, or follow my instructions for Air Fryer Hard Boiled Eggs.
Cook The Chicken:
Prepare the chicken according to your favorite cooking method. You can make poached chicken, grilled chicken, baked chicken, or buy pre-cooked chicken from the store.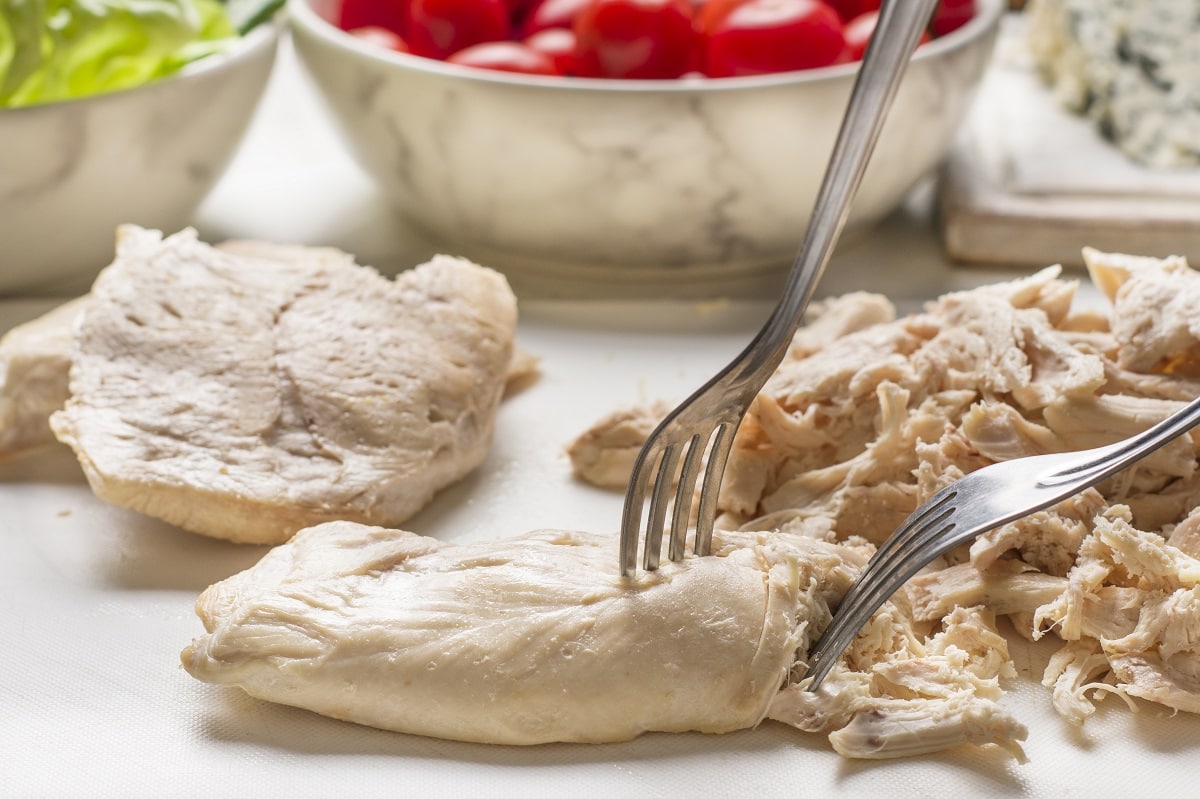 Assemble the Salad:
Transfer the greens or lettuce of choice to a large serving bowl.
Chop the chicken, avocado, bacon, hard boiled eggs, and tomatoes and add them to the bowl along with your favorite cheese. I often arrange the individual ingredients in sections for visual appeal.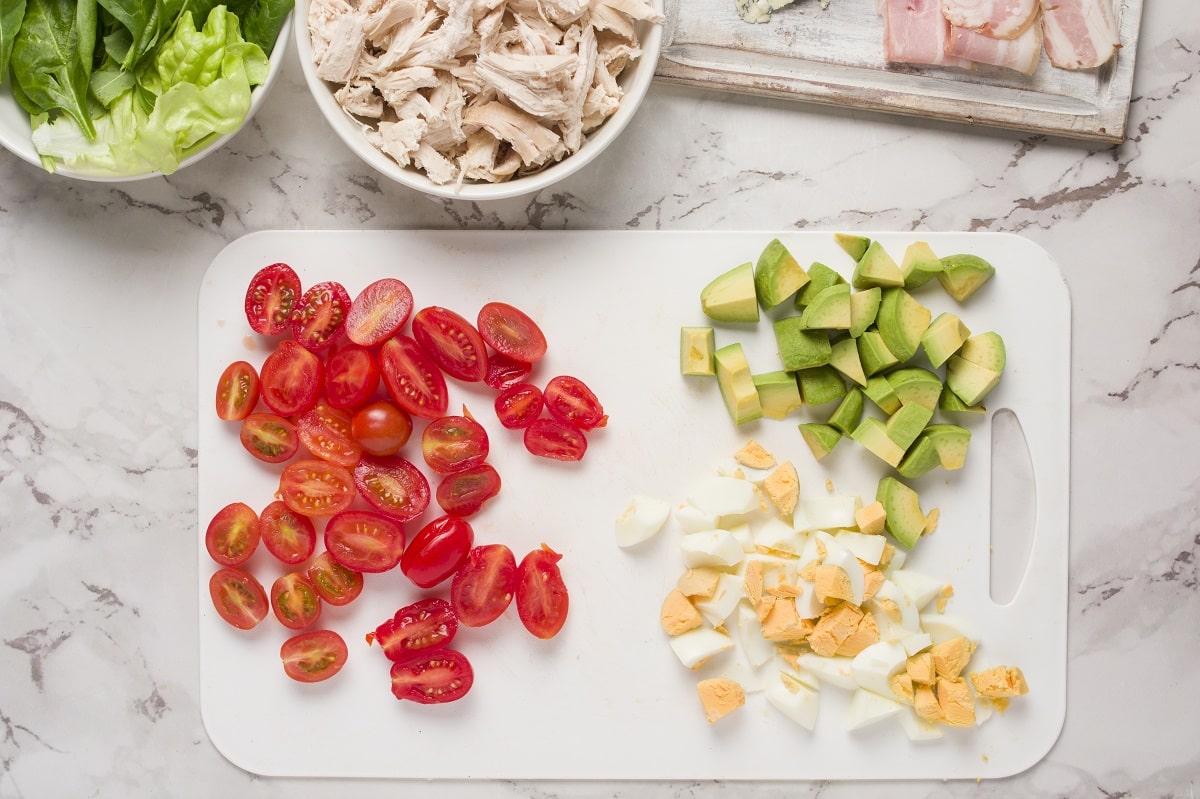 Drizzle your desired amount of dressing over the salad and serve!
You can also toss everything together until the salad ingredients are well-combined and everything is coated with dressing.
As an alternative to making one huge salad, you can have your guests create their own individual cobb salads, which is typically my preference.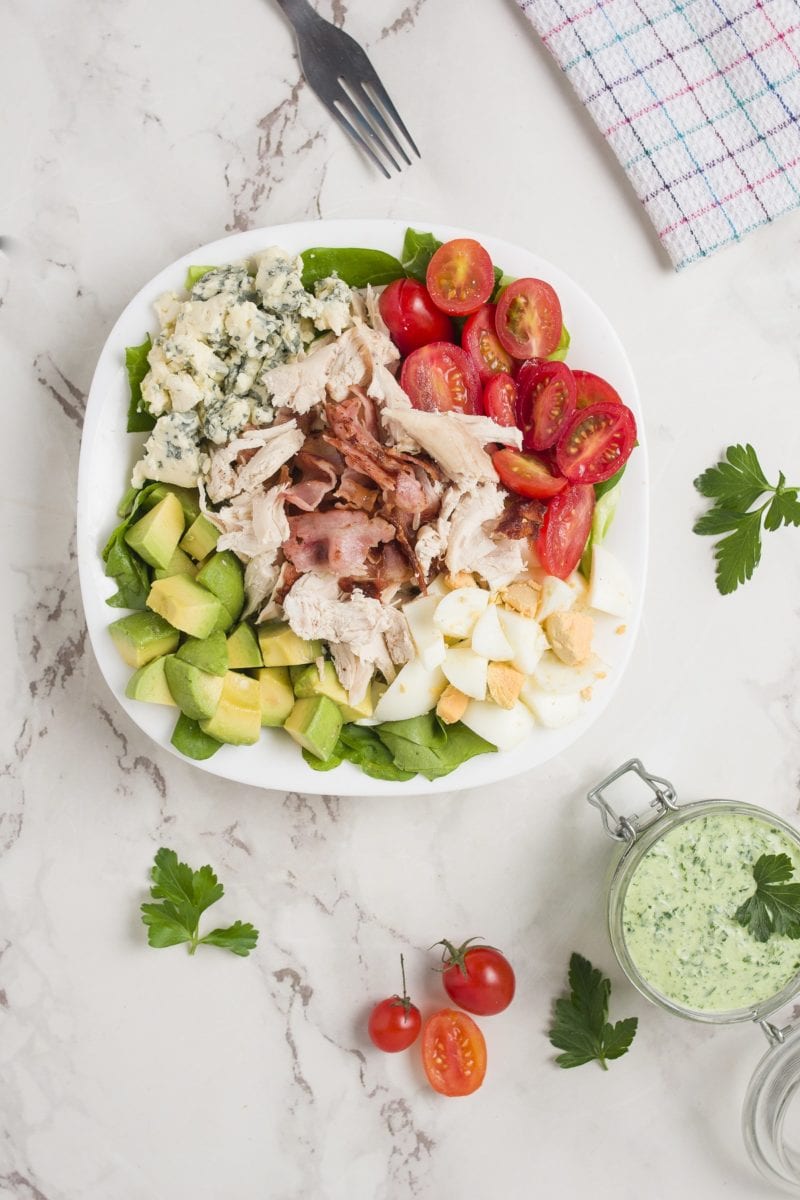 And that's it! Your ticket to the BEST Cobb salad on the planet that will surely satisfy every time.
Plus: Green Goddess Dressing. We've got to put it everywhere!
This easy Cobb Salad Recipe is how we justify combining bacon and greens.
If you love big, filling salad recipes, also try out these gems.
More Healthy Salad Recipes:
Enjoy cobb salads on repeat and let me know your favorite add-ins!
Cobb Salad with Green Goddess Dressing
Fresh, filling, and delicious Cobb Salad with Green Goddess Dressing is an absolute delight no matter the time of year! Play with the ingredients to customize your own amazing salad!
Servings:
2
to 3 Servings
Ingredients
1

boneless skinless chicken breast

cooked and chopped into cubes*

3

slices

bacon

cooked and crumbled

5

ounces

spring green mix

2

cups

grape tomatoes

halved

2

hard boiled eggs

peeled and chopped

1

avocado

peeled and diced

2

ounces

feta cheese

or blue cheese
Instructions
Prepare the Green Goddess Dressing and refrigerate until ready to use.

Boil the eggs in water on the stove top for 10 minutes, then immediately transfer to an ice bath and chill for at least 15 minutes. Once chilled, peel and chop the eggs.

Cook the bacon on the stove top until it reaches your desired level of crisp. Transfer the bacon to a cutting board and chop it once it's cool enough to handle.

Cook the chicken using your preferred method. To do so quickly, bring a few cups of water to a boil. Add the chicken and cook for 8 minutes or until cooked through. Remove from water and place on a cutting board. Chop or shred the chicken and add salt, pepper, and any other desired seasonings.

Place all ingredients for the salad (including the cooked chicken) in a large serving bowl and toss in desired amount of green goddess dressing.

Serve as an entrée, and enjoy!
Notes
You can use rotisserie chicken or deli meat to save some time.
Use your favorite store-bought or homemade dressing instead of the Green Goddess dressing.
Nutrition
Serving:
1
Serving
|
Calories:
566
kcal
|
Carbohydrates:
14
g
|
Protein:
42
g
|
Fat:
37
g
|
Fiber:
5
g
|
Sugar:
6
g
This post contains affiliate links, which means I make a small commission off items you purchase at no additional cost to you.