Fluffy and moist buttermilk paleo pancakes made grain-free and dairy-free. You'd never know this paleo pancakes recipe was made without wheat!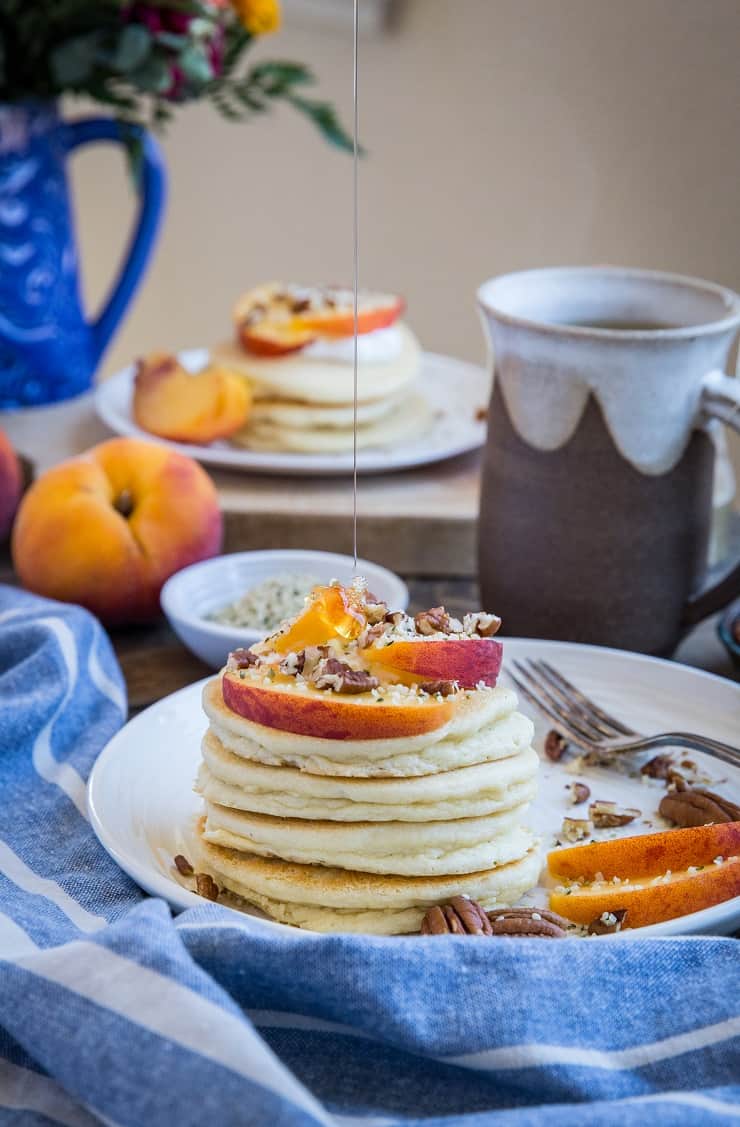 Any buttermilk pancakes lovers in the house? I feel buttermilk is one of those underrated ingredients for my generation. My mom used it all the time while I was growing up, so I maintain the fond memory of buttermilk waffles and pancakes, and homemade muffins and pastry-like treats made with the cultured milk.
Buttermilk is traditionally used in baking to help keep goods made with wheat flour soft and tender, as it helps break down gluten. Since we're not using wheat in this recipe for buttermilk paleo pancakes, the faux "buttermilk" functions more for flavor, richness, and moisture, as the pancakes are inherently soft.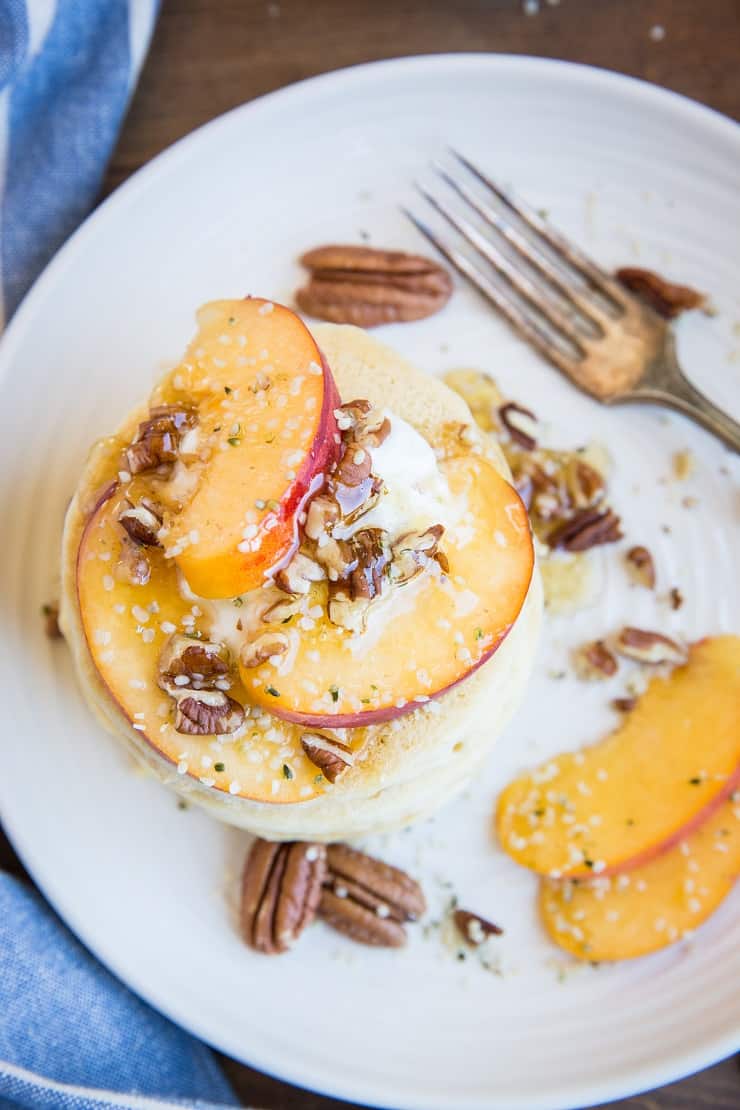 To make non-dairy buttermilk, simply combine full-fat canned coconut milk with cider vinegar and allow it to sit a few minutes. The result is a thick and tangy buttermilk-like substance that can be incorporated into your baked goods just as you would actual buttermilk.
While I'm not lactose intolerant, I certainly notice a difference in how I feel when I minimize my dairy, and as it turns out, dairy is an easy one to replace in cooking and baking. I learned how to make a dairy-free buttermilk replacement a number of years ago, and – I daresay – I haven't gone back to regular buttermilk.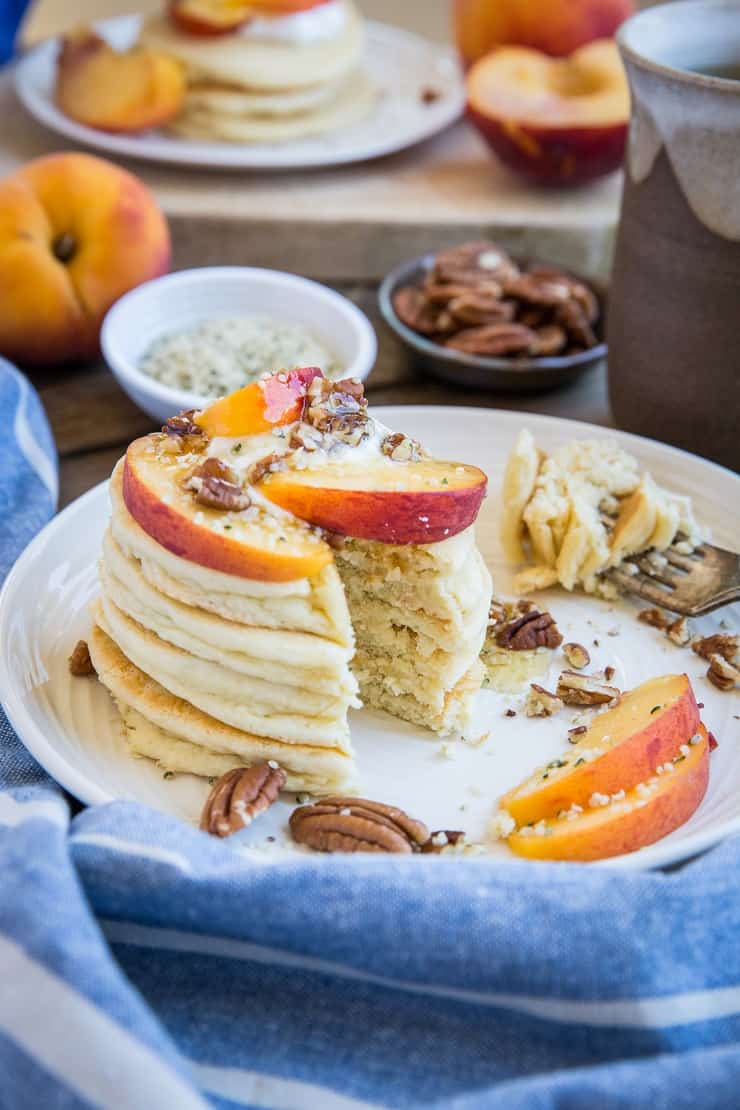 This recipe is a riff off my classic Almond Flour Pancakes recipe, simply using our faux buttermilk in place of almond milk.
Simply add all the ingredients to a blender, press the GO button, and BOOM, you have yourself some gluten-free, grain-free, dairy-free buttermilk pancake batter.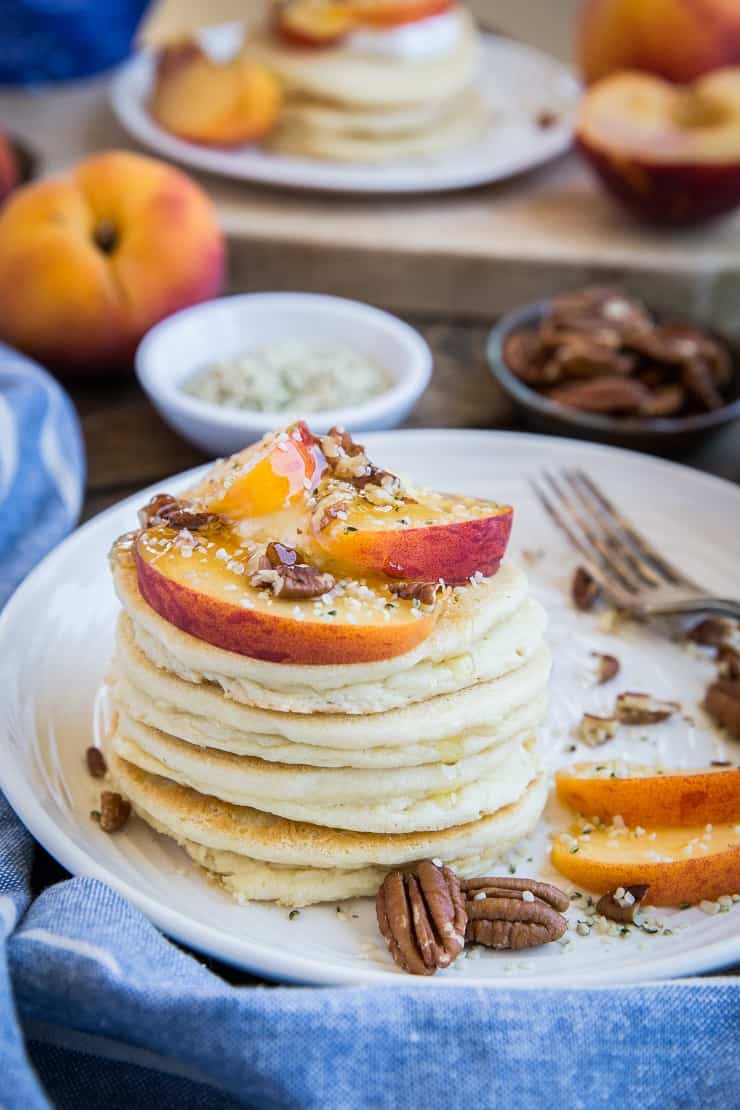 Because peaches have been surprisingly awesome in my area (they're typically a big womp womp), I served up the pancakes with fresh sliced peaches, coconut milk yogurt, chopped pecans, a sprinkle of hemp seeds, and pure maple syrup.
Per usual, you can get wild and crazy with your topping game! I'm always up for a little almond butter and blueberry action, or just plain jane grass-fed butter and pure maple syrup.
So to my non-dairy friends: I thought of you while making these pancakes…you, too, can have a buttermilk pancakes tradition. I hope you enjoy this new spin!
Buttermilk Paleo Pancakes
If you love buttermilk pancakes, you'll rejoice in this grain-free, dairy-free version! Light, fluffy, amazing flavor!
Instructions
Add all ingredients to a blender and blend until smooth.

Heat a large non-stick skillet to medium and add enough coconut oil (or coconut oil of choice) to generously coat the surface. Measure a scant 1/3 cup of batter and pour onto the hot skillet. Cook until sides begin to firm up, about 2 to 3 minutes. Carefully flip and cook another 1 to 2 minutes, until pancake is cooked through. Repeat for remaining batter.

Serve pancakes with choice of fresh fruit, chopped nuts, yogurt, nut butter, and pure maple syrup.
Notes
*You can also use unsweetened almond milk or cashew milk, but I prefer the coconut milk version.
Nutrition
More Paleo Pancake Recipes: