3 Keto Salad Dressing Recipes made with basic ingredients you probably already have on hand. Use these dressings for all sorts of green or grain salads or even as marinades for your favorite protein!
This post is sponsored by Truvia® Sweetener.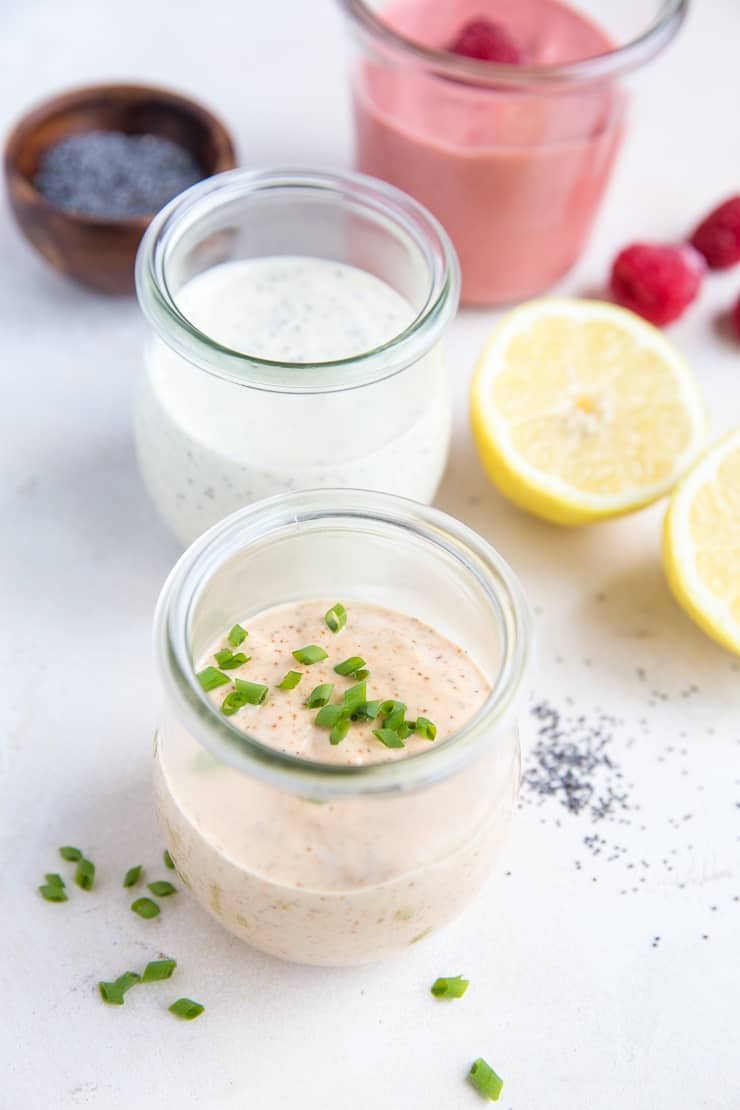 If you're anything like me and you adore big salads, you're going to love these three carb-conscious keto salad dressings!
When I first cut out cane sugar almost ten years ago, one of the first challenges I faced was there were almost zero options for store-bought dressings, marinades, and sauces that didn't contain cane sugar or corn syrup.
While adjusting to making everything from scratch was difficult at first, it became second nature. Although I currently eat natural sugars in small amounts, I still make all my dressings and marinades without cane sugar. That said, having sweetness to add to the flavor profile can be so luxurious, as simple as it sounds.
To keep these salad dressings sultry-sweet, I used Truvia's new Sweet Complete™ sweetener. Not only is Sweet Complete™ all-purpose and calorie-free but it also bakes and browns in recipes and measures cup for cup like sugar. This means it's super easy to swap into all sorts of recipes from salad dressings to baked goods or even your morning coffee.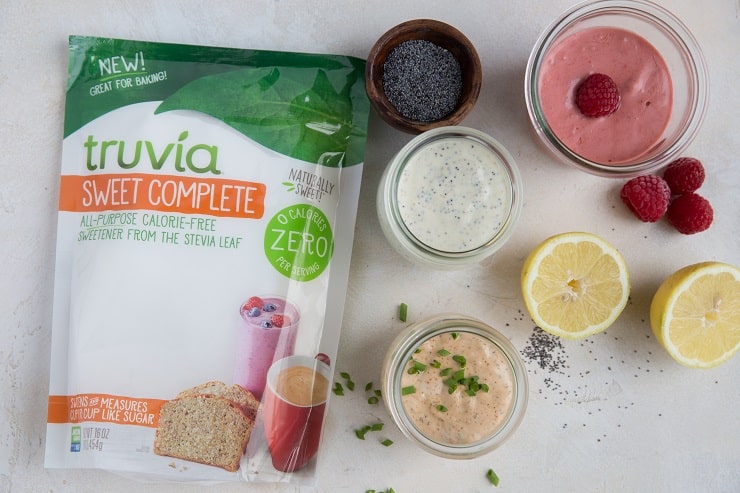 How To Make a Healthy Filling Salad:
Ever crave a salad but want to be sure you aren't hungry an hour later? I feel you! Over the years, I have come up with my own formula for entrée salads that are an absolute delight to consume, keep me full, and hit all my macronutrient needs.
I always include the following elements to ensure my meal is a marvelously filling experience.
Protein: For me, a salad is simply not filling enough without some form of protein. My personal preference is baked chicken, salmon, and/or hard boiled eggs, but you can select your protein to your liking. To keep it meatless, do a combination of brown rice and black beans or quinoa for a complete plant-based protein source.
Fat: Fat tends to bring a salad together in a flurry of deliciousness. My main source of fat in a salad is the dressing, and I often add avocado for additional creaminess. This is where this post is very helpful – having a delicious salad dressing that doesn't add extra sugar to your diet is key!
Fiber: Obtaining a good deal of fiber is easy with a salad – you get it in the form of leafy greens, vegetables such as carrots or cabbage, and any additional sources like grains, corn, or beans. Because fiber is bulky, it makes you feel full, usually includes a great deal of vitamins and nutrients, and typically does not add a great deal of calories to your meal.
Carbohydrates: Adding grains like rice or quinoa and/or fresh or dried fruit adds balance to the salad. In addition, I love the flavor, sweetness, and texture of grains and fruit! Some of my favorites include brown rice, quinoa, dried cranberries, fresh blueberries, apple, grapes, mango, pineapple, etc. If you're trying to cut back on your carb intake, you can skip the grains and fruit.
Crunch: Bonus points for palatability! I absolutely love a lot of crunch in my salad, so I almost always add nuts or seeds, such as almonds, walnuts, sunflower seeds, or pumpkin seeds.
And now for these salad dressings!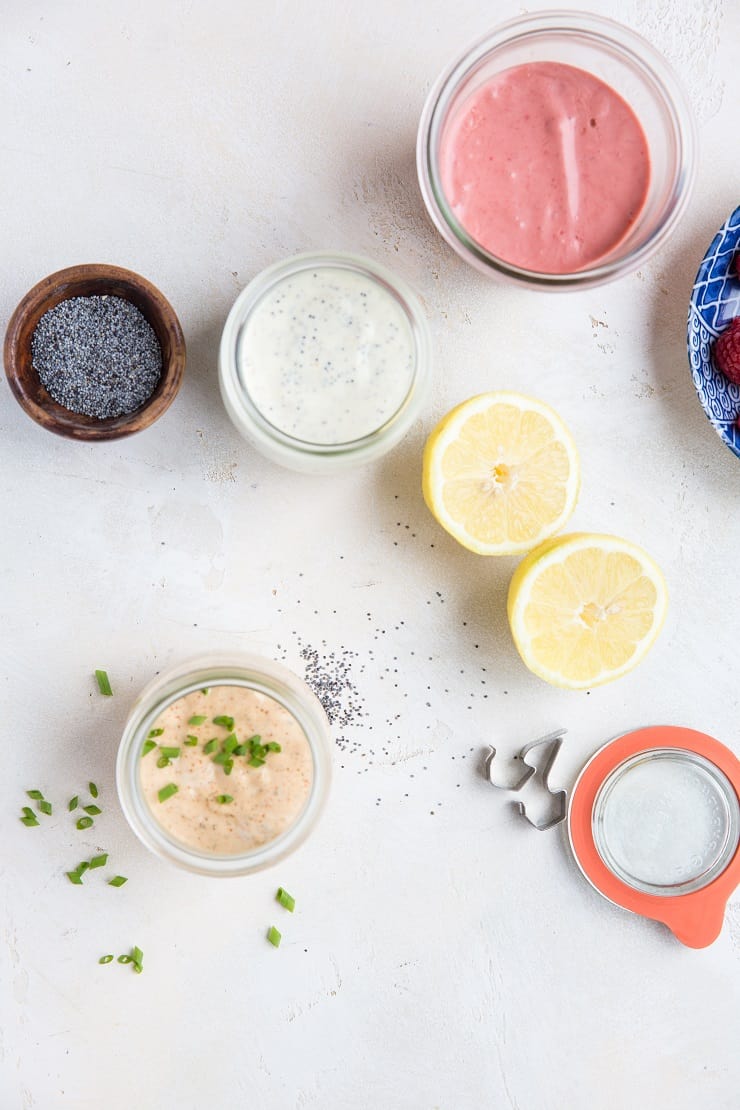 3 Keto Salad Dressings:
Lemon Poppy Seed Dressing: A combination of olive oil, lemon zest, fresh lemon juice, mustard (I like using whole grain mustard, but anything will work), garlic (omit if you're sensitive to raw garlic), Truvia Sweet Complete™, and poppy seeds. This mixture results in a citrusy sweet dressing with that delicious poppy seed flavor.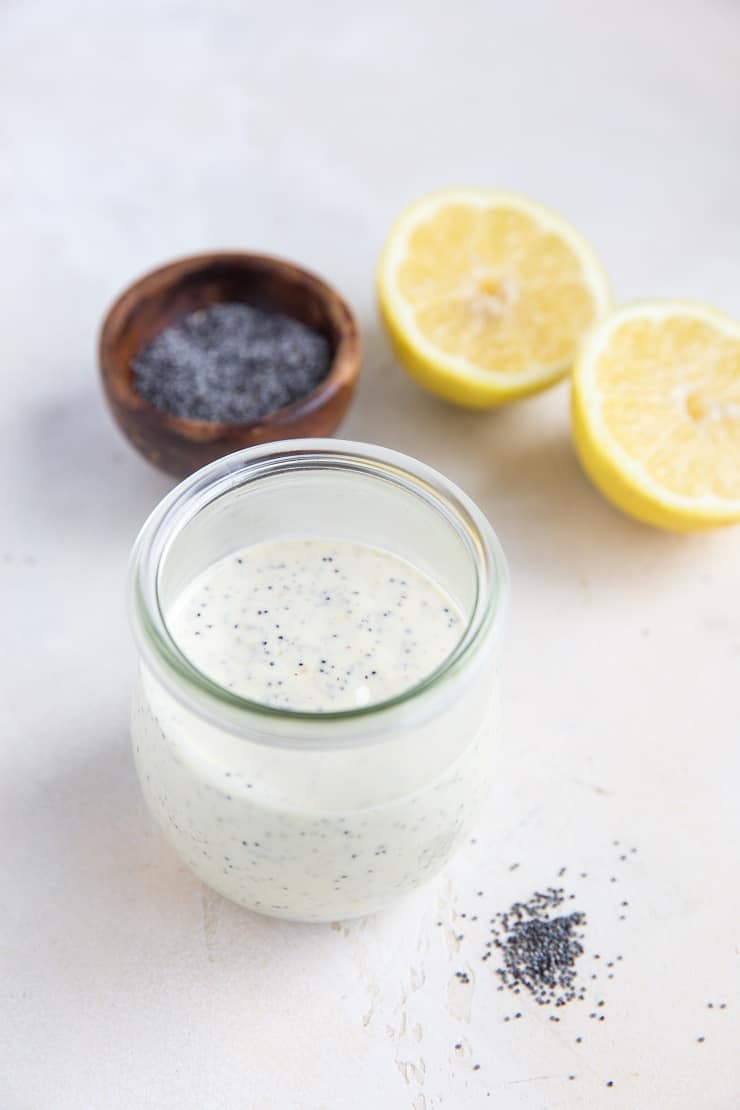 Chipotle Ranch Dressing: Avocado oil, mayo, lemon juice (or vinegar of choice), chipotle powder, a smidge of Truvia Sweet Complete™ to offset the heat, mustard, and dried herbs (chives, dill, and oregano) makes for a creamy, herbaceous, spicy dressing.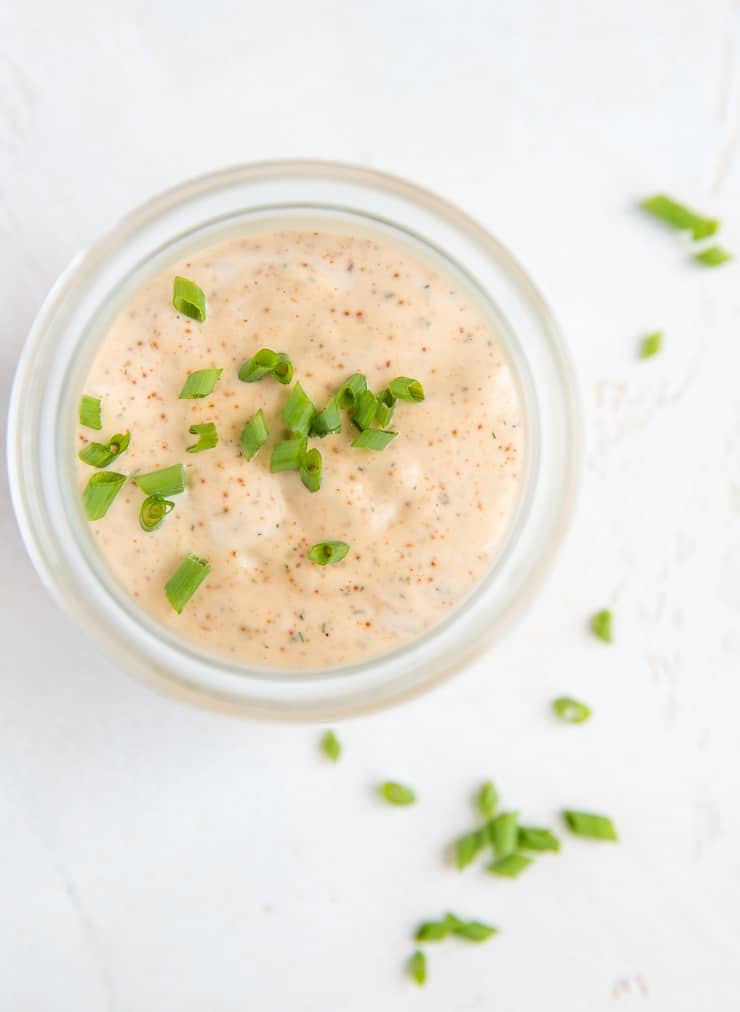 Raspberry Vinaigrette: A simple blend of fresh raspberries, rice vinegar (or vinegar of choice), olive oil, and Truvia Sweet Complete™ to enhance the sweetness. This take on classic raspberry vinaigrette is sure to be a staple in your household.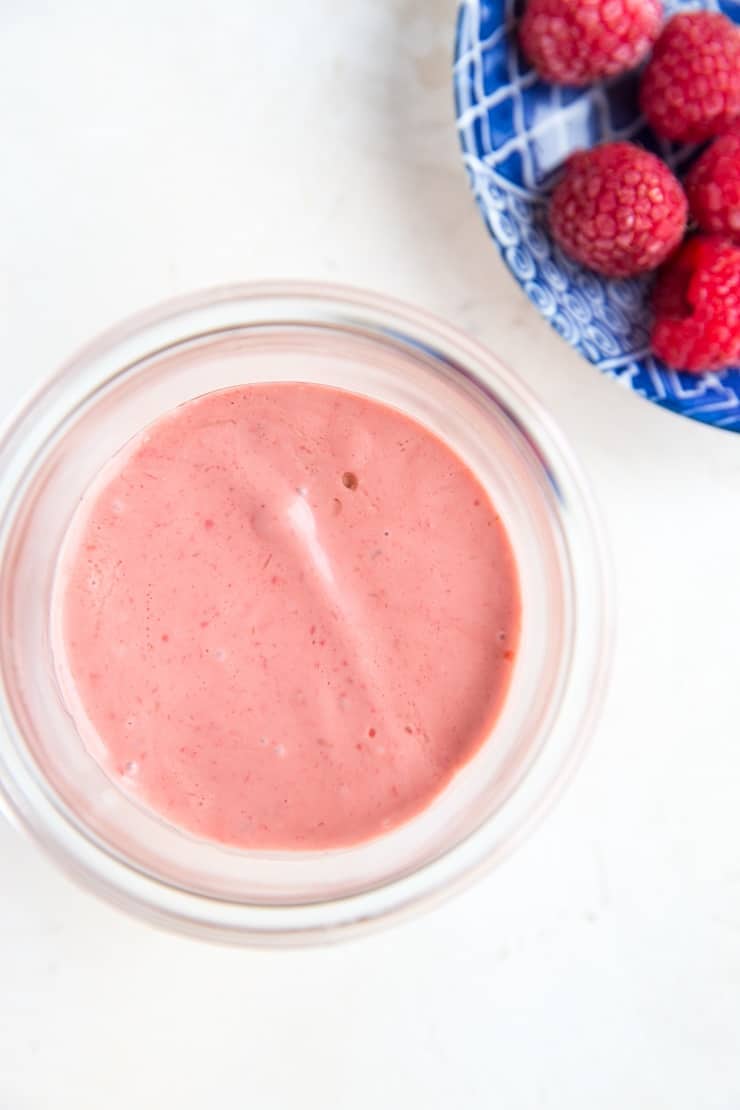 How to Make Keto Salad Dressings: In all three cases, all you do is add all of the ingredients in no particular order to a small blender and blend until completely smooth and creamy. Either use the dressing immediately or store in a sealable jar in the refrigerator for up to 2 weeks.
Note: If you like preparing dressing in bulk to save and have on hand, consider doubling or tripling the recipe of the dressing you're preparing. Each recipe makes enough dressing for 2 to 3 large salads (depending on how much you use).
Pantry Substitutions:
If you don't have fresh garlic on hand, replace 1 clove of garlic with ¼ tsp to ½ tsp garlic powder
Lemon juice and vinegar can be used interchangeably if necessary. Consider using rice vinegar or balsamic vinegar for best results.
Dijon mustard can be used in place of whole grain mustard.
Use avocado oil, grapeseed oil, and/or canola oil in place of olive oil.
Ideas for Putting Keto Salad Dressings to Use:
You can use these salad dressings on green or grain salads or use them as a marinade for chicken or fish. They also make a great saucy addition to your bowls!
Here are some recipes from my site that will be amazing with these dressings:
Try all three recipes for keto salad dressings and let me know your favorite!
Lemon Poppy Seed:
½ cup olive oil
2 tsp lemon zest
3 Tbsp lemon juice
1 Tbsp stone ground mustard
1 clove garlic or ½ tsp garlic powder
2 tsp Truvia Sweet Complete™
1.5 tsp poppy seeds
¼ tsp sea salt
Chipotle Ranch Dressing:
1/2 cup avocado oil mayonnaise
2 Tbsp lemon juice
½ tsp Truvia Sweet Complete™
1 clove garlic
1 tsp dried chives
2 tsp dried dill
1 tsp dried oregano
½ tsp sea salt, to taste
¾ tsp chipotle chili powder or 1 chipotle chili in adobo sauce
1 to 2 Tbsp water or coconut milk if you have it for thinning out dressing
Raspberry Vinaigrette
1/3 cup raspberries
1 Tbsp Truvia Sweet Complete™
1/3 cup grapeseed avocado, or olive oil
1/3 cup rice vinegar or cider vinegar
½ tsp sea salt
Pinch cinnamon, optional
Enjoy! xo