BBQ shrimp and sweet potato bowls with cabbage, rice, tomatoes, and avocado make for a well-balanced meal perfect for grilling season or any night of the week. These vibrant bowls are quick and easy to prepare and are adaptable to your personal taste.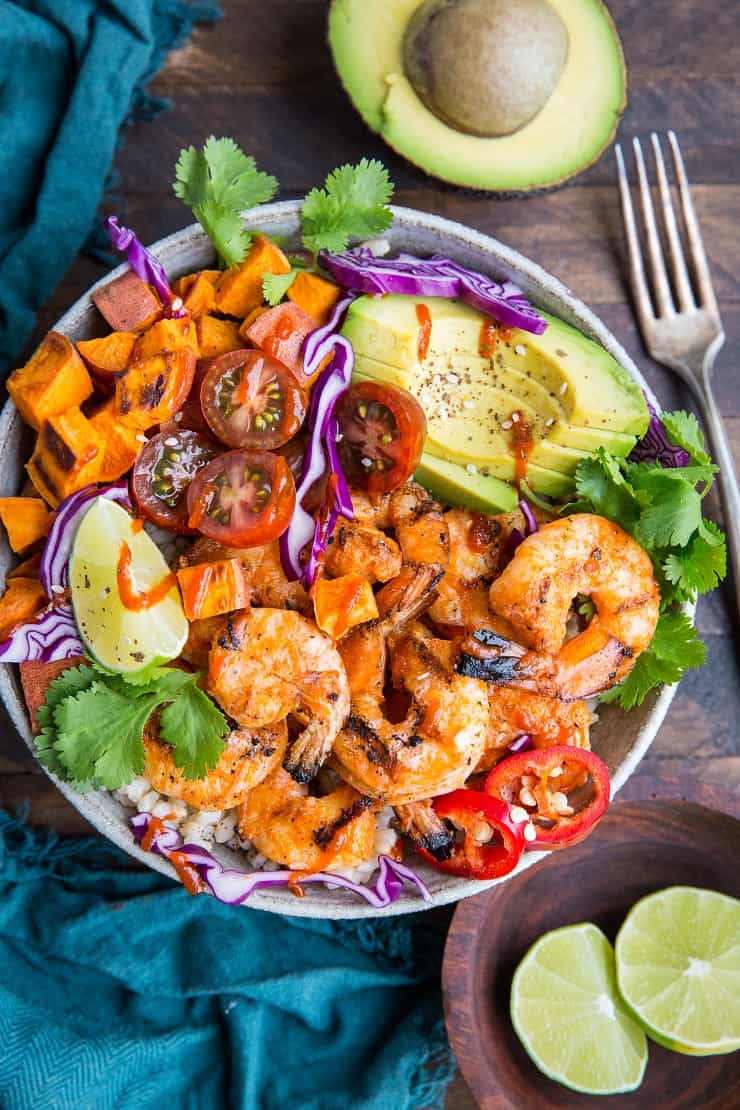 After turning in my cookbook, Paleo Power Bowls, a few of my friends asked me if I'm tired of bowl food. My answer is an immediate resounding no. For me, there's just so much to love about a big bowl of various foods coming together in a cohesive whole. This style of eating is basically my food lifestyle. I see your plate, and I raise you: ALL THE BOWLS!
One of my favorite ways of consuming shrimp is à la grill. If you've never had grilled shrimp, I guarantee it will flip your shellfish world upside down and possibly reverse it…the smoky-char magic of the BBQ is just that powerful!
The same can be applied to sweet potatoes. Sweet potatoes are one of those foods we don't typically think to barbecue, but lemme tell you: you'll love the end result!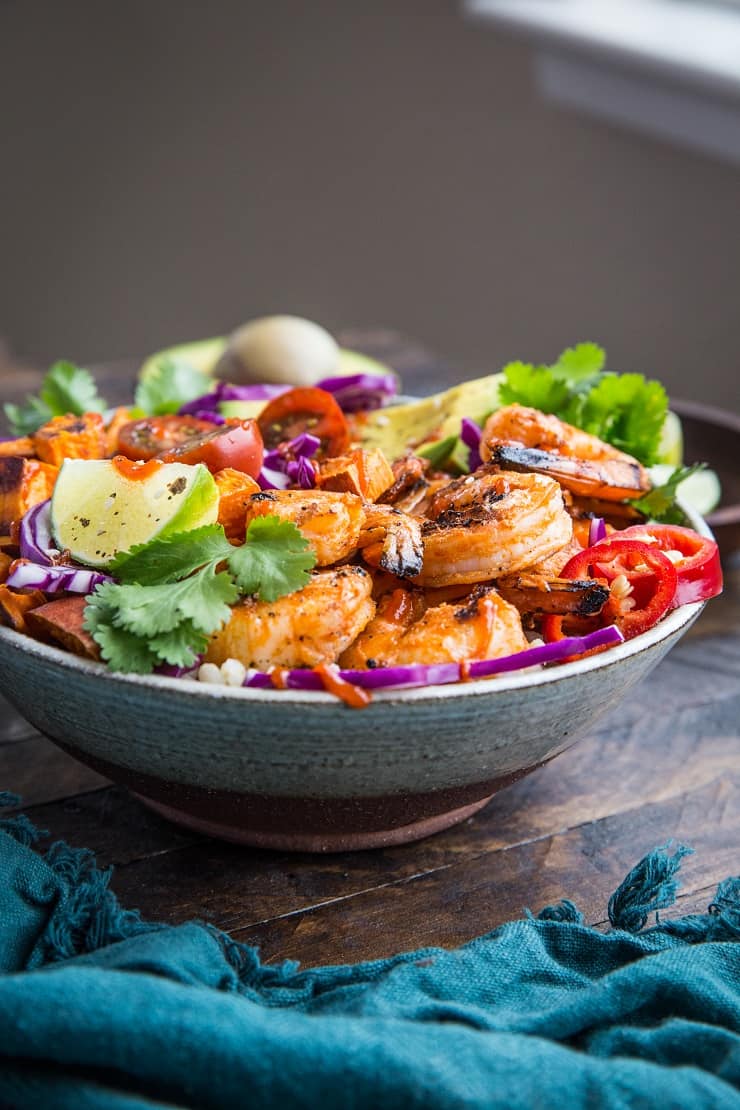 The main events here are the grilled shrimp and grilled sweet potato. Everything else is a matter of preference. I served the grilled shrimp and sweet potatoes on a bed of rice (you can do cauliflower rice, vegetable "rice" of choice, zucchini noodles, etc) with cherry tomatoes, cabbage, avocado, and a drizzle of sriracha.
You can get creative with your add-ins and sauces. For instance, incorporate grilled zucchini and yellow squash, add some fresh or sauteed spinach or kale, whip up a chipotle sour cream or chipotle mayo for some added creaminess, serve with teriyaki sauce, etc.
One of my favorite parts about this recipe is it doesn't require any advance prep. If you would like to marinate the shrimp longer, you certainly can for an even more flavor-blasted experience, but doing so is not required. Similarly, you can also par-boil the sweet potatoes ahead of time if you want to be on top of your meal prep game.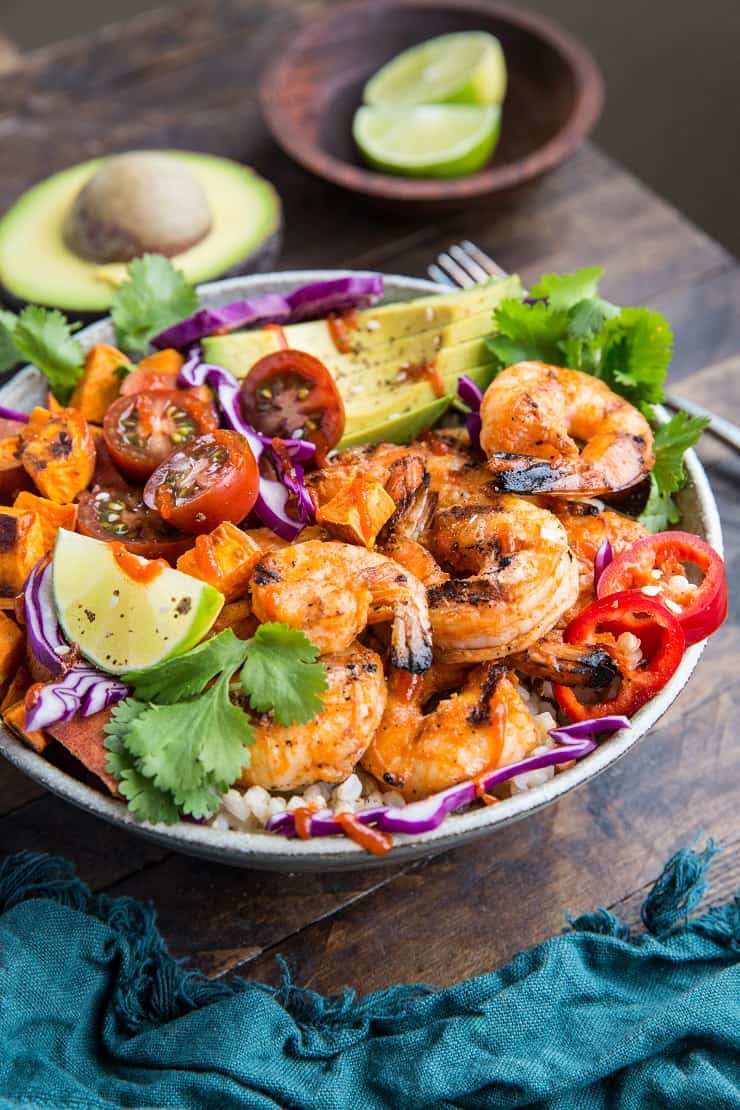 The way I see it, these bowls are perfect for your Memorial Day Weekend gathering. They have a balance of nutrients, a lot of flavor and varying textures and have that something-for-everyone appeal. If you're a year-round griller like me, bowls like these need no occasion, as they're easy to whip up any ol' night of the week.
Get your grill on!
BBQ Shrimp and Sweet Potato Bowls
Fire up the BBQ and enjoy these fresh, flavorful grilled shrimp and sweet potato bowls!
Ingredients
For the Grilled Sweet Potatoes
For the Shrimp:
1

pound

raw shrimp

peeled and deveined

1

tablespoon

avocado oil

or olive oil

2

tablespoons

tequila

optional

1

teaspoon

paprika

1

teaspoon

garlic powder

1/4

teaspoon

sea salt

to taste
For the Bowls:
4

cups

cooked brown rice

2

avocados

peeled and sliced

2

cups

cherry tomatoes

halved

2

cups

red cabbage

thinly sliced

2

fresno chiles

sliced

2

limes

sliced into wedges

cilantro

optional

sriracha

for serving
Instructions
Prepare the Sweet Potatoes:
Place sweet potatoes in a pot and fill with water. Bring to a full boil and cook 5 to 8 minutes, until potatoes have softened but are not cooked through. Transfer potatoes to a cutting board and allow them to cool enough to handle. Once cool, slice into 1/4-inch thick rounds. Coat sweet potato slices with oil and sprinkle with sea salt.
Prepare the Shrimp:
Preheat the grill to medium-high. Add the ingredients for the shrimp to a sealable bag and shake well to combine. Allow shrimp to marinate while grill is heating.
Grill the Sweet Potatoes and Shrimp
Once hot, place the sweet potato slices on the grill. Grill for 5 to 8 minutes per side, until deep char marks appear and sweet potatoes are cooked through. Transfer to a cutting board. Once cool, chop the sweet potatoes to desired size peices.

Place shrimp on the hot grill and grill 2 minutes per side, or until cooked through.
Prepare the Bowls:
Divide rice between 3 to 4 bowls. Top with grilled shrimp and sweet potato, avocado, cabbage, tomatoes, and fresno chiles, lime wedges, and cilantro. Drizzle with sriracha if desired.
Nutrition
Serving:
1
of 4
|
Calories:
625
kcal
|
Carbohydrates:
108
g
|
Protein:
36
g
|
Fat:
8
g
|
Fiber:
8
g
|
Sugar:
56
g