Turmeric Ginger Ground Turkey Bowls are packed with nutrients and antioxidants. This well-balanced bowl is packed with lean protein and fiber and you can adjust your carbohydrate intake through adding rice according to your needs.
Paleo, Whole30, keto, AIP, low-carb with a Low-FODMAP option…this bowl is great for eaters of many types. Change up the vegetables and seasonings and you'll never get tired of this meal!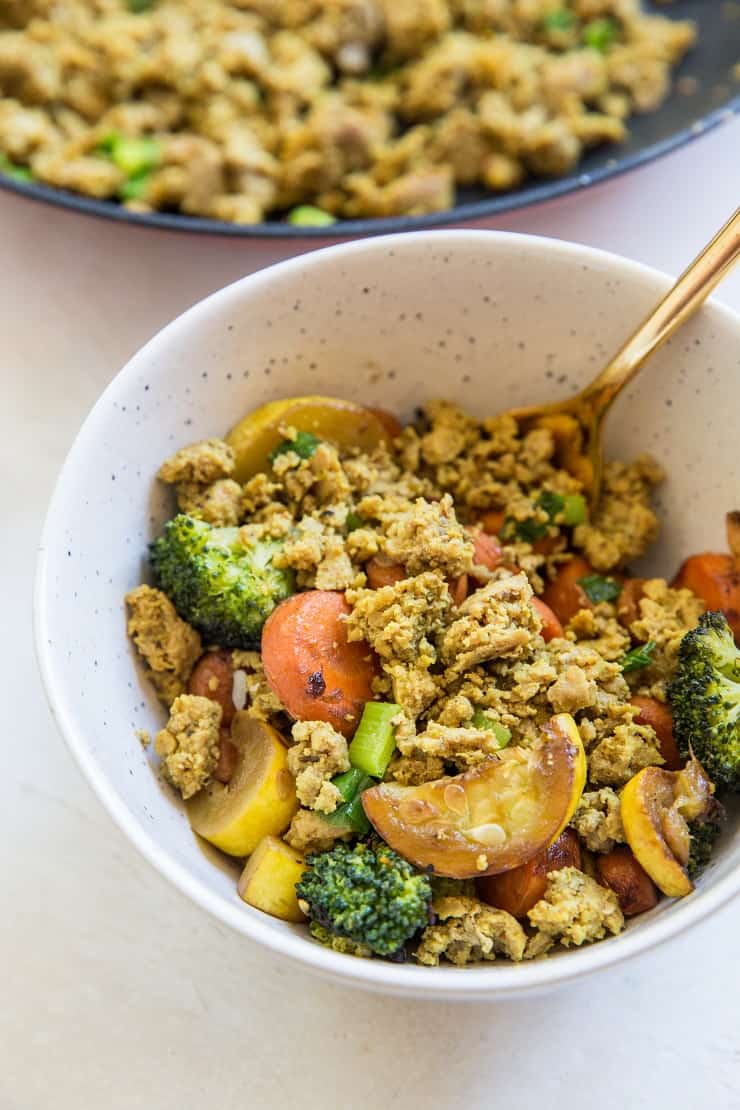 If you were wondering what a normal day of food looks like for me, this is exactly it. A big bowl with a protein and a variety of veggies on top of a bed of steamed rice. Three to four times, daily!
It may seem boring and unromantic, but it makes my body feel great – I get my protein, fiber and carbs all in one big luxurious bowl of flavor, and my fat intake usually comes in the form of dark chocolate. I know how to party 😉
What you need to know about these Turmeric Ginger Ground Turkey Bowls is they're loaded with nutrients and antioxidants. We have protein and B vitamins from the ground turkey, vitamins and minerals from the vegetables, and an anti-inflammatory antioxidant punch from the turmeric and ginger.
Add in your favorite complex carb (sweet potatoes or brown rice are my top recommendations), and you have yourself a formula for a well-balanced meal that is affordable, easy to prepare, and is incredibly versatile!
Need lots of flavor?! If you prefer your meals sexy and sultry, just add a little sauce! I suggest my Paleo Teriyaki Sauce , Green Goddess Dressing, Orange Turmeric Tahini Sauce, or Easy Stir Fry Sauce.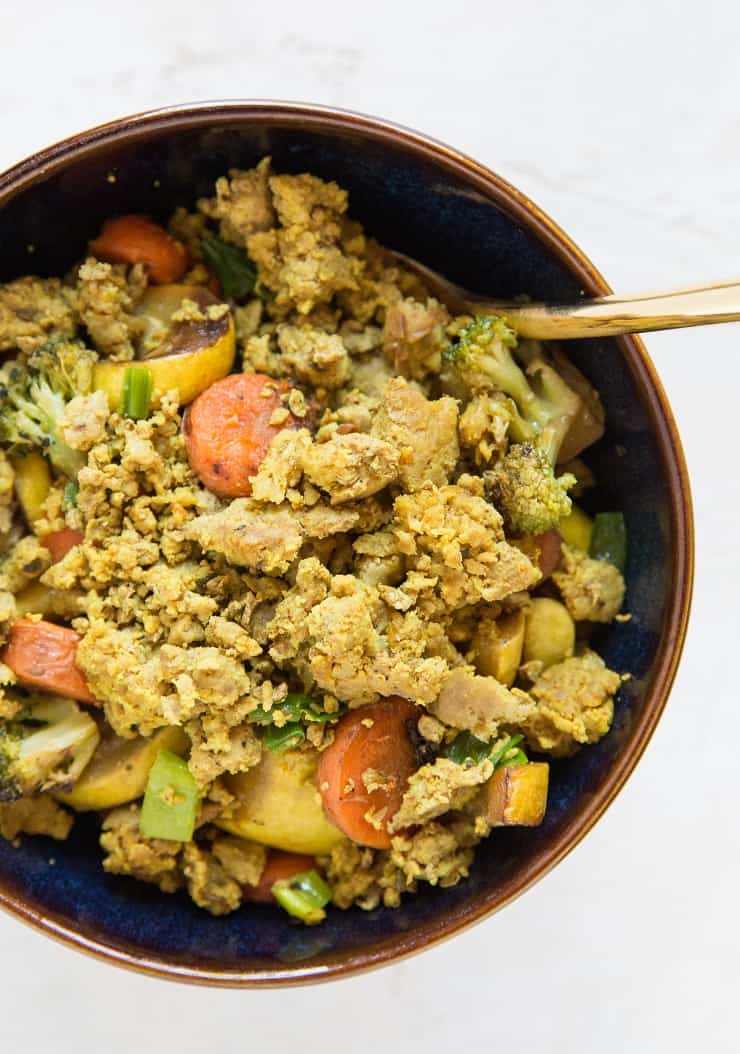 Let's make it!
How to Make Turmeric Ginger Ground Turkey Bowls:
Saute the vegetables in a large skillet or wok. You can season them with sea salt to taste and add any of your favorite seasonings. I like adding garlic powder, onion powder, dried oregano, and dried parsley. Lots of room to play with flavors here! You can also drizzle in some liquid aminos, coconut aminos, and/or your favorite sauces.
While the vegetables are sauteing, you'll cook up your ground turkey!
Cook the ground turkey in a skillet with avocado oil, ground turmeric, fresh ginger, green onion, and sea salt (if you'd like, you can add onion and garlic!). I brown the turkey in one big chunk first on both sides before adding anything else.
Once I break up the turkey into smaller pieces, I add any additional ingredients. Cover the skillet with a lid to help move along the cooking process. Pro Tip: add ⅓ cup of chicken broth to keep the turkey nice and moist.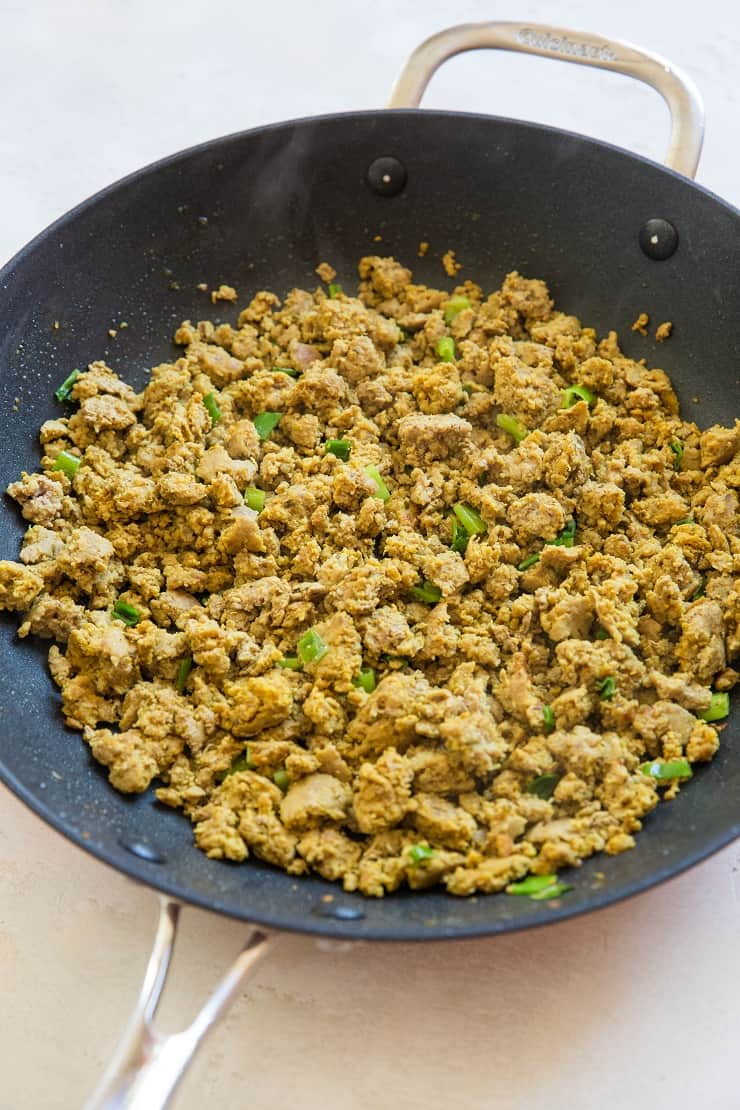 Recipe Adaptations:
Use ground beef or chicken instead of turkey.

Serve with steamed brown or white rice if desired.
If you don't follow the AIP diet, add 1/4 teaspoon of black pepper to the turmeric turkey – it will enhance the benefits of the turmeric.

Incorporate your favorite vegetables. Cauliflower, sweet potato, bok choy, bell pepper, onion and garlic are all great!

Once the vegetables have reached desired done-ness, you can add baby spinach, kale, or rainbow chard and cook until wilted for some extra green.

Make recipe low-FODMAP by omitting the onion and garlic.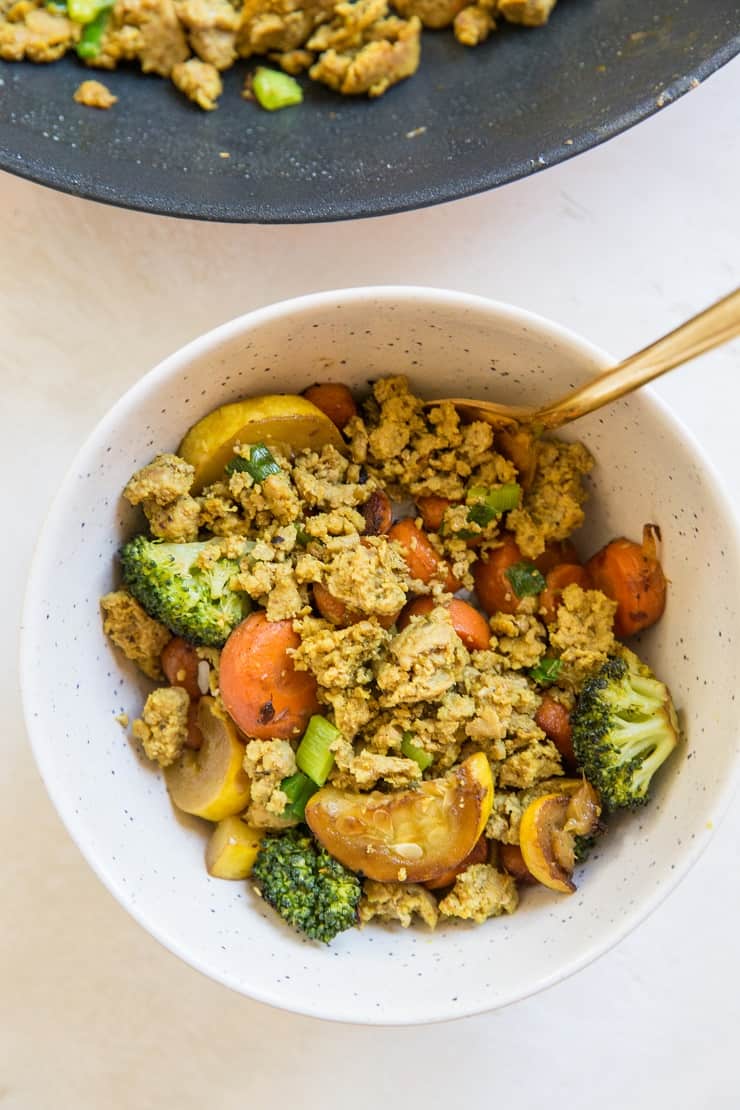 Serving Suggestions:
You can do as I do and eat this on a bed of white or brown rice, or serve with your choice of side dish. Cauliflower Rice is a great option to keep it grain-free.
Turmeric Ginger Ground Turkey Bowls
Turmeric Ginger Ground Turkey Bowls loaded with vegetables for a healthy low-carb, paleo, keto, whole30 dinner recipe
Ingredients
For the Turmeric Ground Turkey:
3

Tbsp

avocado oil

1/2

cup

yellow onion

finely chopped*

1

lb

lean ground turkey

3

cloves

garlic

minced*

1

Tbsp

fresh ginger

peeled and grated or sliced

1/2

tsp

ground turmeric

or 2 tsp fresh turmeric, grated

1/2

tsp

sea salt

to taste

4

stalks green onion

chopped
For the Bowls:
1

Tbsp

avocado oil

2

large

carrots

peeled and chopped

1

large

yellow squash

chopped

1

large

crown broccoli

chopped
Instructions
Make the Turkey:
Heat the avocado oil in a large non-stick skillet over medium-high heat. Add the onion and saute, stirring occasionally, until translucent, about 3 minutes. Add the turkey and brown for 3 minutes per side before using a spatula to break it into smaller pieces. Add the remaining ingredients and stir well. Cook 5 to 8 minutes longer, or until turkey is cooked through. If desired, add any sauces, such as teriyaki sauce, coconut aminos, etc.
Saute the Vegetables:
You can either cook the vegetables in the same skillet as the turkey, or cook them separately. To cook them with the turkey, simply add the vegetables after browning the turkey, stir well, and cover with a lid. Cook, stirring occasionally, until vegetables reach desired done-ness and turkey is cooked through, about 8 to 12 minutes.

To cook the vegetables separately, heat avocado oil in a separate non-stick skillet over medium-high and add the chopped vegetables. Cover and cook 3 minutes. Remove cover and continue cooking until vegetables reach desired done-ness.
Compile the Bowls:
Fill bowls with desired amount of turmeric ground turkey and vegetables. If desired, you can serve over a bed of steamed brown or white rice, and/or drizzle on any of your favorite sauces.
Notes
*Omit the onion and garlic for Low-FODMAP. You can add more ginger to boost the flavor, and/or 1 tablespoon of mustard or cider vinegar if tolerated.
Nutrition
Serving:
1
of 3
|
Calories:
374
kcal
|
Carbohydrates:
12
g
|
Protein:
29
g
|
Fat:
21
g
|
Fiber:
5
g
|
Sugar:
7
g