Humble brag alert, but this is the BEST Easy Stir Fry Sauce you'll ever encounter! With paleo and keto options, this soy-free, refined sugar-free stir fry sauce is perfect for any type of stir fry using any animal protein or vegetable.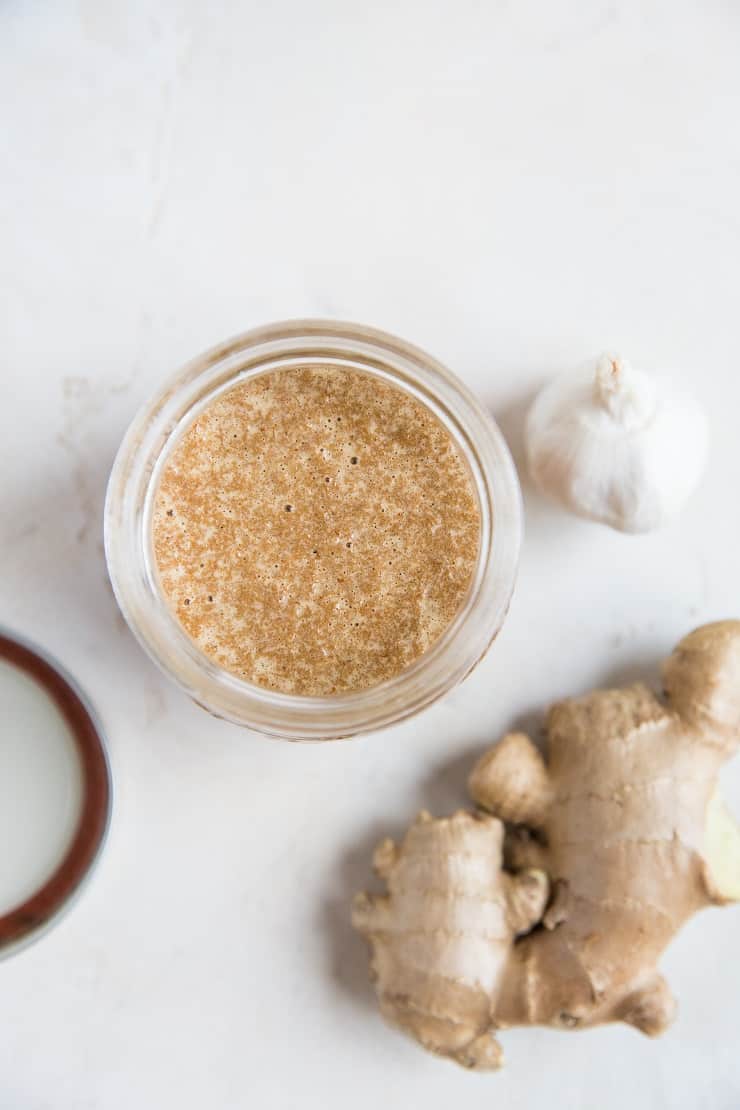 I do try to avoid the "The Best" nomenclature when referring to my recipes, but this truly is the best and easiest stir fry sauce I've made to date.
It can be used in ANY stir fry using any form of animal protein or vegetables. Recently, I've been using it to make beef stir fry with a vegetable medley, but it is also particularly amazing for chicken or shrimp stir fry.
All ingredients added together yield a salty, sweet, umami, thick and sticky stir fry sauce with the perfect amount of heat.
There are plenty of options or adaptations included in this recipe, so be sure to read through it all if you follow a special diet and need to make replacements.
Let's hop to it!
Stir Fry Sauce Ingredients:
Garlic – fresh garlic lends a great deal of flavor to any sauce, and stir fry sauce is no exception. You can ramp up the amount of garlic to 3 cloves if you are a garlic lover! For a low-FODMAP version of this recipe, omit the garlic.
Coconut Sugar – Keeping it refined sugar-free using coconut sugar, we obtain that nice sweet counterbalance to the salty umami flavors with a little less glycemic load. Plus, coconut sugar has a natural caramel flavor to it, which adds amazing flavor to the stir fry sauce.
Sweetness is essential in stir fry sauce, so if you follow a keto diet, don't just omit it – replace it with 1 to 2 tablespoons of your favorite sugar-free sweetener.
Sesame Oil – A little bit goes a long way! Sesame oil is mandatory in stir fry in my opinion, as it gives it that authentic flavor. If you don't normally carry it on hand, feel free to replace it with avocado oil or coconut oil…just note a little something will be missing!
Fresh Ginger – Providing a sweet heat and a lovely little kick, ginger provides amazing fresh flavor. There's really nothing you can compare it to! Don't skip it, and please don't replace it with ground ginger.
Coconut Aminos – taking the place of soy sauce, coconut aminos provides a sweet-salty-umami flavor. If you use Tamari (gluten-free soy sauce), liquid aminos, or regular soy sauce, you can use any of them as a replacement.
Broth – Adding volume and flavor to the sauce, we use broth! I don't recommend replacing it with water, as you will use some flavor, but doing so is an option if you must.
Rice Vinegar – a little tang for our palates! Rice vinegar lends unique, beautiful flavor. If you must, it can be replaced with cider vinegar, but traditional rice vinegar is my absolute favorite type of vinegar in stir fry sauce.
Sriracha – a little element of heat! Don't worry, this sauce isn't overly spicy. You can omit the sriracha or dial it up a notch or twelve according to your spice tolerance.
Fish Sauce – optional, but recommended. I like adding a tad bit of fish sauce to add more umami flavor. If you're using coconut aminos, I highly recommend also adding a squirt of fish sauce to get that little je ne sais quois that you lose from not using soy sauce.
Tapioca Flour – In order to ensure this sauce becomes nice and thick and sticks to your stir fry ingredients, you must use tapioca flour or corn starch. If you eat a starch-free diet, you can certainly skip it…just note that the sauce will be watery as opposed to thick and sticky, the way a great stir fry sauce should be.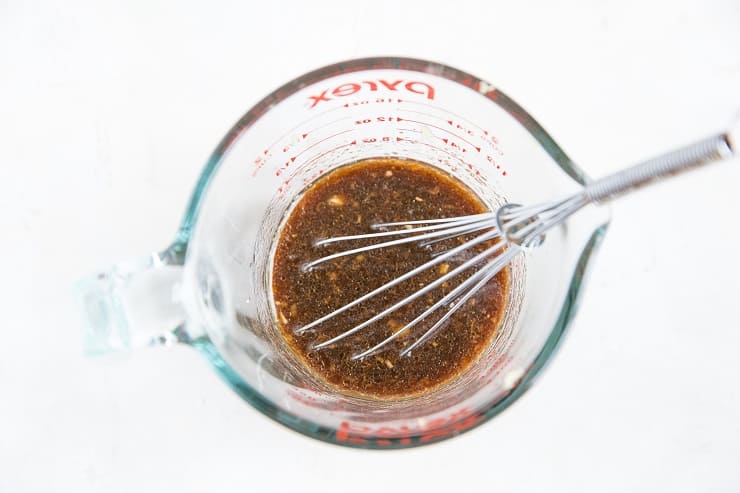 Keto Stir Fry Sauce:
Make the recipe keto by replacing the coconut sugar with 1 to 2 tablespoons of your favorite sugar-free sweetener. Technically, you should omit the tapioca flour too. Just note if you do, the sauce will note be thick and sticky, but rather watery.
Paleo Stir Fry Sauce:
Replace the sesame oil with coconut oil or avocado oil, and the rice vinegar with cider vinegar.
How to Make Easy Stir Fry Sauce:
Add all ingredients to a blender and blend until completely smooth. Either use immediately, or transfer to a jar and refrigerate until ready to use. Note: if you don't have a blender, simply stir everything well in a bowl until combined.
If you refrigerate the sauce, be sure to shake it or stir it well before using in your stir fry, as the ingredients will likely separate after sitting.
That's all! You've got your ticket for a delicious sauce that is crazy adaptable and perfect for anyone who follows any type of diet or non-diet lifestyle.
Use it on Butternut Squash Ginger Chicken Stir Fry, Salmon Stir Fry with Vegetables, or 30-Minute Garlic Ginger Broccoli Beef Stir Fry!
…Or incorporate this sauce into some of my already existing stir fry recipes!
My cookbook,
Paleo Power Bowls
, is now available! CLICK HERE to check it out. Thank you for your support!
If you make this recipe, please feel free to share a photo and tag @The.Roasted.Root on Instagram!
Easy Stir Fry Sauce
Easy stir fry sauce that is refined sugar-free, soy-free and easy to adapt to make paleo or keto
Ingredients
1

large

clove garlic

minced

1 1/2

Tbsp

fresh ginger

peeled and minced

2

Tbsp

coconut sugar

or sugar-free sweetener

2

Tbsp

rice vinegar

2

tsp

sesame oil

1/4

cup

coconut aminos

or liquid aminos

1/4

cup

broth

chicken or beef

1

Tbsp

sriracha

1

Tbsp

tapioca flour

1

tsp

fish sauce

optional
Instructions
Add all ingredients to a blender and blend until completely smooth! Use immediately or store in a jar in the refrigerator for up to 2 weeks.
Nutrition
Serving:
1
batch
|
Calories:
302
kcal
|
Carbohydrates:
48
g
|
Protein:
2
g
|
Fat:
9
g
|
Sugar:
44
g