Tangy, creamy sweet orange-turmeric tahini sauce perfect for drizzling on all your meals (particularly your bowl food!). This easy 5-ingredient recipe is paleo and vegan.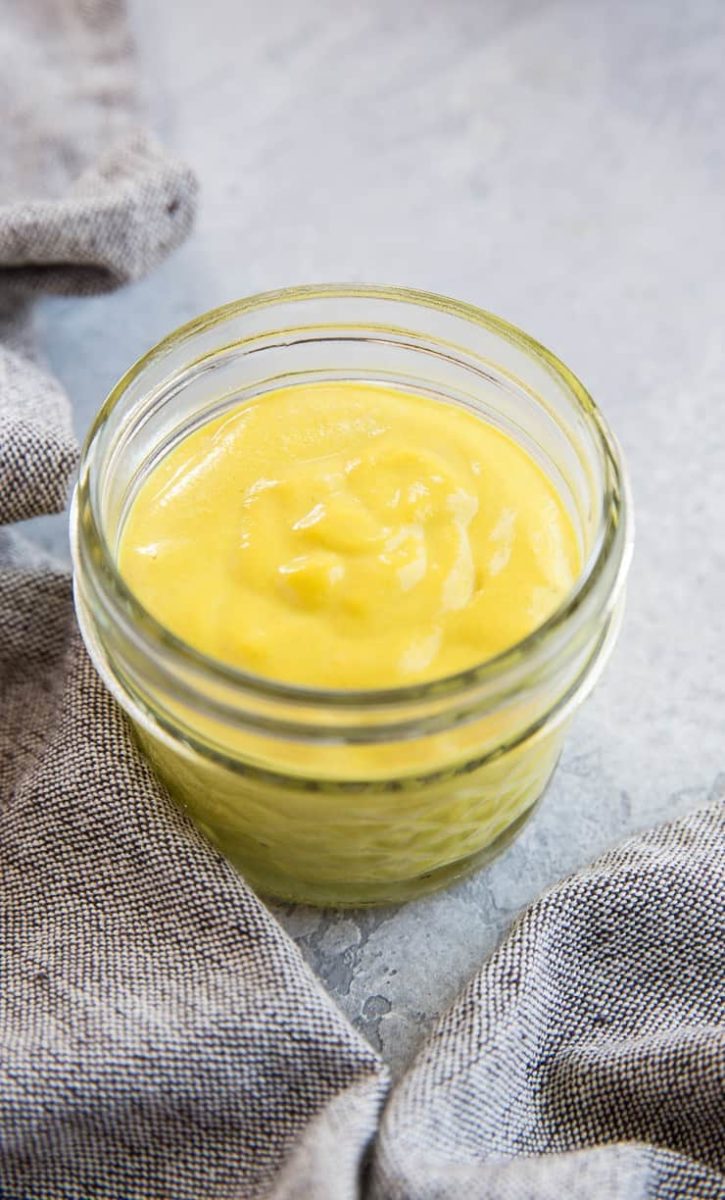 You're looking at my latest favorite sauce for all my big bowls of food. As we all know, a well-engineered sauce is what brings all the scrumtrulescence to a big bowl o' food. It ties the ingredients together into a cohesive unit so you feel as though the meal is a marriage of ingredients rather than random ingredients thrown helter-skelter in a bowl.
One of my priorities when writing my upcoming cookbook, Paleo Power Bowls, was ensuring all my sauces were dialed in. Not only does each bowl recipe come with its own sauce or dressing of some sort, but I added bonus sauces at the end of the book to help change things up and keep things interesting.
My favorite sauces are generally a balance of creamy-salty-sweet-tangy. I find a sauce that meets all these characteristics tends to be very palate-pleasing, and gives the meal a beautiful finish. I like my sauces to be naturally sweet versus full of refined sugar, so the sweet usually comes from fruit, fruit juice, or unrefined sweeteners like pure maple syrup or coconut sugar.
So let's discuss how my sauce formula plays out. The creamy aspect of this sauce is the tahini. Salty: actual sea salt. Sweet: fresh orange juice. Tangy: cider vinegar. You're free to mix and match your portions depending on just how creamy-salty-sweet-tangy you like your sauces.
You're genetically hard-wired to love this sauce.
The turmeric gives this sauce an earthy-creamy flavor, which I love, and a nice antioxidant boost. It's always fun sneaking nutrients into your recipes whenever possible, and even better when said ingredients add to the flavor.
All I did to prepare this sauce was toss everything into a blender and blend until smooth.
Which brings me to my next point:
I don't use a regular blender for my sauces. Because sauces tend to require a lower volume of ingredients, I find they turn out best when you use a small blender. Enter: the Tribest Life Personal Blender.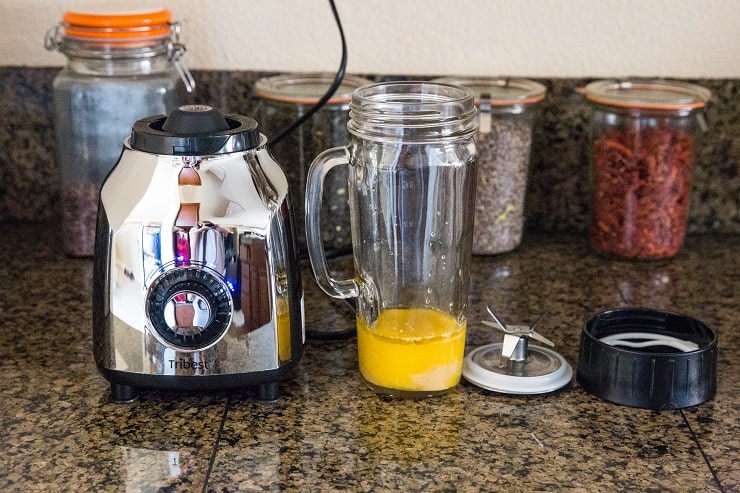 It comes with two smaller (personal-sized) carafes – one that looks like a regular blender carafe, and one that is designed for easy storage or transport perfect for smoothies or soups on-the-go, or for storing blended foods in the refrigerator. Each of the carafes is glass, making them long-lasting to add to your arsenal of kitchen tools. It fits easily under the cabinets!
PLUS! One of the coolest features of this blender is it actually comes with a vacuum seal so you can remove the air from the carafe before storing it in your refrigerator. This means your sauces will last far longer!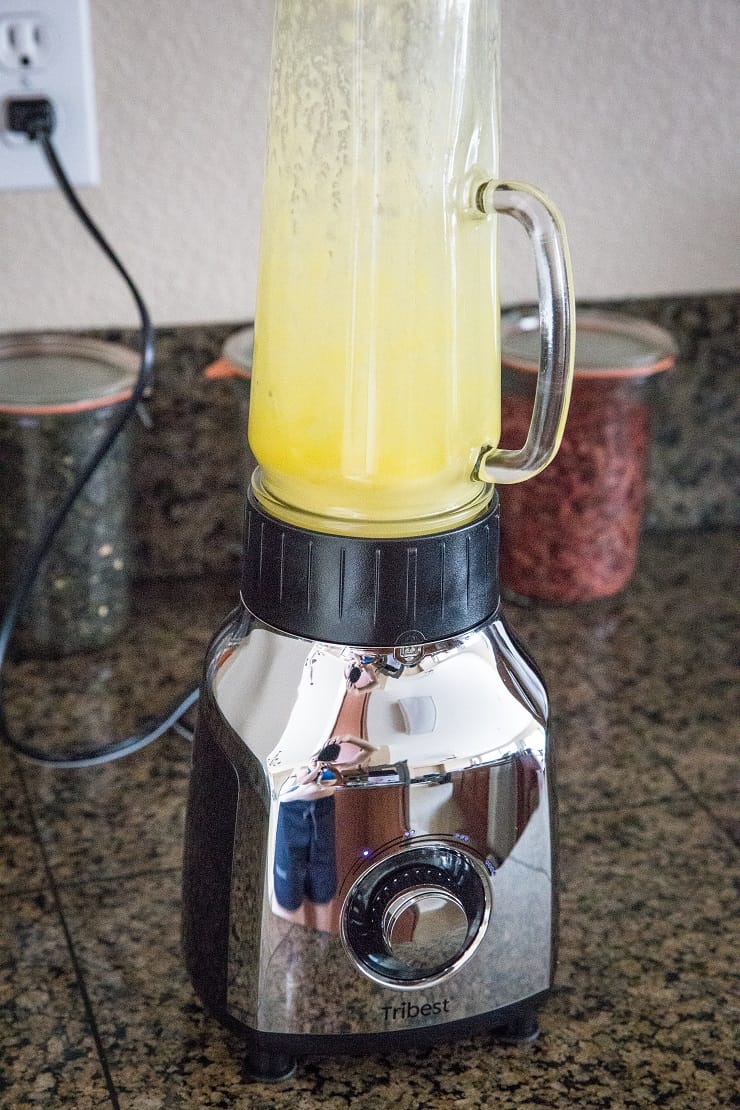 So there you have it – my formula for an epic sauce, plus an awesome kitchen tool to make all your sauce (and smoothies, dressings, marinades, soups, etc) dreams come true.
Use this sauce on bowls of all types – bowls with rice, quinoa, spaghetti squash, zoodles, animal protein, roasted or raw veggies, you name it! Aside from the bowl recipe I'm going to show you on Wednesday, I used this sauce on spaghetti squash with sauteed broccoli, carrots, and spinach. It was such a simple and lovely nutritious combination!
The health benefits to this sauce are pretty epic. For instance, turmeric is a powerful antioxidant and anti-parasitic, and tahini (which comes from sesame seeds) is a fabulous anti-parasitic as well with a little protein kicker. Orange juice is also a good source for Vitamin C and antioxidants. Sure, you won't be using a ginormous amount of sauce to the point you'll kick all your health issues, but it's always nice to know what's in your food, right?
Recipe Adaptations:
Add more cider vinegar for more tang.

If you're a lover of turmeric, toss more in!

Double the batch if you see yourself putting this on repeat. One batch lasts me four bowls when I use it conservatively.

Lover of garlic? Add one small clove.

If you like a sweeter sauce, add 1 to 2 tsp pure maple syrup.

If you don't have access to fresh turmeric, use dried turmeric. Start with 1/4 tsp and add more to taste.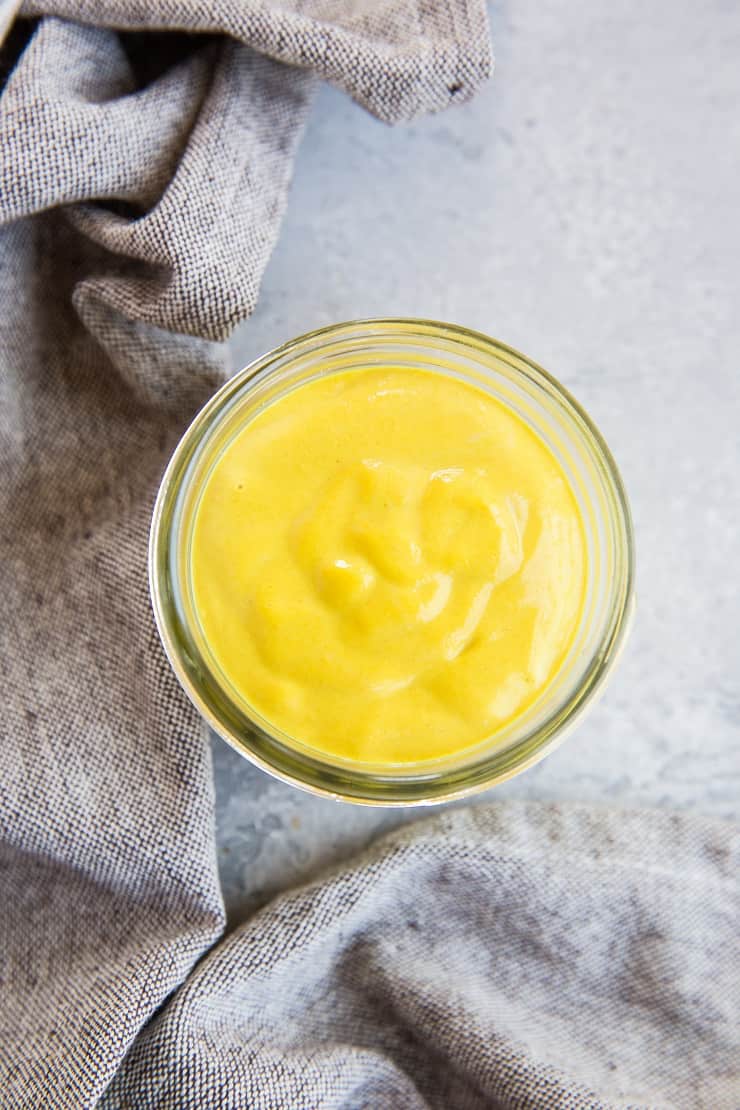 Stay tuned! I have a bowl recipe coming soon that showcases this sauce. Feel free to make it right now so you have it on-hand for Wednesday's bowl recipe!
Orange-Turmeric Tahini Sauce
A deliciously creamy and zesty sauce for your bowls, veggies, meats, and more!
Instructions
Add all ingredients to a small blender and blend until completely smooth. Use immediately or store in an air-tight container and keep refrigerated. Sauce stays fresh for up to 2 weeks in the refrigerator.
Nutrition