Creamy, dreamy, pumpkiny pumpkin spice chia seed pudding made with only a few basic ingredients for the perfect easy fall treat. Top it with maple toasted walnuts and figs for an epic breakfast or dessert!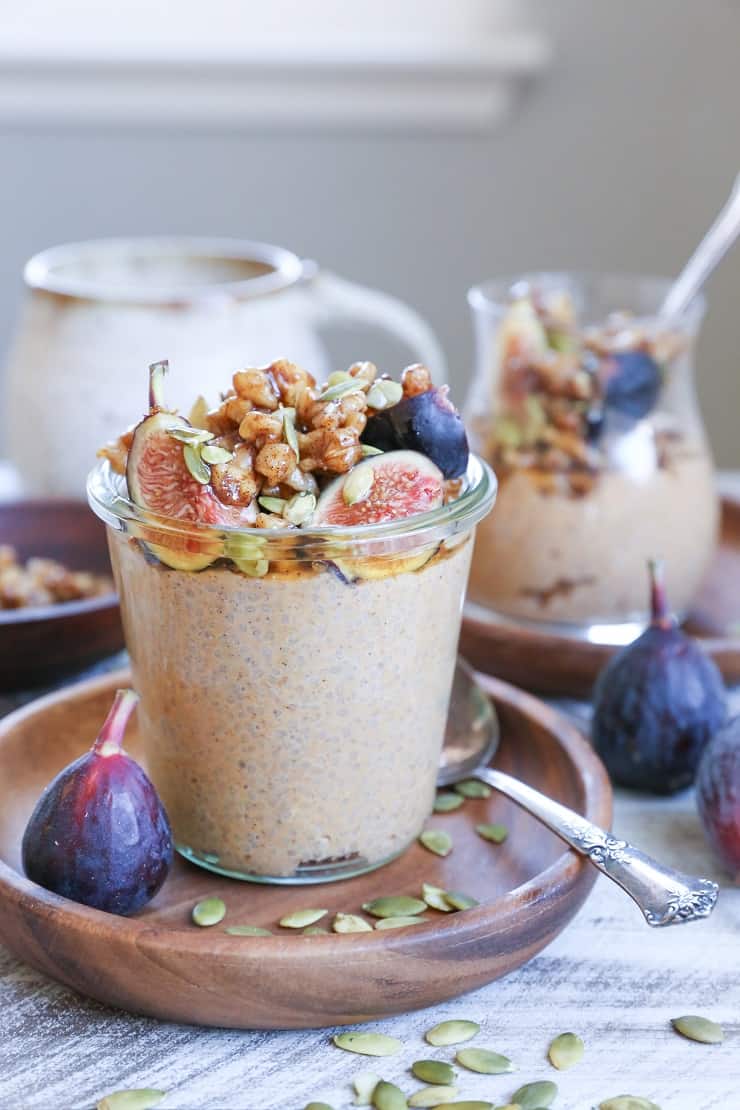 Heavens ta Betsy, I think this is my new favorite way to eat chia seed pudding!
Scratch that..
I know this is my new favorite way to eat chia seed pudding!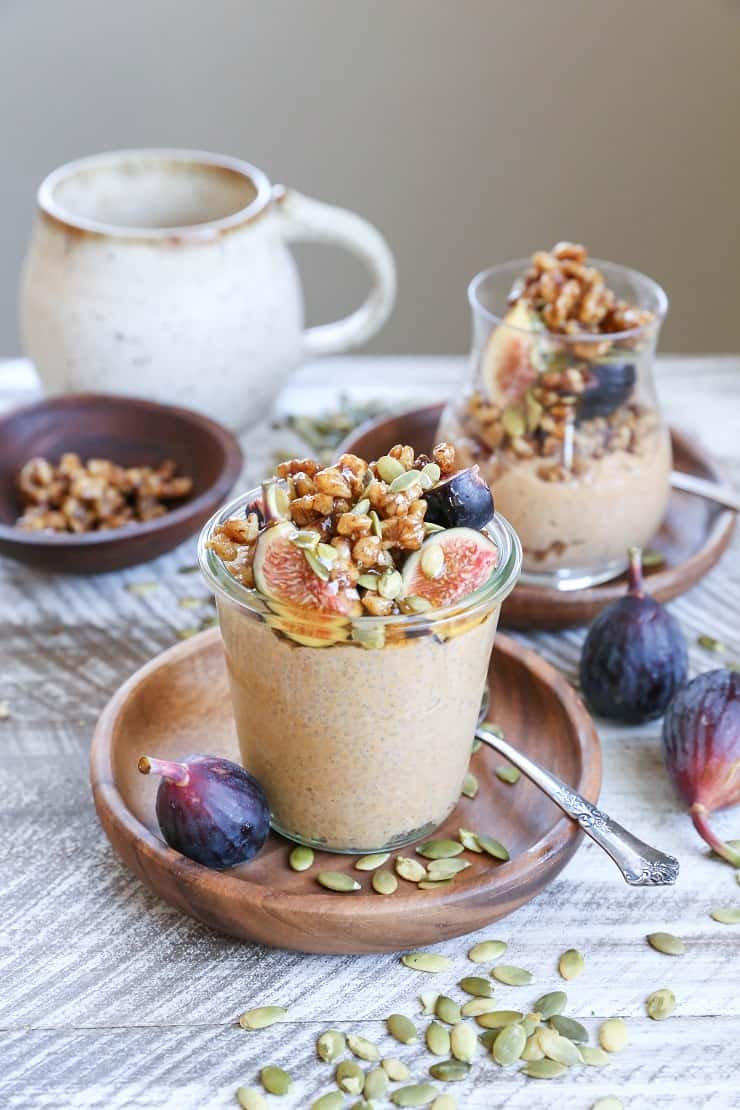 Prior to making this pumpkin spice chia seed pudding, I figured it could be one of those hit or miss recipes, but alas, it was a hit. The the maple-pumpkin-cinnamon flavor is so much fall in one beautifully creamy and nutritious package.
And now I'm thinking all my chia seed puddings from here on out will be of the pumpkin varietal. Even in July. Especially in May. Regardless of the time of year, I'm seeing this as a staple in my future.
Out of this pumpkin spice chia seed pudding, you're getting your omegas, your carbs, a little protein, and a whole lot of pumpkin lovin. The recipe prep takes no longer than 10 minutes, although there is an overnight wait time, so a little forethought is required. While this make-ahead treat isn't an instant gratification situation, it's perfect to pack up and bring to work for breakfast, and also a treat to enjoy for dessert. Post workout snack? Heck yes!
A note about chia seeds: As you can see, I used white chia seeds for this chia seed pudding recipe. There's really no difference between white and black chia seeds, so you can use either/or! I just thought the look of the white would be pretty for photos 😉
A note about sweetness: I find this chia seed pudding to have the perfect level of sweetness, but you can scale the pure maple syrup up or down according to taste. You can also replace it with agave or coconut palm syrup.
I topped the pumpkin chia seed pudding with chopped figs (because: obsessed), maple-toasted walnuts and raw pumpkin seeds. I loved the added sweet crunch of the toppings, although the pudding is great on its own as well! Consider whipping up a batch of Paleo Granola to make this a next level experience.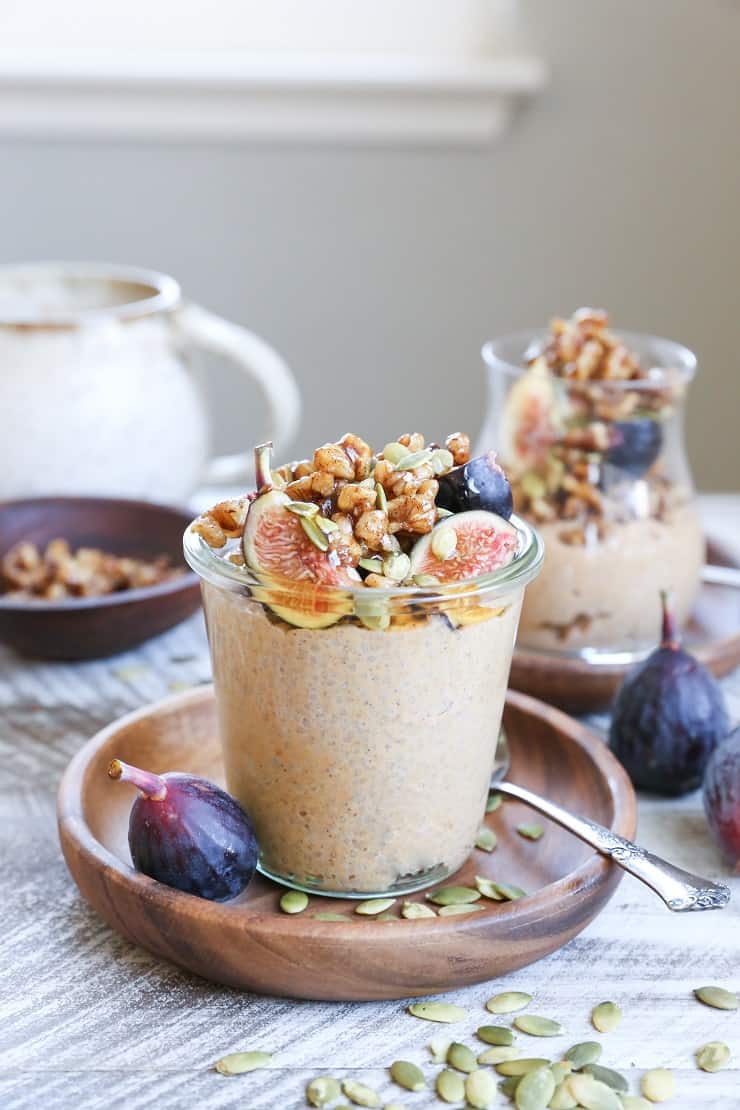 If fall were a pudding it would be THIS!
Pumpkin Spice Chia Seed Pudding
Infusing your chia pudding with real pumpkin and spices levels it up several notches! Enjoy this beauty during the fall and winter!
Ingredients
Maple-Toasted Walnuts & Pumpkin Seeds
Instructions
Add everything but the chia seeds to a blender and blend until combined. Pour this mixture into a large jar. Add the chia seeds, secure the lid on the jar and shake very well. Refrigerate overnight, stirring occasionally if possible.

Serve pumpkin spice chia seed pudding with maple-toasted walnuts and pumpkin seeds and fresh figs.
Make the Maple-Toasted Walnuts
Heat the oil in a small skilled over medium-high. Add the remaining ingredients and stir well. Cook, stirring occasionally, until nuts and seeds have absorbed all of the liquid and appear sticky, about 5 minutes.
Nutrition