Strawberry Overnight Oats with nuts and seeds makes for a gluten-free, dairy-free, satisfying breakfast.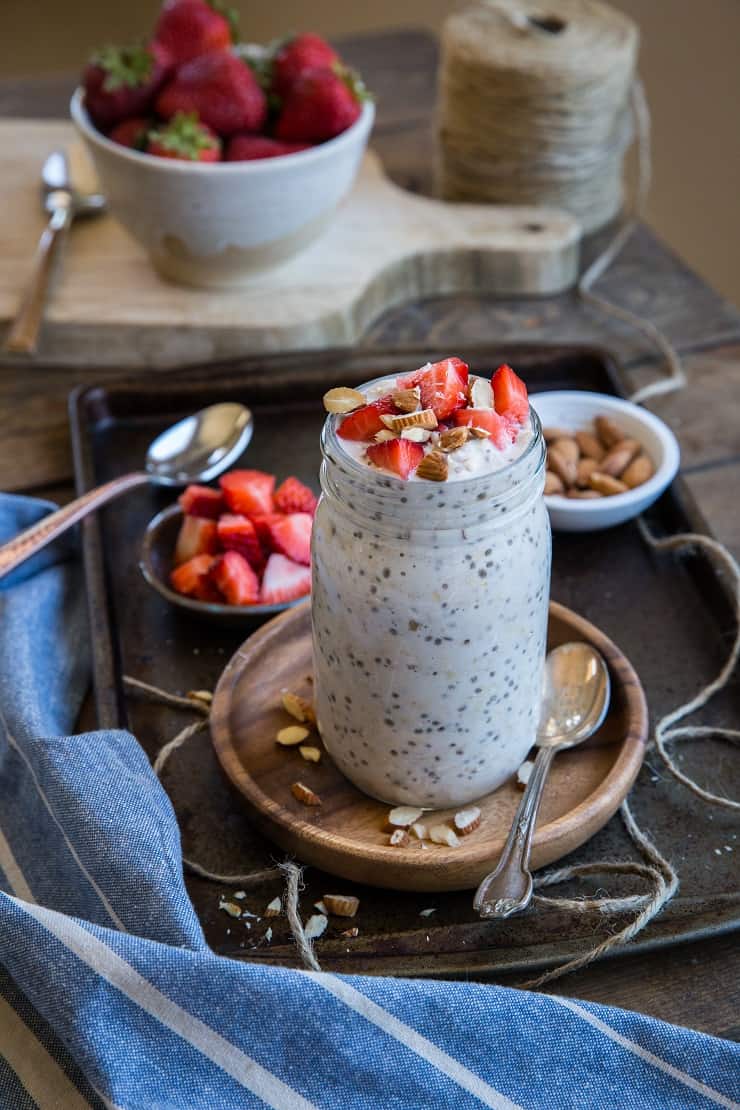 Am I the last person in the world to make overnight oats? Have you made overnight oats? Please tell me I'm not the last remaining soul on this green earth to overnight an oat.
Here I've been cooking up hot oatmeal all my life and never realized cold oatmeal is a thing. Did you know it was a thing? It's most definitely a thing, and it only requires a few ingredients, a few minutes, and a big jar or mixing bowl.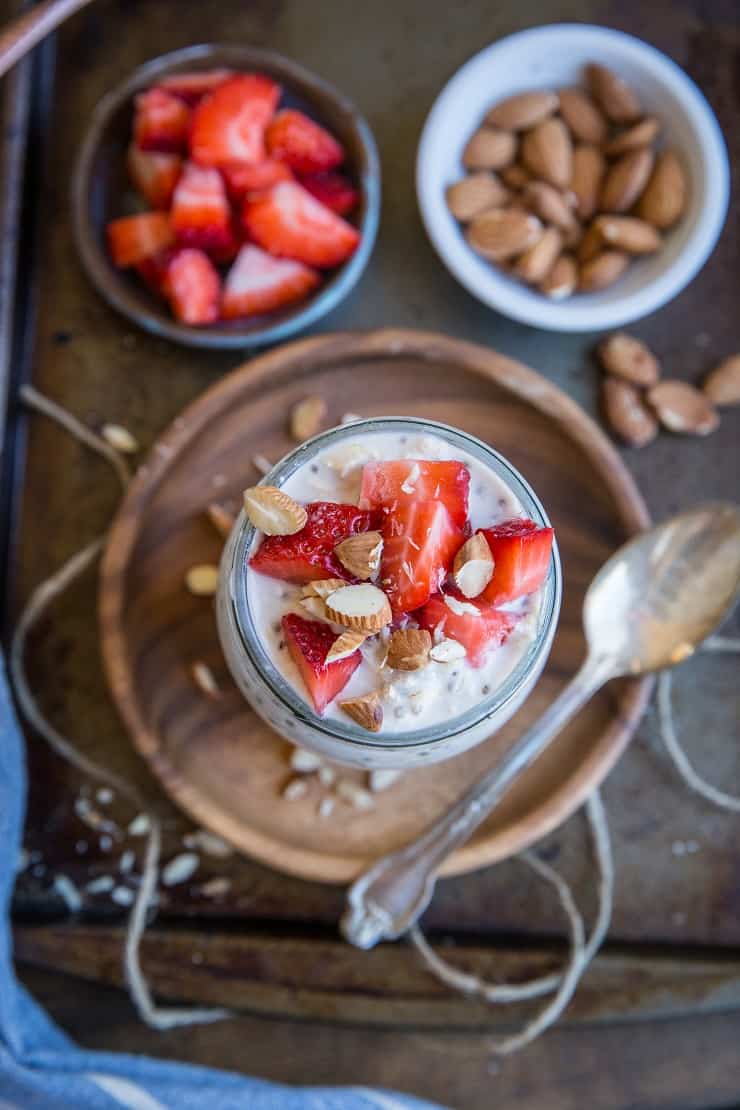 How to Make Overnight Oats
Making overnight oats is so simple and requires less than 5 minutes of actual prep!
Just add your choice of milk, sweetener, vanilla extract (if you like) gluten-free rolled oats (be sure you aren't using quick oats), chia seeds to a seal-able container (I like using a large jar). Stir well or seal it and shake it up.
Transfer the container to the refrigerator and allow it to soak overnight.
Serve it up with chopped strawberries and some slivered (or chopped) almonds, and you're in the money!
You'll wake up to breakfast that is already ready for you! Simply give it a big stir Because this is such a genius plan, you should 200% congratulate yourself with breakfast dessert.
Honestly, this meal is kind of like eating breakfast dessert, because it's just so good. It's thick, comforting, pudding-y, super filling, and super nutritious to top it all off!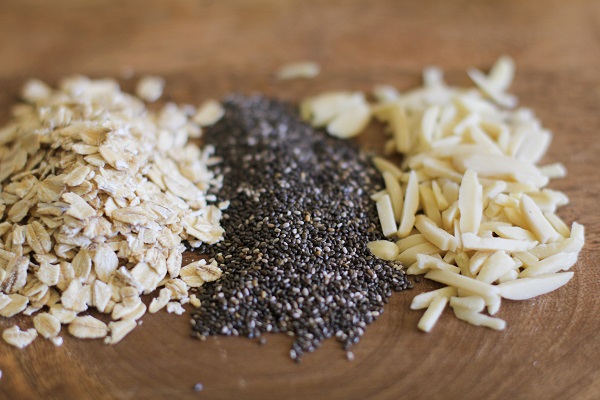 It's pretty much a parade in a bowl and you get to feed it to your body. All that protein, all them slow burning complex carbs, all the fiber.
These breakfast bowls make for an excellent, well-rounded meal to keep the whole family happy and healthy. Plus, you can store it in smaller jars to take with you to work for a breakfast on-the-go!
Recipe Adaptations:
To keep this recipe on the lighter side, replace the full-fat canned coconut milk with more unsweetened almond milk.
Scale the pure maple syrup up or down according to preference.
Mix in some almond butter, protein powder, or collagen peptides for added protein.
Use honey or coconut palm nectar in place of pure maple syrup.
Serve it up with choice of fresh fruit, chopped nuts, and seeds.
If you want even more strawberry flavor, whip up a batch of my Strawberry Chia Seed Jam or Raspberry Chia Seed Jam and mix it in!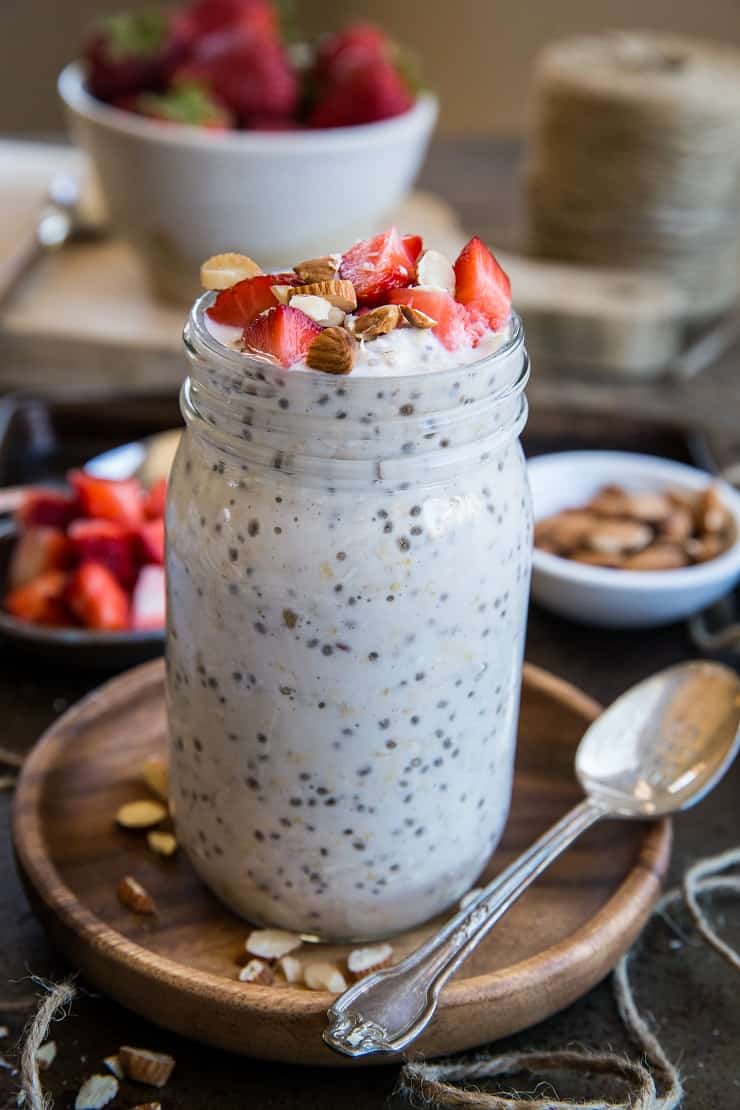 While I love the cold version of these oats (especially during the summer time!), you can also prepare the recipe hot! Be sure to check out the instructions to get the method for both the cold and the hot version.
More Overnight Oats Recipes:
My cookbook,
Paleo Power Bowls
, is now available! CLICK HERE to check it out. Thank you for your all your support!
If you make Strawberry Overnight Oats, please feel free to share a photo and tag @The.Roasted.Root on Instagram!
xo
Strawberry Overnight Oats
Dairy-free, refined sugar-free strawberry overnight oats is a quick, easy, and healthy grab and go breakfast!
Servings:
4
to 6 servings
Ingredients
For Serving:
fresh strawberries

coconut milk

or almond milk

slivered almonds
Instructions
Cold (Overnight Oat) Option:
Add all ingredients to a large container with an airtight lid and stir well. Seal and place in the refrigerator overnight (or at least 6 hours). Taste oatmeal for flavor and add more pure maple syrup to taste. Serve with fresh strawberries, a drizzle of coconut milk or almond milk, and slivered almonds.
Hot Option:
Add the oats, chia seeds, coconut, maple syrup, coconut milk, and almond milk to a medium-sized pot. Bring to a full boil over medium-high heat, then reduce heat and simmer for 15 to 20 minutes, stirring occasionally, until oatmeal has thickened and the liquid has been absorbed. Remove from heat and stir in vanilla extract. Divide between four bowls and top with strawberries, almonds, and nuts, along with additional almond and/or coconut milk, if desired.
Notes
*For lower fat, use lite canned coconut milk or replace the coconut milk with 1 3/4 cup unsweetened almond milk.
Nutrition
Serving:
1
of 6
|
Calories:
372
kcal
|
Carbohydrates:
39
g
|
Protein:
6
g
|
Fat:
22
g
|
Fiber:
5
g
|
Sugar:
12
g