Peaches and cream overnight oats made gluten-free and dairy-free for a healthy breakfast. This easy recipe only takes a couple of minutes to prepare!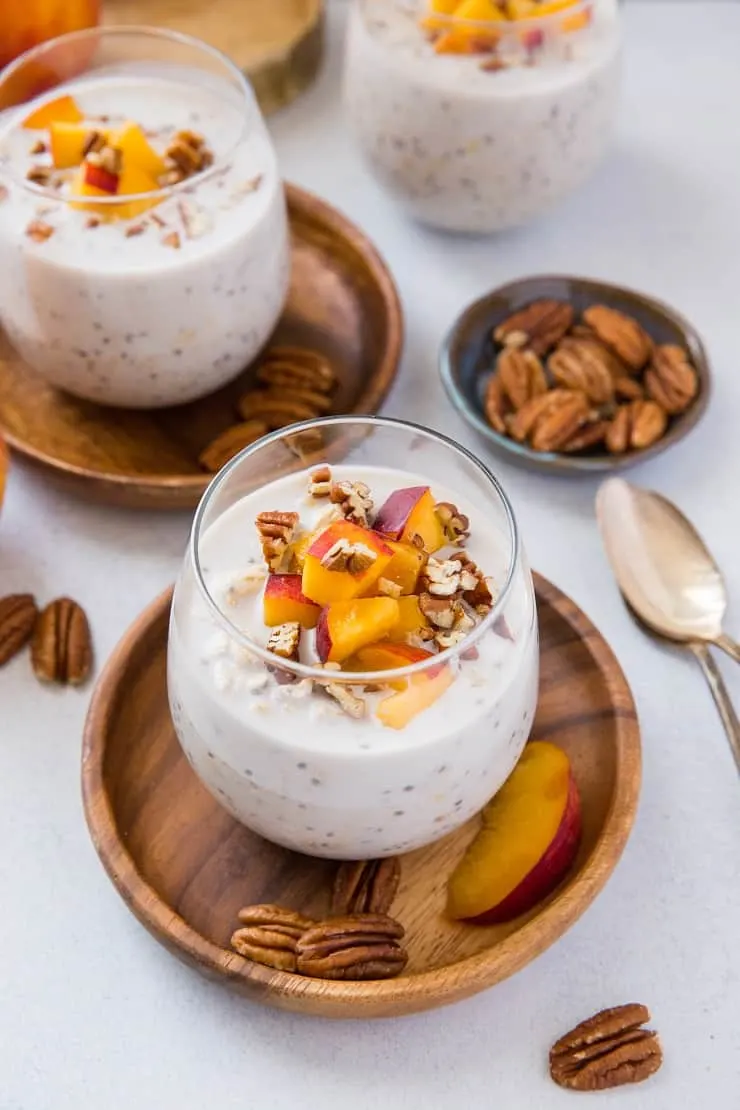 When I was a kid, my absolute favorite breakfast was the instant Peaches and Cream oatmeal from the packets. You in that same boat? Truly, I loved all of the "'n creams" and fruit-infused instant oatmeal, but the peaches was my all-time favorite.
When I put on my big girl britches in my mid-twenties and began making everything from scratch, I replaced the instant packs with what you see here – peaches and cream overnight oats with a little chia seed infusion to make it ultra thick, creamy, and infused with nutrients.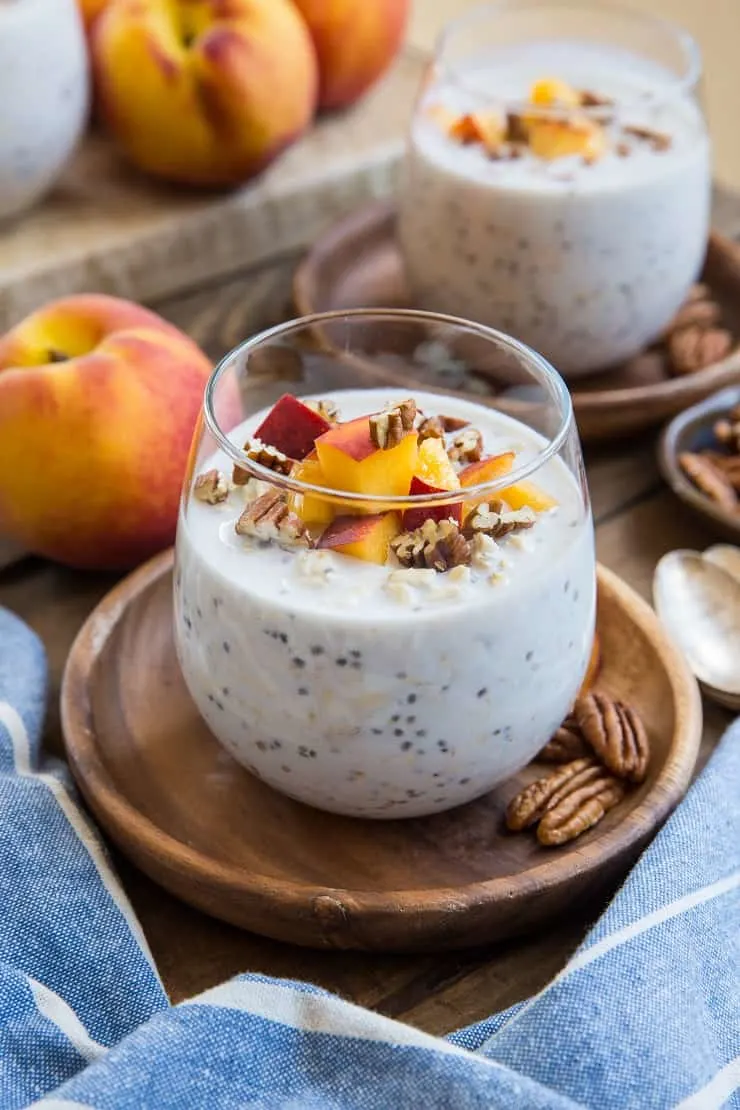 Full disclosure: it is very rare that I eat oatmeal these days. I absolutely LOVE oatmeal, but I find my body functions better on a primarily grain-free diet.
When I do eat oatmeal, I relish it with all my heart and soul, as I find it to be very comforting. I think it is important to give this extra information because one of the questions we food bloggers get asked frequently is whether we eat all the food we make.
In my case, I'd say I eat roughly 80 – 90% of what I make (I'm the queen of leftovers and dinner-for-breakfast) and the remaining 10 – 20% goes to friends, family, or my live-in garbage disposal. I do my best to never allow food to go to waste and I do taste test every recipe I make (whether it's for a client or my blog).
In order to ensure I feel good about the authenticity behind this blog, I will be continually disclosing this type of information. It's important to me that you and I have a transparent, trusting relationship, regardless of the fact that our connection is internet-based.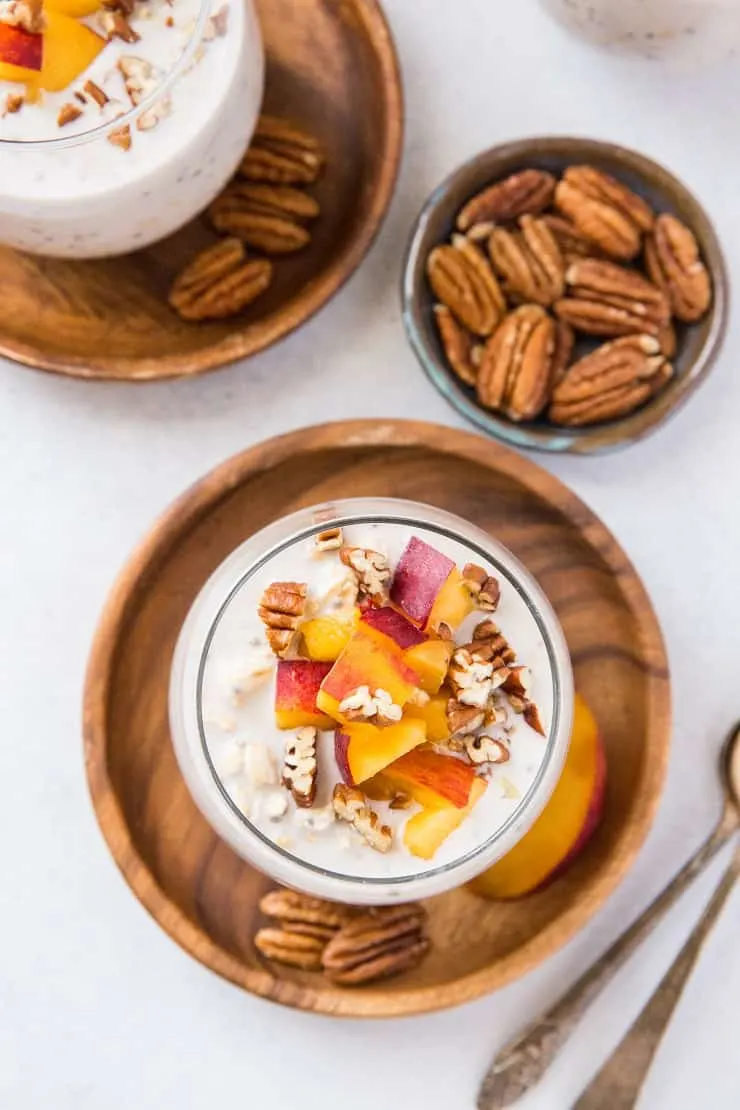 Okay, now that we got that out of the way and we're sitting in the trust tree, THIS OATMEAL! It's crazy tasty (yup, I did eat a small portion of it…again, how could I not??). Creamy, sweet but not overly sweet, and so incredible with those juicy hunks of peaches.
If you're a busy bee, you can absolutely portion this oatmeal out into individual jars (after it has sat overnight) and take it with you as a grab-and-go breakfast.
The oatmeal keeps for a surprisingly long time – up to 7 days! If you want to be sure your peaches continue to taste fresh and funky, you can mix them in just before eating the oatmeal as opposed to mixing them in from the beginning.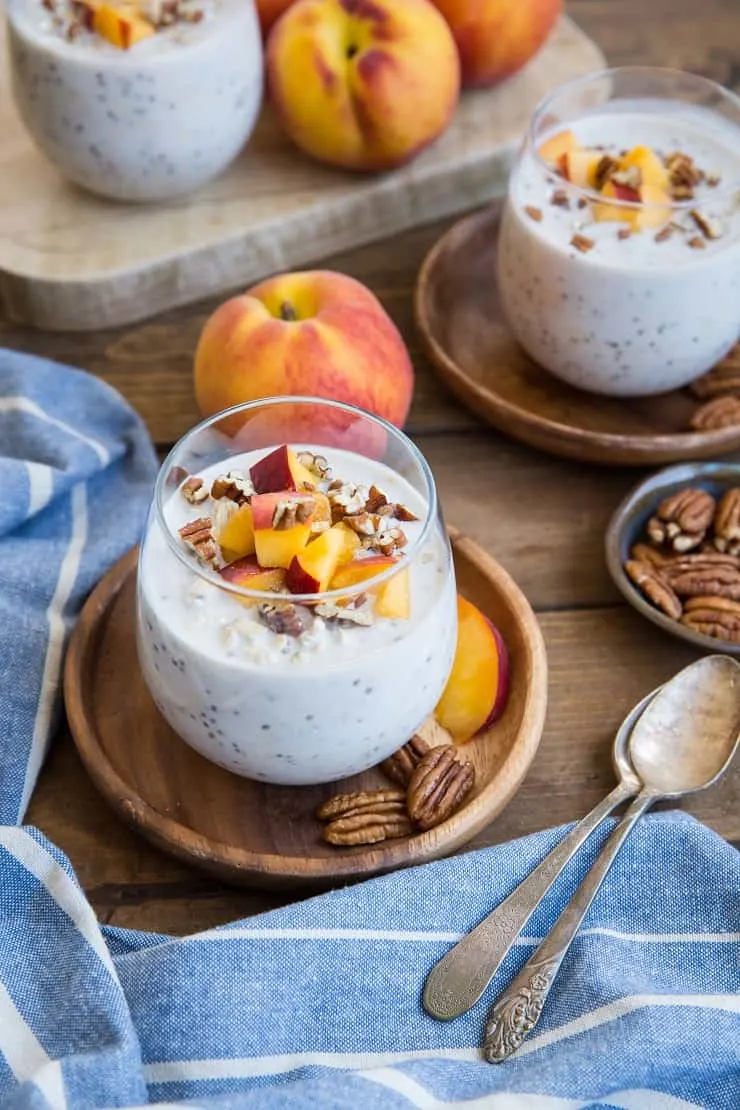 Recipe Adaptations:
You can make this recipe your own by changing up the type of milk you use and the type of sweetener. I typically make my recipes on the less-sweet end, so if you find you prefer a sweeter oatmeal, feel free to add more pure maple syrup.
Add some protein powder and/or some almond butter to get a higher protein count.
This recipe can also be seen as a base recipe for all your other "and creams." For instance, go with blueberries, raspberries, strawberries, apricots or banana (or any other in-season fruit) to change it up!
More Overnight Oats Recipes:
Ready, set, CREAM!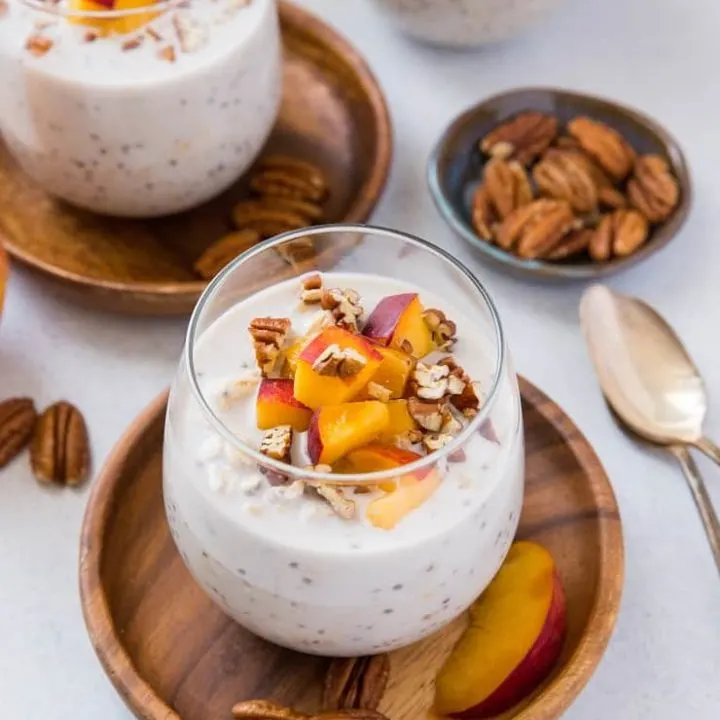 Peaches and Cream Overnight Oats
Creamy, dreamy overnight oats with delicious fresh peaches makes for an amazing way to start the day! Make it ahead of time for meal prep!
Ingredients
2 cups gluten-free old fashioned rolled oats
3 cups unsweetened almond milk
For Serving:
pecans, roasted and chopped
Optional Add-Ins:
Instructions
Add all ingredients for the overnight oats to a large sealable container or jar and stir well. Seal and refrigerate overnight or at least 6 hours. If possible, stir oatmeal a few times as it sits.
After oatmeal has chilled overnight and is nice and thick, taste it for flavor. Add more peaches and/or pure maple syrup to taste.
Serve in bowls or glasses with chopped peaches and pecans. You can pack the oatmeal up in sealable jars and take this to work as a grab-and-go breakfast.
Notes
*The coconut milk makes this breakfast super rich and creamy! If you're watching your calorie intake, you an replace the coconut milk with more almond milk.
Nutrition Information
Yield

6
Serving Size

1 of 6
Amount Per Serving
Calories

295
Total Fat

12g
Unsaturated Fat

0g
Carbohydrates

42g
Fiber

8g
Sugar

12g
Protein

8g