Put your pagers on vibrate and hold onto your satchels, because you're about to go alllll afternoon delight. Over a salad. A salad of roots and skyrockets in flight.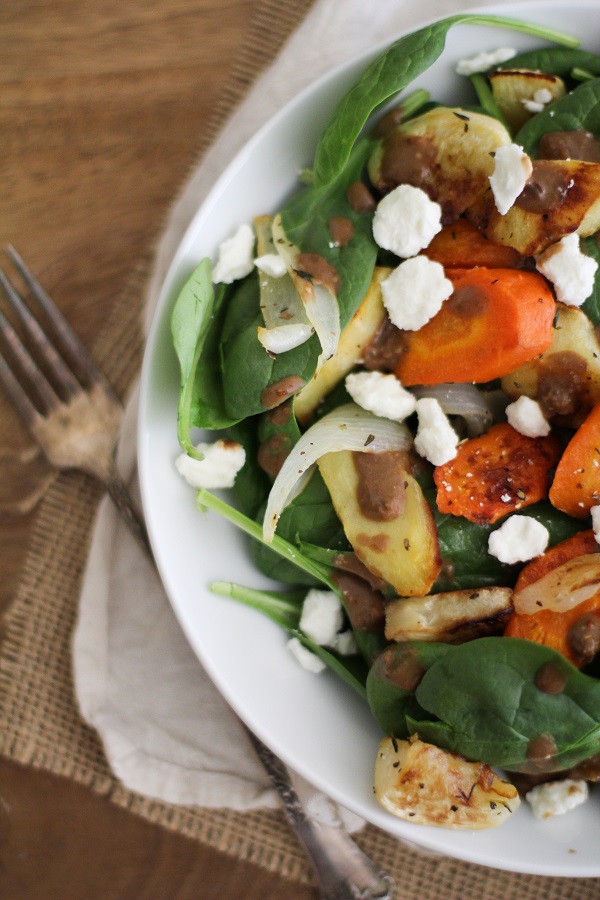 Roasted root vegetables all thyme-ed up on the spinach boat with hunks of feta and balsamic-date vinaigrette. It's something to talk about, Bonnie Raitt. True Story. You just ate 3 pounds of vegetables. How? #thissalad.
When was the last time you had a root in your oven?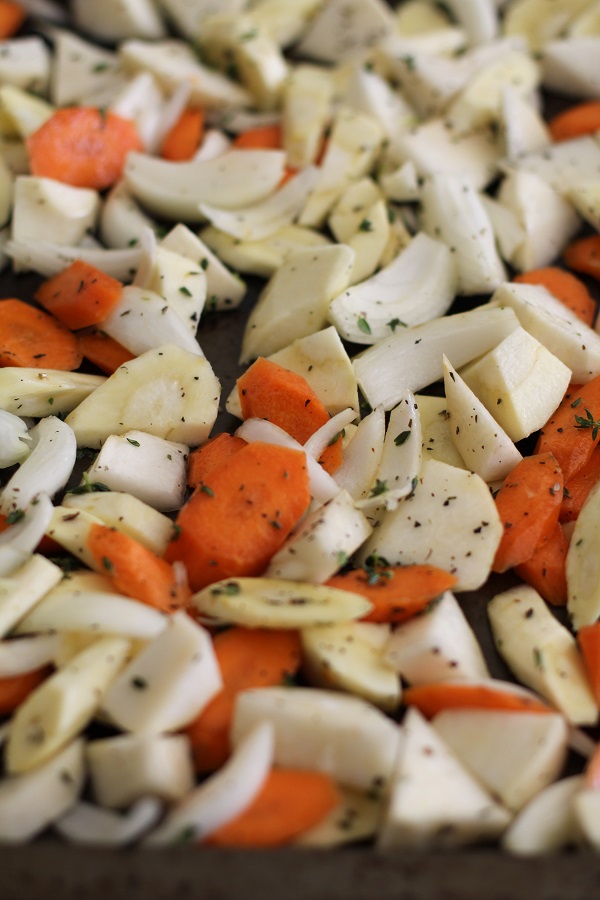 This is how 3 pounds of veggies get taken down: You lather up your roots with oil, thyme, salt and pepper. You then spread them on a baking sheet, roast them at four hundo and glue yourself to the oven for approx. 40 to 45 (which is exactly enough time for one episode of Private Practice or between 8 and 9 Macarenas. But not both, never both) until your roots are crispy on the outside, soft on the inside.
The root vegetables will c0me out all toasty, noodling notes on your heart strings. Prepare for your heart strings to get noodled.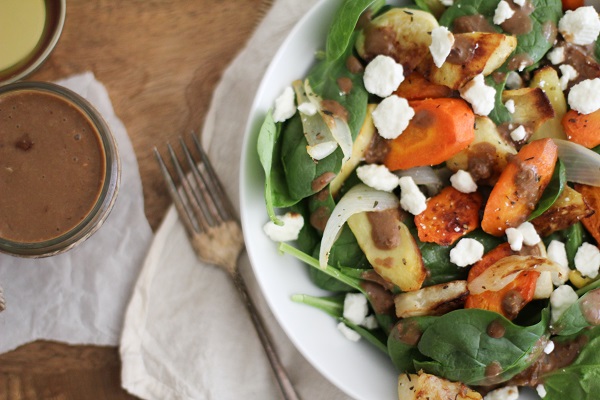 This salad is a tear-jerking, catamaran-tipping, upside-the-head slapping, hootinist tootinist rootinist bobtailed wildest cat in the west, Yoooooooooooosemite Sam! Roots: ravaged. Feelings: uncorked. Remorse: less.
Can we talk about the balsamic-date salad dressing for a second? Sluuuuurp! That's all I needed to say.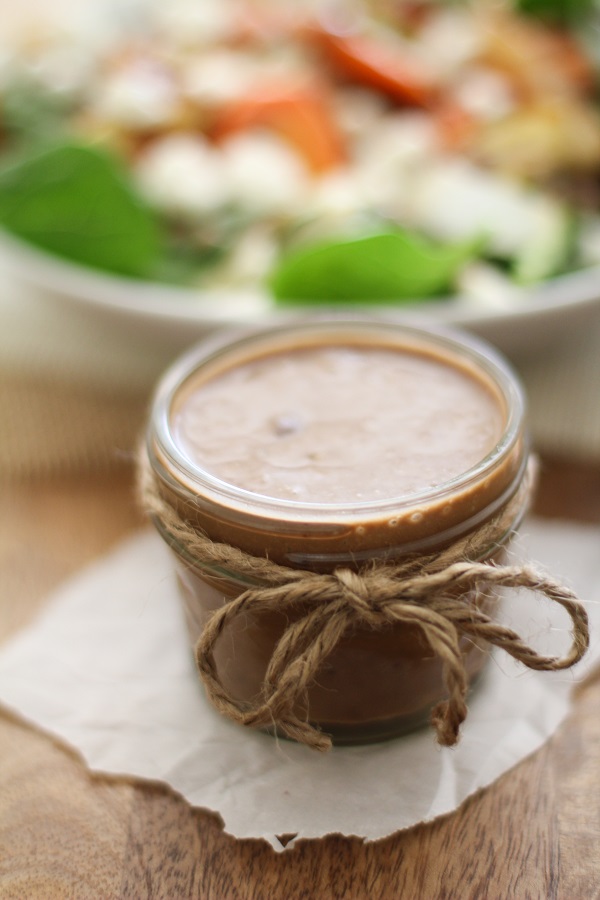 Are you out of peanut butter? This salad dressing is a perfectly acceptable replacement for all of your spoon-to-mouth needs.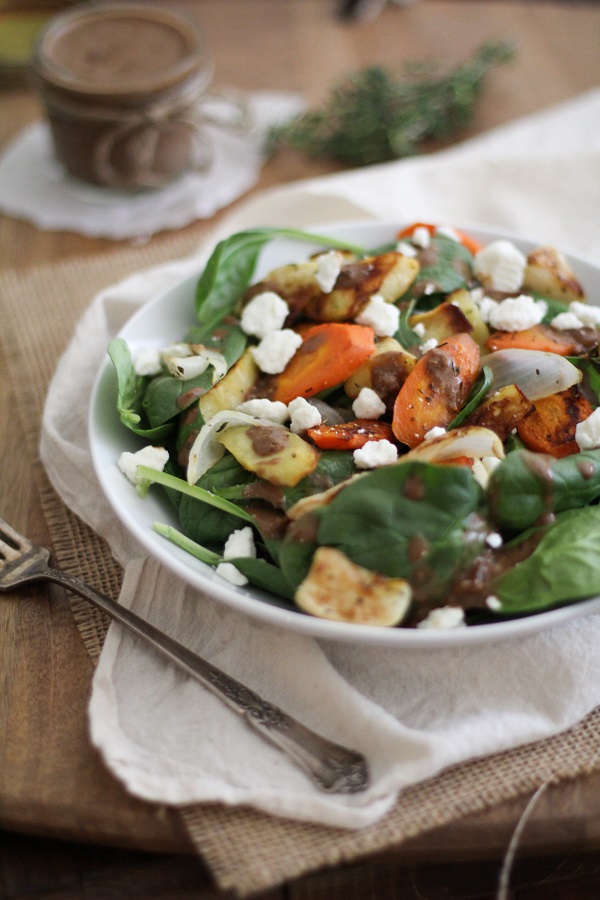 My motto's always been when it's right, it's right.
Recipe adapted from Aida Mollenkamp's Roasted Root Salad Recipe with Balsamic-Date Dressing.
Roasted Root Salad with Balsamic-Date Viniagrette
A hearty roasted vegetable salad with date-sweetened balsamic vinaigrette is a lovely light meal or side dish!
Ingredients
For the Salad:
1

pieces

medium turnip

peeled and chopped into 1.5" pieces

2

parsnips

peeled and chopped into 1.5" pieces

2

carrots

peeled and chopped into 1.5" pieces

2

boiling onions

chopped

3

tablespoons

grapeseed oil

1

handful fresh thyme sprigs

6

ounces

baby spinach

3

ounces

crumbled feta cheese
For the Balsamic Date Vinaigrette:
¼

cup

oil

1/3

cup

balsamic vinegar

¼

cup

water

8

large dates

pitted and chopped

1/3

cup

yellow onion

chopped

2

teaspoons

whole grain mustard

1/4

teaspoon

kosher salt
Instructions
To Prepare the Balsamic-Date Vinaigrette:
Add all ingredients for the vinaigrette to a small blender and blend until smooth and creamy. Set aside until ready to use.
To Prepare the Roasted Root Vegetables:
Preheat the oven to 400 degrees F.

Peel and chop the roots into 1.5-inch pieces. Toss them with the grapeseed oil, fresh thyme, salt, and black pepper. Spread the veggies on a baking sheet (or two).

Roast for 40 to 45 minutes, stirring twice, or until crispy and golden-brown. Allow vegetables to cool.
To Prepare the Salad:
Add spinach to a large salad bowl and add in the roasted vegetables and feta. Toss with desired amount of balsamic-date dressing.
Nutrition
Need more roots in your oven? Try these on for size:
Baked Root Vegetable Chips with Buttermilk-Parsley Dipping Sauce
Roasted Beets with Orange-Tahini Dressing
Balsamic Roasted Root Vegetables